5 New Architecture & Design Exhibitions for July 2019
July was once known as Quintilis, and was the fifth month of the Roman calender. The fifth of ten. "Winter" being but an ill-defined cold and dark period between December and March.
And sensible as such as an arrangement sounds, and much as we could live with such an arrangement today, with the rise of the Roman Republic the wise decision was made to divide winter into January and February.
Wise not least because it means our contemporary year has 12 months: and thus two extra months in which to enjoy even more architecture and design exhibitions, and thereby to allow us all to even better understand the world which surrounds us.
Our quintet for Quintilis 2019 can be found in Stuttgart, San Francisco, Weil am Rhein, Melbourne and Dresden……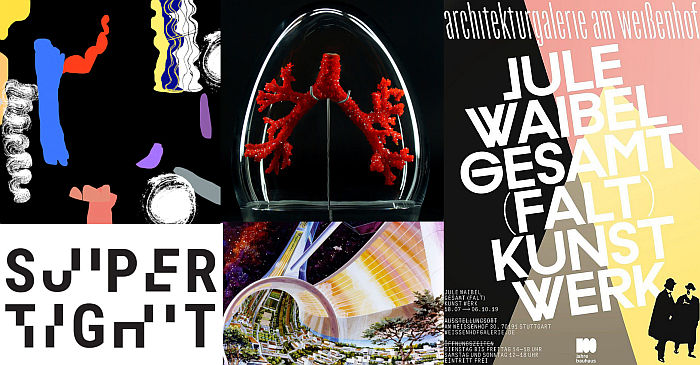 "Jule Waibel. Gesamt (Falt) Kunst Werk" at the architekturgalerie am weißenhof, Stuttgart, Germany
Continuing their season of exhibitions exploring contemporary takes on the principles which underscored Bauhaus and international Modernism, the architekturgalerie am weißenhof present with Gesamt (Falt) Kunst Werk Berlin based designer Jule Waibel's experimentations with, and exploration of, folding.
One of the oldest craft forms, and one understood across cultures, folding bequeaths material a new stability, often a primary stability, and that via the most astoundingly simple of processes: and a state of affairs which makes the fold one of the more elegant methods of achieving a functional form. Albeit an apparently simple technique which belies a great complexity, so much so that, and as the architekturgalerie note, certain folding techniques cannot be achieved by machines, are strictly achievable by hand. Are strictly craft. Thus making folding in many regards analogous with Michael Thonet's solid wood bending process, another astoundingly simple process that machines cannot achieve.
In context of Gesamt (Falt) Kunst Werk Jule Waibel will transform the architekturgalerie's exhibition space into a domestic interior landscape populated by folded objects, whereby the focus will be less on those objects per se and much more on the materials from which they are crafted: the presentation promising objects folded from materials as diverse as textiles, paper, wood or glass. And thereby an excercise devised to question both folding's contemporary relevance, and also folding's (potential) role in future manufacturing and production systems. And thereby a presentation which aims to reflect on contemporary understandings of and approaches to materials and processes (technology) and the role of craft in such systems. Much as the inter-War Modernists did.
Jule Waibel. Gesamt (Falt) Kunst Werk opens at the architekturgalerie am weißenhof, Am Weißenhof 30, 70191 Stuttgart on Thursday July 18th and runs until Sunday October 6th.
"Far Out. Suits, Habs, and Labs for Outer Space" at the San Francisco Museum of Modern Art, San Francisco, California
Space may or may not be the final frontier, but the extremities of the conditions found outwith the boundaries of the earth's atmosphere and gravitational pull not only push engineers to the limits of their craft, but also encourages and excites the imaginations of artists, designers and architects: beyond a final frontier is always a world of endless imagination and possibility.
Taking the 50th anniversary of the Apollo 11 moon landing as their impulse, the San Francisco Museum of Modern Art, SFMOMA, aim to explore with Far Out a selection of both conceptual and also more practical concepts, both realised and not, for, well, space suits, space habitats and space laboratories from artists and designers including, and amongst many others, Rick Guidice, Tom Sachs or Raymond Loewy. And thereby aim to underscore not only the limitless creative potential to be found in limitless space and time, but also the importance of free thinking in developing new, uncharted, systems, for new, uncharted, times.
The moon landings as a metaphor for our age?
Far Out. Suits, Habs, and Labs for Outer Space opens at the San Francisco Museum of Modern Art, 151 Third St, San Francisco, CA 94103 on Saturday July 20th and runs until Monday January 20th
"Alexandra Daisy Ginsberg: Better Nature" at the Vitra Design Museum Gallery, Weil am Rhein, Germany
Amongst the new materials and processes which unquestionably will play a role in our future product and architectural realities, biological materials and processes are amongst the most interesting and exciting, offering as they do the opportunity to directly employ natural systems rather than simply mimicking them. And thereby opening up new realms of possibility in terms of sustainable production, if realms that, and as with all expansion, come with their own responsibilities and challenges.
Following an architecture degree Alexandra Daisy Ginsberg completed a Masters in Design Interactions at the Royal College of Art London and since then has concerned herself with biological systems and for all the interface(s) between biology, design and engineering: questioning how those interfaces can be best, most meaningfully, employed both for human society and in terms of augmenting nature. Some of the answers she has approached over the past decade will be on display in Better Nature, specifically 6 of her projects including: E. chromi, in which ingested bacteria are employed to warn of disease development; The Synthetic Kingdom which employs bacteria and biological compounds as the basis of materials production; or Designing for the Sixth Extinction in which artificially generated and engineered plants and animals support and nurture endangered species.
And thus a presentation which sounds like allowing for the opportunity to reflect not only on what biotechnology could allow, but also the responsibilities and challenges of such a future reality. And by extrapolation for some important reflections on how our world got where it is today.
Alexandra Daisy Ginsberg: Better Nature opens at the Vitra Design Museum Gallery, Charles-Eames-Str. 2 79576 Weil am Rhein on Saturday July 20th and runs until Sunday November 24th.
"Super Tight" at the RMIT Design Hub Gallery, Melbourne, Australia
As urban populations grow, so to does urban density, which means not only that we increasingly live physically closer together but that our individual lives become ever more merged and immersed in those of others, in communities. And it is with this social and cultural density that Super Tight concerns itself.
Focussing on Asian cities as paragons of super tight environments the curators aim not only to explore how such a social and cultural density arises, what this means for the development of cultural, political, economic and social systems, and if such as tightness is desirable, but also how designers have contributed to the development of such realities. And how they could do so in the future.
And therefore an exhibition that, potentially, can also be extrapolated from the physical urban space to the virtual spaces we inhabit, and which also through an increasing density could be argued to becoming ever tighter. With inevitable consequences.
Super Tight opens at the RMIT Design Hub Gallery, Level 2, Building 100, RMIT University, Corner Victoria and Swanston Streets, Carlton, 3053 Melbourne on Friday July 26th and runs until Saturday September 21st.
Formally a continuation of the Kunstgewerbemuseum Dresden's Symposium A Woman's Work, Add to the Cake promises, as the title implies, to be a more active, proactive affair: the "Cake" of the title being the male dominated narrative of design history, the "Add to" confirming that the curatorial team around Matylda Krzykowski and Vera Sacchetti don't seek to remove any of that which exists but rather expand it with female perspectives, contributions and protagonists. And thereby attempt to approach a more probable (hi)story of design. A more probable cake. And therefore not only something more digestible, but more appetising.
Promising an active, evolving exhibition format Add to the Cake is intended to grow and develop over the course of its run through a series of events, performances and public programmes aimed at not only taking those themes and positions developed in the course of A Woman's Work and giving them a more physical, permanent, structure, but also challenging us all to question our existing positions on and understandings of the (hi)stories of architecture and design. To, if you will, reconsider our standard cake recipe and explore the possibilities afforded through a few rarely considered and employed ingredients.
Add to the Cake. Transforming the roles of female practitioners opens at Kunstgewerbemuseum Dresden, Schloss Pillnitz, August-Böckstiegel-Straße 2, 01326 Dresden on Saturday July 6th and runs until Sunday November 11th