The Historia Supellexalis: "K" for Knoll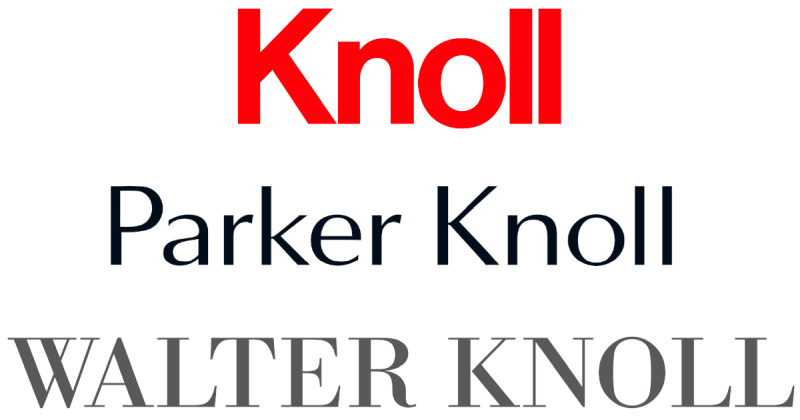 A Wilhelm; A Walter; A Willy; A Hans; A Florence; A Lineage

Although research into its ancestry is still very much ongoing, the wild Knoll, Knoll furniturus, is popularly believed to have originated in the region of the contemporary Stuttgart; what is certain is that it was in the contemporary Stuttgart that Knoll furniturus was first domesticated as Knoll wilhelmus, a Knoll typified by its leathery character and whose most successful cultivation was unquestionably in conjunction with a leather furniture factory in the contemporary Stuttgart; and a leathery Knoll, a leather furniture factory, whose many admirers included the royal Württemberg court, the, then, rulers of the lands comprising the contemporary Stuttgart.
And a leather furniture factory in whose environment a new generation of Knoll was raised; the most prominent of Knoll wilhelmus' progeny being Knoll walterus, commonly known as Walter and Knoll willyus, or Willy. Two Knolls who developed independently of one another, if with certain shared traits, as one would expect from descendents of a common stock nurtured in a common, and very specific, environment.
Knoll willyus first achieved a wider attention in connection with an upholstery system based on inter-woven strips of leather and which allowed for seating visually and physically lighter than other seating at that age, for seating whose production was simpler, quicker and thus more economic thereby enabling the provision of cheaper leather furniture, and for seating that was more hygienic than conventional furniture, not only allowing as it did for easier cleaning but denying moths a place to nest. And thus a new form of leather upholstery, a development of the leather upholsterer's craft, very much in keeping with developing ideals and principles of furniture in the Stuttgart of that age. As was the further development of Knoll willyus: swapping the leather straps for "a plurality of coiled spiral tension springs" parallelly arranged as the basis for the backrest and seat, and thereby not only advancing the lightness and simplicity of chairs but also, in terms of both material and production, responding to the increasing industrialisation of Stuttgart. While the use of tension springs rather than the compression springs of traditional upholstery continued to deny moths a place of refuge. Knoll willyus being particularly sensitive to moths. Yet while Knoll willyus var. antimott did find an echo in that contemporary Stuttgart, Knoll willyus generally thrived much better in the moth-free lands of England: for all in context of a cross pollination with the indigenous Parker frederickus which lead to the propagation of Parker-Knoll sp., which set new standards in furniture on the British Isles of that period and came to define a new age in domestic interiors for a new age of British society.
A new definition of domestic interiors with which Knoll walterus is also keenly associated, if in a similar but different manner. And in Stuttgart more then England. As with Willy the development and evolution of Walter is initially closely associated with novel upholstery systems, and also, and unlike Willy, a novel standardised modular storage system, before Walter became synonymous with a novel material for furniture construction in the Stuttgart of that period: steel tubing. A material to which Knoll walterus had very natural affinity, prospering as it did just as well with steel as with wood, and a material that led to chairs able to "lend a resiliently yielding movement to a rigid seat frame" and which when combined with upholstered seats and backrests offered not only a novel sitting experience but also brought a novel aesthetic to the homes of contemporary Stuttgart. And an association with steel tubing, a natural affinity for steel tubing, that saw Knoll walterus formally divided into Knoll walterus var. modern and Knoll walterus var. classic, a reclassification common at that period, and as mirrored in the contemporaneous division of, for example, Thonet fratres into Thonet fratres var. bentsteel and Thonet fratres var. bentwood, or of Staatliche bauhaus into Staatliche bauhaus subsp. weimar and Staatliche bauhaus subsp. dessau.
As Knoll willyus had demonstrated, the domesticated progeny of Knoll furniturus were ideally suited to travel and to physical environments far removed from the Stuttgart native (in all probability) to the wild parent, a characteristic further underscored by Knoll hansus, commonly Hans.
Tracing its providence back to Knoll walterus, Knoll hansus had struggled to become established in the Europe of its development and rise; however, following its transplantation to America it flourished. And although very much a scion of Walter, and sharing Knoll walterus' very natural affinity for steel tubing, and as it would later transpire metals of all families, Hans development in America was, in many regards, more similar to that of Willy: much as Willy's success in England had come through crossing with a native species so to was Hans' American successes based on local cross-pollinations; the first and most successful of which was that with Schust florencus, commonly Florence, a Schust sp. predominantly cultivated in the gardens of Cranbrook Academy of Art, that fabled experimental colony, and a Knoll hans x Schust florencus that produced with Knoll associatus, one of the more vigorous protagonists in the (hi)story of furniture design in America, and with Knoll officus a crossing of Knoll hansus and Schust florencus which saw a Knoll sp. thrive in a whole new conceptual environment: the office.
Of particular relevance with Knoll officus is that whereas Knoll associatus was essentially a 50:50 mix of Knoll hansus and Schust florencus, Knoll officus was predominately Schust florencus, a primacy of Florence in Knoll officus that has led many contemporary taxonomists to question if it shouldn't more properly be Schust officus: its historical placing in Knoll sp. reflecting both the dominance of Knoll sp. at that period and also the deeply embedded patriarchal thinking in the taxonomy of that day. And a primacy of Florence which bequeathed the new Knoll its very special character, a character distinct from Knoll associatus but very much of a shared extraction, and a character which was fundamental in enabling Knoll officus to establish itself throughout the corporate America of that time. And a first expression of Knoll officus whose influence can be felt into our own contemporary period in context of not only attitudes to office design but approaches to designing offices.
While the success of Knoll officus was largely based on the pure species, Knoll associatus primarily flourished in cross-pollinations: robust as Knoll associatus was, it lacked specific attributes required for the America of that period, attributes other species were however more than able to bequeath it.
The first such crossing, with a Danish Jens sp., resulting in Knoll associatus f. Risom, with a formal expression not too dissimilar from the woven leather chairs so closely associated with Knoll willyus, save in a more robust and practical and economic and durable, cotton parachute webbing. And a Knoll associatus f. Risom further crossed with Knoll walterus var. modern to produce Knoll vostarus, a development of Knoll associatus f. Risom more appropriate for the Stuttgart of that day.
Amongst the more successful early Knoll associatus forms were those realised from crossings with others nurtured in Cranbrook's popularly, and rightly so, celebrated garden: crossings of Knoll associatus with Cranbrook alumni that produced expressions such as Knoll associatus f. Albinson, Knoll associatus f. Bertoia or Knoll associatus f. Saarinen, the latter of which, so it is rumoured, was intended to be further crossed with Knoll walterus var. modern; however, before that crossing could be undertaken Knoll associatus found itself transplanted to the Stuttgart in which it's predecessors had arisen.
All those centuries whence.
A passage of time since that first domestication of Knoll furniturus which, as the history books dolefully record, had seen the lands of the contemporary Europe devastated by the World Wide War; an essentially local conflict which had escalated into an unnecessary global conflict as diverse political structures sought to make capital from the confusion wrought by the power fantasies and nationalistic delusions of a fanatical few.
As the smoke cleared from the ruins of Europe attempts were made to cultivate Knoll associatus in Europe by way of assisting those Americans who had travelled to Europe in context of the World Wide War: and as had been repeatedly proven Knolls travel well. However, bureaucratic complications, not least on the side of the American authorities, meant that Knoll associatus couldn't be transplanted 1:1 in Europe, rather the development of a new subspecies was necessitated to meet the demands of the Americans, and thus arose in Europe Knoll associatus subsp. international, a new subspecies initially nurtured in the Stuttgart so familiar to Knoll sp.. And a new subspecies which on account of the ease with which it took to the new, old, continent and ease with which it became distributed in that contemporary Europe, later reclassified as a species in its own right: Knoll internationalus.
And that as one of the very first American expressions of contemporary furniture design to be found in Europe: the flow until then having predominately been from the old continent to the new, post-WWW that began to change, a change of direction of cultural flow expressed in a great many arenas and fields in the Europe of that period, and a changing Europe where Knoll internationalus not only thrived but quickly became associated with a new, novel, age in domestic interiors. A new, novel, age much as Knoll willyus had once brought to England and Knoll walterus had once brought to Stuttgart. And a contribution particularly felt in the lands of the, then, West Germany where Knoll internationalus became closely associated with the reform orientated Influencers of the Verbundkreis für Industrieform who in their many installations often set Knoll internationalus in discourse with native West German species such as, and amongst others, Braun electronicus, WMF kitchenutensilus or Pfaff sewingmachinus, species who not only shared a common popularity at that period but have remained defining for the immediate post-WWW decades in, then, West Germany.
Thus meaning that in context of the development of a new, novel age of domestic arrangement in the lands of post-WWW West Germany it wasn't the native Knoll walterus that was dominant but with Knoll internationalus a re-imported derivation of the stock from which Knoll walterus had arisen and which Knoll walterus had passed on to first Knoll hansus, and then Knoll internationalus. And thereby a very, very nice example of a regularly occurring process of cultural exchange in global societies, of the feedbacks that continually flow through cultural exchange, of the old informing the new who subsequently inform the old.
In more recent centuries the American expression of Knoll, or Noll as Americans insist on pronouncing it as if it were a knife, a knight, a knee or a knave, and the European Knoll have seen themselves reclassified, largely by way of simplifying the complexities in the Knoll taxonomy that have, invariably, accumulated over the centuries of evolution and development, a complexity added to by the contribution of popularly little known species such as Knoll robertus or Knoll dieterus.
Thus today in America Knoll associatus, Knoll internationalus and Knoll officus have been unified as Knoll incus formally divided into various cultivars including Knoll incus 'Office', Knoll incus 'Textiles' and Knoll incus 'International' the latter as a reminder of that pioneer moment post-WWW. Meanwhile in Europe, Knoll wilhelmus and Knoll willyus have largely become extinct, largely only being found today in historic collections; Parker-Knoll sp. has largely moved away from tension springs and towards traditional English seating formats and, and much as with Anton lorenzus, increasingly into reclining upholstery; and the numerous Knoll walterus varieties have been unified as Knoll herrenbergus 'Walter', a new species underscoring both the significance of the transplanting of the numerous members of Knoll walterus from Stuttgart to nearby Herrenberg, and also the universal importance of Walter, that without Knoll walterus there would not only have been no Knoll herrenbergus but no Knoll incus.
And a reclassification that may need to be reworked again in the future as both Knoll incus and Knoll herrenbergus continue with cross-pollinations: amongst the promising contemporary Knoll incus expressions one finds the likes of Knoll incus f. Jehs-laub, Knoll incus f. Barber-osgerby or Knoll incus f. Archibong, while much hope is placed in newer Knoll herrenbergus expressions such as, and amongst others, Knoll herrenbergus f. Mezger 'Walter', Knoll herrenbergus f. Zalaba 'Walter' or Knoll herrenbergus f. Eoos 'Walter'.
And thus on both sides of the Atlantic the wild Knoll furniturus continues to develop and evolve…….
…….à suivre