5 New Architecture & Design Exhibitions for August 2022
Summer Break!!!
Not us!!!
We're still here, tirelessly toiling to provide the fuel to keep your fires of inquiry burning bright and thereby powering your ongoing exploration into the depths and breadths of design. And your deconstruction of the simplifications, half-truths and objectifications that have become popularly confused for design.
But the international architecture and design museum community have collectively decided not to open any new exhibitions in August 2022.
We're not bragging, it's not what we do, but we do possess inarguably the largest global databank of architecture, design (and art) museums ever compiled, a resource that is continually growing, a resource through which we continually move, within which in many regards we live. And a resource which reveals no new architecture or design relevant exhibitions opening in August 2022.1
One.
Globally we found one new exhibition opening in August 2022 that would fit our criteria for being an exhibtion worthy of recommendation before it has opened and revealed what it actually it is not that which the curators claim it is.
But one is too few for a list. We will however visit it and, should it live up to its promise, report on it in due course.
Not that no new exhibtion openings means the global architecture and design museum community are all on holiday, far from it, they have simply retreated to the cool of their archives; and September and October should, will, offer veritable bounties of easily recommendable new shows.
Nor does no new exhibtion openings mean the global architecture and design museum community are closed. They are very much open, and very much should, must, be visited.2
Thus in place of a list of new exhibitions, we offer two geographically arranged lists of those architecture and design exhibitions on show in August 2022 and which you can, should, must, visit…….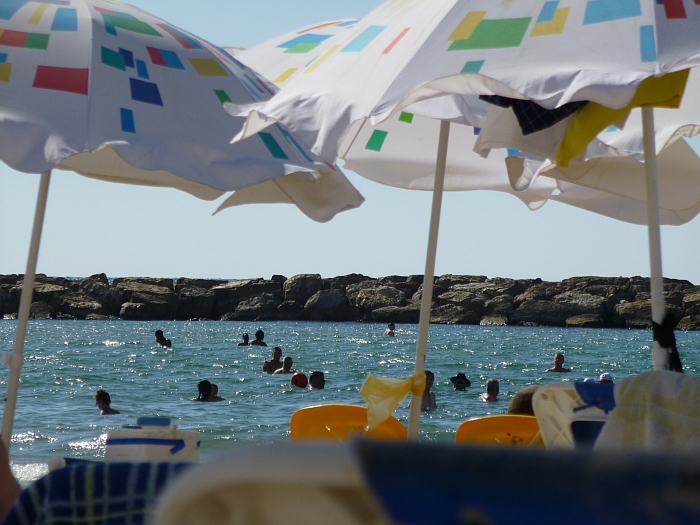 Last chance!!!: Exhibitions ending during August 2022
Australia:
Eucalyptusdom at Powerhouse Ultimo, Sydney until 28.08
Austria:
Bis übermorgen. Laurids Ortner & Manfred Ortner from Haus -Rucker-Co to O&O Baukunst at Francisco Carolinum, Linz until 07.08
Belgium:
Charging Myths at Z33, Hasselt until 21.08
Charlotte Perriand. How do we want to live? Politics of Photomontage at Design Museum Brussels until 28.08
Sick Architecture at CIVA, Brussels 28.08
Denmark:
The Magic of Form – Design and Art at Designmuseum Danmark, Copenhagen until 20.08
Verner Panton – Colouring a New World at Trapholt, Kolding until 21.08
Germany:
Color as Program. Part One at the Bundeskunsthalle, Bonn until 07.08
Chairs: Dieckmann! The Forgotten Bauhäusler Erich Dieckmann at the Kunstgewerbemuseum, Berlin, Germany until 14.08
Caring for what already exists. Ten Architectural Strategies at Kunsthaus Dresden, Robotron-Kantine, Dresden until 21.08
Circular Construction. Material Loops at the Architekturgalerie München im Bunker, Munich until 27.08
Back to Future. Technology visions between fiction and reality at the Museum für Kommunikation, Berlin until 28.08
Green Sky, Blue Grass. Colour Coding Worlds at the Weltkulturen Museum, Frankfurt until 28.08
We want you! From the Beginnings of the Poster until Today at Museum Folkwang, Essen, until 28.08
Norway:
Scandinavian Design and the USA, 1890–1980 at the The National Museum, Oslo until 07.08
Spain:
Objects of Desire. Surrealism and Design 1924 – Today at Cidade da Cultura de Galicia, Santiago de Compostela until 28.08
PRINT3D. Reprint Reality at the CaixaForum, Sevilla until 28.08
Sweden:
Likes Matters – Top 100 on Instagram at The Museum of Furniture Studies, Stockholm until 14.08
Sigurd Lewerentz: Architect of Death and Life at Arkdes, Stockholm until 28.08
Swedish Grace Art and Design in 1920s Sweden at the Nationalmuseum, Stockholm until 28.08
Hagberg + Hagberg at the IKEA Museum, Älmhult until 31.08
Switzerland:
Bridget Riley: Looking and Seeing, Doing and Making at Zentrum Paul Klee, Bern until 21.08
Napoli Super Modern at the S AM Swiss Architecture Museum, Basel until 21.08
And those on show beyond August 2022
Australia:
Ultra Unreal – New myths for new worlds at the Museum of Contemporary Art Australia, Sydney until 02.10
Austria:
Serious Fun. Architecture & Games at the Architekturzentrum Vienna until 05.09
Have a seat! The Park Bench as Social Sculpture at MUSA Startgalerie, Vienna until 23.10
Belgium:
Balkrishna Doshi: Architecture for the People at C-mine, Genk until 06.11
England:
Justin Marshall. Hand Thought: Craft Values in Digital Making at Hub, Sleaford until 04.09
Althea McNish: Colour is Mine at the William Morris Gallery, London until 11.09
Estonia:
Looking Through Objects. Women in Contemporary Polish Design & Women in Contemporary Estonian Design, at the Estonian Museum of Applied Art and Design, Tallinn until 25.09
Material Change: Design and New Technologies at the Adamson-Eric Museum, Tallinn utill 25.09
Finland:
Design for Every Body at Designmuseo, Helsinki until 02.10
Long Live Wivi Lönn! at the Museum of Finnish Architecture, Helsinki until 08.01.2023
France:
Ship of Fools Transports of Delight? at Frac Grand Large — Hauts-de-France, Dunkerque until 31.12
Nanda Vigo, l'espace intérieur at Musée des Arts décoratifs et du Design, Bordeaux until 08.01.2023
Mimesis. A living design at Centre Pompidou, Metz until 06.02.2023
Germany:
Plastic: Remaking Our World at the Vitra Design Museum, Weil am Rhein until 04.09
Craft as Myth. Between Ideal and Real Life at the Museum Angewandte Kunst, Frankfurt until 11.09
Wilhelm Wagenfeld A to Z at the Wilhelm Wagenfeld Haus, Bremen until 18.09
Op, Pop, Top! Tapeten der 70er Jahre at Schloss Wilhelmshöhe, Kassel until 25.09
Design für Olympia at Die Neue Sammlung – The Design Museum, Munich until 03.10
Unfertige Häuser 未完的建築 | Die Welt von morgen Überlegungen von Florian Kaiser und Guobin Shen at the architekturgalerie am weißenhof, Stuttgart until 03.10
Regard! Art and Design by Women 1880–1940 at the Bröhan Museum, Berlin until 04.10
Moved by Schlemmer. 100 Years of Triadic Ballet at the Staatsgalerie, Stuttgart until 9.10
Ask Me if I Believe in the Future at the Museum für Kunst und Gewerbe, Hamburg until 23.10
Organizing Things at the Werkbundarchiv – Museum der Dinge, Berlin until 31.10
Design & Bahn at the DB Museum, Nürnberg until 13.11
Otl Aicher: 100 Years 100 Posters at the HfG Archiv, Ulm until 08.01.2023
The Olympic City of Munich. Retrospect and Outlook at the Architekturmuseum der TUM, Munich until 08.01.2023
Colour Rush! An Installation by Sabine Marcelis at the Vitra Design Museum Schaudepot, Weil am Rhein until 14.05.2023
Iceland:
Bathing Culture at the Museum Of Design And Applied Art, Garðabær until 25.09
Ireland:
Our Irish Chair: Tradition Revisited at Turlough Park, Castlebar until "September 2022" … it's Ireland, time moves differently there, is much harder to pin down.
Italy:
Aldo Rossi. Design 1960-1997 at Museo del Novecento, Milan until 02.10
La tradizione del nuovo at the Triennale Design Museum, Milan until 11.12
Unknown Unknowns at the Triennale Design Museum, Milan until 11.12
Norway:
How Can We Live Together? at KODE, Bergen until 11.09
Poland:
From Wrocław to New York and Back. Hans Poelzig and the style of material at Muzeum Architektury, Wrocław until 02.10
Scotland:
Céline Condorelli / After Work at the Talbot Rice Gallery, Edinburgh until 01.10
Slovenia:
BIO27 Super Vernaculars at MAO, Ljubljana until 29.09
Sweden:
Björn Lövin. The Surrounding Reality at Moderna Museet, Stockholm until 18.09
Switzerland:
Der Tod. Radikal Normal at Vögele Kultur Zentrum, Pfäffikon SZ until 18.09
Architecture Icons Revisited at the Le Corbusier Pavillon, Zürich until 27.11
The Netherlands:
It's Our F***ing Backyard. Designing Material Futures at the Stedelijk Museum, Amsterdam until 04.09
The Healthy City at the Centraal Museum, Utrecht until 11.09
Cubic 3 Design (1981-1995) at the Kunstmuseum Den Haag until 09.10
Here We Are! Women in Design 1900 – Today at the Kunsthal Rotterdam until 30.10
United States of America:
Frida Kahlo, Diego Rivera, and Mexican Modernism at the Philbrook Museum of Art, Tulsa, Oklahoma until 11.09
New York, New Music 1980–1986 at the Museum of the City of New York, New York, New York until 18.09
The Clamor of Ornament: Exchange, Power, and Joy from the Fifteenth Century to the Present at The Drawing Center, New York, New York until 18.09
Distinctive Individuality: George Mann Niedecken's Milwaukee Interiors at Milwaukee Art Museum, Milwaukee, Wisconsin until 25.09
Full Circle: Design Without End at the Museum of Design, Atlanta, Georgia, until 25.09
Plastic Rapt: A History of Designing Forever at Goldstein Gallery, St. Paul, Minnesota until 25.09
Sarah & Eleanor Hewitt: Designing a Modern Museum at Cooper Hewitt, Smithsonian Design Museum, New York, New York until 10.10
Design and Healing: Creative Responses to Epidemics at Cooper Hewitt, Smithsonian Design Museum, New York, New York until 20.02.2023
Noguchi Subscapes at the Noguchi Museum, New York, New York until 07.05.2023
1. In the interests of clarity…… our databank includes institutions in all continents, apart from Antarctica, is however, predominately, as one can see, a European databank, something we hope will change as we become better acquainted with other continents. And despite its breadth we readily accept and admit that it is far from exhaustive, that it contains a great many gaps. For all a lot of smaller galleries are invariably missing. Which, again, we strive to rectify. The predominance of Germany is simply because Germany appears to have a lot more museums that deal with applied arts and design than most other nations. Something we attribute to the rise of applied arts museums, and invariably their associated schools, in the late 19th century as vehicles for advancing industry, museums/schools which seemed to proliferate a lot more in Germanophone regions than elsewhere. And to have survived longer than in other regions.
2. All information liable to change and/or error. Please check with the respective museums before visiting for information on opening times, ticket prices, current hygiene rules etc…..