5 New Architecture & Design Exhibitions for June 2023
According to Germanic folklore, A cold and wet June spoils the whole year.
For farmers possibly, but not for the rest of us, as a cold, wet June is a perfect excuse to visit an architecture or design exhibition, an experience that can only enrich and enliven and invigorate the rest of the not only your year, but your life.
Our recommendations for new showcases opening in June 2023 can be found in Värnamo, Ljubljana, East Lansing, Vienna and Ulm…….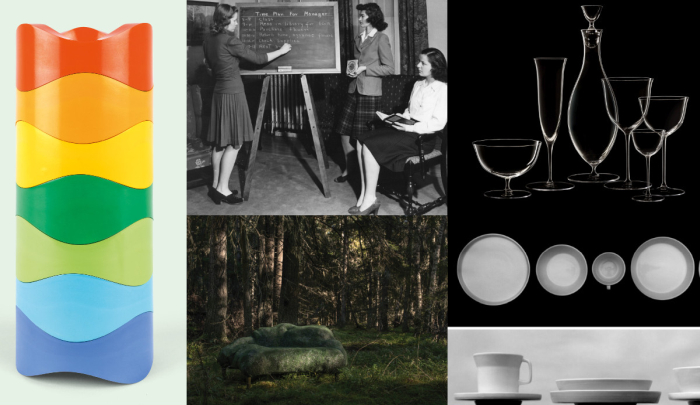 "Front: Design by Nature" at Vandalorum, Värnamo, Sweden
For all that nature has long been an influence for Swedish collective Front, one expressed, for example, via their Horse Lamp for Moooi, the Resting Bear pouf/cushion for Vitra or the mushroom-esque lamp Curve for Zero, and for all that nature for just as long has been a tool for Swedish collective Front, one thinks, for example, of their wallpaper designed by letting rats chew it or the lampshade designed by the course a fly buzzing round a lightbulb, for the project Design by Nature Front a.k.a. Anna Lindgren and Sofia Lagerkvist went, arguably, further than ever, certainly deeper in detail than ever, into the Swedish landscape: the pair creating 3D scans of, for example, snowdrifts, rock pools, hillocks or forest floors, and also investigating in detail the structures built by the creatures they encountered in those environments such as, for example, by pottery wasps, mole crickets or amoebae.
A multi-year, multi-disciplinary, research project that has resulted in a furniture collection for Moroso and an exhibition that will premiere at Vandalorum this summer; an exhibition which quite aside from elucidating the research undertaken and where that research has taken Front as a collective, should also allow for differentiated appreciations of the relationships between humans and nature, and on the question what we can learn from nature, that designing with nature explicit in, for example, Mimesis. A Living Design at the Centre Pompidou-Metz and Garden Futures. Designing with Nature at the Vitra Design Museum, Weil am Rhein.
But for all should allow for access to more nuanced and meaningful appreciations of Front, their positions, their work, their approach to their work, their releveance an importance. And also the place and function of nature in and to Front.
Front: Design by Nature is scheduled to open at Vandalorum, Skulpturvägen 2, 331 44 Värnamo on Saturday June 3rd and run until…. autumn 2023 is the official closing date. Further details can be found at www.vandalorum.se
"How is a vase like a house? From the systemic to the fantastical, with designer Janja Lap" at the Museum of Architecture and Design, Ljubljana, Slovenia
Born in Ljubljana in 1929 Janja Lap initially studied architecture in the, now, Slovenian capital, studies during which she was particularly influenced by Professor Edvard Ravnikar, one of the more interesting post-War architects in, then, Yugoslavia, before moving to London in 1964 to join the Industrial Design (Engineering) Research Unit at the Royal College of Art, RCA, under the direction of Bruce Archer, one of the first design research institutes and early protagonists of, amongst other positions, a systematic approach to design and of an appreciation of there being such a thing as a philosophy of design. Having acquired her Masters at the RCA, a Masters that included very early reflections on, and an early advocating of, a circular approach to design, of designing in circular systems rather than linearly, Lap remained in England where, amongst other activities, she spent periods lecturing at the University of Sheffield and the Architectural Association, London, before returning to Yugoslavia in 1977 where, after a brief tenure researching questions of housing policy at the University of Ljubljana's Institute of Sociology and Philosophy, she joined the electronic goods manufacturer Iskra as a product designer.
A biography that not only is most singular, arguably unique, in context of Cold War Europe, nor only one which places Lap at the beginnings of many of the paths that lead to contemporary product and industrial design, but also one which helps elucidate not only the free mix of architecture and design that defined Lap's practice, but the varied and various theoretical and practical influences that informed her work: work that will be the primary focus of How is a vase like a house? A presentation that not only promises to help elucidate how a vase is like a house, and how it is different, but one which through examples of Lap's product design, and her architectural practice, should allow access to the themes and threads that run through her canon, and also help underscore the continuing relevance of much of Lap's positions and approaches. And thus enable a most interesting, but sadly all to anonymous, architect and designer and theoretician to retake her place on the helix of design (hi)story.
How is a vase like a house? From the systemic to the fantastical, with designer Janja Lap is scheduled to open at the Museum of Architecture and Design, MAO, Grad Fužine, Rusjanov trg 7, 1000 Ljubljana on Thursday June 15th and run until Sunday November 5th. Further details can be found at https://mao.si
"Shouldn't You Be Working? 100 Years of Working from Home" at the MSU Broad Art Museum, East Lansing, Michigan, USA
Among the many intriguing aspects around contemporary discussions on "new work" is that it is actually "new office work" that is being discussed: journalists, academics, designers, architects, curators and others who work in offices invariably, and often somewhat ignorantly, confusing the work they do, with the work everyone does. A confusing which means that in popular discussions on work and work culture it is far too often overlooked that for all that home working is relatively new for office workers it is not only one of the oldest forms of organised work – crafting at home, for example, having served as a source of income for a great many individuals and communities for centuries, and remaining so – but also one of the oldest forms of unpaid work: housekeeping. Or perhaps more accurately, the work of the housewife.
Promising, if we've understood correctly, a primarily photography based presentation supported by contemporary art projects, Shouldn't You Be Working? aims to explore the changing nature and reality and relevance of the home as a place of work, be that paid or unpaid, over the past century or so, in context of not only the changing social, political, economic, technical et al realities but also in context of the ever new jobs, ever new forms of work, that have emerged over the decades, while others have vanished, or at least lost an importance the once had, and thereby should allow for fresh, better informed, more nuanced, perspectives on the home as a place of work, as a place of industry, which could, should, be an important contribution to contemporary debates about home office versus office office and the future of work in all its manifestations.
Shouldn't You Be Working? 100 Years of Working from Home is scheduled to open at the MSU Broad Art Museum, 547 E Circle Dr, East Lansing, MI 48824 on Saturday June 10th and run until Sunday December 17th. Further details can be found at https://broadmuseum.msu.edu
"Glitz and Glamour. 200 Years of Lobmeyr" at the Museum für angewandte Kunst, Vienna, Austria
Established in Vienna by Josef Lobmeyr Sr. in 1823 the glassmaker J. & L. Lobmeyr has, in many regards, not only accompanied but documented the ever changing fortunes, status and positions of the Austrian capital, and the ever changing fortunes, status and positions of those creatives active in the Austrian capital, over the intervening two centuries. Two centuries that have seen Lobmeyr exist in context of, for example, the Habsburg Empire, they were appointed Court Supplier in 1835, or the rise in power of the middle class and civil society in the second half of the 19th century, or the rise of Wiener Succession and the subsequent shift to Modernist position in all cultural aspects in the early 20th century, or the rise of more conceptual and authored design, Lobmeyr has for many years been an important location of and partner for the annual Vienna Design Week.
Promising a presentation of some 300 examples of Lobmeyr glass from the past 200 years by the likes of, and amongst many, many, others, Theophil Hansen, Adolf Loos, Josef Hoffmann, Hans Harald Rath, Marc Braun, Philippe Malouin or Nives Widauer, in addition to a great many anonymous in-house designs and products, and a presentation that promises to cover the full gauntlet of Lobmeyr's canon from the simplest of water glasses to the most decadent of chandeliers, and everything in between, Glitz and Glamour should not only very elegantly, pun very much intended, explain the (hi)story of an important and interesting Viennese craft business and by extrapolation the cultural, social, political, economic, artistic (hi)story of Vienna, but also help elucidate the changing function and appreciations of glass over the centuries and the changing relationships between glass and society as the latter has evolved and developed.
Glitz and Glamour. 200 Years of Lobmeyr is scheduled to open at the Museum für angewandte Kunst, MAK, Stubenring 5, 1010 Vienna on Wednesday June 7th and run until Sunday December 24th. Further details can be found at www.mak.at
The Hochschule für Gestaltung, HfG, Ulm arose not only in a new social, economic and political context, and in a new West Germany, but also in an age of new materials, for all in the age of the rise of synthetic plastics. A material that was very much a component of the HfG Ulm: a plastic workshop was opened at the HfG in 1959, six years after the school opened, as a counterpart to the more traditional plaster, wood and metal workshops, and that, arguably, as one of the first such plastic workshops in a design education institute in West Germany. And a workshop that not only saw products developed in the new materials but also saw the HfG staff and students undertake more fundamental research into both the possibilities of the new materials and what those new materials could teach us about not only the forms of our objects of daily use, but the functionality of and possible relationships with those objects.
With Plastic Material − Magic Material the HfG-Archiv promise an exploration of not only the (hi)story of synthetic plastics as a material at the HfG Ulm be that in context of research projects, students' diploma projects or the HfG's many industrial cooperations, cooperations which in the course of the early 1960s increasingly employed plastics and thereby helped plastics to establish themselves in product and industrial design in West Germany, but also an exploration of the wider questions of our use of plastics, our relationships with plastics, the developments of such since the 1950s, and the contemporary problems associated with plastics, and thereby should allow for a posing of the not irrelevant question of whether our contemporary problems are a plastics problem or a human problem. And in doing so should not only allow for differentiated views on the (hi)story of plastics as a material for objects of daily use, but also, by extrapolation, allow space for reflections on questions of how we humans as a species deal with novel freedoms, and our ability to identify, appreciate and respond to limits to those freedoms.
Plastic Material − Magic Material: Freedom and limits of design is scheduled to open at the HfG-Archiv, Am Hochsträß 8, 89081 Ulm on Saturday June 17th and run until Sunday January 7th. Further details can be found at https://hfg-archiv.museumulm.de