5 New Architecture & Design Exhibitions for January 2018
With his two faces the Roman God Janus looks simultaneously forward and backwards, standing in constant watch over transitions, the passage of time, beginnings, ends.
The easy connection to make is with January, that month of the year when we are invariably reflecting and hoping in equal measure: the more complex connection to make is with a well-crafted architecture and design exhibition, one which effortlessly links reflections of the past with proposals, visions and excitement for the future. Nothing existing as it does in isolation. And everything requiring a transition.
Our five gatekeepers for January 2018 can be found in San Francisco, Brussels, Basel, Milan and Cologne.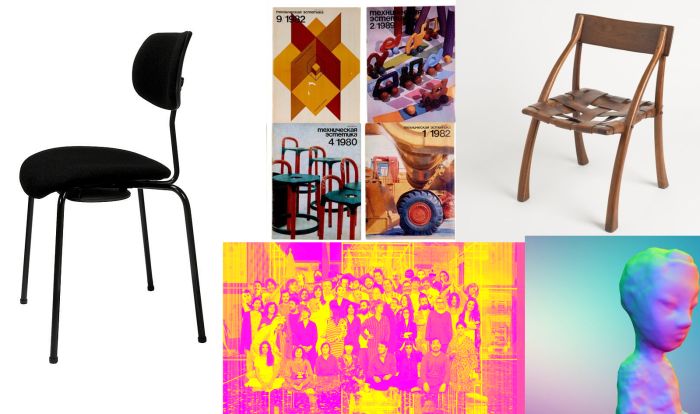 "Designed in California" at the San Francisco Museum of Modern Art, San Francisco, California, USA
One of the great paradoxes about the leading global design brands/initiatives that developed in California, is the fact that much of it arose from altruistic, when not plain and simple, old skool hippy, motives, and then evolved into something altogether….. less so. And occasionally quite sinister.
When in 1979 the Dead Kennedys recorded California Über Alles, they could never have dreamed how topical and relevant it would become.
Featuring established Californian brands including, amongst others, Whole Earth, North Face or Apple alongside emerging California based creatives such as NewDealDesign or D-REV, the San Francisco Museum of Modern Art promise an exhibition which in many respects not only demonstrates just such transitions, but in doing so provides an impetus, when not urgency, for reassessing our relationship with not only design from California. But design in general.
We don't think that is the intention of the exhibition, much more we believe the intention is to tell the story of design in post-War California. But is what interest us about the exhibition.
That and where 1960s and 1970s Charles and Ray Eames fit into the narrative.
Designed in California opens at the San Francisco Museum of Modern Art, 151 Third Street, San Francisco, CA 94103 on Saturday January 27th and runs until Sunday May 27th
"Soviet Design. Red Wealth. Soviet lifestyle from post war USSR" until the Olympic Games of 1980 at ADAM – Brussels Design Museum, Brussels, Belgium
Although as a general rule we don't include repeat showings of touring exhibitions in these lists, the inclusion of Soviet Design. Red Wealth is less of an exception and more an exercise in atonement: we somehow missed it at the Kunsthal Rotterdam in 2015, and so are making good our sloppiness here. Curated by the Kunsthal Rotterdam in cooperation with the Moscow Design Museum Soviet Design. Red Wealth, does pretty much what the subtitle implies: explores Soviet deign from 1950 until 1980, and that via foci on topics such as, and amongst others, childhood and leisure, furniture and household products or precision engineering and industrial production. And thereby allows for not only a compact overview of post-War Soviet design but also a convenient and compact comparison with "western" design of the same the period.
Soviet Design. Red Wealth. Soviet lifestyle from post war USSR until the Olympic Games of 1980 opens at ADAM – Brussels Design Museum, Belgiëplein/Place de Belgique, 1020 Brussels on Wednesday January 24th and runs until Monday May 21st
"Future Love. Desire and Kinship in Hypernature" at the Haus der elektronischen Künste Basel, Switzerland
The question "What is "love"", or perhaps better put, considerations on the phenomenon commonly referred to as "love", is one of the oldest philosophical discourses. And not just in context of romantic love, but also platonic love, or spiritual love. Such discourse must by necessity take place in the context of the age in which they are undertaken, and our age is one in which digital technology, biological technology and materials technology are changing the nature of our every day lives ever and ever faster. And where so-called Hypernature produces worlds more intense than those nature itself can realise.
And what does that mean for love and our relationships in general?
Such is the premise for the exhibition Future Love. Desire and Kinship in Hypernature at the Haus der elektronischen Künste Basel.
Promising works by some 14 international artists, Future Love is an art exhibition, but one which through its reflections on contemporary relationships, sexuality and technology has the potential to contribute to debates on contemporary design and its future directions.
Future Love. Desire and Kinship in Hypernature opens at Haus der elektronischen Künste Basel, Freilager-Platz 9, 4142 Münchenstein/Basel on Thursday January 18th and runs until Sunday April 15th
"999. A collection of questions about contemporary living" at the Triennale Design Museum, Milan, Italy
We don't have a clue what to expect.
Nessuna.
There may be 999 questions.
There may not.
The exhibition text is as opaque as it is poetic.
There should however be a mocked-up house in which the visitor moves from space to space, being confronted as they go not only by propositions on future realities, but a necessity to consider your position on those realities, and thereby a wide ranging discussion on the future of domestic spaces, domesticity, living, houses…. and for all the home.
Quite aside from the unquestionable sense in such a installation and necessity, we are tickled by the fact that shortly after 999 closes the Triennale Design Museum will, in all probability, host during Milan Design Week several exhibitors offering domestic products and services no-one needs, but neatly packaged and accompanied by high-gloss PR and social media campaigns to convince the public that, yes, they really do need it! A reflection which is potentially as interesting as 999 itself.
999. A collection of questions about contemporary living opens at the Triennale Design Museum, Palazzo della Triennale, Viale Alemagna 6, 20121 Milan on Friday Januray 12th and runs until Monday April 2nd.
"Der Stuhl des Architekten – Sitzmöbel von Egon Eiermann" at Ungers Archiv für Architekturwissenschaft, Cologne, Germany
Among the many characters who feature in these pages we never got the chance to meet, the German architect Egon Eiermann would always feature in our Top 5. Because we feel he would be the most awkward of characters. And because only few architects and designer have had the very obvious passion for chair design that he had. Something testified by, and amongst many other indicators, the exactness with which he reduced seat and back elements to the minimal necessary, his attention to detail in the structural elements and his focus on the required functionality, something ably demonstrated his orchestra chair, a chair which as CEO Wilde+Spieth CEO Thomas Gerber told us he created because there was nothing on the market which matched his understanding of the problems.
Realised in cooperation with the Karlsruhe based Südwestdeutschen Archiv für Architektur und Ingenieurbau, saai, Der Stuhl des Architekten promise to review Eiermann's numerous chair designs and thereby underscore the almost obsessive passion which gave rise to them, and by extrapolation why they remain so endearing today. Being as it is at the Ungers Archiv it will be limited in space, but we expect fulsome in scope and ambition.
Der Stuhl des Architekten – Sitzmöbel von Egon Eiermann open at Ungers Archiv für Architekturwissenschaft, Belvederestraße 60, 50933 Cologne on Monday January 15th and runs until Friday February 9th