5 New Architecture & Design Exhibitions for May 2018
In the wonderful month of May,
As all the buds bloomed,
My heart became,
With Love consumed

In the wonderful month of May,
As all the birds did sing,
I confessed to her
My desire and yearning.
Heinrich Heine, Im wunderschönen Monat Mai, 1827
And then???
Heinrich, don't leave us hanging! It all started out so positive!
It's an awkward month May, the vitality of blooming buds and oratorio of singing birds luring us into hopeful fantasies, utopian visions of what lies ahead: but what will become of them? Will the freshly bloomed buds survive the inevitable late frost? Will the birds' new chicks evade their predators to flee the nest and carry their song to pastures new? Will she respond to your confessions of desire and yearning?
Probably not. And so therefore rather than losing your May to romantic dreaming, before May becomes but a painful memory of what could have been, something destined to remain forever in the past tense, use it to improve your understandings of the realities of the world around you, to learn to talk confidently in the future.
Our five recommendations for new architecture and design exhibitions opening during May 2018………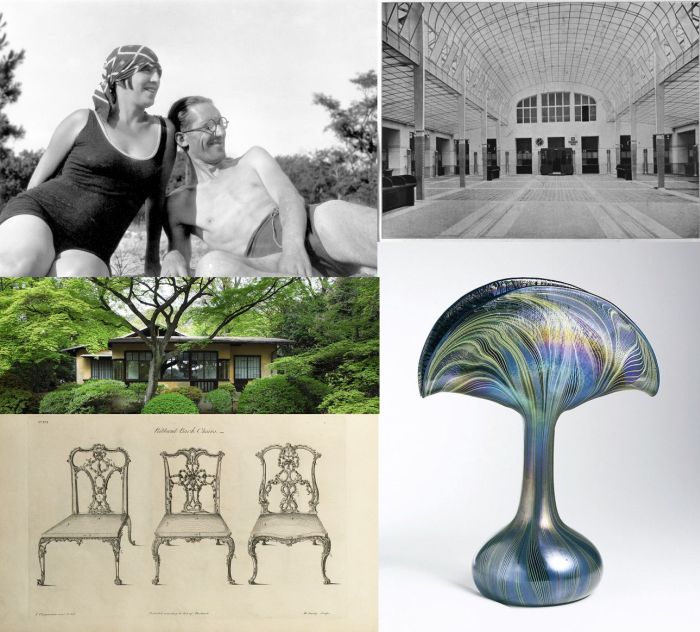 "Le Corbusier by the Sea" at Villa Stenersen, Nasjonalmuseet, Oslo, Norway
Given his normal representation as a relatively stern, humourless, character, his brutalist constructions and his almost dystopian urban planning and transportation concepts, it's hard to image Le Corbusier on the beach. Far less chillaxing in swimming trunks.
Yet, like us all, a Le Corbusier needed a bit of summertime R'n'R and in Le Corbusier by the Sea Oslo's Nasjonalmuseet document the summers 1926 -1930 which Le Corbusier spent in and around Le Piquey on the Bassin d'Arcachon near Bordeaux.
Essentially an art exhibition focussing on 15 paintings by Le Corbusier from 1926-1930, the Nasjonalmuseet also promise sketches, drawings and films made by Le Corbusier in, and letters sent by Le Corbusier from, Le Piquey, and through which the curators aim to explain how his summers on the Bassin d'Arcachon, and the people and nature he experienced there helped shape and evolve his understandings of the world and by extrapolation his art and his architecture
While also promising to show a lighter, more humorous, side to the Le Corbusier's character.
And that in a building widely considered amongst the most important examples of Norwegian functional architecture.
Le Corbusier by the Sea opens at Villa Stenersen, Tuengen allé 10 C, 0374 Oslo on Saturday May 5th and runs until Sunday October 28th
"Chochikukyo -The Wooden Modernism of Koji Fujii" at Takenaka Carpentry Tools Museum, Kobe, Japan
In these pages we often make reference to the influence Japan had on European architects, artists, craftsfolk and designers at the turn of the 19th/20th century. The exchange however, naturally, went both ways; something very neatly explained in the person of Dr Koji Fujii, Professor of Architecture at Kyoto Imperial University, and for all through his house, Chochikukyo
Built in 1928 Chochikukyo reflects the social and cultural changes that occurred in Japan following the Meiji Restoration of 1868, changes which saw the increasing adoption of western habits and customs into Japan, including, in the words of Koji Fujii, "that instead of sticking to the old custom of squatting on mats in kimono, Japanese have come to adopt the foreign way of sitting on chairs in foreign clothes", but despite that, "few persons however entirely discard the old custom of squatting on mats."1
Chochikukyo reflects the mix of western and Japanese in the Japan of that period being as it is an essentially traditional construction in terms of form, material and layout, but much more westernised in its interior, featuring electrification, furniture and carpeting
In addition Chochikukyo was one of five houses Koji Fujii built as part of his exploration of how to construct houses better suited to the Japanese climate, and in his book The Japanese Dwelling-House he explains at great length how he approached that and the reasons for his decisions; thus making Chochikukyo an early example of passive architecture, and a house that remains interesting, relevant and contemporary 90 years after its construction.
Extending a 2009 Chochikukyo exhibition through recently discovered new material The Wooden Modernism of Koji Fujii promises to offer an interesting insights into aspects of the development of the East/West dialogue of the late 19th, early 20th century
Chochikukyo -The Wooden Modernism of Koji Fujii opens at Takenaka Carpentry Tools Museum 7-5-1 Kumochi-cho, Chuo-ku, Kobe 651-0056 on Saturday May 12th and runs until Monday July 16th
1. Koji Fujii, The Japanese Dwelling-House, Meiji Shobo, Tokyo 1930
"Saturated: The allure and science of color" at the Cooper Hewitt, Smithsonian Design Museum, New York, New York
Metamerism is the physical phenomenon by which a colour can appear different, and different colours appear the same, depending on the local light conditions. And is just one of the reasons colours fascinate to they degree they do.
With their exhibition Saturated: The Allure and Science of Color the Cooper Hewitt New York aim to explore our fascination with colour through seven sections: Color Optics, Creating Colors, Navigating Color, Color and Form, Color Collaboration, Consumer Choice and Capturing Color, and a presentation of some 190 objects as varied as a 4th century Syrian glass Aryballos, Sir Isaac Newton's 1704 text Opticks, Massimo Vignelli's 1974 New York subway diagram or Verner Panton's 1969 Decor I textile series.
And thereby an exhibition which explores not only what colour is, how we perceive it and why it fascinates, but also how architects and designers can and do employ colour to augment and optimise their works.
Saturated: The allure and science of color opens at the Cooper Hewitt, Smithsonian Design Museum, 2 East 91st Street, New York 10128 on Friday May 11th and runs until Sunday January 13th
"Post Otto Wagner. From the Postal Savings Bank to Post-Modernism" at the MAK – Österreichisches Museum für angewandte Kunst, Vienna, Austria.
Much as we love a good bit of word play, that's not the reason for our interest in the MAK's new Otto Wagner exhibition.
Although its title is an excellent bit of word play.
As previously noted, 2018 marks the 100th anniversary of the deaths of four important protagonists of the so-called Wiener Moderene – Koloman Moser, Egon Schiele, Gustav Klimt, Otto Wagner – and to mark the occasion Vienna's museums are celebrating the four in a series of special exhibitions.
With Post Otto Wagner the MAK aim to explore less Wagner and more his influence, both directly in the persona of his various pupils such as Joseph Maria Olbrich, Josef Plečnik or Rudolph M. Schindler but also in the numerous contexts in which his legacy can be detected throughout the course of 20th century architecture and urban planning including considerations on ornamentation, understandings of form, use of new building materials and construction practices or the function of symmetry.
A central starting point for the various threads of investigation being Wagner's celebrated Postsparkasse – Postal Savings Bank – a work just as relevant to the development of architecture and design as its creator.
Post Otto Wagner. From the Postal Savings Bank to Post-Modernism opens at the MAK – Österreichisches Museum für angewandte Kunst Stubenring 5, 1010 Vienna on Wednesday May 30th and runs until Sunday September 30th
"Chippendale's Director: The Designs and Legacy of a Furniture Maker" at The Met Fifth Avenue, New York, New York
The 18th century cabinet maker Thomas Chippendale is/was not only one of the most important characters in the development of furniture design, but through his book The Gentleman and Cabinet-Maker's Director one of the most important characters in the development of the furniture industry, and also a forefather of Open Design.
By way of celebrating Thomas Chippendale's 300th birthday the Met New York are taking his most famous publication as the starting point for an exploration of his work, relevance and legacy. And by extrapolation the relevance and legacy of The Gentleman and Cabinet-Maker's Director.
Published in three editions between 1754 and 1762 Chippendale's Director contained examples of chairs, wardrobes, shelving, bookcases et al in the principle styles of the day and served as both a catalogue for Chippendale's workshop, but was also intended as a guide for others looking to make the pieces themselves, noting as it does that it contains "proper directions for executing the most difficult pieces, the mouldings being exhibited at large, and the dimensions of each design specified."2 And in doing so played key role in the dissemination of furniture styles from London to the regions and countryside of England, Scotland and Wales, and thus a gradual replacing of local, vernacular traditions and a unifying of interiors. And while you could get your local carpenter to make the pieces, much as with contemporary open design, you could also get the Master to create them himself, something Thomas Chippendale was more than happy to do, noting "I am confident I can convince all Noblemen, Gentlemen, or others, who will honour me with their commands that every design in the book can be improved, both as to beauty and enrichment, in the execution of it, by Their Most Obedient Servant, Thomas Chippendale"
A key feature of the Met's exhibition promises be a presentation of original preparatory drawings from the Director, drawings which according to the curators will "provide an intimate behind-the-scenes view of the creation of the Director and highlight aspects of the drawing techniques, variety in forms and decorations, and the practical information Chippendale incorporated into his furniture designs", and drawings backed up by examples of similar publications available at the time and objects of furniture both by and inspired by Chippendale, and from across the centuries, including Robert Venturi and Denise Scott Brown's 1984 "Chippendale Chair".
Chippendale's Director: The Designs and Legacy of a Furniture Maker opens at The Met Fifth Avenue, 1000 Fifth Avenue New York 10028 on Monday May 14th and runs until Sunday January 27th
2. Thomas Chippendale, The Gentleman and Cabinet-Maker's Director, 1754