5 New Design Exhibitions for April 2017
While it's hard to feel anything even vaguely resembling joy in a month which sees the UK start its senseless and cowardly, withdrawal from the European Union … life goes on!!
Our five top distractions for April 2017 features new design and architecture exhibitions in Berlin, New York, Paris, Dessau and Milan.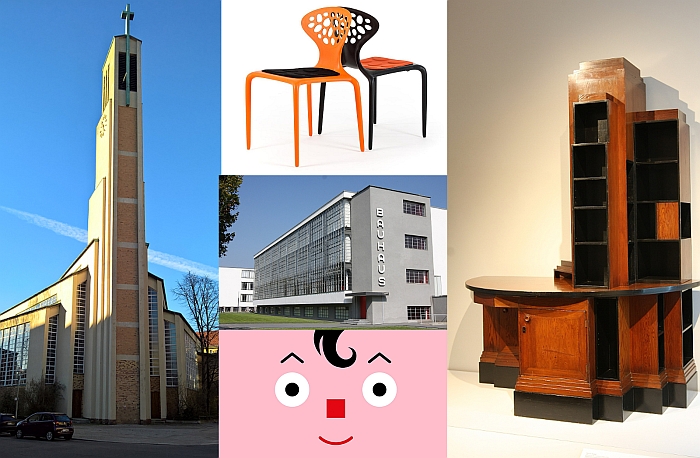 "Otto Bartning (1883–1959). Architect of Social Modernism" at the Akademie der Künste, Berlin, Germany
Born in Karlsruhe in 1883 the architect and theoretician Otto Bartning was, and is, a key figure in the development of international modernism: be that, for example, through his role in co-developing with Walter Gropius the Bauhaus teaching concept, as a founding member of the modernist Der Ring architectural collective or post-war as head of the organising committee of the Interbau 57 International Building Exhibition which saw works by the likes of Le Corbusier, Alvar Aalto and Arne Jacobsen realised in Berlin. Otto Bartning is also remembered as one of Europe's leading church architects, with works such as the Auferstehungskirche Essen, Gustav-Adolf-Kirche in Berlin Charlottenburg or the Kreuzkirche in Chemnitz Kaßberg being joined by the 43 "Emergency Churches" Bartning developed to replace those lost during the war in a, we believe, unparalleled portfolio of protestant architecture. At least in the modern age.
With Architect of Social Modernism the Akademie der Künste Berlin promise a comprehensive exploration of Otto Bartning's life and work, and for all his efforts to achieve functionality without losing the focus on the sensibilities of the human soul. And thus promises to represent an important addition to our collective understanding of 20th century architecture – and by extrapolation 21st century architecture.
Otto Bartning (1883–1959). Architect of Social Modernism opens at the Akademie der Künste, Hanseatenweg 10, 10557 Berlin on Friday March 31st and runs until Sunday June 18th
"The Jazz Age: American Style in the 1920s" at Cooper Hewitt, Smithsonian Design Museum, New York, USA
Few decades have quite the fascination of the 1920s: on the one hand the rise, rise and rise of automation, aviation, sanitation, cinema, female emancipation and suffrage, and on the other the rise, rise and rise of nationalism, exploitation, prohibition, organised crime and unsustainable debt. And all set against a musical background every bit as rebellious, self-destructive and thoroughly adsorbing as the rock and roll, punk and rave which would define future generations.
Featuring some 400 items from across the realms of industrial design, fashion, architecture, interior design, film and, naturally, music The Jazz Age promises to present not only one of the widest explorations of 1920s American popular culture ever staged, but also of how designers, artists and architects in Europe and America influenced one another and helped drive us towards modernism. And the Great Depression.
The Jazz Age: American Style in the 1920s opens at Cooper Hewitt, Smithsonian Design Museum, 2 East 91st Street, New York, NY 10128 on Friday April 7th and runs until Sunday August 20th
"Ross Lovegrove – Convergence" at Centre Pompidou, Paris, France
In March 2017 Le Centre Pompidou, Paris launched Mutations/Créations, a programme of events conceived to explore questions concerning the future of digital technology and creativity. Following on from the inaugural exhibition Imprimer le monde, Le Centre Pompidou present with Convergence an exhibition devoted to the work of the Welsh designer Ross Lovegrove.
A graduate of Manchester Polytechnic and the Royal College of Art London, Ross Lovegrove initially worked in the offices of Frog Design in Herrenberg, near Stuttgart, before moving on to Paris where in addition to working with Knoll International he collaborated with Jean Nouvel and Philippe Starck. Since opening his own studio in London in 1986 Ross Lovegrove has worked with clients as varied as, and amongst many others, Moroso, Artemide, Kartell or Issey Miyake.
Inspired by the simple logic of natural structures and growth processes, Ross Lovegrove has long been at the forefront of using digital technology and digital processes, the result being a highly idiosyncratic canon which although formally not always the easiest to appreciate, represents an important contribution to our understandings of the relationships of material, form and technology.
Presenting some 100 items from across the past three decades, Convergence promises to provide not only a fulsome overview of Ross Lovegrove's understanding of design, but also where digital technology can take design.
Ross Lovegrove – Convergence opens at Le Centre Pompidou, Place Georges-Pompidou, 75004 Paris on Wednesday April 12th and runs until Monday July 3rd.
"Craft becomes Modern. The Bauhaus in the Making" at Stiftung Bauhaus Dessau, Germany
A, arguably, the, central element of the Bauhaus model was the Werkstätte, the workshops: those physically confined but conceptually boundless spaces where applied art met craft and industrial design evolved. With the exhibition Craft becomes Modern, Bauhaus Dessau aim to explore the (hi)story of the Bauhaus workshops both as spaces where craft was practised, but also as spaces where the theoretical discussions on future models of living, producing and working took on real, physical, forms.
Featuring a mix of drawings, material studies, photos, documents and objects Craft becomes Modern also promises not only to help visitors understand the true essence of Bauhaus beyond the shallow "Bauhaus Style" but much more to help us understand our contemporary discussions on future models of living, producing and working.
Craft becomes Modern. The Bauhaus in the Making opens at Stiftung Bauhaus Dessau, Gropiusallee 38, 06846 Dessau-Roßlau on Thursday April 13th and runs until Sunday January 7th 2018.
"Giro Giro Tondo. Design for Children" at the Triennale Design Museum, Milan, Italy
Following on from showcases such as Italian Design Beyond the Crisis, Dream Factories or Grafica Italiana, the 10th Triennale Design Museum Edition focuses on Italian design for children. Taking its title from the Italian version of Ring a Ring o' Roses, Giro Giro Tondo promises an exploration of both the history and development of design for children, as well as, we hope, of the conceptual and practical differences in designing for children as opposed to for adults
In addition to the design of those 3D objects needed for play, education, eating, sitting and sleeping, Giro Giro Tondo will also explore the 2D world of books, illustrations and cartoons: in which context, and being as it is an Italian focussed exhibition, an entire section is devoted to Pinocchio. Or is it? Always hard to tell with Pinocchio…….
Giro Giro Tondo. Design for Children opens at the Triennale Design Museum, Palazzo della Triennale, Viale Alemagna 6, 20121 Milan on Saturday April 1st and runs until Sunday February 18th 2018