5 New Architecture & Design Exhibitions for June 2018
"Memphis in June,
A shady veranda under a Sunday blue sky,
Memphis in June,
And cousin Amanda's makin' a rhubarb pie"

(Memphis in June, Hoagy Carmichael)
Sounds lovely Hoagy, but we'll have to pass, because despite Memphis having some interesting museums, we can't find one opening a new architecture or design exhibition in June 2018.
Consequently, and unlike Marc Cohn, we'll not be "Walking in Memphis" this June, but in Düsseldorf, Espoo, Andelsbuch, Rotterdam and San Francisco…..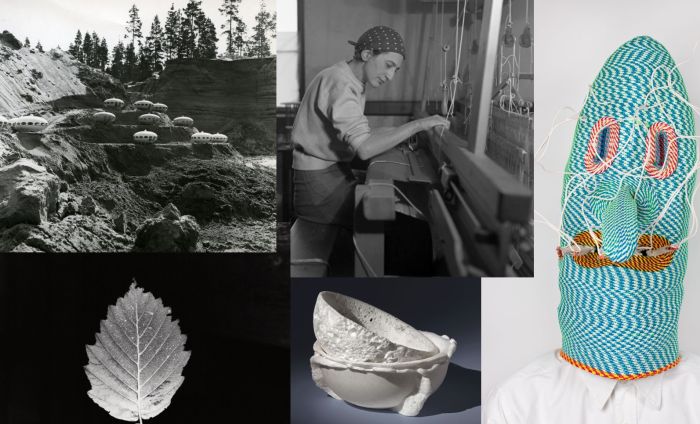 "Anni Albers" at K20 Grabbeplatz, Düsseldorf, Germany
Born in Berlin on June 12th 1899 the young Anni Fleischmann intended pursuing a career as a painter; however, the less than enlightened views of the early 20th century meant that the weaving loom became her canvas, yet a canvas which she not only learned to employ with a rare dexterity, but which she also used in ways that neatly underscore the partnership between art and craft striven for by the reformist thinkers of the period. Following three years of art studies in Hamburg, Anni Fleischmann enrolled at Bauhaus Weimar in 1922, moving with the institute to Dessau in 1925, where in the same year she married Josef Albers and in 1931 took over leadership of the weaving workshop. The rise of the Nazis saw the Albers emigrate to America where, in addition to numerous teaching roles, most notably at Black Mountain College, Anni Albers also cooperated for some 30 years as a textile designer with Knoll.
In addition to presenting both artistic and more functional works created by Anni Albers, the Düsseldorf exhibition also promises examples of historic textiles collected by Anni Albers in addition to texts by Anni, through which the curators aim to elucidate not only Albers' understanding of the function and possibilities of weaving/textiles, but also her understanding of colour, form, decoration and her use of new materials and new weaving techniques and processes to help advance weaving/textile design and thereby keep the traditional craft relevant and contemporary.
And in doing so sounds like providing not only a thorough introduction to one of the few females to establish themselves in their own right in the largely patriarchal world of International Modernism, but also help expand understandings of the reality of Bauhaus as we approach the centenary of the founding of Bauhaus Weimar, and the cliché festival that could become.
Anni Albers opens at Kunstsammlung Nordrhein-Westfalen, K20 Grabbeplatz, Grabbeplatz 5, 40213 Düsseldorf on Saturday June 9th and runs until Sunday September 9th
"Futuromania – Designing Future Living" at EMMA – Espoo Museum of Modern Art, Espoo, Finland
As previously opined, the fact that the 1968 Futuro House by Finnish architect Matti Suuronen resembles a flying saucer is, in many regards, a consequence of the decades since it was created; then, while it may have resembled a flying saucer it existed as, and was understood as, a realistic vision of a future living concept. One of many of the period, one of many influenced by the new materials and technologies of the 1950s and 60s, one of many influenced by the developing understandings of human impact on the planet, one of many influenced by the science fiction of the period. And one of many included in the EMMA's exhibition Futuromania – Designing Future Living.
Focussing on projects by Finnish architects and designers Futuromania features creatives as varied as, and amongst many others, Armi Ratia, Tapio Wirkkala, Aarne Ervi, and naturally Matti Suuronen, and promises a selection of projects ranging from the fantastical to the more practical, from the monumental to the more basic, but which are all linked by their reliance on new materials, new technologies and new understandings of the need for new approaches to living, working and urban planning. Understandings which weren't always well founded.
And thereby sounds not only as if it will provide an interesting discussion on the projects and their legacy, but also a relevant addition to the contemporary discourse on where our reliance on new materials, new technologies and our, apparently, well founded understandings of the need for new approaches to living, working and urban planning will take us. How many flying saucers will we realise?
Futuromania – Designing Future Living opens at EMMA – Espoo Museum of Modern Art, Ahertajantie 5, Tapiola, 02100 Espoo on Wednesday June 6th and runs until Sunday February 17th.
"Alphabet of Life. Learning Workshop: Nature" at Werkraum Bregenzerwald, Andelsbuch, Austria
That the designers of Art Nouveau sought inspiration in nature wasn't in itself wrong, it was more their focus on the physical representation of nature, their figurative interpretations of form, that led to some of the more regrettable moments. The real value of nature in terms of architecture and design is its structures, processes, materials and functionalities. And since we've understood that, we've advanced a lot quicker, even if the aesthetics hasn't always kept pace.
Celebrating the myriad ways nature has influenced, and could influence, architecture and design, the Werkraum Bregenzerwald's summer exhibition promises not only to explore the history of biomimicry through examples of projects inspired by nature, but also through the presentation of "26 Life Principles", 26 natural strategies and patterns selected by a zoologist, an ecologist and a botanist and which aim to not only underscore the variety and durability of natural systems, but how we can learn and benefit from understanding such.
And thereby, we presume, Alphabet of Life will also underscore the importance of multi-disciplinary approaches to architecture and design research, and of the role of the architect and designer as a facilitator attempting to join the dots between differing disciplines in a meaningful and sensible act.
Alphabet of Life. Learning Workshop: Nature opens at Werkraum Bregenzerwald, Hof 800, 6866 Andelsbuch on Saturday June 23rd and runs until Saturday October 6th.
"Hot Glue – Bertjan Pot" at the Museum Boijmans Van Beuningen, Rotterdam, Netherlands
Dutch designer Bertjan Pot is normally to be found behind a mask, the Museum Boijmans Van Beuningen's Bertjan Pot solo exhibition can therefore be considered a de-masking of the designer. Paradoxically, because Bertjan Pot's masks stand representative for one of the exhibition's central aims: to approach an exploration of how Bertjan Pot approaches and understands design. And therefore a de-masking that requires a mask.
Rather than presenting existing, commercial, projects, Hot Glue promises to present what sound like examples of Bertjan Pot thinking out loud: in the build-up to the exhibition Bertjan refused all new commissions for a year and concentrated instead on reconsidering projects once started but never finished and also on developing new projects. The result is a collection of objects crafted from rope, tape, yarn, cloth, beads et al, a collection of objects expressing varying degrees of abstractness, a collection of objects the curators aim to use to explain Bertjan Pot's methodology, how his projects develop and the role played therein by considerations of form, function, processes, materials; and a collection of objects from which we are certain one or the other will become a future commercial project, thus making Hot Glue a preview rather than the more traditional designer retrospective.
And the mask? Bertjan once attempted to make a carpet by tying bits of rope together, an approach which didn't work, but which did, through discourse, re-imagining and concentration on the process rather than intended outcome, lead to the masks.
Hot Glue – Bertjan Pot opens at Museum Boijmans Van Beuningen, Museumpark 18-20, 3015 CX Rotterdam on Sunday June 9th and runs until Monday September 30th
"Raw Design" at The Museum of Craft and Design, San Francisco, California
If we're being a 100% honest, which we do try to be, we're not 100% sure we actually understand what Raw Design aims to achieve. Are however 100% certain we are interested by what we believe it is aiming to achieve.
From what, we think, we do understand, the exhibition starts from the premise that as increasing digitalisation moves society ever further from the tangible, a degree of uncertainty creeps into a society which fears it has nothing physical on which to anchor itself. Responding to this, numerous designers attempt to reconnect us with the physical, with the natural, with the tangible, yet not through traditional craft process and familiar objects and object genres, but through new explorations of what is possible with natural materials. The press release contains the phrase "material intervention" which we're taking as the key, take home, concept on which the exhibition hangs: material as an entity rather than a means to an end.
Promising works by artists, designers and craftsfolk as varied as, and amongst many, many others, Beth Lipman, Mieke Meijer, Lex Pott, FormaFantasma or Gaetano Pesce, Raw Design sounds like being a very nice exploration of contemporary design practice, contemporary positions on materials, contemporary understandings of objects and alternative proposals for future production processes.
And if we're wrong, the list of creatives involved tends to indicate a very interesting and rewarding afternoon out regardless.
Raw Design opens at The Museum of Craft and Design, 2569 Third Street, San Francisco, CA 94107 on Saturday June 2nd and runs until Monday October 28th