USM Haller: Garden, Terrace, Balcony…..
Developed in the mid-1960s as an office furniture system, the inherent flexibility and variability of USM Haller's modular system has allowed it to naturally evolve alongside office practices and realities; for example, alongside the shift in recent decades from rigid to more flexible office scenographies, alongside the rise in recent decades of home working, or, most recently, with the USM Security Screen which naturally, and quickly, allows any existing USM reception desk to be effortlessly updated and reinvented for our Corona age.
Similarly in the domestic landscape. A landscape USM Haller quickly inhabited and where over the decades the inherent flexibility and variability of its modular system has seen it naturally adapt to the ever evolving realities of domestic life: the domestic life of both the private individual with all its personal fluctuations, high, lows and unpredictability, but also of communal society and, for example, its ever increasing collective networked, digital structure.
But despite its indoor success, system USM Haller hasn't found its way out of doors……
…..yet…..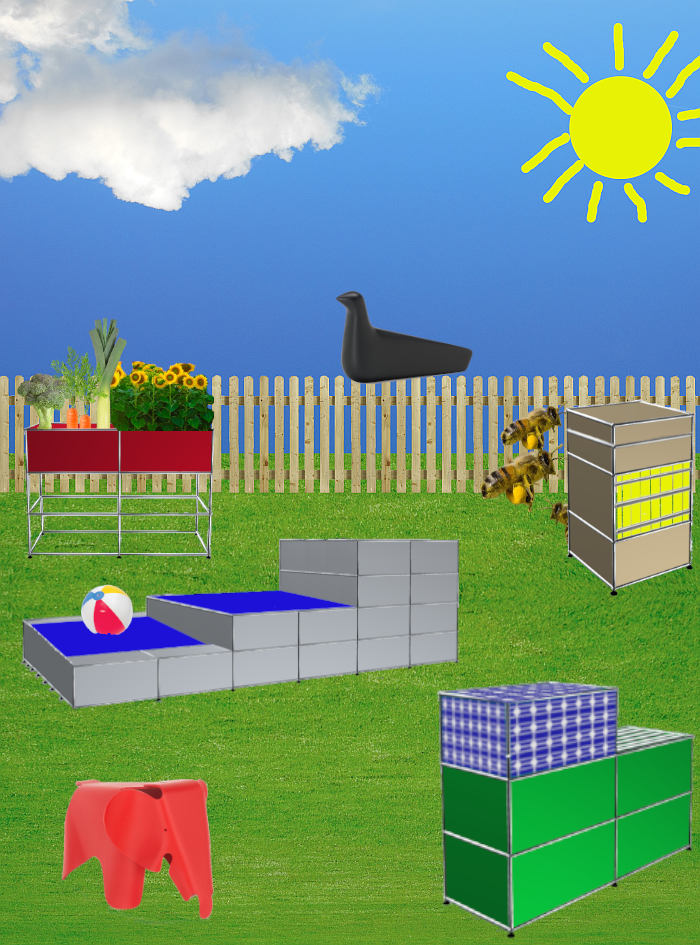 …….speculatively…..Purely speculatively!
USM Haller is not suitable for outdoor use. Do not try!!!
However, we'd argue that's a surface treatment issue, and contemporary science and technology offers many innovative surface treatments and finishes. And with its inherent flexibility, inherent variability, inherent ability to continually adapt and readapt to evolving situations and realities, system USM Haller is a most logical option for outdoor furniture. Not least because when the summer is over, you can not only dismantle and space savingly flat-pack store your outdoor furniture till spring; but when that spring comes, you can reconfigure and rescale your outdoor furniture to meet your new demands and requirements. USM Haller evolving with you as naturally out of doors as in the office or domestic landscape.
And so, with the days getting ever longer and warmer and thoughts turning ever more to life out of doors, a little speculative brainstorming……..
USM Haller Barbecue
Little says summer like the smell from a neighbour's barbecue. The USM Haller Barbecue offers you the chance for an olfactory reply: and some stylish, daring home-cooking. Configurable in a range of sizes and with a variety of storage options, be that cupboards, shelves or drawers, the defining feature of the USM Haller Barbecue is the use of the, from smow Blog developed, USM Solar Panels, which not allow the integration of Haller E lighting and Haller E USB charging modules, but also allow for sustainable, smoke-free, grilling on the heated Haller ℃ tubing*. And being as it is constructed from a modular system your USM Haller Barbecue can be reconfigured, increased or reduced, as situations, and your life, demand.
* Haller ℉ tubing in the USA
USM Haller Garden Pool
An old, recurring, dream in the smow Blog office is the USM Aquarium, a glass module which can be inserted in the middle of a USM highboard to bring aquatic life into any office or living room.
Expanding on the aquatic theme, the modular USM system allows not only for a garden pool that can grow or shrink as your requirements/space change, but which for all allows for the creation of a pool of varying depths, allowing bathers of different abilities to use the pool simultaneously. For larger, deeper, pools USM reinforcing profiles are advisable.
USM Haller Hot Tub
An adaptation of the USM Haller Garden Pool, and making innovative use of the heated Haller ℃/℉ tubing, the solar powered USM Haller Hot Tub can be adapted to fit the available space and includes submerged seating for relaxing mornings, afternoons, evenings, nights, whatever….
USM Haller Raised Bed
Perfect for the balcony, terrace, small garden, large garden and for plants or vegetables, the USM Haller Raised Bed can not only be configured to meet your needs and requirements, but can be effortlessly adapted season to season, year to year, location to location, as such change. Which they will. The use of perforated USM acoustic panels for the base allows for easy drainage, while tool and equipment storage can be provided either through freely customisable boxes or hooks.
USM Haller Balcony Planter
In many regards a smaller version of the USM Haller Raised Bed the USM Haller Balcony Planter hooks over the balcony rail to provide a secure, convenient, practical home for the cultivation of plants and herbs.
USM Haller Balcony Table
As with the USM Haller Balcony Planter the USM Haller Balcony Table simply hooks over the balcony rail to provide a convenient storage platform for a drink, a phone, a good book, and all those other balcony necessities. Optionally extendable with a Haller E Fan for a cooling breeze and/or a Haller E USB charging module, for all those planning longer days on their balcony.
USM Haller Beehive
The beehive is, inarguably, one of the better examples of the meaningful application of adaptable modular construction systems, and thus a very natural application of system USM Haller. Not least in that it also represents a very logical extension of Fritz Haller's MINI MIDI MAXI construction system to MINI MIDI MAXI APIARY. Allowing bees to experience the thrill of 1960s minimalist steel construction, the extending drawers with Inos filing frame inserts allows for easy access to the frames, while the the use of glass panels allows you to marvel every day anew at the industry and innate mathematical competence of the bee. In the interest of taste the USM Haller Beehive is not available with alternating black and yellow panels. Possible though that may be.
USM Haller Quoits
Because the outdoors is a place of social interaction as much as relaxing the USM Haller Quoits set allows for freely variable, scalable, gaming; and that with a quoits set that when not in use can be reconfigured to form its own storage crate. USM Pétanque is currently in development.
* Don't try this at home!! All USM Haller units depicted here are for illustration only. None are either available nor endorsed by USM. All exist alone and exclusively in the smow Blog imagination……