USM Haller Spit Protection
Against the background of pandemics such as Corona, readily realisable workplace solutions are required that actively contribute to increasing the protection of both employees and the wider public: be that in reception and service situations, including medical practices, or offices. And whereas individuals should, wherever possible, work from home with meetings held via video conference, such isn't always possible. Many fields of work require direct contact with customers, clients and patients, and consequently it is often not possible for employers to completely switch to home office and telecommuting. For such eventualities smow offers a selection of furniture and room dividers which can assist with the rapid installation of security zones. In combination with good hand hygiene, regular surface disinfection, and strict compliance with cough and sneeze directions, the furniture help increase protection against infection. USM now offers individually configurable furniture for adaptable working environments, including adaption to personal protection: for example, the USM Haller Counter M with security screen, a reception counter with an extended tubular steel structure across which conventional shrink-wrap film can be stretched as a protective barrier.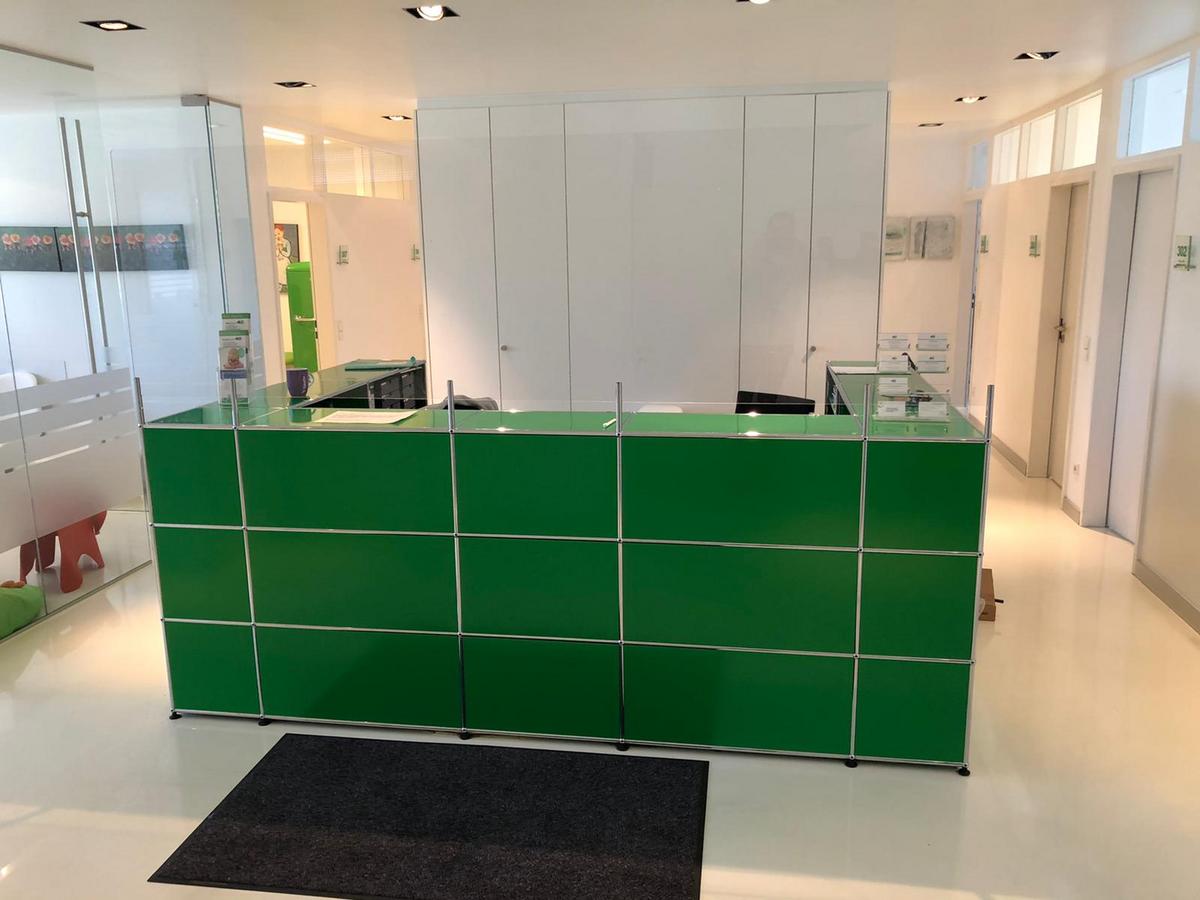 Stay safe: Customised USM furniture from smow
Our trained USM experts are on hand to equip existing USM units with individual security screens or other security measures, wherever possible. Whether a USM reception desk in your doctor's office or highboard in the office: simply contact us with your request. Our smow stores throughout Germany are still there for you - at short notice and fuss free. Call us, mail us, stay healthy, stay responsible!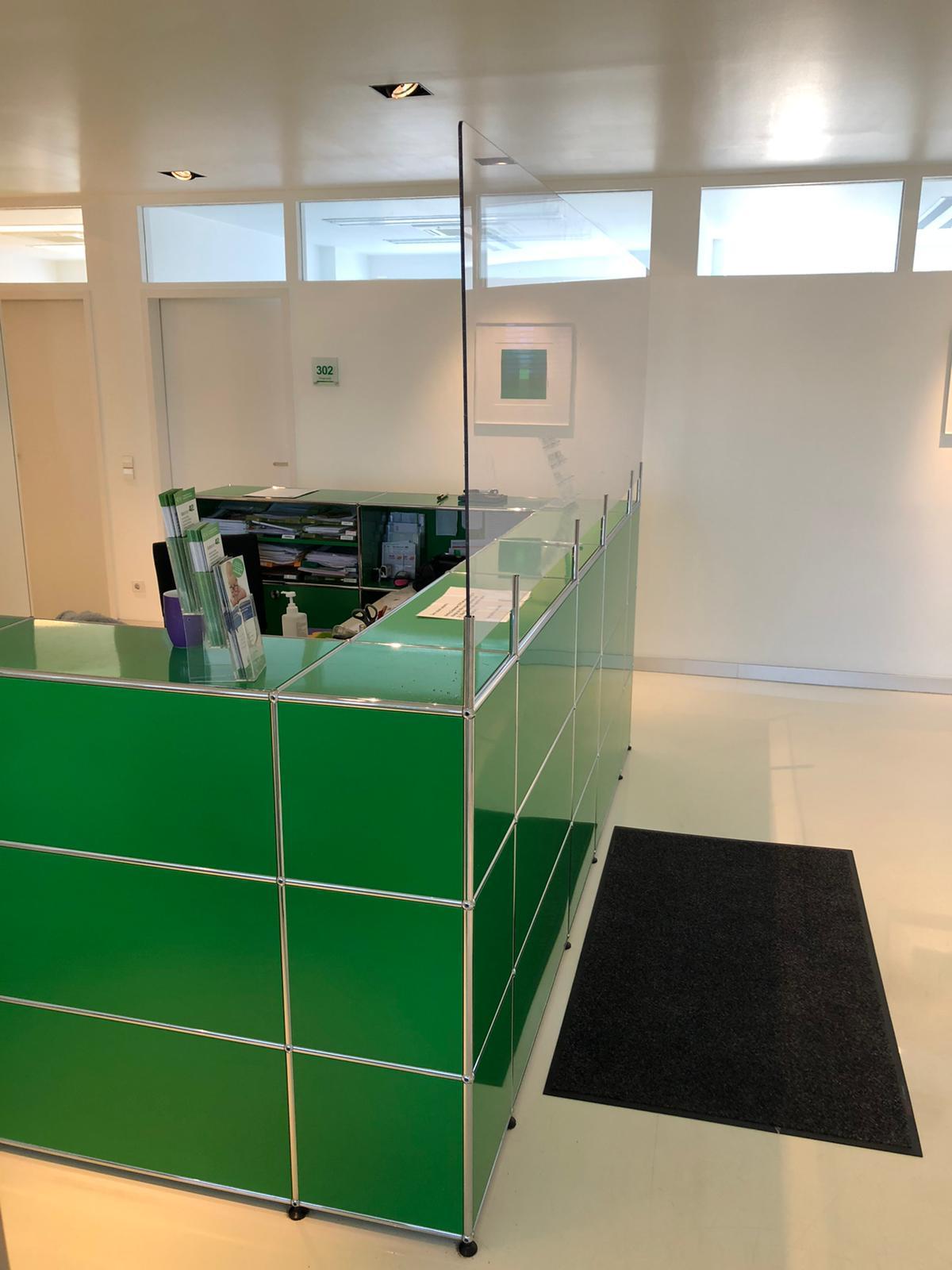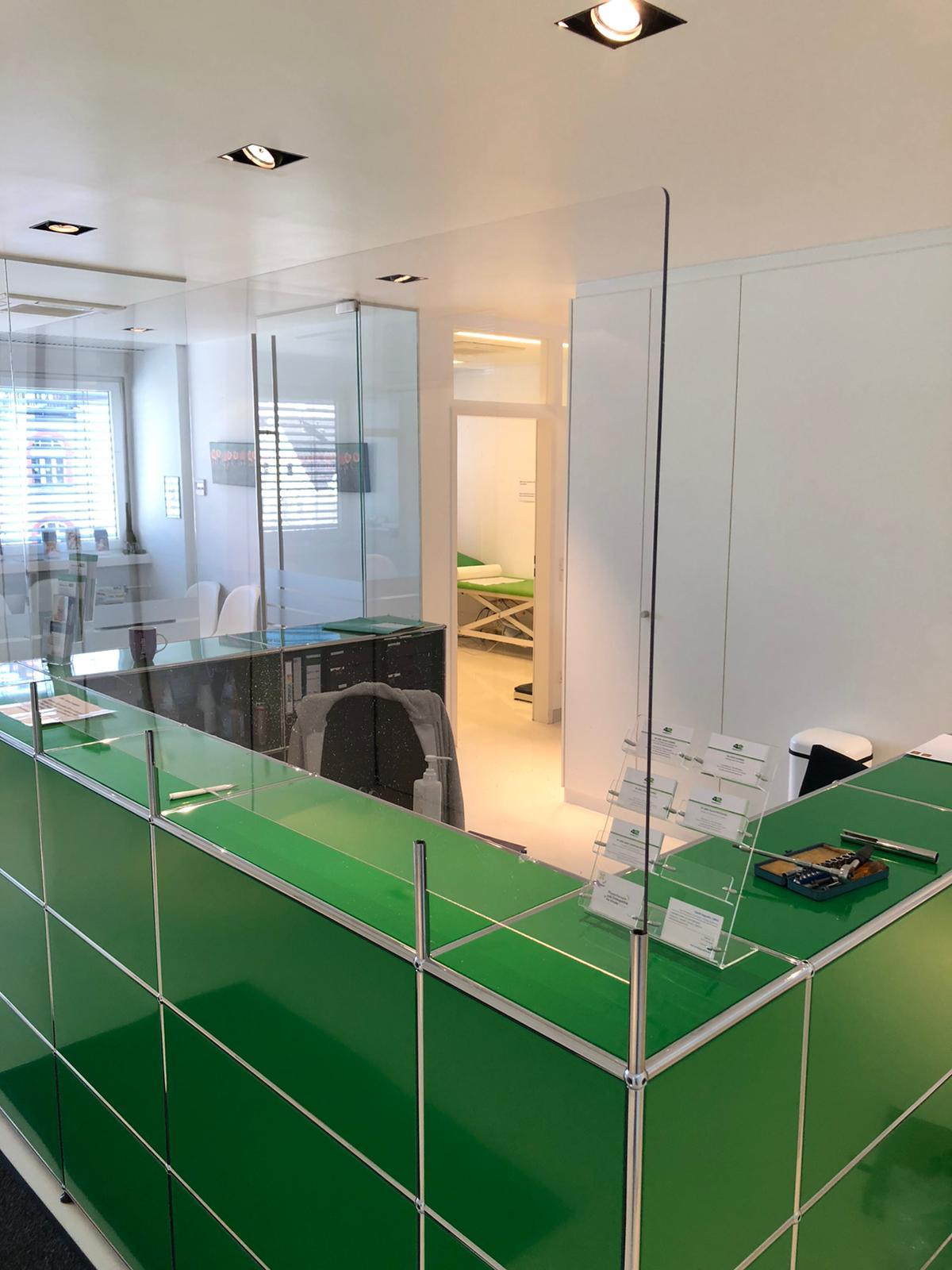 Disinfection options for USM products
The majority of the surfaces offered by USM are resistant to acids, alkalis and solvents and therefore also resistant to many of the commercially available disinfectants.
The majority of commercial disinfectants are based on 70-80 % ethyl alcohol or isopropanol. As alternatives are also available we recommend always checking the resistance of each agent in individual cases (at a discrete point, analogous to our cleaning recommendations). In general, it is also important never to leave the liquids on the surfaces for a long time and never to use abrasive cleaning rags.
The following detailed information should also be observed:
Powder coated metal elements in the USM Haller furniture system
The powder coating of the USM Haller furniture system is generally resistant to acids, alkalis and solvents and therefore also to most disinfectants.
Table tops - synthetic resin
Regular household cleaners or disinfectants (e.g. ethyl alcohol) are tolerated as long as they do not contain abrasives, acids or strongly alkaline substances.
Table surfaces - Fenix ​
Fenix ​​is resistant to chemicals (e.g. ethyl alcohol or acetone).
Table surfaces - MDF powder coated
Recommended is a diluted neutral detergent (pH value less than 9). Never use solvents such as high-alcohol, nitro thinner, brush cleaner, etc.
Table tops - linoleum
Hand and device disinfectants can cause stains due to their high solvent content. There are surface disinfectants explicitly suitable for linoleum (e.g. []), however this should be tested beforehand on a sample or a discrete area.
Table tops - lacquered wood veneer
The varnish on USM table tops withstands ethyl alcohol for 2 minutes, gasoline for 2 minutes and acetone for 10 seconds.
Table surfaces - oiled wood veneer
Hand and device disinfectants can cause stains due to their high solvent content.
Table tops - glass (equally for clear glass, lacquered glass and frosted glass)*
Very good resistance to all common household cleaners or disinfectants.