Designer bathrooms: Accessories & practical furniture
Storage space, hooks, mirrors - Designer furniture and accessories for the bathroom
The bathroom is not only a functional space, but also a place of relaxation. In order to create a pleasant atmosphere and to remain true to one's personal style in the bathroom the careful selection of bathroom furniture and bathroom accessories is crucial. Below we introduced some examples of furniture designs and high-quality bathroom accessories that can be used to emotionally furnish and beautify any bathroom.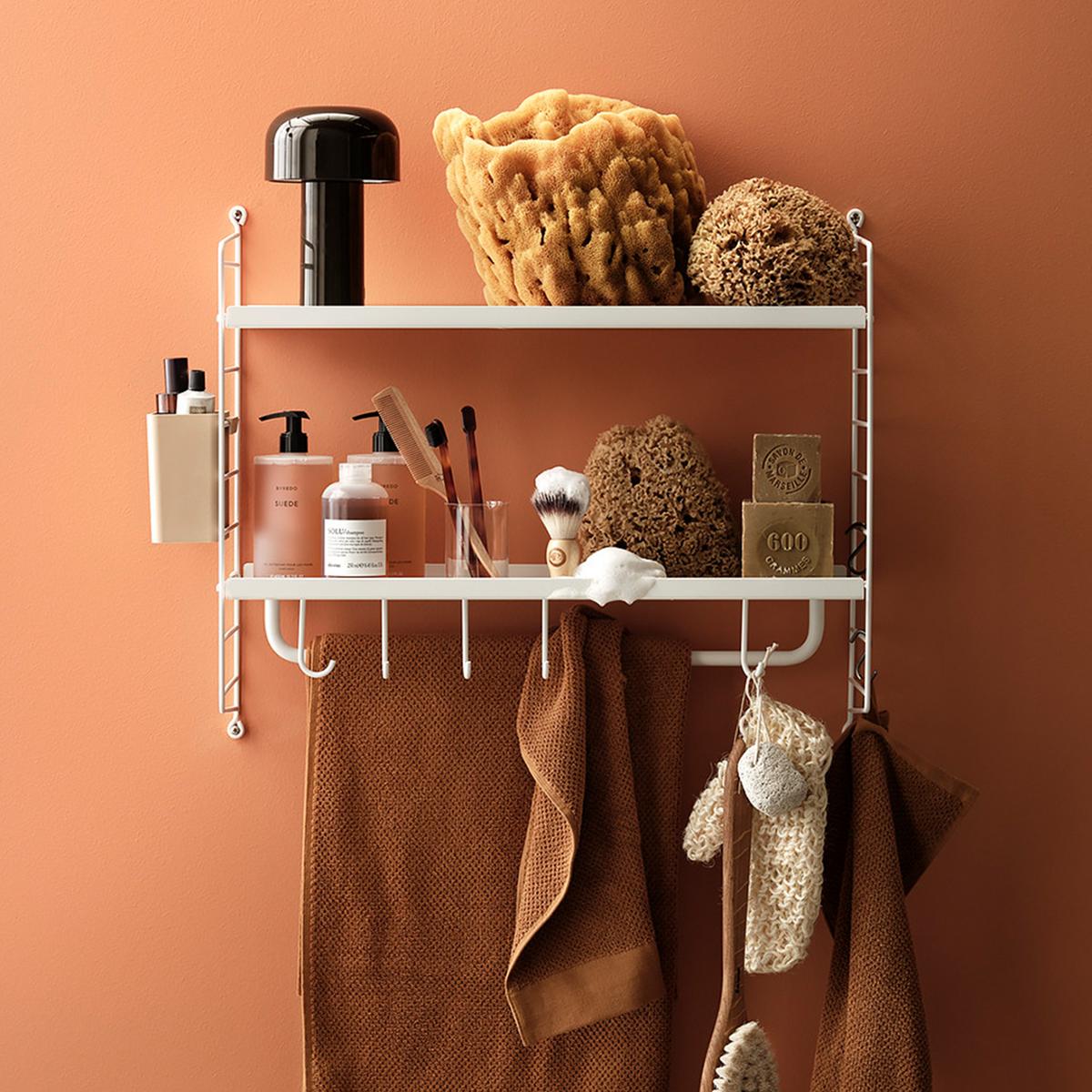 Storage furniture:
Cabinets, shelves or cupboards not only offer storage space but are aesthetic elements in the bathroom; therefore it is always important to choose bathroom storage furniture that match your style and the materials in the room. The Kartell Componibili system, for example, are made of high-quality plastic, are perfectly suited for the bathroom and, in addition to practical compartments, offer ideal storage space for a wide variety of objects. The String Bathroom system, with practical features for optimal organization in the bathroom is also tailored precisely to the needs of the bathroom. Montana offers colourful Scandinavian storage space design with its Bathroom series - just ask if you'd like to know more, we're here to assist you!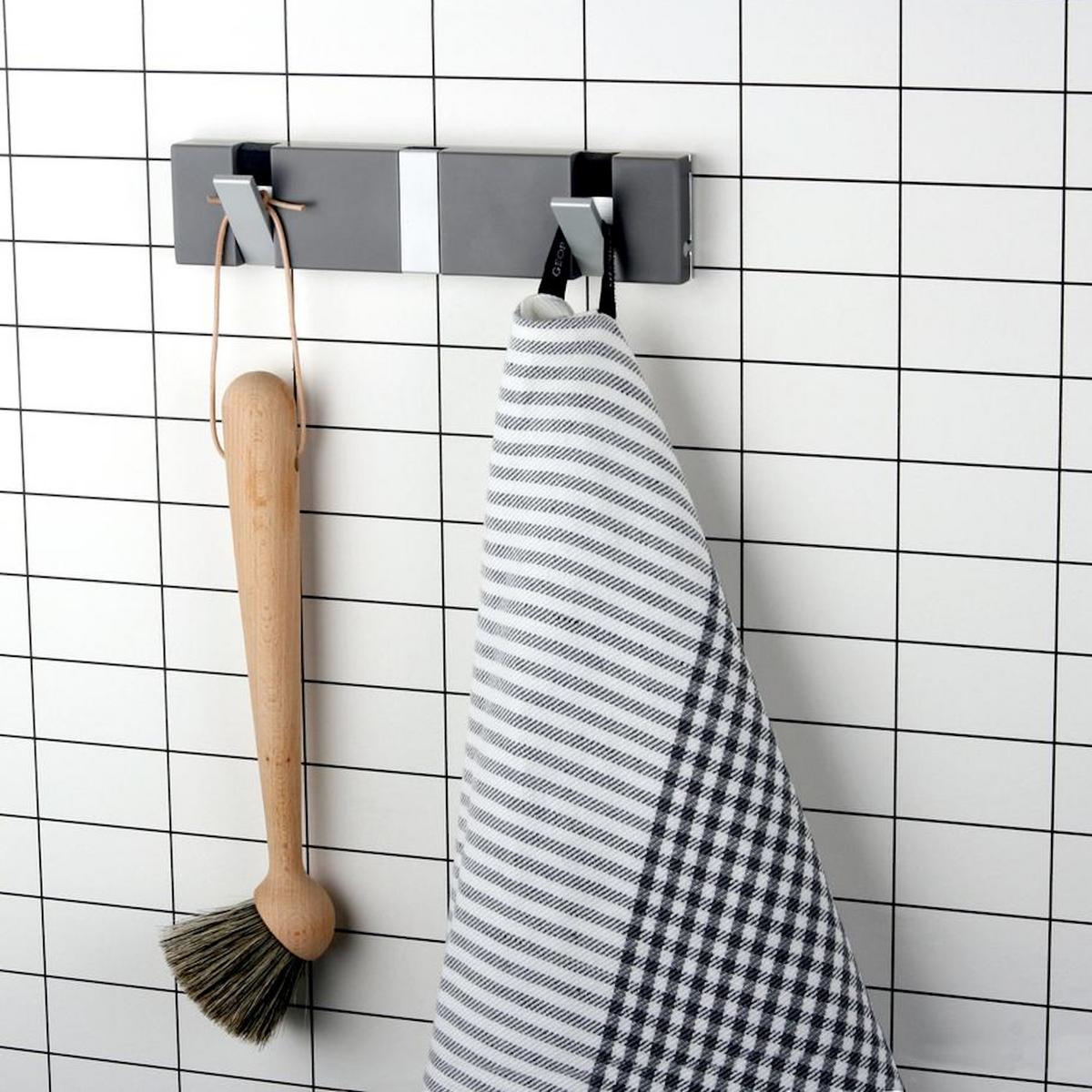 Towel racks:
Towel rails and hook rails are important accessories for the bathroom, especially if you have to share the bathroom with a great many friends and family, and they also set decorative accents. Some bathroom hooks can even be installed without drilling; for example, every towel has its place on the simple hook rail Knax Lite by LoCa, while the towel holder Towel Ladder by Audo Copenhagen is perfectly suited for drying wet towels and is a decorative highlight in the bathroom furnishings. Or employ colourful cloak hooks to complete your bathroom.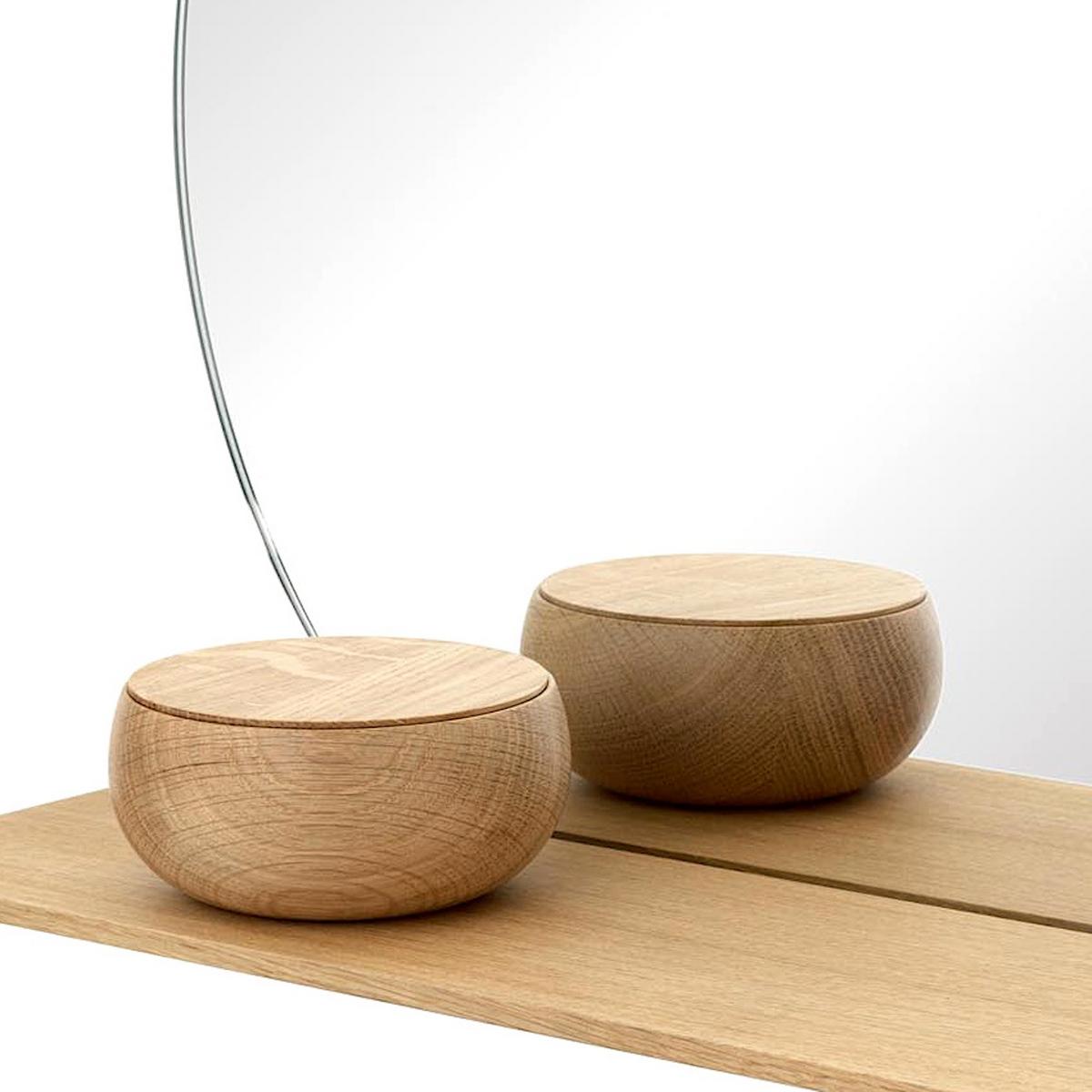 Mirror:
A well-placed mirror is an indispensable element in any bathroom. Apart from their practical function mirrors can optically enlarge rooms and reflect light, which is particularly useful in small bathrooms. The Cut mirror from Schönbuch, for example, impresses with its minimalist, geometric shapes and a practical shelf made of oiled oak. Standing mirrors are very much in trendy mirrors with integrated shelves or mirror cabinets for extra storage space are particularly practical.
Minimalist style
A minimalist design style in the bathroom is ideal when the rest of the home has a modern and clean look. Clear lines, neutral colours and reduced decoration create a calm and timeless ambience.
Classic Style
A classic style in the bathroom gives the room an elegant and timeless atmosphere. Ornaments, traditional shapes and noble materials such as marble or polished wood create a sophisticated ambience. This style goes well with homes with a traditional or elegant design concept.
Boho chic style
Boho chic is a style of fashion and interior design inspired by the hippie movement and bohemianism of the 1960s. In the bathroom, the boho-chic style can give the room a relaxed and natural atmosphere. Organic forms, natural materials such as bamboo or wood, patterned tiles and colourful textiles create an inviting and casual look. This style works well in an apartment with a relaxed and creative overall style.
Design series for a holistic bathroom
A design line for bathroom furnishing offers consistency, aesthetic balance and a stylish appearance. By choosing a specific design, colour scheme or material, a harmonious and coordinated overall picture is created. Overall, a design line creates an appealing and inviting atmosphere in the bathroom.
The Danish manufacturer Frost, for example, has various collections of classic accessories for bathroom design in its portfolio with Quadra, Care or Nova, the latter made of polished or brushed stainless steel which with their functional, simple design, ensure uniform, elegant bathroom furnishings with a special touch.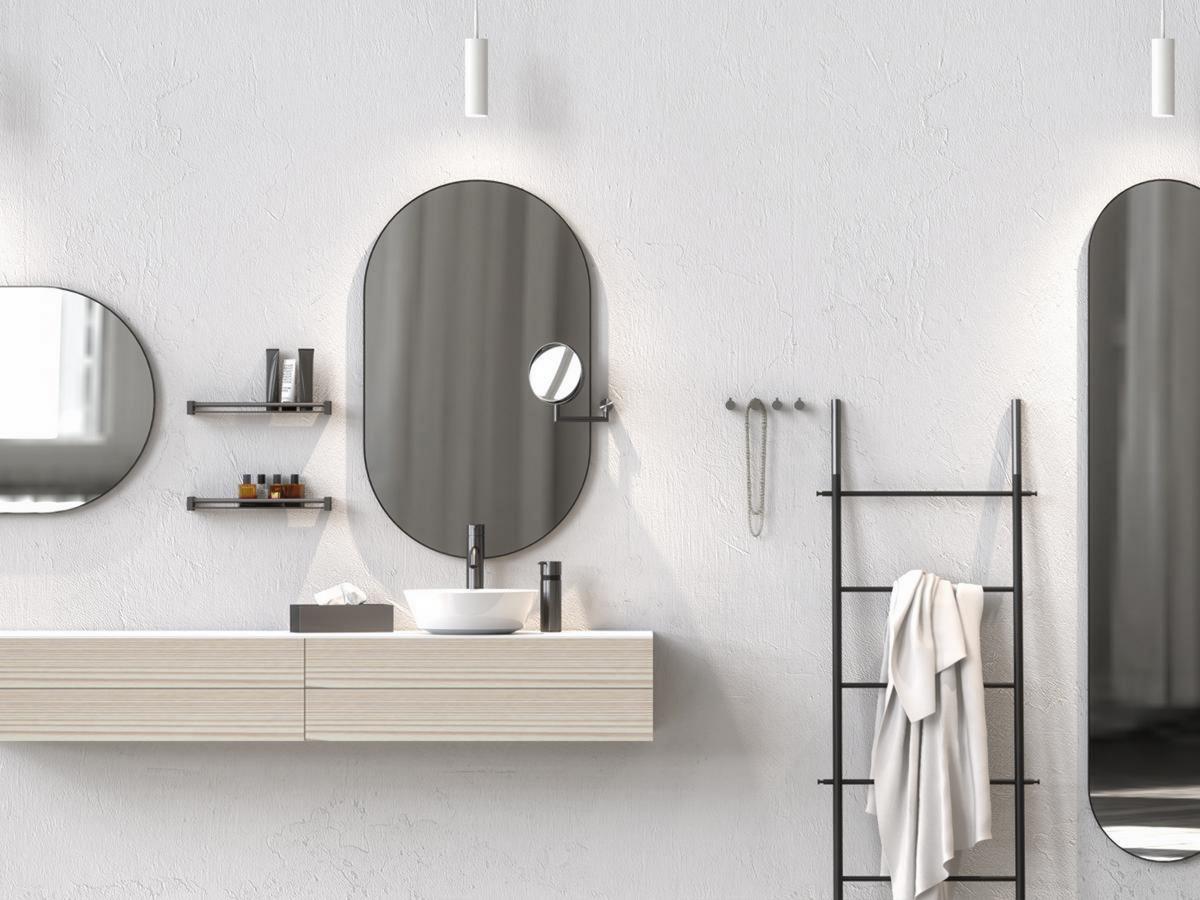 Designer furniture for the bathroom and home: Bathroom furniture surface consideration
When choosing the finish for bathroom furniture, it is important to consider the specific needs of the bathroom, especially in terms of humidity and cleaning. It is also advisable to follow the manufacturer's care instructions to ensure the longevity and beauty of the furniture. We have collected some examples of finishes that are suitable for bathrooms.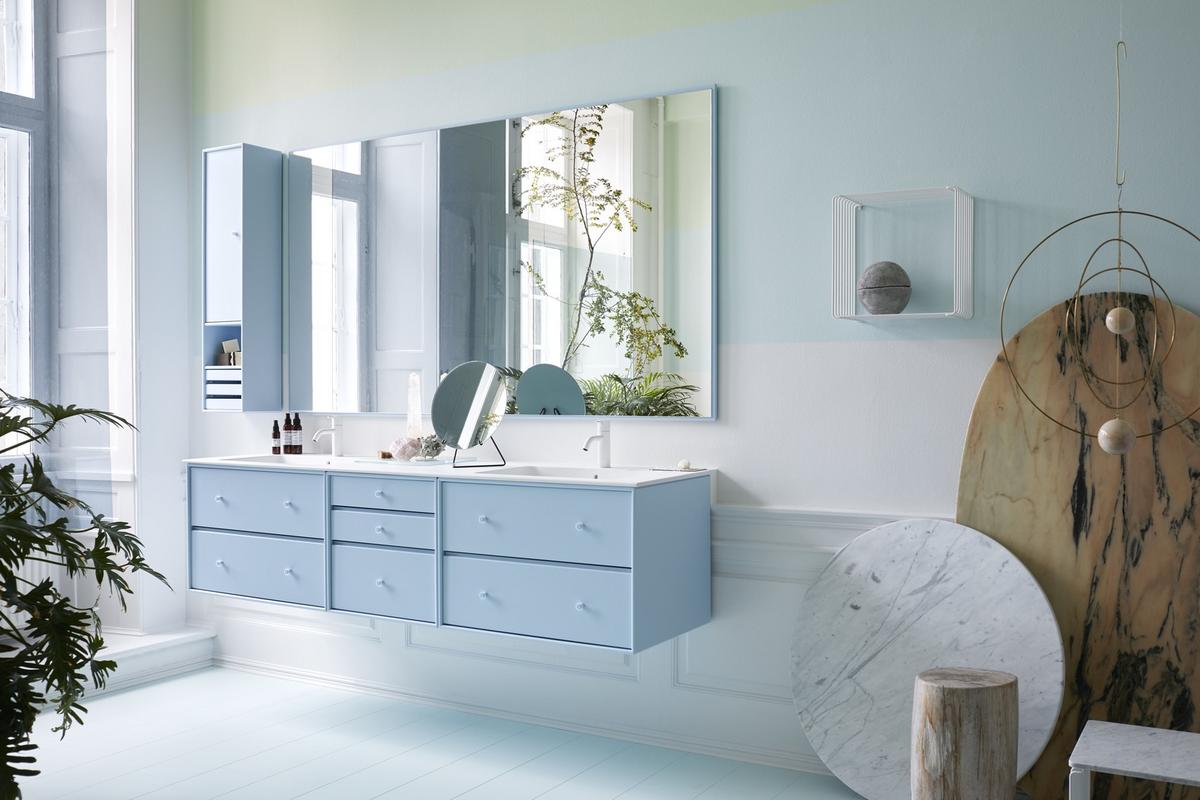 Lacquered surfaces: Lacquered surfaces give bathroom furniture a smooth, contemporary, look and allow a lot of scope for the colour scheme of your bathroom. Painted surfaces are also usually easy to clean, but require regular maintenance to prevent scratches and scuffs.
High Gloss Finishes: High gloss finishes are particularly popular in modern bathrooms. They give the furniture an elegant and luxurious look; however, the smooth and reflective high-gloss surfaces require regular cleaning to remove fingerprints and water stains. Metal furniture or parts should of course be rust-free or well protected by a possible powder coating.
Wooden surfaces: Wooden surfaces bring warmth and naturalness into the bathroom. They are available in different types of wood and surface treatments, such as lacquered, oiled or waxed, but often require special care to protect them from moisture. Designer furniture made of teak is ideal for the bathroom.
Glass surfaces: Glass surfaces also give bathroom furniture an elegant and modern appearance. They can be transparent or satin to ensure some privacy. Glass surfaces are easy to clean, but fingerprints and water stains are usually quickly visible.