The checklist for buying a sofa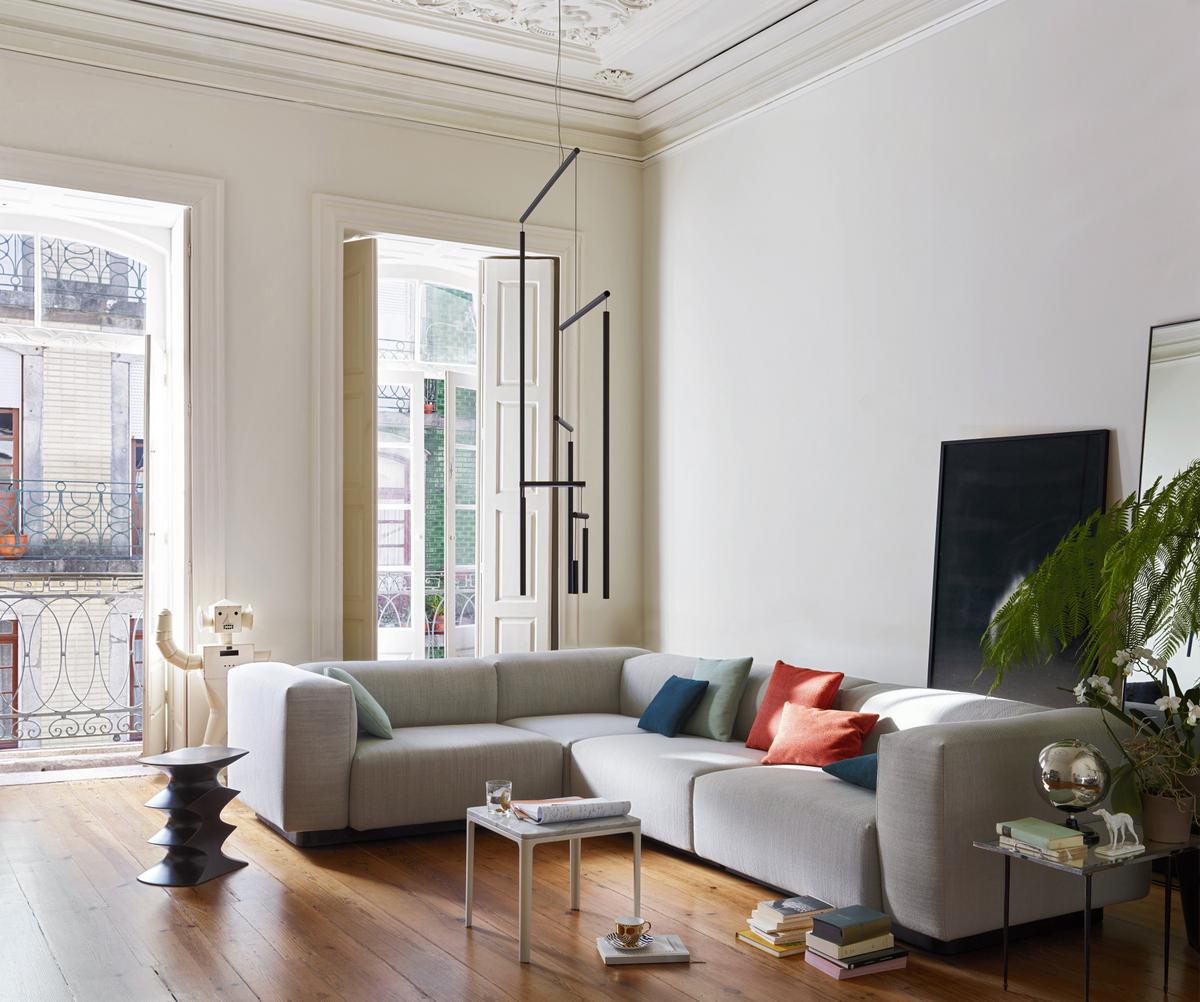 Whereas until the first half of the 20th century, the dining table and kitchen functioned as the centre of domestic family life, in the course of increasing liberalization and with the advent of radio and television, the living room and by extension the sofa became increasingly important. Today sofas are found wherever people want to sit comfortably and relaxed with relatives, friends or colleagues; be that in domestic spaces or commercial premises offices. Particularly comfortable and spacious designer sofas are often used in the living room: depending on the number of people and the size of the room, it is important to choose a 2-seater, 3-seater or a spacious, variably usable model such as the Mags Sofa with chaise longue by Hay. In addition to colour, material and shape, the seat height and depth are an important aspect - the size of the couch should also be coordinated with the rest of the interior. If you want to stretch out, relax and unwind, you should choose a sofa with a low seat height and deep seat. For those who want to chat or eat on the sofa, it is advisable to choose a sofa that you sit on upright, this includes models with a seat height of approx. 45 cm, where the seat depth is approx. 55 cm. Design sofas such as the Vitra Alcove with a high backrest are also ideal for work areas where business partners and colleagues come together.
1. What type of sofa are you looking for?
Before you decide on a sofa, you should be very clear about who it is for and the intended purpose of the sofa. Do you spend a lot of time in your living room? Is your sofa used by the whole family all day, or are you looking for a sofa for meetings with clients and colleagues in the office, or a comfortable seat for the reception? Depending on the situation, the choice between a smaller couch, a spacious, robust family sofa or a representative model that you can sit upright on becomes more obvious, similarly the choice between a 2-seater, 3-seater or a flexible modular system. Sofas are also often used as additional sleeping accommodation, there is a selection of high-quality sofa beds and daybeds from renowned manufacturers.
2. What is important in selecting the size of the sofa?
Decisive for the size of the sofa is on the one hand the number of users, with about 60-80 cm of seating space per person, and on the other hand the size of the room and the space you have provided for your sofa. Which sofas are suitable for small living rooms? Is a corner variant or the opposing arrangement of two sofas an advantage? Since sofas in a furniture store or online shop can look very different than at home, it is helpful to draw up precise sketches and measure the space exactly. Here you can either draw all the furniture to scale on a floor plan, or you can use large cardboard boxes arranged in the form of a sofa to test how the sofa volume looks in the room.
3. What is the ideal seat height and depth for a sofa?
If you want to stretch out, relax and unwind in the living room, you should choose a sofa with a low, deep, seat; whereby it should always be borne in mind that the lower the sofa height, the more difficult it is for older people to get up. Sofas on which you sit upright are also perfect for lobbies, offices and anyone who wants to chat or eat on the sofa; such generally feature seat height of approx. 45 cm, and the seat depth is approx. 55 cm.
4. Does the sofa match the interior design, including the colour?
When choosing a sofa, you should trust your own personal taste while keeping an eye on the rest of the interior, lighting and colour design. Because sofas often take up the most space in an office or in the living room, the colour should ideally be matched to the respective colour concept. Especially in large models, covers in neutral colours are recommended so that the sofa does not appear too dominant in the room. With additional cushions or blankets in strong colours, upholstered furniture can also be spiced up as desired. Your preference is minimalist Bauhaus design or warm Scandinavian design? With regard to the sofa design, models from different eras and design styles from renowned manufacturers and designers are available.
5. What is important when deciding on the upholstery of a sofa?
Sofas are heavily used furniture and should therefore be provided with covers that can withstand the expected level of use. Whether made of natural fibres or synthetic fibres, sofa covers are available in an infinite number of colours, but what matters in the end is resilience. The surface durability of a sofa cover is specified in so-called abrasion cycles. Here, the higher the abrasion cycles a cover withstands, the more durable the sofa cover. If a sofa is used privately and only occasionally, a value of 10,000 abrasion cycles is sufficient, heavily used family sofas should have a value of 15,000 tours, whereas in public areas such as cafés, for example, upholstered furniture should have 20,000 abrasion cycles. Light and colour fastness and the respective care instructions are also important for the sofa covers, in some cases the light-fastness value is also specified exactly: 8 being the best value. Leather covers are particularly popular and natural leather has a particularly pleasant feel. So-called aniline leathers are dyed exclusively with soluble dyes and are breathable, since they have no covering with a top or pigment coating, in contrast covered leather has closed pores, is cheaper, but there is no temperature compensation.
6. How is a high quality sofa constructed?
The first impression when sitting down is important when buying a sofa. With well-upholstered furniture, the cover does not slip, secondly, the upholstery resists and there are no hollows. Even if a heavy person sits on the sofa, all seams should hold and the upholstery should stay in shape. However, the interior of an upholstered piece of furniture is also absolutely crucial. High-quality sofas are made with a spring base made of taut wave springs or elastic belts. The frames are ideally made of solid wood and are matched to the respective suspension. There are various options for the seats: They either consist of a foamed-in spring core, a multi-layer cold foam cushion or moulded foam. The quality of the foam depends on the weight. A dimensionally stable seat foam should be as dense as possible and therefore heavy. Accordingly, sofas with a high-quality solid wood frame and excellent upholstery are middle to heavyweights.
7. How should I care for my sofa?
Depending on the covers, a sofa may require special care. Specific information is provided by the respective manufacturer; however in general one can say that covered, smooth leather is less susceptible to dirt than rough leather and can be easily cleaned with a damp cloth. When it comes to the covers, synthetic fibres generally outperform natural fibres in terms of durability and maintenance. The easiest to clean sofas are those that have removable covers which can be machine washed.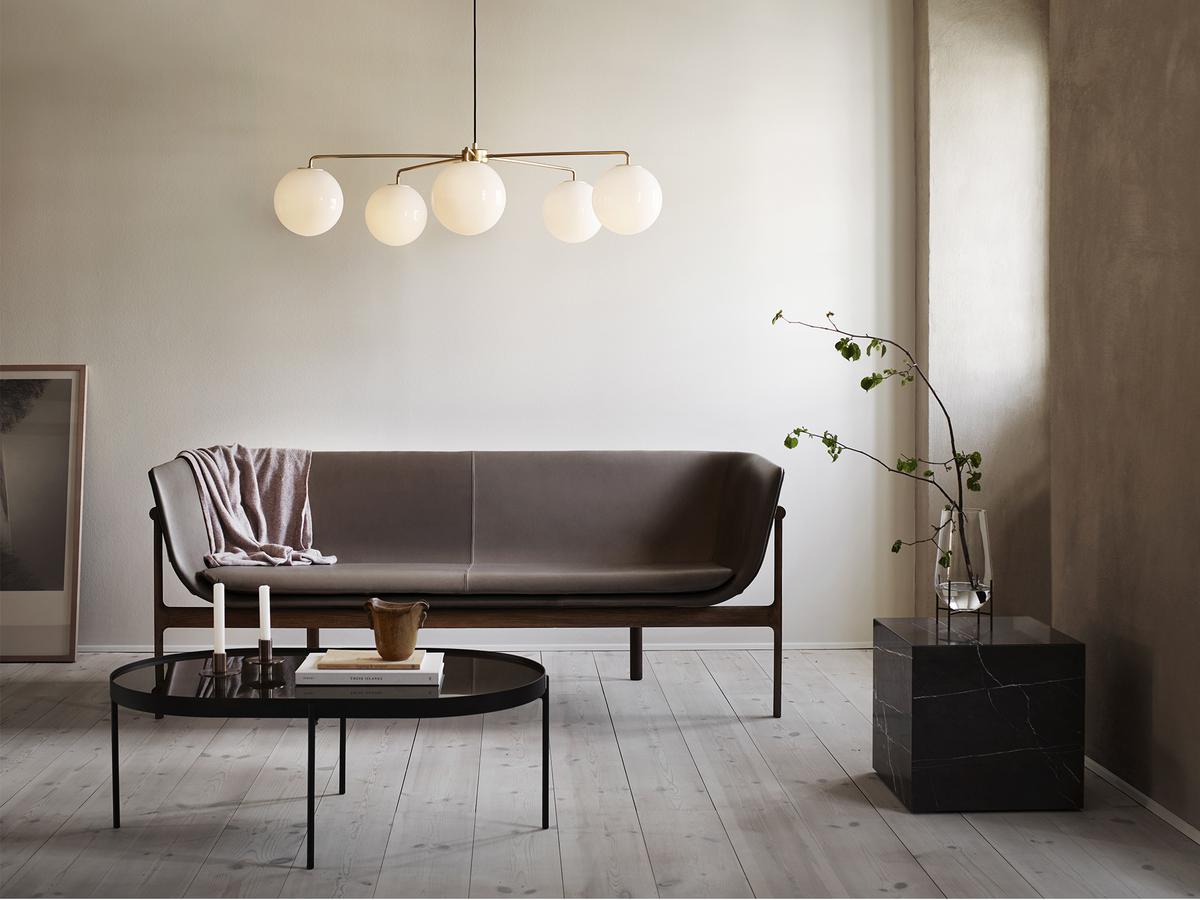 Individual advice on buying a sofa from smow
Would you like to purchase a high-quality sofa and have questions about fabrics, colours, sizes or care instructions? Do you need material samples or would you like to test-sit before you decide on high-quality upholstered furniture? In our Germany-wide smow stores you can experience numerous sofa models live and receive professional assistance in configuring them according to your needs. Our smow interior experts will be happy to advise you by phone, email or in person on site when purchasing your sofa and planning your interior. We are also happy to take on the integrated design of your office space for you, simply contact our Planning Department! Depending on the project, our architects and interior designers in a smow store on site or via our online shop will assist you. You can reach our planning department from Monday to Friday between 8 am and 7 pm on +49 341 2222 88 66 or by email at projekt@smow.de.