HOME

Living Room

Shelves
Lamps
Accessories & Decoration

Dining Room
Bedroom
Kid's Room
Home Office
Entrance Hall
Storage

Wall Shelves, Shelves & Shelf Systems

Outdoor
WORK

Office and Co-Working Space
Executive's Office
Meeting Room
Reception
Canteen - Social Area
Business Solutions
Designer furniture for the office
Not insignificant for the good working atmosphere is without question the office furniture contained therein. If you want to concentrate, you will probably do so better in clear, tidy offices rather than in unstructured chaos. In addition, a well thought-out office design concept can also save you a lot of time when it comes to archiving, organising and, most importantly, retrieving documents, contracts and information. In addition to ergonomic office chairs and sturdy office tables, practical storage solutions are the key in the office. Office furniture from Vario and USM are also based on modular system: the modular design principle offering a range of storage options while also visually enhancing every office.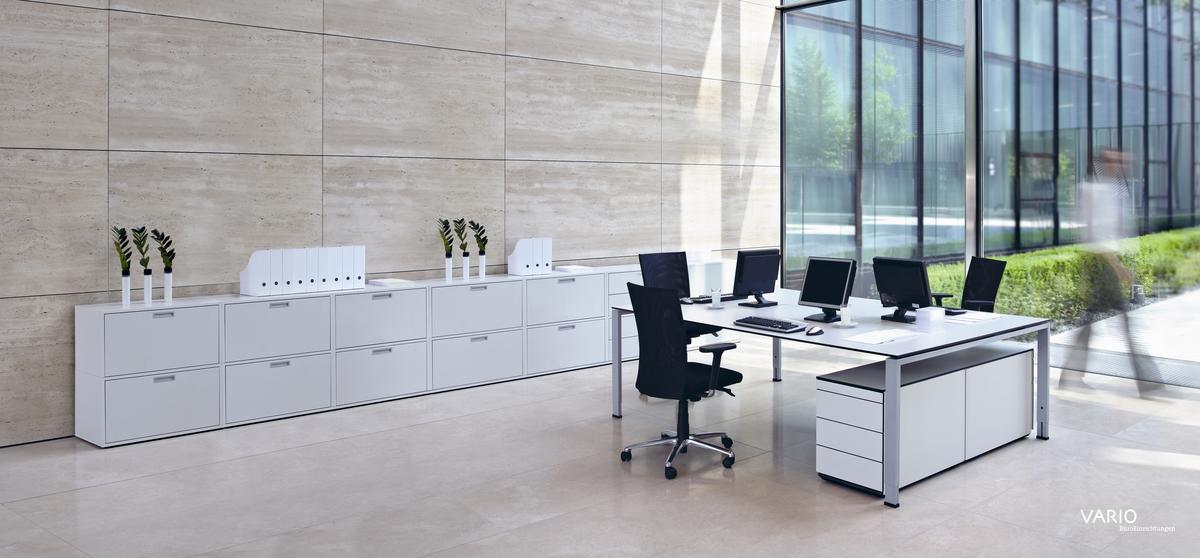 Modularly practical: Vario office furniture
The simple design of Vario furniture looks great, especially in the office. Whether as a structuring element in the open-plan office or as a filing cabinet in the home office, Vario relies on flexible office systems and thus sets every office interior to the optimal light. Available in different colours and with different equipment elements, the individual Vario office furniture can be freely combined. The M1 Vario containers, for example, are designed as stacking boxes and have connecting holes at the top and bottom, through which additional stacking boxes, stand elements and cover plates can be attached. This allows you to create your Vario office furniture individually - and without tools.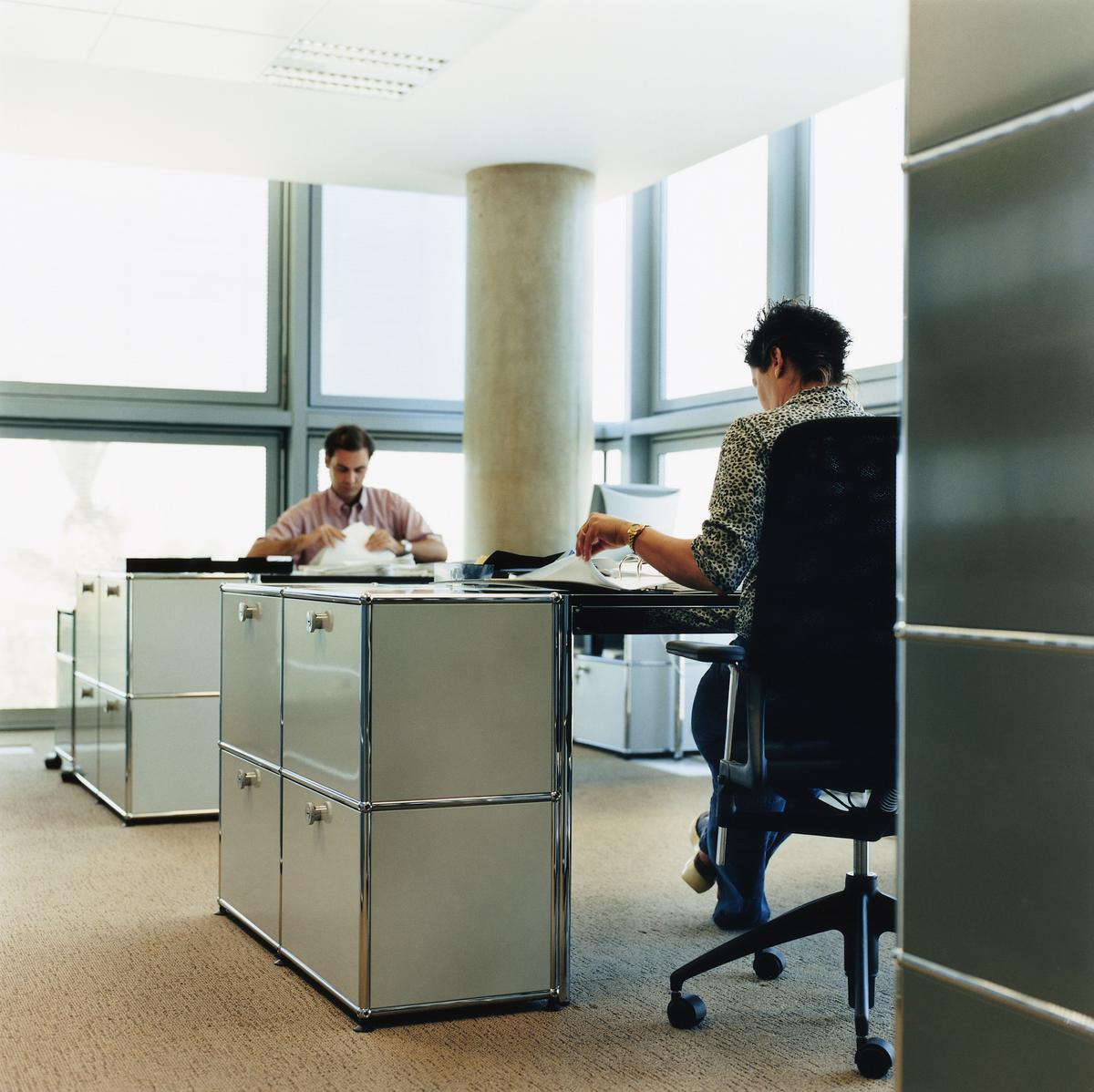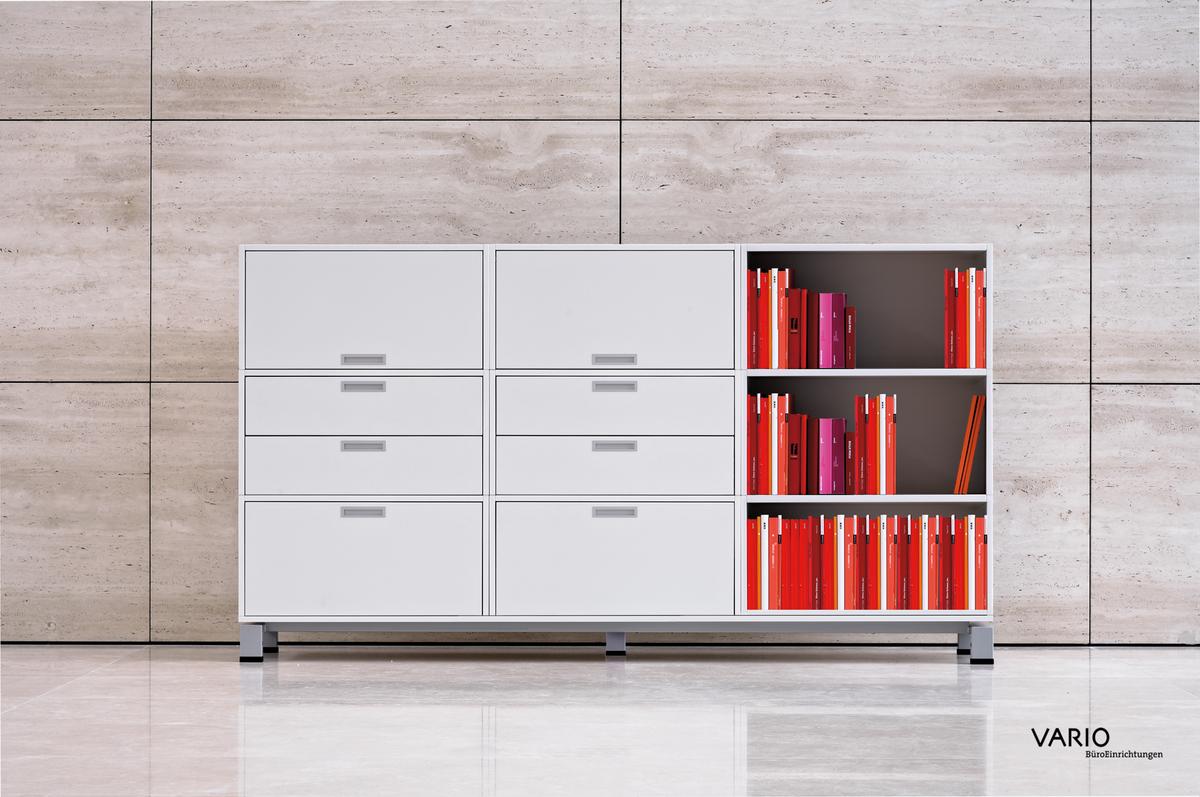 Office furniture with class: USM Haller for files, technology and good taste
USM, the furniture system of unlimited possibilities, has its roots in the office furniture segment and is still exploring the limits of good taste there. In 1963, Fritz Haller developed USM Modular Furniture System for the new USM administrative offices he had previously designed. Six years later, with the order to equip the Parisian Rothschild Bank, USM's office furniture then went into mass production and revolutionised the office world in the following years; setting as it does new standards, especially with regard to open-plan office equipment. The minimalist and modular character of the USM Haller office was revolutionary then and now. The award-winning designer furniture is an important landmark in furniture history with timeless combination of elegance and functionality.