Acoustic
Office Noise
When planning a space, the focus is usually placed on the visuals... and the acoustics neglected. However, esspecially in office or work environments, people perceive unwanted noise or even noise as a major disruptive factor, one which severely impairs both performance and the feel-good factor at work. Especially in offices the complex topic of acoustics is extremely important and is far too often neglected.
The Alternative: Noise Insulation Panels
Given that contemporary office spaces all too often lack acoustic ceilings, carpets and other acoustically effective elements, integrating acoustic solutions into and with the furniture becomes an attractive option. The acoustically optimized noise protection panels from Acousticpearls and USM Haller are excellent examples of room acoustics for the modern workplace or home office.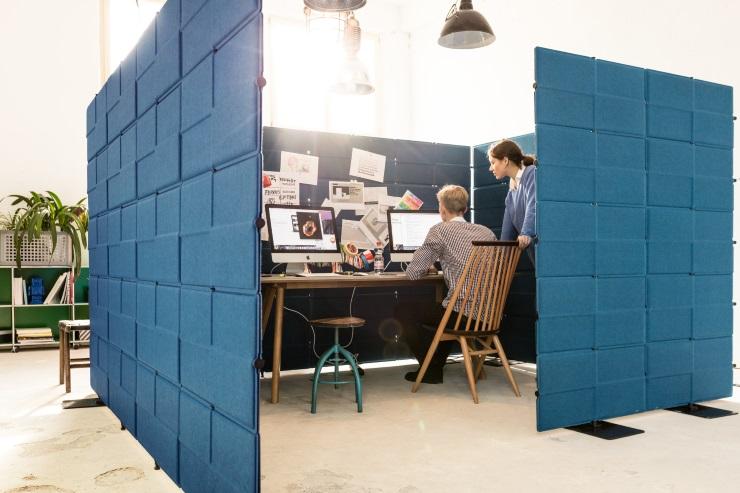 7 Good Reasons for Acoustic Elements in the Workplace
1. Good room acoustics in the workplace should not be a luxury, but in a world in which about 70 percent of the workforce work in the office, a matter of course. Studies show that acoustics is one of the most important factors for well-being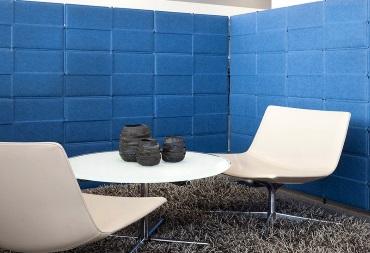 3. The noise protection solutions significantly improve the room acoustics through sound absorption and sound shielding - without the need for structural changes.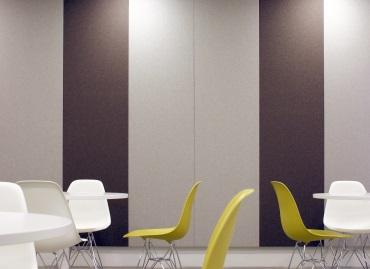 5. With the aid of acoustic calculations and precise measurements it is possible to determine exactly where the ideal location of a sound absorption device is to be found and how much acoustically optimized surface is needed in a given room. It is thus possible to provide custom solutions according to the specific requirements of any given room type and spatial configuration.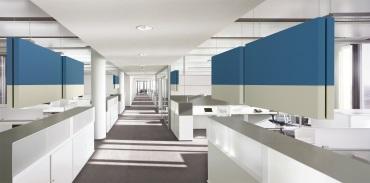 7. Any investment in good room acoustics is an investment in the satisfaction, health, ability to concentrate and thus efficiency of employees. A thus planned and optimised room quickly pays off as a profitable, long-term investment. The modularity of the USM Haller and Acousticpearls systems allows tailor-made solutions for improved room acoustics and thus employee satisfaction and increased productivity as an integral part of an office design concept.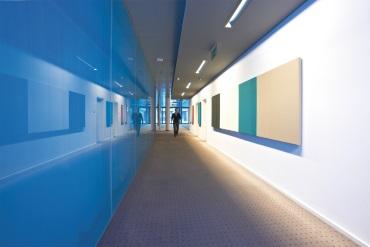 2. Openness, transparency and communication promoting work environments are becoming increasingly important. However, this can be problematic in terms of room acoustics. The noise level in open office environments can quickly become distracting. Noise absorbing devices can help.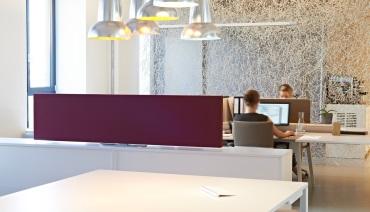 4. The acoustics optimizing elements of USM Haller and Acousticpearls have a modular structure and can be used in a wide variety of configurations, including, mounted on tables, on the wall or free standing for shielding and zoning a space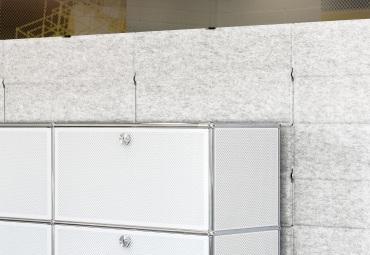 6. Existing rooms can be easily retrofitted. Nothing is plugged or hung, the furniture itself does not become bigger, and neither storage space nor other functional aspects of a piece of furniture or space are lost.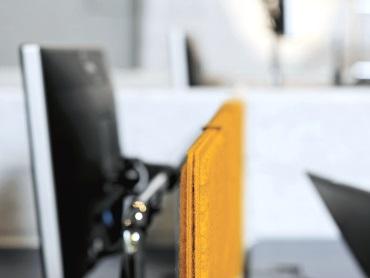 The Concept
Acousticpearls products impress with their combination of function, aesthetics and high quality and increase the well-being through appealing optics combined with significantly improved room acoustics. All product lines offer countless variations that interplay perfectly together, complement each other and allow individual colour compositions in the space. In addition, they feature a unique mounting system which allows easy and quick installation of panels. The installation of the nearly five centimetre thick, and thereby very light panels, is designed to be inconspicuously integrated into the room very simple. The highly effective, shock-resistant acoustic material inside the devices is protected by a frame. The textile surface of the elements meanwhile is unique: high-quality fabrics surround the acoustic core and thus form a closed, visually harmonious unity of timeless aesthetics. Tested and certified according to EN ISO 354-2003, the Acousticpearls panels significantly improve speech intelligibility.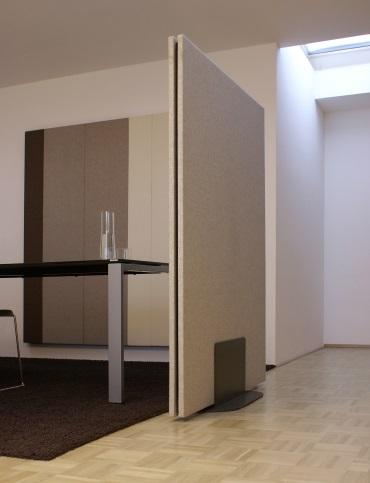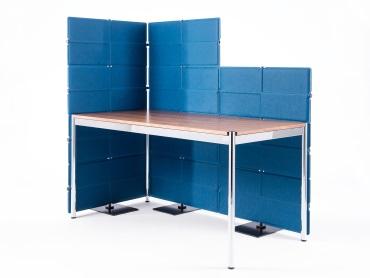 The Concept
An acoustically optimized USM Haller furniture construction system in harmony with architecture - as individual as the demands of a workspace the USM Privacy Panels can be freely configured and employed. The development of modular noise absorption is based on the long-term cooperation between USM and the renowned acoustician Dr. Ing. Christian Nocke from the Akustikbüro Oldenburg. A special acoustic fleece on the back, absorbs and dampens the sound, and thereby increases speech intelligibility, and are equally as effective as wall or ceiling panels.