Accessories for USM Haller Tables
ACCESSORIES FOR USM HALLER TABLES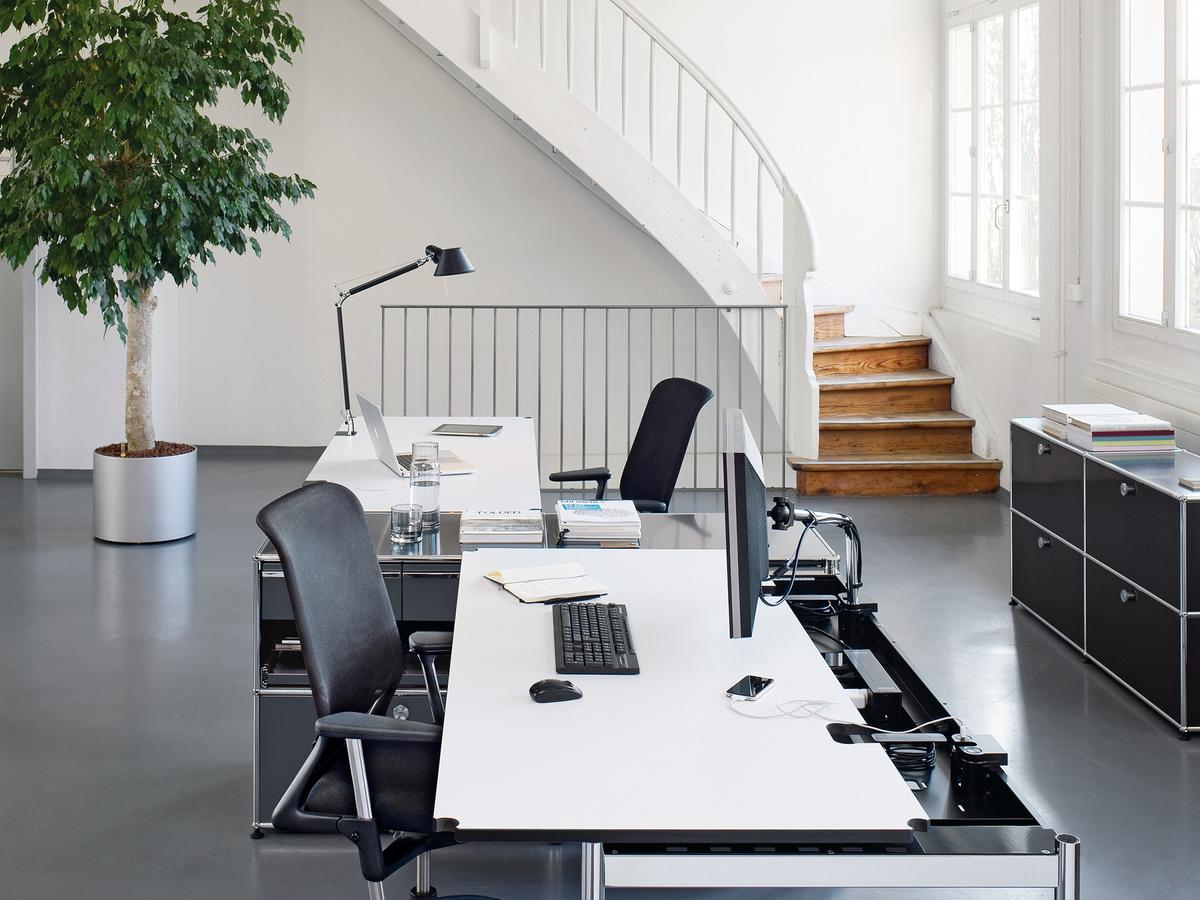 USM design classics
The USM modular furniture system was designed in the 1960s by the Swiss architect Fritz Haller, who previously developed office buildings for the metal fabricator USM. True to the principle of "form follows function", Haller and the then USM managing director Paul Schärer developed a sophisticated construction system made of tubular steel, metal panels and connectors, which has become a genuine design classic and today belongs to the collections of numerous important museums such as that of MoMA New York. Although USM furniture is used particularly in the project area and in the planning and furnishing of offices, thanks to its high flexibility, durability and modular character, the classics have long since established themselves in the living area.
USM office furniture
USM Haller played an absolute pioneering role in the area of project planning and furnishing of office spaces. On account of its modularity the USM modular furniture system can be planned using the smow USM Configurator to suit your individual needs and be adapted to different spatial conditions. Whether open or lockable filing cabinets, spacious sideboards, practical mobile pedestals or generous reception counters: the high-quality USM furniture offers storage space, maximum durability and easy-care materials and can be converted or reconfigured as required. For larger projects with USM our smow USM experts, both in the online shop and at our locations throughout Germany, will be happy to support you from planning to implementation.
USM furniture in the home
Over the decades the highly functional USM design classics have freed themselves from their purely office context and can now be found increasingly in domestic spaces, be that as configurable sideboards, bookshelves or bedside tables with practical storage space: and which continue to delight their owners with their timeless design and clear formal language. Thanks to their modular properties and variety of colours, USM designer furniture can be adapted to various spatial conditions and individual needs and thus are an ideal furnishing option - from a kitchen counter to the cloakroom to children's furniture.
Accessories for USM Haller tables
Should you wish at any point to expand your USM Haller desk into an efficient workstation, there are numerous USM Haller accessories available to help you, including brackets for monitors, USB adapters, plugs and a lighting anchor point. In addition, various tools for organising cables, such as the USM Haller cable basket or the USM cable duct help eradicate unsightly tangle of cables on your desk. The USM Haller material swivel arm attaches under the desk offering additional organisation space, while the USM Privacy Panels provide not only a little more space, but help improve the acoustics, and can thus help contribute to better structured, and thus efficient, work areas.