Not found what you were looking for?
We can deliver all products from this manufacturer. Please contact us at +49 341 22228822 or service@smow.com to discuss your specific product request.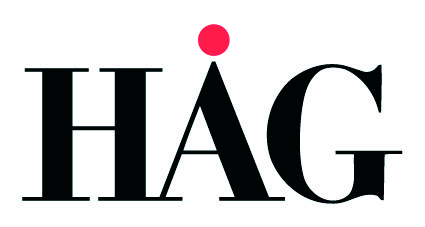 Håg
Håg has been developing, producing and distributing office swivel chairs since 1943 and is one of the leading European manufacturers in this field, whereby Håg also distributes its furniture far beyond the borders of Europe. Together with the RBM and RH brands, Håg is a component part of Flokk, an innovative group that develops office chair and other seating solutions for home and office use. Form and function go hand in hand in Håg chairs: the ergonomic designs promote natural movement and are at the same time extremely stylish. Sustainability is in addition a top priority for Håg: all of the furniture manufacturer's chairs are designed with respect for the environment, always contain a high percentage of recycled materials and are themselves 99% recyclable. The high-quality Håg products comes with a ten-year warranty on all parts, with the exception of the pneumatic spring: this component comes with a lifetime warranty. This exemplary behaviour in terms of environmental responsibility led to Håg being the first office chair manufacturer to be ISO 14001 certified, EMAS registered and awarded the ISO 14025 EPD environmental declaration for the majority of its chairs. Håg was also the first office chair brand in Europe to receive the Greenguard certificate from the US Environmental Institute.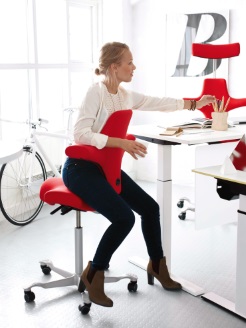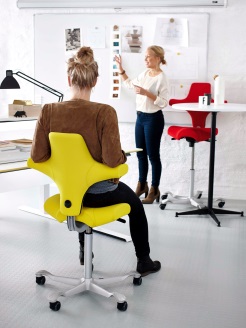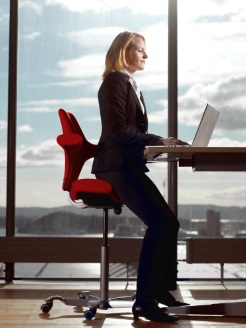 ...Capisco combines the highest level of comfort in every position with high design standards!
Ergonomic Prodigy
As the first, and thus far only, manufacturer in the office chair sector, Håg has also received the Nordic Ecolabel ISO 14024 for its Capisco. In terms of raw materials, production, distribution and disposal, the ergonomic office swivel chair uses only 35 kg of CO2 equivalent: which is a third of that associated with conventional office swivel chairs. What however makes the Capisco particularly special, is the so-called saddle sitting. In contrast to sitting on normal office chairs, the spine and blood circulation are significantly supported because on the Capisco you automatically sit upright: as dynamic as on a horse and usually a bit higher. The unique saddle shape of the Capisco enables the angle of the hips and knees to open up to 130°, the pelvis tilts forward, the spine automatically straightens and the shoulders relax. This results is Capisco's dynamic and healthy posture, a posture which also leads to greater efficiency and concentration. The user can sit conventionally or astride on the flexible office chair, or use it as a standing aid. The dynamic saddle chair is therefore suitable for height-adjustable desks and moving between high and low working positions, or work at a high desk and thereby sets new ergonomic standards in the contemporary home office