Furniture, lighting and accessories from Audo Copenhagen
Not found what you were looking for?
We can deliver all products from this manufacturer. Please contact us at +49 341 22228822 or service@smow.com to discuss your specific product request.

Audo Copenhagen
Menu becomes Audo Copenhagen
Since May 2022 Copenhagen based furniture manufacturers Menu and by Lassen have belonged to the same parent company, and from June 2023 will become the new brand Audo Copenhagen. You can find products from Audo Copenhagen in the smow online shop or in our local smow stores.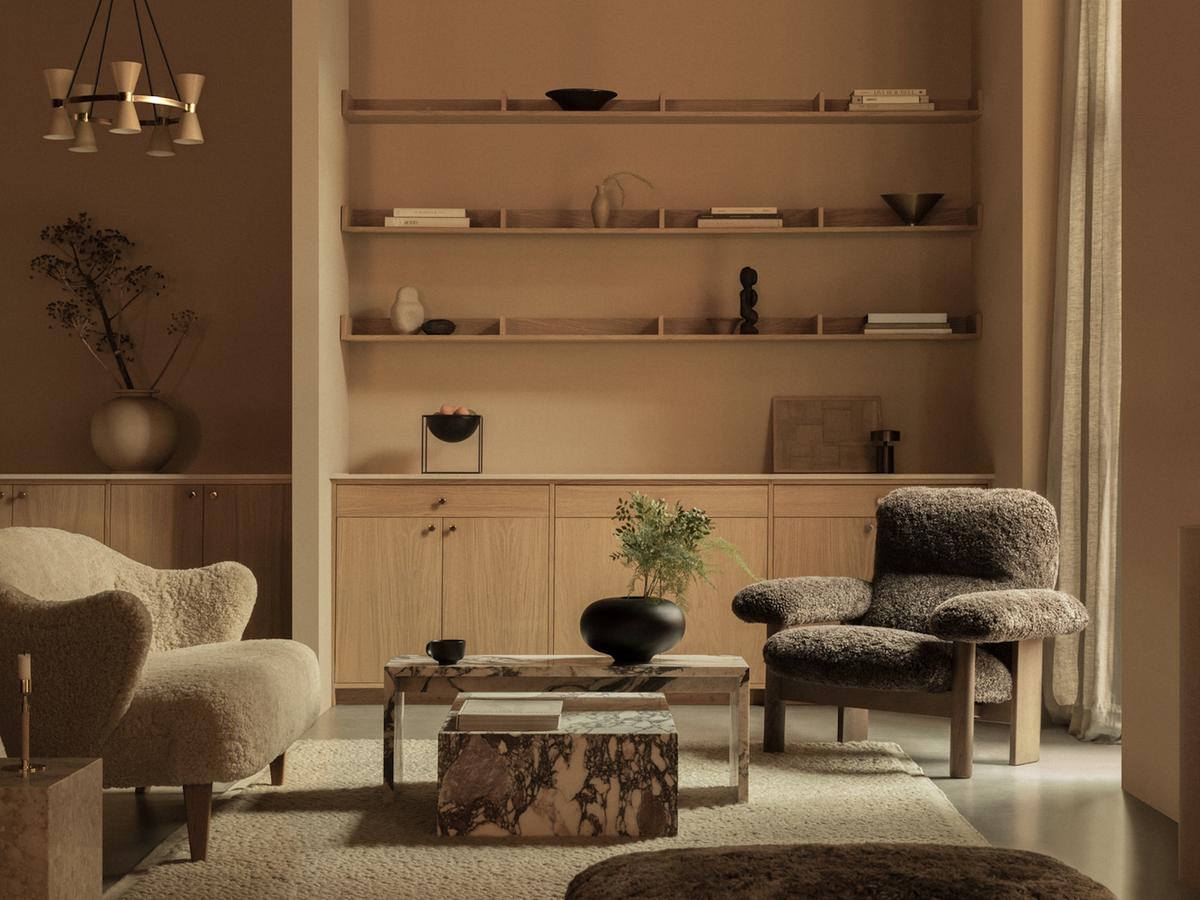 Audo Copenhagen - Danish design quality for contemporary, global lifestyles
Audo Copenhagen predecessor Menu was founded in 1979 by Simon Hansen as "Danish Steel House". Starting with the production of high-quality kitchen and silver products, Menu landed an international bestseller in 1988 with the famous Irish coffee set by Bjarne Hansen and from then on focused on targeted cooperation with well-known designers.
Today, Audo Copenhagen stands for minimalist Scandinavian design, combined with first-class material quality and imaginative details, but also smart functionality and suitability for everyday use. Audo Copenhagen's designs reflect a century of Danish design tradition and combines that with a contemporary, innovative and global perspective. The design language of Audo Copenhagen combines a sense of innovation and zeitgeist that is firmly anchored in Modernist design history. The name Audo Copenhagen stands for a balance between past and future in connection with longevity, innovation and sustainability.
This Audo Copenhagen Portfolio:
Chairs and stools fro Audo Copenhagen are made of a range of materials including wood or steel. The Audo Copenhagen seating furniture are characterized by functionality and their finely tuned aesthetics.
Audo Copenhagen upholstered furniture: The sofas and armchairs from Audo Copenhagen combine maximum comfort and timeless elegance. With simple silhouettes and comfortable upholstery, the Audo Copenhagen upholstered furniture collection stands in the best Scandinavian design tradition.
Audo Copenhagen tables: Audo Copenhagen's dining tables, coffee tables, side tables and desks present themselves with clear lines, elegant shapes and high-quality materials. With the Snaregade Collection, Audo Copenhagen produces a versatile series of tables with a characteristic base and an exciting mix of materials.
Shelves and storage: Audo Copenhagen offers a range of shelves, sideboards and storage solutions. These feature clever constructions and practical features that make organizing, storing and displaying items easier.
Lighting: Audo Copenhagen is also known for its high-quality lighting designs: from pendant lights to table lamps to wall lights. Original design solutions, exciting material combinations and an accentuated design language characterize the versatile Audo Copenhagen lights. The Hashira Collection, for example, includes various types of lights with several table, floor and pendant lights in a minimalist design inspired by Japanese design principles.
Audo Copenhagen's sustainability concept
When it comes to the production of furniture and accessories, Audo Copenhagen (formerly Menu) attaches great importance to the term "responsibility": Audo Copenhagen always strivings to live up to its own definition of responsible products. This includes the procurement of raw materials close to the market, which is to be increased from 26% to 39%; a policy which not only supports local companies but is a lower burden on the environment through reduced transport. By 2024, the company aims to offer a 10-year guarantee on 30% of its products, which will benefit customers and the environment alike.
Sustainable solutions are an integral part of corporate strategy and include global sustainability standards, responsible business models and fair partnerships. Internally, too, sustainable approaches are integrated into day-to-day business. Balanced growth of the brand, supply chain and staff are cornerstones of Audo Copenhagen's strategic approach to sustainability. The sensible use of resources is the focus of all areas of the Danish design label.
Environment, quality and community are important cornerstones of Audo Copenhagen's sustainability manifesto. Therefore, the sense of responsibility is reflected in all steps of the company. It is particularly important to mention that there is a 10-point plan that Audo Copenhagen products have to live up to. Longevity, production close to the market and responsible products are the cornerstones of the sustainability manifesto. Spare parts or tools such as screws etc. are also sold in order to increase the service life of the products and to think sustainably.