Customisable USM Haller Units
Make it yours - Customisable USM Haller shelving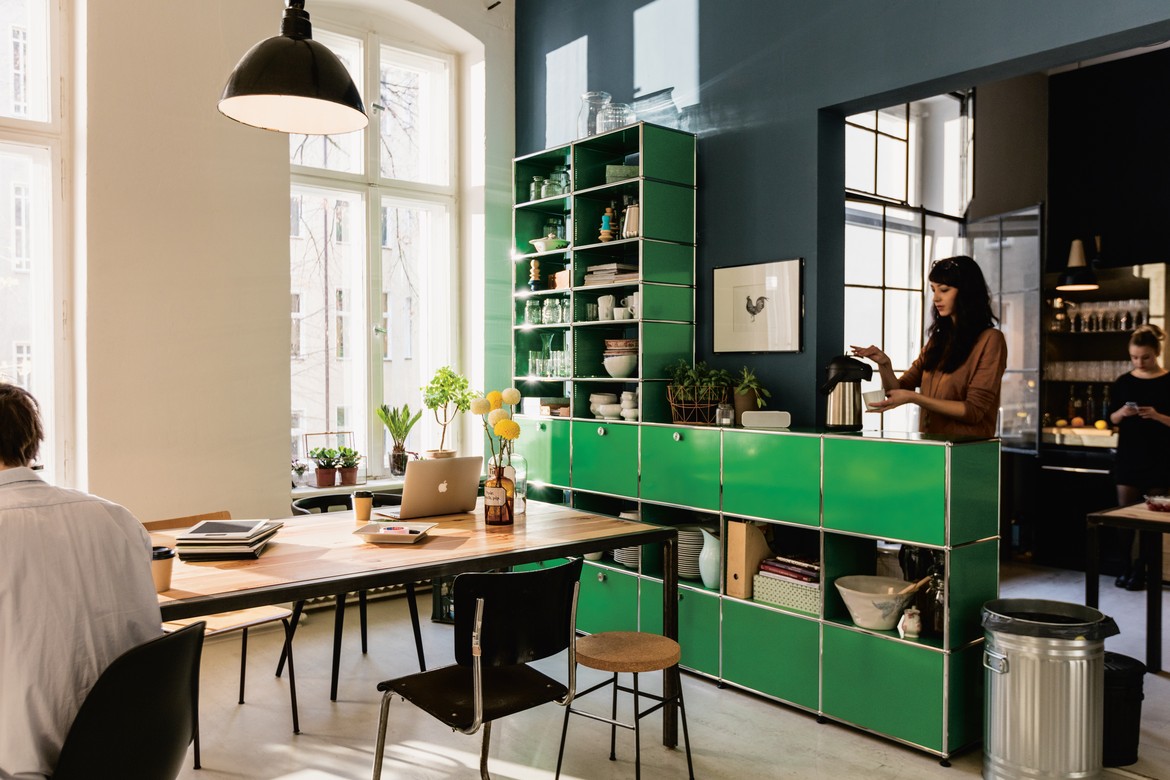 Custom-made USM furniture
The variety of the USM furniture system is almost endless. All manner of USM Haller furniture can be designed according to individual needs. At smow you will find a selection of standard versions of the most popular USM Sideboards, USM Lowboards, USM Highboards as well as the USM Filing Cabinets, which can be fitted individually with drop-down or extension doors. All USM furniture is available in pure white, golden yellow, graphite black, anthracite, ruby ​​red, gentian blue, green, light grey, medium grey, steel blue, matt silver, orange, beige and brown. In addition, USM furniture can be individually designed according to your own needs in the smow USM configurator. Our smow customer service and our teams in the smow stores throughout Germany will also be happy to provide you with competent support for more complex furnishing projects. Our experienced furnishing experts will accompany you from the conception to the implementation in all planning steps of your project.
Custom Units with the USM Configurator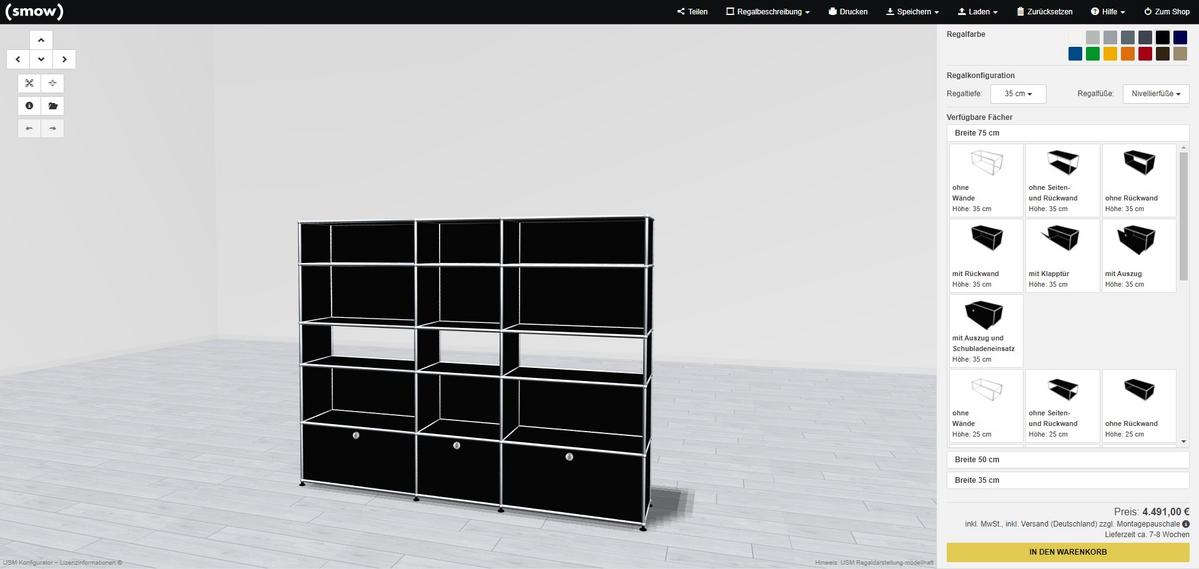 USM furniture consists of three components: metal tubes form the structure, metal panels serve as cladding and a chrome plated brass ball holds everything together. The simple construction method enables a unique design freedom and creates furniture that optimally meets the personal requirements, and which can be retrofitted later. Equip the individual compartments of the USM Haller shelves with or without drop-down and extension doors and discover even more individuality in the smow USM Configurator. In just a few steps you can discover the full range of USM furniture and configure it to your individual needs.
USM Haller: A Universal Solution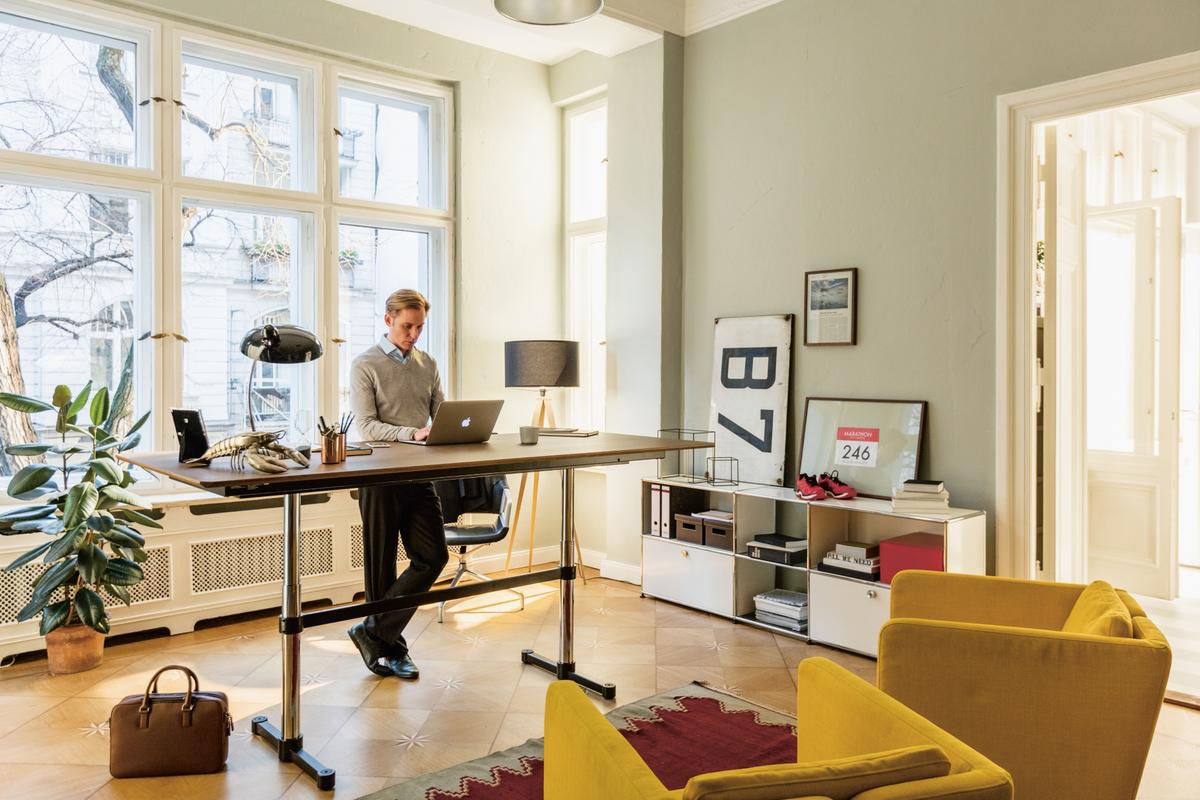 USM Haller in the domestic spaces
From offices and law firms USM shelves have long since become indispensable, but also in the private sector, USM furniture is increasingly conquering our furnishings. Whether in the children's room, dining room or as TV furniture - the USM Haller system is suitable for almost all areas of application due to its timeless aesthetics and its modular character. Thanks to the individual system there are no limits to creativity and a piece of furniture can be matched to any needs not only in the office but also at home. Due to the flexibility of the durable furniture system, your USM Haller furniture can be expanded as and when required - be it with family growth, larger home or increased economic opportunities. Visit the smow USM Configurator and create your individual furniture just the way you need it.
#usmmakeityours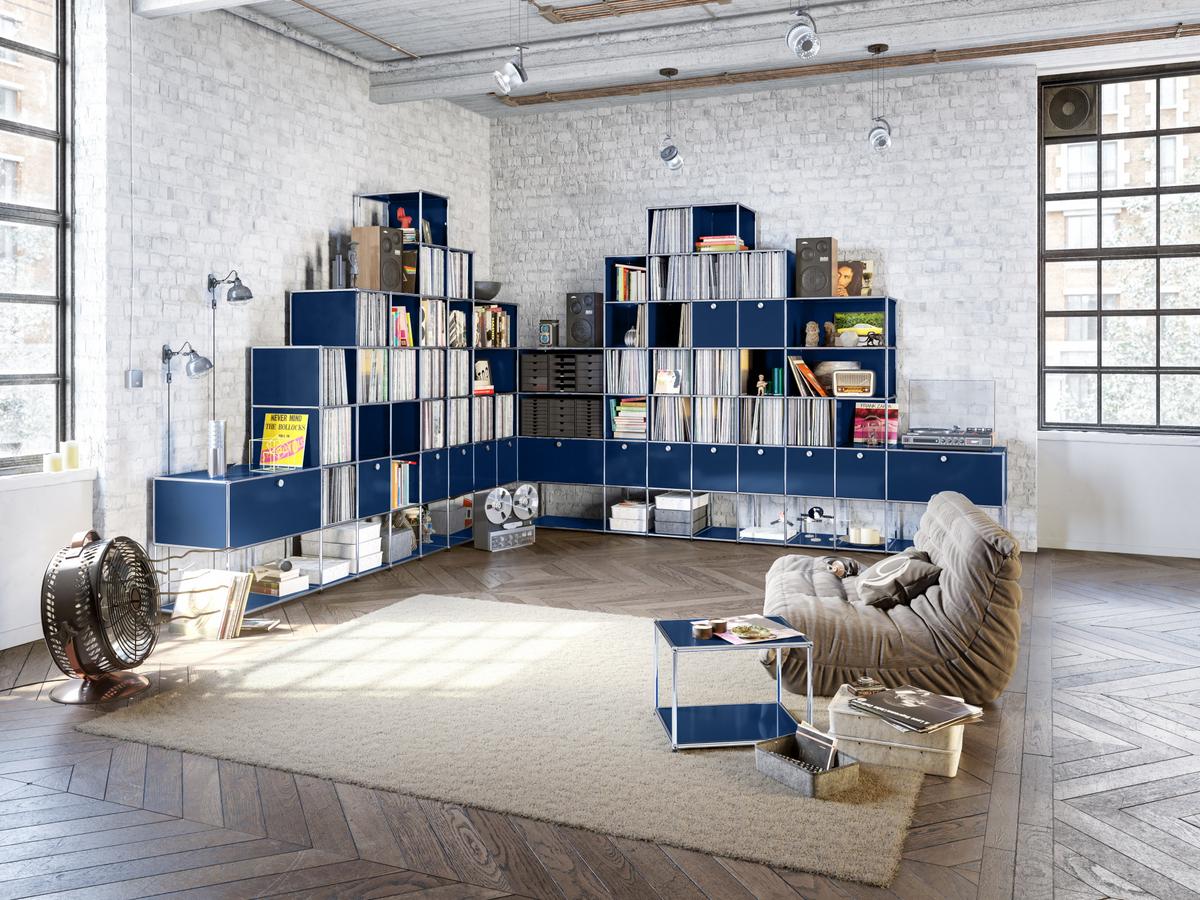 USM Haller Office and Project Planning
smow are also happy to assist you in the planning of your office, your practice, your office or your shop. We support you individually in your furnishing project and tailor the USM system perfectly to your needs. smow offers you a team of professionals with many years of USM experience, who will help you with the virtual planning of your desired furniture and support you with their competence and experience. Our trained employees look forward to advising you! Simply contact us in a smow showroom or contact our USM team from Monday to Friday between 8 am and 6 pm via +49 (0) 341 2222 88 11 or by mail service@smow.de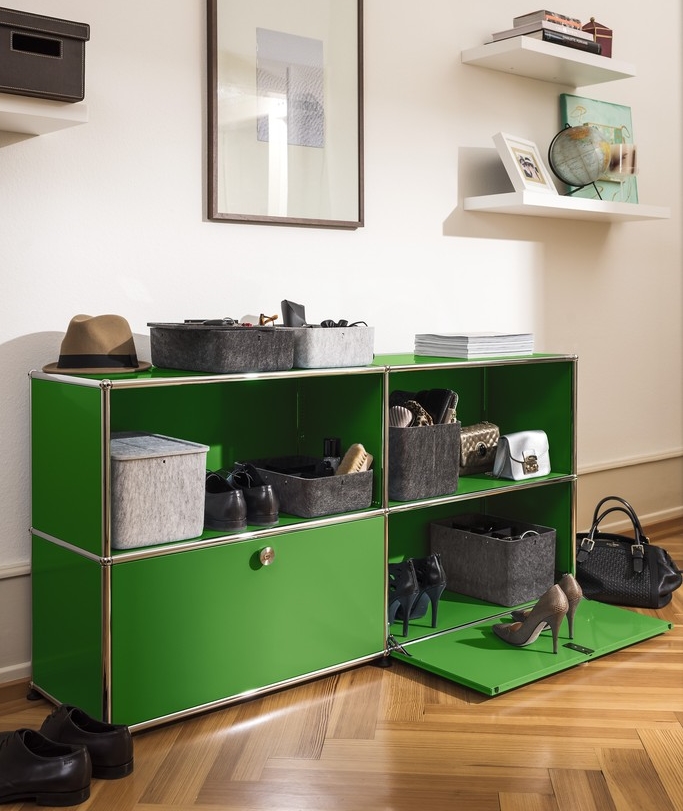 Manufacturing
The USM Haller elements made of metal and can be powder coating in any one of 14 USM standard colours. For larger clients, there is the possibility of custom finishes in any RAL colour. When powder coating, great value is placed on environmental compatibility. USM sideboards can also be clad with glass elements. The use of high-quality materials guarantees the long life of the USM furniture, the modular character of their adaptability to changing requirements and thus long-term usability. In 2008, USM received the Greenguard Indoor Quality Certificate for the environmentally friendly manufacture of furniture.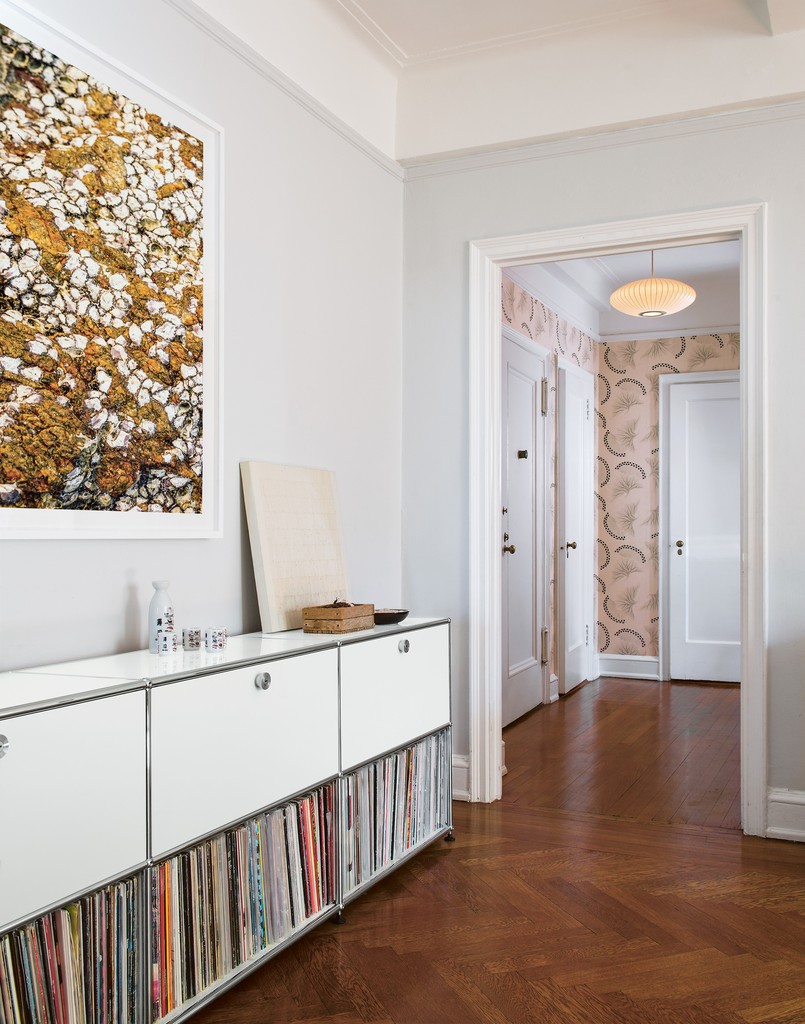 The Design
In 1969 the series production of USM Haller furniture construction system began. Committed to the basic idea that furnishings are not a condition but a process, the USM Haller system is modular in design and can not only be designed to meet individual requirements, but can also be reconfigured over and over again in line with lifestyle. At the centre of the construction is a small sphere of chrome plated brass which holds everything together. Metal tubes form the structure of a furniture module around the sphere, metal panels serve as cladding, the modules are connected to the spheres and the furniture structures grow in all directions.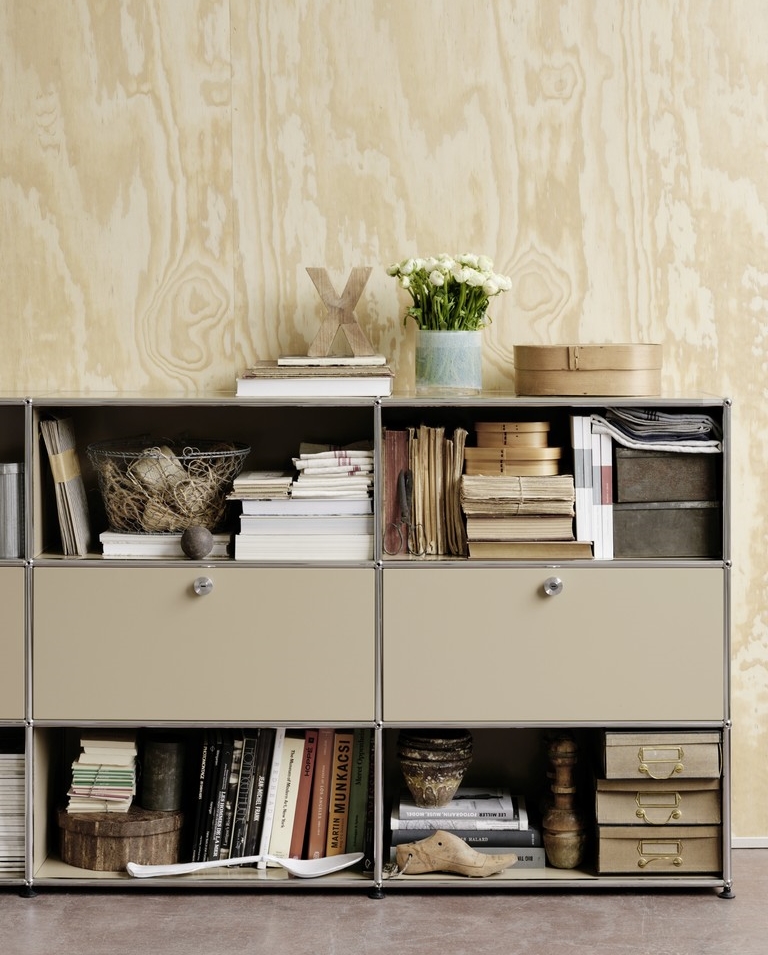 The Designer
Fritz Haller was born on October 23, 1924 in Solothurn, Switzerland. The trained carpenter worked for various architects and from 1949 as an independent architect. Over the years he designed numerous buildings, including many schools, but also office buildings, production halls and residential buildings. At the beginning of the 1960s, Fritz Haller was commissioned to equip the facilities of the metal goods manufacturer USM, which he designed, with office furniture. As part of this project, he developed a simple and extremely sophisticated design principle which went down in design history and in the collection of the MoMA New York as the USM Haller Modular Furniture System. Fritz Haller died on October 15, 2012.