USM Haller Sideboards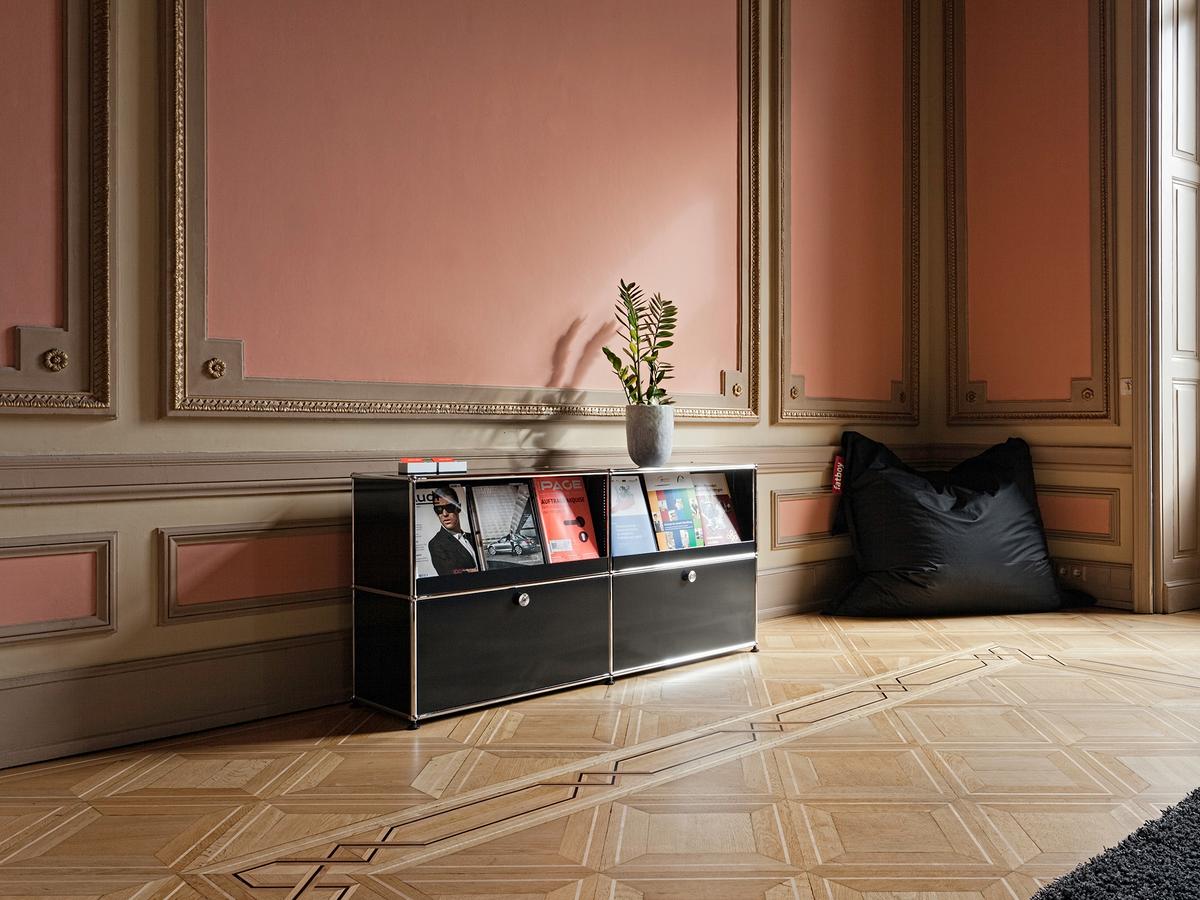 From metal fabricator to furniture manufacturer
The history of USM Haller Modular Furniture began in 1963 when USM director Paul Schärer commissioned architect Fritz Haller to realise new production and administration buildings. Fritz Haller came up with the idea of ​​developing his construction system into a furnishing system for the new spaces: the USM Haller modular furniture was born. And a system based on a most simple construction principle, one which guarantees unlimited modularity and minimalist design par excellence. Tablets made of metal or glass are embedded in a frame made of chrome plated metal tubing, tubes which are connected and stabilised via chrome-plated metal balls. Thanks to this functional design, USM Haller sideboards, USM Haller shelving or USM Haller filing cabinets fit into a wide range of areas and can be reconfigured or expanded as and when required.
Feel at home with USM Haller
Originally designed for the company's own office space in Münsingen, the USM Haller furniture system is no longer only used for the planning of office areas; rather, thanks to its modularity and simple design, USM Haller furniture works in any space. In addition to the preconfigured variants, the smow USM Configurator allows for the planning of customised USM furniture for your own four walls and, thanks to the wide range of colours available, to perfectly match the existing colour concept of your space. And so whether in living room, study or children's room: USM Haller is the perfect furnishing solution for your home.
USM Haller office furniture
USM Haller has established a global reputation as a leading manufacturer in the field of project planning and furnishing of office space. In addition to numerous preconfigured USM Haller shelving units, specific solutions such as medical practice furniture, reception counters or lockable furniture for law firms can be realised. Thanks to various additional options such as folding compartments and storage options for work utensils or cables, workstations can be individually equipped and adapted to the requirements of the employee.
USM Haller Sideboards
USM Haller sideboards have continually proven themselves to be a practical, functional and elegant storage space solution in a wide variety of areas: whether with folding doors, drawers or open compartments, the USM design classics can be configured according to your individual requirements and form the ideal storage furniture solution in offices as well as in the living room. While the generous storage space ensures order, books and decorative objects can be presented in an open and appealing manner and even be illuminated thanks to the USM Haller E system. Matching felt pads are available in muted colours to protect against scratches. According to the basic principle of the USM furniture system, each USM Haller Sideboard can also be easily expanded and optionally equipped with numerous additional functions and features.
Individual project planning with smow
We are happy to advise you on your project as regards furniture from USM Haller and support you individually - from planning to implementation. Whether for a residential, office or public area, just share your ideas with our Planning Department.
Depending on the project, the realisation of your project by our architects and interior designers will be managed by a local smow store on site or via our online shop. You can contact our planning department from Monday to Friday between 8 am and 7 pm via +49 (0) 341 2222 88 66 or mail projekt@smow.de