Green oasis in the office and at home with USM World of Plants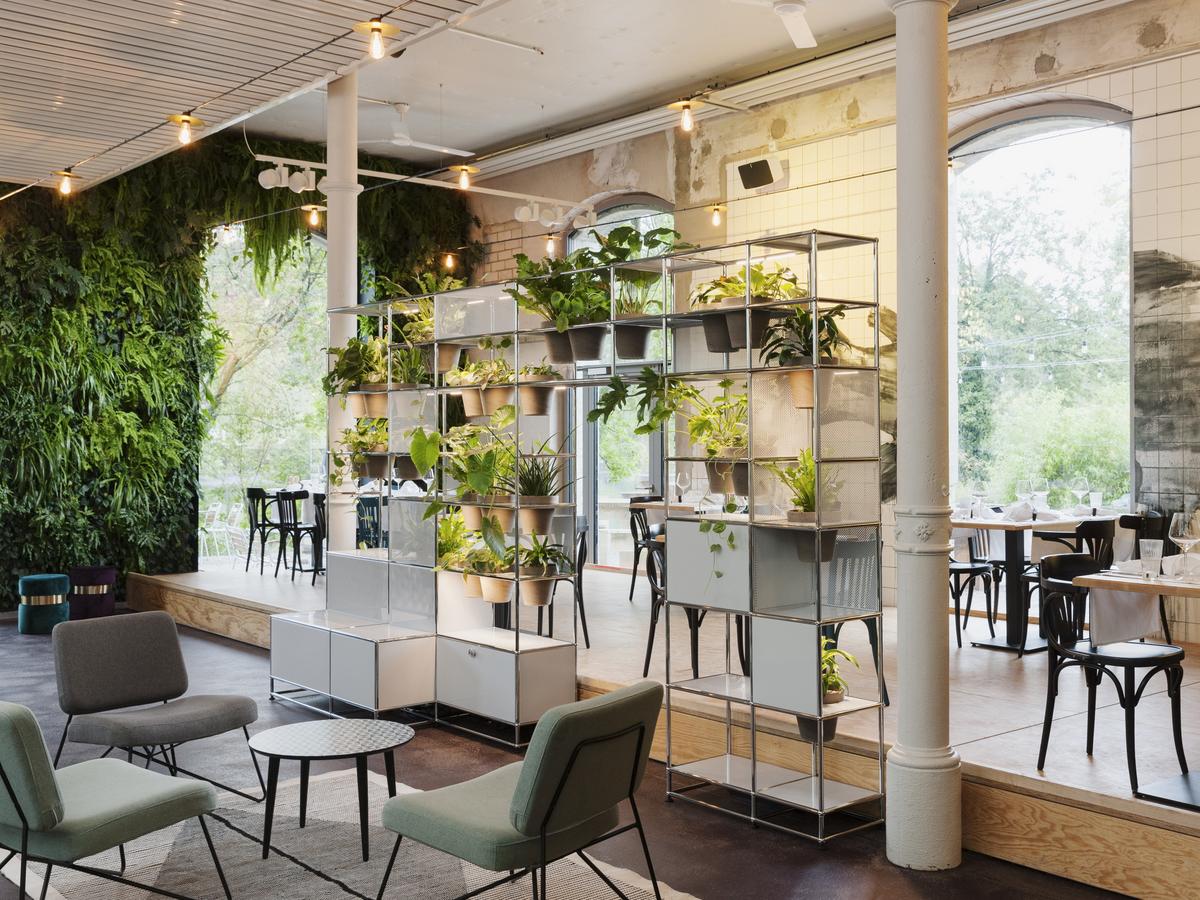 Plants at work – Green Offices with USM
In modern corporate culture we increasingly understand that the well-being of employees is a decisive factor for the productivity of a company. Grey office life and rigid work structures are a thing of the past, which is why start-ups and modern companies rely on lively, relaxed and flexible office landscapes. Spaces in which plants form an important component. Plants and greenery have been shown to have a positive effect on our well-being, they promote stress relief, relaxation and a good mood and act as natural humidifiers and air filters: positive effects that should be employed in a wide variety of areas. USM now offers a simple and elegant system for greening USM Haller furniture, and which can be integrated into any interior, be that locations with a focus on service such as cafés, restaurants or hotels, but also exhibition stands or meeting rooms gain a lively and homely note through plants. Visitors, communication and cooperation are positively influenced by the presence of greenery. And a solution in which USM maintains its famous flexibility: the plant elements can be retrofitted into existing USM counters, shelves and sideboards and expanded or converted at any time. Should you have any questions concerning USM's world of plants please contact the smow service team or contact our USM experts in one of our smow stores.
Urban jungle at home – living with plants
Looking to transform your living room into an urban jungle, are you already diligently cultivating ever denser Pilea and following the hashtag #monsteramonday on Instagram? Or are you looking for a solution for a little more green in your personal wellness area at home in order to break up your clean furnishing concept? With the USM world of plants concept the Swiss manufacturer offers the perfect solution for every need. In keeping with the basic modular concept of USM Haller developer Fritz Haller, the USM greening system can be easily integrated into any existing USM Haller furniture: the new USM planting trays with circular recesses for potted plants are simply inserted into the structure of your USM shelving. The sober, minimalist grid of the USM Haller furniture system is set against an organic contrast. If that's not enough design options for you, consider USM Haller E: the USM lighting system can be easily integrated into USM shelving and puts clothes, books, and now plants, in the limelight.
Our tips for plants in the living area
As topics such as urban gardening and sustainability have become increasingly important, so too have ever more homes become flowering oasis. But what do you have to consider when choosing house plants? Which pot goes with which plant? And which plants do I choose for my USM Haller unit? Here are some key facts and tips for your USM flora.
Plants improve the indoor climate
Plants not only have a positive effect on the indoor climate on a psychological level, but also the physical. House plants release up to 90 percent of the irrigation water back into their environment and thus not only function as oxygen producers, but also as natural humidifiers. Especially when the heating system dries out the air in the room during the cold season. A USM shelf with plant pots as a room divider or green shelf wall thus not only works aesthetically true wonders. Our tip: remove dust from the leaves regularly with a damp cloth so that the oxygen circulation is not impeded.
How do I find the right plants and suitable pots?
When choosing plants and pots, you should rely on your own personal taste. Small to medium-sized potted plants are suitable for the USM plant world. If you don't want to run an entire hobby gardening business, it is best to use easy-care indoor plants such as Ficus, Money Plant or a Dracaena. The pots should not have holes and should fit the size of the plant. Small plants look lost in pots that are too large, while larger plants quickly feel uncomfortable in pots that are too small and can tip over more easily if they stand free. Waterlogging should be avoided so that the roots do not rot.
How do I green my USM shelf?
Whether individual houseplants are skilfully staged, or a botanical mini garden in the living room, with the USM system there are hardly any limits to your creative urge. Combine different types of plants such as cacti, succulents, ferns or even hanging plants with each other, or add colour accents with flowering indoor plants such as orchids or Clivia. Green tones, in plants the plant pigment chlorophyll is responsible for the green colour, have a fundamentally harmonizing, balancing and concentration-promoting effect on us. This effect can be enhanced depending on the colour of your USM furniture. USM sideboards in ruby ​​red or golden yellow create particularly dynamic, summery contrasts in combination with plants.
Individual advice on and planning of your desired USM furniture
Do you have any questions about USM Haller, would you like to implement your individual furnishing project with USM and smow or would you like personal advice? Our experienced USM team will be happy to support you in realising your furnishing wishes. You can reach us by email at service@smow.com, Monday to Friday from 10:00 am to 6:00 pm by phone on +49 341 22 22 88 11 or on site in one of our smow stores. We look forward to being of assistance to you.