The Principle
The modular design of the USM Haller Shelving System means it is as diverse as the demands it has to meet. However, while in many contexts the demands on USM furniture are often the same, smow offer many standard versions to meet the most popular situations. Like all components of the USM Modular Furniture System, these, of course, can be extended and adapted to respond to any changing requirements.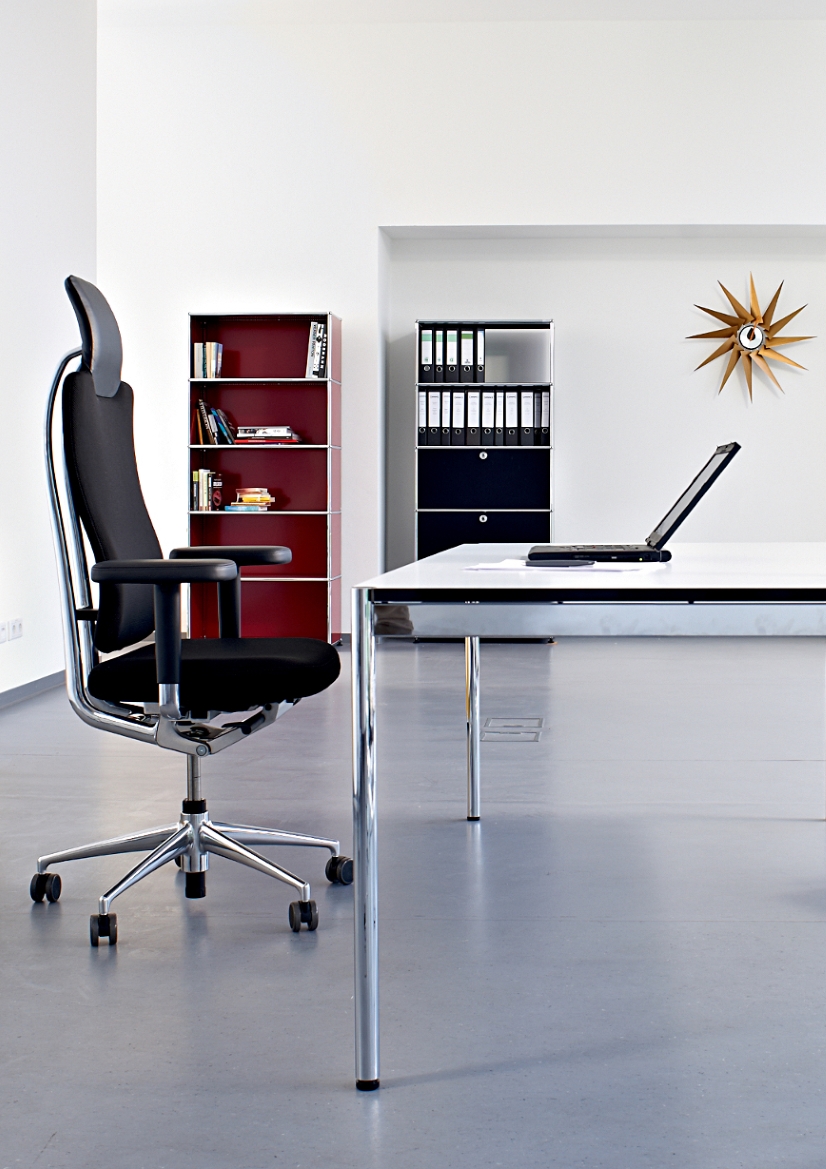 USM Haller Highboards
The USM Highboards include four preconfigured counter types suitable for every need in your office, law firm, surgery or reception area. The highboard is available in sizes M, L or XL and, depending on the version, with glass doors, with or without angled shelves as as open and with drop-down doors.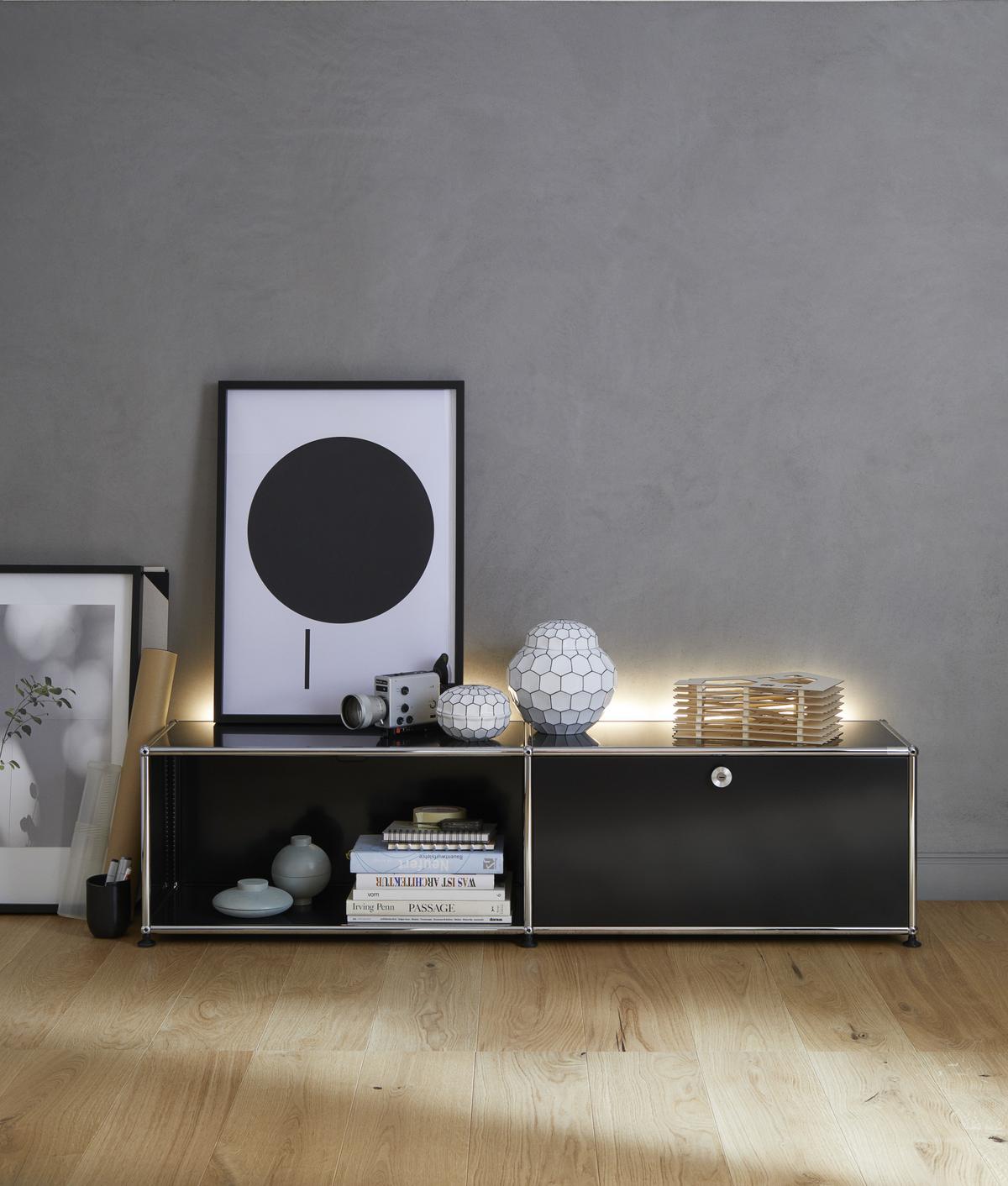 USM Haller Lowboards
Like all furniture in the USM Shelving System, the USM Haller Lowboards are only one compartment high, but are, however, effortlessly customisable and flexibly expandable thanks to their modular principle. They come open, with drop-down doors or with wheels and thus fit perfectly in any living or working space.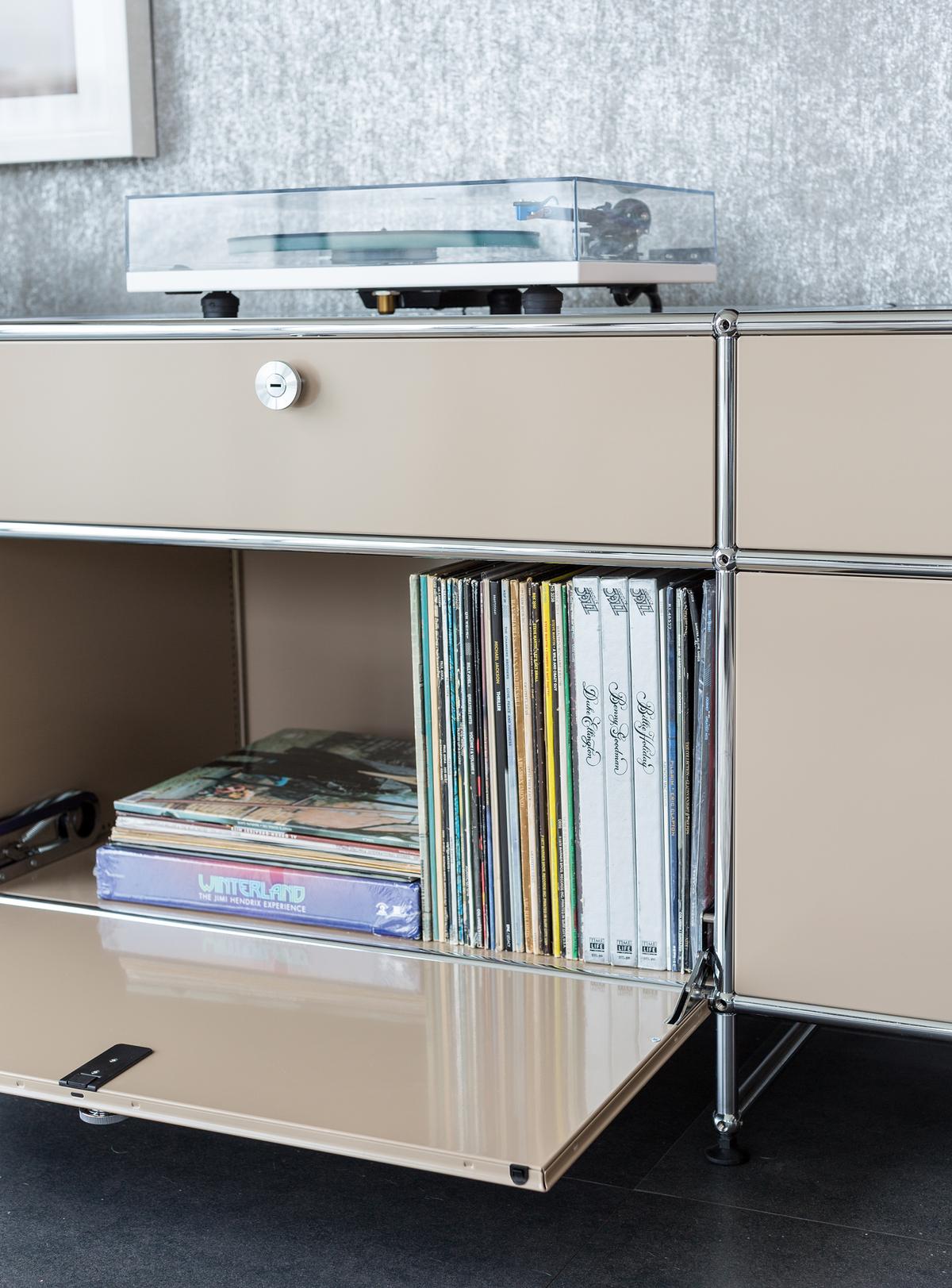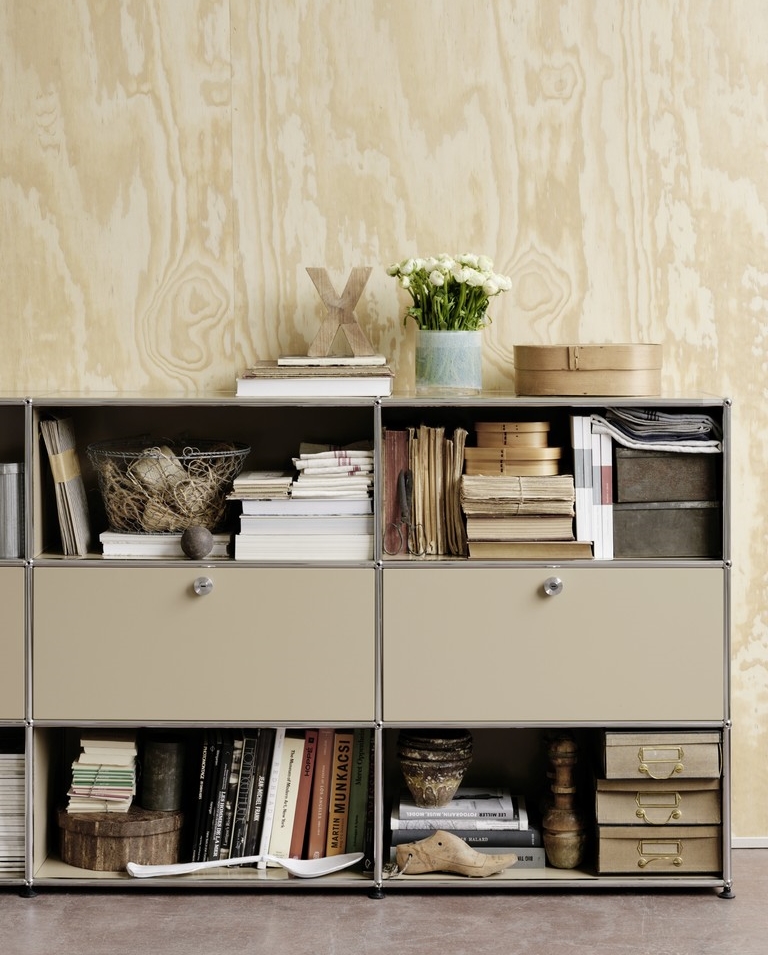 USM Haller Filing Cabinet
The USM Haller Filing Cabinet are five compartments in height and can be supplied with or without a backwall as well as with and without drop-down doors and can be individually configured with numerous components to make the perfect for you and your workspace.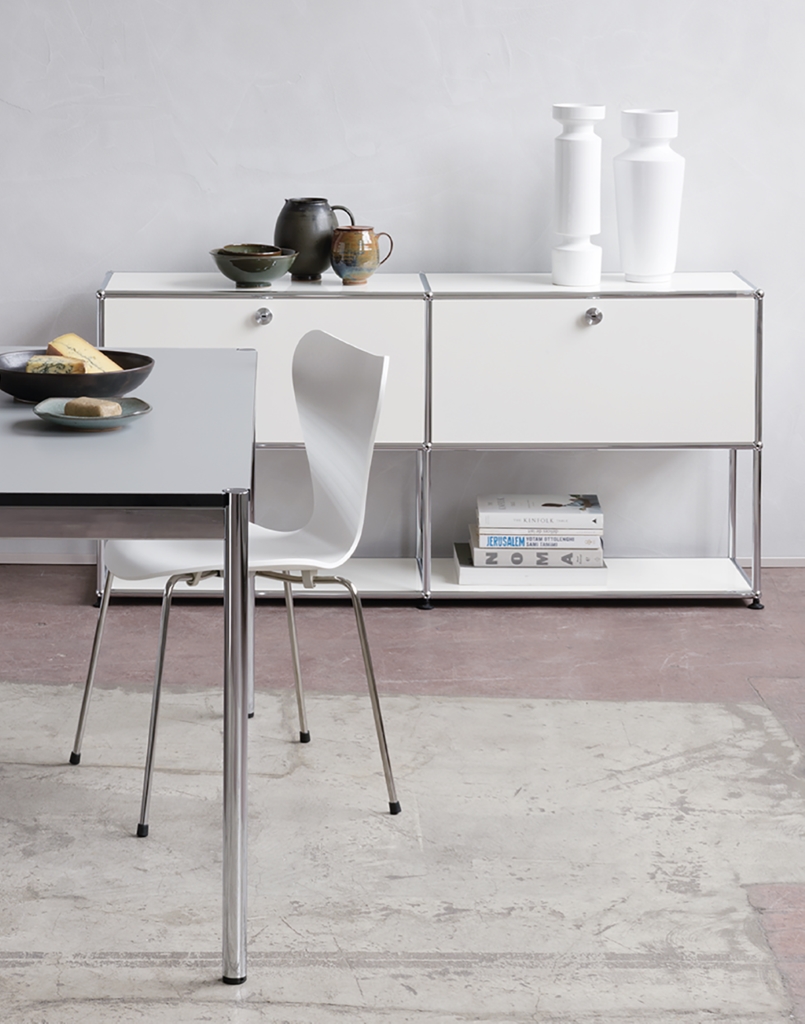 USM Haller Sideboards
The USM Haller Sideboard is available in sizes M, L and XL consisting, respectively, of one, two or three modules in width. Whether you choose your sideboard with or without drop-down doors, would like to have a locks on your compartments or, for example, prefer a structure as a support, is entirely up to you. Like all USM Haller shelving, the structure and balls of the sideboards are made of chrome plated steel and brass, and the shelves are made of powder coated metal. Here you can freely choose from the 14 USM standard colours.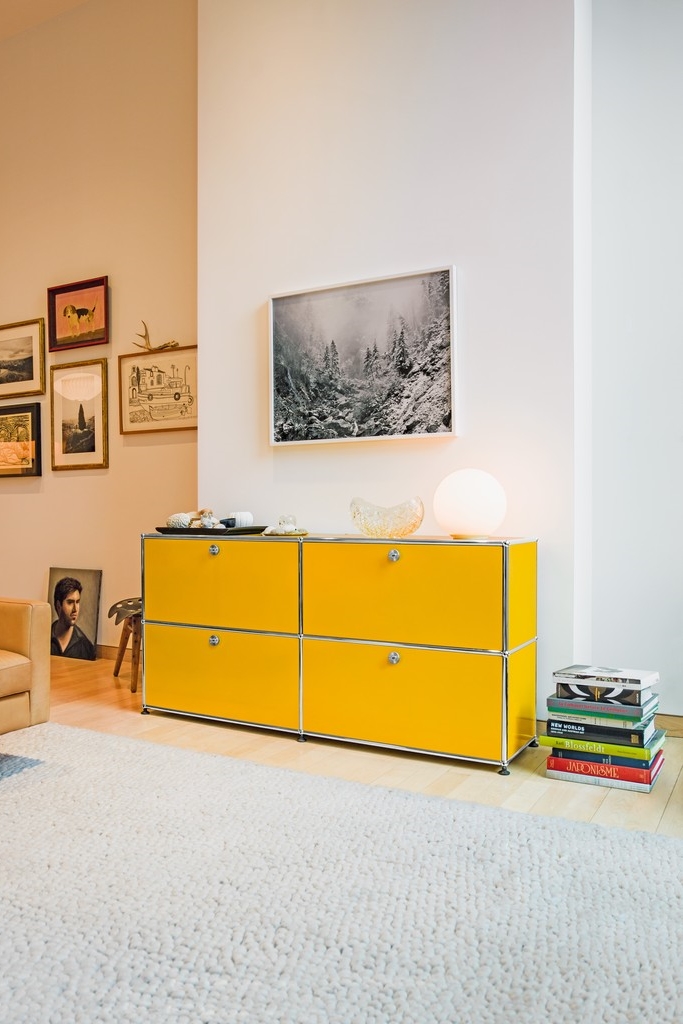 TV & Media Boards
The functional USM Furniture System proves how particularly useful and adaptable it is in context of TV & Media Boards. For example, the USM Haller TV/Hi-Fi Lowboard and the USM Haller TV Lowboard XL are on wheels and thus mobile, while in terms of the power supply to the hi-fi equipment, the cables of CD players or DVD players of the USM Television Furniture can either be routed through the open back wall, or fed tp the power outlet through a specially designed cable entry in the back wall.
Our USM Haller Sideboards, Highboards and Filing Cabinets
Depth:




always 37cm

M




Length: 77cm

L




Length: 152cm

Sideboards




Height: 74cm

Highboards




Height: 109cm

Filing Cabinets




Height: 179cm
Everything is possible with USM. Somethings more popular however than others. Consequently (smow) maintain a standard stock of the most common USM Haller highboard, sideboard and filing cabinet combinations. A standard stock that are, usually, available at short notice. Naturally, we can however deliver individual USM Haller units created by you to meet your own personal requirements and needs.
USM Independent - Contact our USM Service Team via: +49 (0)341 2222 88 11
Individual advice and configuration of your desired USM configuration
Everything is possible with the USM modular furniture system.
Talk to our experienced team of USM Haller consultants, to help you realise your individual USM Haller unit.
System USM Haller is available in countless sizes and colours.
Alterations and variations of all models offered in our online shop are always possible.
USM Haller: Components and dimensions
The various elements of the USM Haller modular furniture system are available in numerous sizes and dimensions. The core elements and their possible sizes are depicted in our reference table below:
Select the item that interests you from the right-hand column.
On the left-hand side you can see which dimensions are possible.
For the specific measurements, move the mouse pointer over the table.


Available in 250, 350, 500 mm depths.
Extension door (Available depths: 350mm, 500mm)
Individual project planning with smow
We are happy to advise you on your project as regards furniture from USM Haller and support you individually - from planning to implementation. Whether for a residential, office or public area, just share your ideas with our Planning Department.
Depending on the project, the realisation of your project by our architects and interior designers will be managed by a local smow store on site or via our online shop. You can contact our planning department from Monday to Friday between 8 am and 7 pm via +49 (0) 341 2222 88 66 or mail projekt@smow.de