USM Haller TV & Media Boards
USM Haller Multimedia Units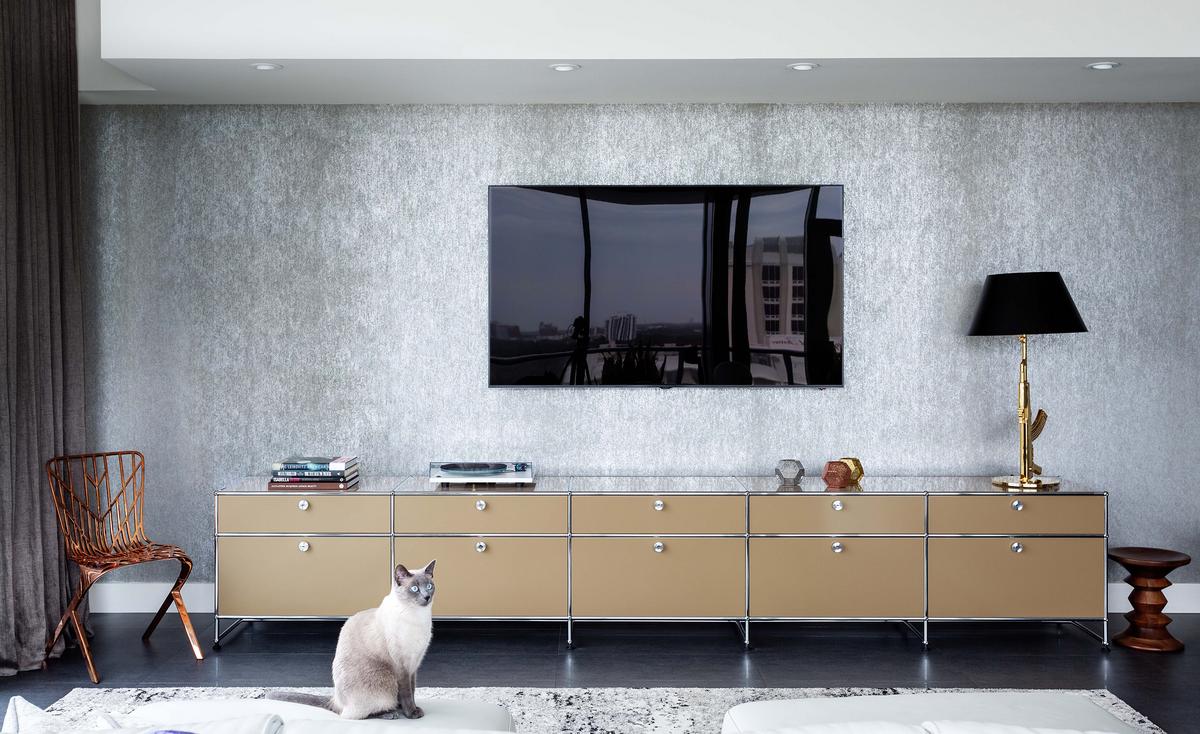 The USM Haller Principle
Based on steel tube, metal panels and chrome ball, the USM furniture system can be used to construct a wide variety of furniture types. The spectrum ranges from simple shelf constructions to complex storage solutions and on to special multi-media modules. This versatility is a classic example of the philosophy of the Swiss furniture manufacturer: USM builds function-oriented modular furniture that is extremely versatile. Visually, the shiny surfaces of the chromed tubes and balls as well as the coloured metal shelves and panels provide an elegant yet simple effect. Thanks to its multi functionality the stylish shelving system has long been an established classic in office and domestic environments. In addition to the classic USM Haller Sideboards specially tailored USM Hi-Fi, TV and multi media objects are available. And freely customisable.
The USM furniture system with its inherent functionality and variability is particularly well suited to multimedia furniture, allowing as it does for TV, HiFi and similar solutions which can be individually adapted to meet the user specific needs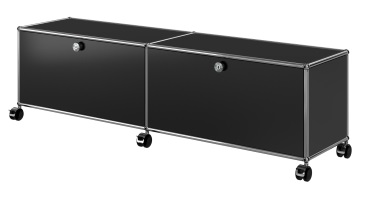 For example, the USM Haller TV/Hi-Fi Lowboard as well as the USM Haller TV Lowboard XL are available on castors and thus meet the requirements of mobility. In context of power supply cable outlets can be added to the rear panels thus allowing for orderly an stylish cable management.
The USM Haller TV board with extension offers the possibility of e.g. placing a DVD player in an open compartment directly under the TV. In addition pull-out and drop down doors, as well as metal intermediate shelves, ensure order and are ideally complemented by the USM Inos CD insert.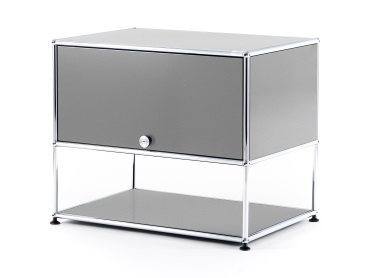 The 85 cm high, 75 cm wide and 50 cm deep USM Haller TV Bench compresses all these possibilities into a space saving unit. Behind a drop down door there is a compartment with a metal intermediate shelf and a cable passage: the advantage of the drop down door is that when it disappears in the furniture, so it can be left open without getting in the way. Under the main compartment one finds an open 25 cm high storage space which offers a wide range of uses.
As with the units themselves the accessories for USM TV and multimedia furniture leave little to be desired. Accessories such as pull out or drop down doors and intermediate shelves ensure the maintenance of order and are perfectly complemented by practical accessories such as the USM Inos CD inserts. Whether at home or in the office the USM multimedia units unite in one single piece of furniture everything that one could require. The USM Haller rear panel with cable outlet allows for easy and stylish cable management, and because the outlets can be placed in a choice of positions allow for free adaptability. Similarly the 14 USM colours available allow the unit to be matched to any design concept.
The USM Inos series adds a few practical accessories to the configurable shelf system. The high-quality supplements include the USM Inos Box Set C4, which is available in two sizes and colours and aids file organisation, or the USM Inos CD-Support Tray for USM Haller Extension Shelf, with which CDs can be both archived in the USM unit and also presented in an aesthetically pleasing manner.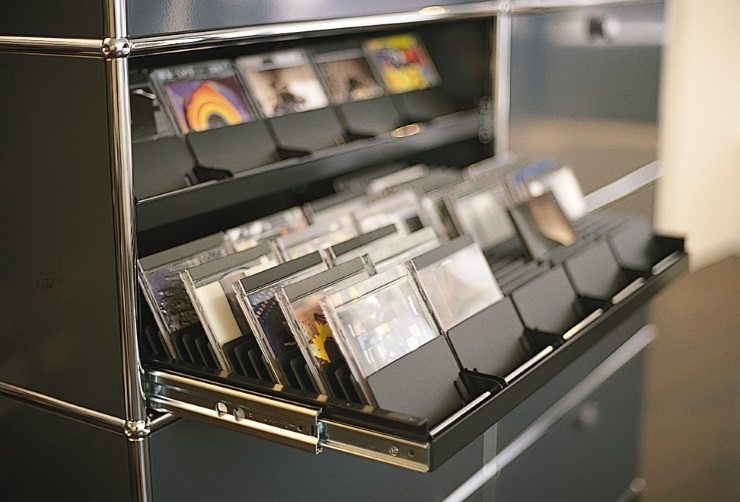 The CD insert is available for both the USM extension shelf as well as for the A6 drawer and can be purchased in a depth of 35 cm for 5 x 14 CDs or 50 cm for 5 x 23 CDs. The magnetic book supports for USM Haller shelves are also indispensable for a holistic media experience: with its L-shaped profile, it finds its place in and on the USM shelves and sideboards and gives books stable support without being intrusive.
For those with very specific requirements for their TV, Hi-Fi or multimedia cabinet the smow USM Configurator offers the possibility to customise your own USM Haller unit. Tailored to the individual space and usage requirements of any given situation, the smow USM Configurator allows you to define scope, colour and features of your individual shelving system. Thus USM multimedia units are built around the devices and needs of the user, rather than forcing the user to fit their equipment to a furniture makers standards.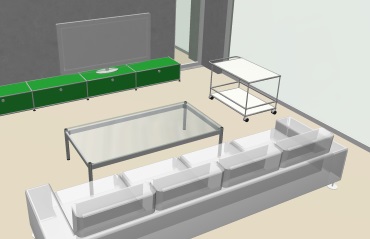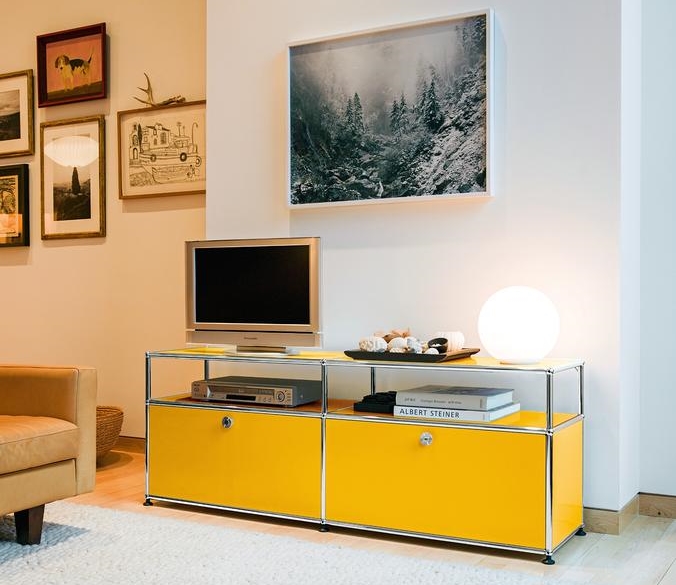 We are happy to help you plan your USM multimedia furniture and help you ensure that you get that USM system which perfectly meets your individual needs. With many years of USM experience the smow USM team can assist you with the virtual planning of your desired furniture. You can either contact the local USM experts in one of our smow showrooms or contact our USM Team from Monday to Friday between 8 am and 6 pm via +49 (0) 341 2222 88 11 or by e-mail service@smow.com. We look forward to hearing from you!.