5 New Architecture & Design Exhibitions for October 2018
If Jean-Claude Juncker gets his way October 2018 could see the clocks of Europe turned back an hour for the final time.
And thereby bringing to an end the long tradition of local newspapers publishing bi-annual articles documenting the curious tales and legends of town clocks, stories from the Schwarzwald on the largest and smallest cuckoo clocks, and photographs of horologists surrounded by the 350+ clocks and watches they need to reset.
For our part, we'll miss them.
It will also mean you won't have that extra hour the last Sunday in October to enjoy an extra leisurely visit to an architecture and/or design exhibition, so take the chance while you can…..
Our five recommendations for using that extra hour in October 2018 can be found in Hamburg, Weil am Rhein, Zürich, Paris and Helsinki.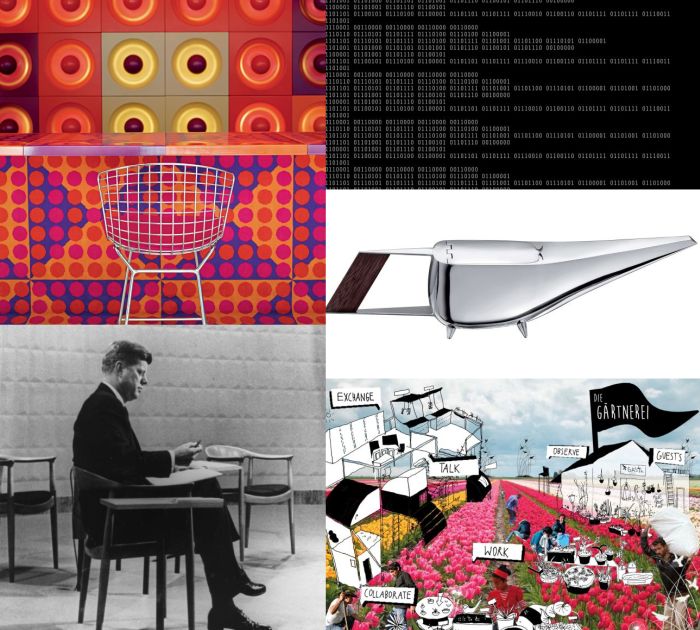 There are people out there who would happily argue that it is still 1968 in Hamburg, and not necessarily mean that positively. There are equally others in Hamburg who probably haven't noticed it isn't 1968. And so in many regards it is fitting the one of the final 2018 museal showcases reflecting on the 50th anniversary of that year of revolt and revolution should be being staged in Hamburg.
Promising a presentation of some 200 objects covering a wide range of creative disciplines including music, art, literature, film and design, a central feature, literally, promises to be Verner Panton's canteen and snack bar for the former Der Spiegel magazine building in Hamburg, a fascinatingly garish composition, one which juxtaposes the uncompromising intensity of the decoration with the equally uncompromising reduction of Harry Bertoia's chairs, arguably one of Panton's defining works of the late 60s/early 70s and a work which since Der Spiegel's move to a new building has been installed in the second floor of Hamburg's Museum für Kunst und Gewerbe.
And a work which although itself realised in 1969 was commissioned in 1968, and that as deliberate antithesis to established, dominating, German ideas of gute Form. If you will as Der Spiegel's own contribution to 68's pop and protest. And therefore a most fitting backdrop.
68. Pop und Protest opens at the Museum für Kunst und Gewerbe Hamburg, Steintorplatz, 20099 Hamburg on Thursday October 18th and runs until Sunday March 17th
"Seats of Power" at the Vitra Design Museum Schaudepot, Weil am Rhein, Germany
As we noted in context of our chairs playlist, a chairman is so called because back in the day he, and it was invariably a he, was the only person with a chair. Everyone else, depending on location and era, sat on stools, benches or just squatted on their haunches in the mud.
And the seat remains the most visible symbol of power, be it direct, the throne being arguably the best example, or by association as with, for example, the ….. no, probably better not say that. Would only get us in trouble.
With their exhibition Seats of Power the Vitra Design Museum Schaudepot promise a presentation of some 20 chairs which stand directly/representatively for power, including works as diverse as Mies van der Rohe's Barcelona Chair created for the use of the Spanish royal couple at the opening of the 1929 Barcelona World's Fair and now a regular feature in representative HQ waiting areas; Joe Colombo's Elda Chair, used by Bond baddie Karl Stromberg in The Spy Who Loved Me, but which also, or perhaps exactly because, unmistakably references Etruscan thrones; or Enzo Mari's Autoprogettazione chair, itself a symbol of the power of the individual against capitalist industrial production, and in Seats of Power represented through a version by the Berlin based CUCULA refugee project, and thus an object with its own relationship to power/empowerment.
If that seat of ultimate power, the baby high-chair, is included, hasn't been revealed.
Seats of Power opens at the Vitra Design Museum Schaudepot, Charles-Eames-Straße 2, 79576 Weil am Rhein on Friday October 19th and runs until Sunday February 17th
"Social Design" at the Museum für Gestaltung, Zürich, Switzerland
A phenomenon of design's evolving cultural and political relevance, and for all evolving understandings of design's sphere of influence, Social Design remains a pleasingly vague and fluid aspect of design: pleasingly because it has to be, to enable it to respond to society's inevitable and eternal shifts and turns.
Something we anticipate will be more concretely reflected on in the Museum für Gestaltung Zürich's exhibition Social Design.
Promising a presentation of some 55 international projects spread across 6 subject areas – Housing, Education, and Work; Urban Space and Landscape: the Environment; Networks; Production; Migration; – and ranging from the relatively simple such as the Little Sun lamp by Olafur Eliasson & Frederik Ottesen, over projects such as FairPhone or Solar Kiosk and onto integrated community solutions such as, for example, the so-called "Meat Market District" urban planning concept in Brussels, Social Design sounds like providing for an informative overview of contemporary Social Design initiatives. While the integrated forum should help make clear that as with all genres of design Social Design is a way of thinking, and something we are all capable off, that we can all contribute to the design of our society.
Social Design opens at the Museum für Gestaltung, Toni-Areal, Pfingstweidstrasse 96, 8031 Zürich on Friday October 5th and runs until Sunday February 3rd.
"Tutto Ponti, Gio Ponti archi-designer" at the Musée des Arts Décoratifs, Paris, France
In his 1935 portrait of Gio Ponti George Nelson writes that Ponti "found early in life that no one profession was sufficient to use up his energy or exhaust his interests, and added others with the nonchalance of a small boy increasing his collection of marbles"1
The exhibition Tutto Ponti, Gio Ponti archi-designer promises some 400 objects which together sound like providing for a fulsome exploration of one of Italy's most influential 20th century architects, designers, ceramicists, painters, writers, educators, theorists, collectors of marbles.
A graduate of Milan Polytechnic Gio Ponti first made a name for himself designing ceramics for his wife's family's Richard-Ginori Florentine porcelain factory, including winning a coveted Grand Prix at the 1925 l''Exposition internationale des arts décoratifs et industriels modernes in Paris; but quickly moved on to architecture, glass and furniture projects as well as organising exhibitions, co-founding the magazine Domus, writing, developing lighting designs, works of art, films and teaching at his alma mater. Marble Collecting.
Promising an exhibition design every bit as extensive as Ponti's oeuvre Tutto Ponti, Gio Ponti sounds like providing for an entertaining and multi-faceted exploration of an entertaining and multi-faceted creative.
Tutto Ponti, Gio Ponti archi-designer opens at the Musée des Arts Décoratifs, 107, rue de Rivoli 75001 Paris on Friday October 19th and runs until Sunday February 10th
1. George Nelson, The architects of Europe today: Gio Ponti, Italy, Pencil Points, February 1935, reproduced in Building a New Europe. Portraits of Modern Architects. Essays by George Nelson 1935 – 1936, Yale University Press, 2007
"10 000 years of design – Man, Matter, Metamorphosis" at The National Museum of Finland, Helsinki, Finland
Sometimes in life all you can do is trust your gut feeling, close your eyes, take a deep breadth, and go for it…… such, or similar is how we are approaching The National Museum of Finland's exhibition 10 000 years of design – Man, Matter, Metamorphosis: because apart from a title, a few photos which appear to show contemporary Finnish design juxtaposed with archetypes from which they have evolved, and a very short text which includes the passage, "taking as a radical starting point the end of the ice age, the exhibition presents a series of critical themes in which archaeological and ethnological material is interwoven with contemporary content." ……. we have nothing to go.
But our gut feeling tells us, we don't need any more, that what we have succinctly, and very seductively, implies an exhibition which aims to explain and explore both the roll developing culture has played in the development of Finnish design, but also the roll developing design has played in the development of Finnish culture. Thereby allowing for a more honest appraisal and understanding of contemporary Finnish design than that which is so often presented. Which is, obviously, no bad thing.
10 000 years of design – Man, Matter, Metamorphosis opens at The National Museum of Finland, Mannerheimintie 34, Helsinki on Friday October 12th and runs until Sunday February 24th.