smow Song Contest 2019
For all the controversy surrounding smow Tel Aviv's victory in the 2018 smow Song Contest, not least the question if there even is a smow Tel Aviv, the staging of the 2019 Contest in Israel does allow for a very nice reinforcing of the central theme of the 2019 smow Song Contest….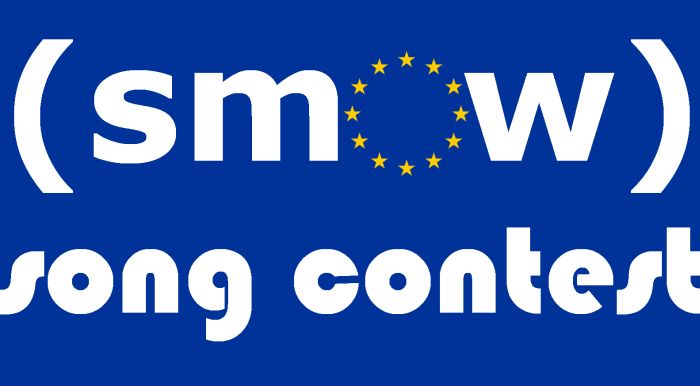 Inarguably the biggest architecture and design story in 2019 is the centenary of the founding of Bauhaus Weimar. And whereas one can, should, argue if the school deserves its singular billing, it gets it.
What is less disputed is the links between Israel and Bauhaus, not those popularly misconstrued as the "Bauhaus" White City in Tel Aviv, but, and as we all remember from the Stiftung Bauhaus Dessau's 2011 exhibition Kibbutz and Bauhaus, by the some 24 Bauhaüsler who either, such as, Arieh Sharon, travelled from, the then, Palestine to study at Bauhaus or those such as Munio Weinraub who moved/fled to Palestine after their studies at Bauhaus, and who, to varying degrees helped develop the architecture of not only the Kibbutz, but Israel.
There may not be a smow Weimar or smow Dessau, smow Tel Aviv?, but Bauhaus has connections to all smow locations, and the 2019 smow Song Contest is about celebrating those connections.
To this end the rules for the 2019 smow Song Contest called for the selection of a Bauhäusler from and/or associated with the respective smow city and then a song either by an artist with a shared forename or where that forename features in the lyrics. And that in any one of the three official smow Song Contest languages, German, French, English…..
Berlin – Walter Gropius: Orchestral Manoeuvres in the Dark – Art Eats Art
Berlin could only be represented by Mr Bauhaus himself. Born in Berlin on May 18th 1883 into an architectural dynasty, Walter Gropius studied architecture in Munich, Berlin, and perhaps most importantly served as an assistant to Peter Behrens in Potsdam, before in April 1919 achieving global immortality as the founding Director of Bauhaus Weimar. That his career encompassed much more than that is seemingly unimportant. And Walter Gropius is name-checked by Orchestral Manoeuvres in the Dark in Art Eats Art, thus making him the only one of the 11 smow Song Contest Bauhäusler personally referred to.
Chemnitz – Marianne Brandt: Leonard Cohen – So Long Marianne
One of Bauhaus Dessau's more productive protagonists, and one of those who, arguably, best understood the responsibilities of the new world of "industrial design", in retrospect Marianne Brandt's war time decision to return to her native Chemnitz may have been a mistake. But who could have foretold the DDR. Leonhard Cohen may sing the anglicised MariAnne rather then the German MarianNE, but the haunting melancholy of possibilities lost remains unaffected, "It's time that we began to laugh. And cry and cry and laugh about it all again", ain't that the truth….
Cologne – Marianne Heymann: Marianne Faithfull – Born to Live
Born in Cologne in 1905 Marianne Heymann enrolled in Bauhaus Weimar in 1923 joining the sculpture workshop, including attending stage design classes. That the sculpture workshop didn't move to Dessau Marianne Heymann left Bauhaus and established herself as a stage designer, working for houses such as the Nationaltheater Mannheim and Cologne Opera. Fleeing from the Nazis to Paris, Marianne Heymann and her husband Hermann Ahlfeld spent the war in hiding in southern France before emigrating in 1949 to Israel where she again took up her career as stage designer. Until August 11th 2019 Marianne Heymann and her cousin, the ceramicist Margarete Heymann are the subject of the MAK Cologne's exhibition Two Cologne-born Artists at the Bauhaus.
Düsseldorf – Walter Hartstang: Walter Murphy – A Fifth of Beethoven
Born in Düsseldorf on April 12th 1900, and therefore exactly 19 years before Gropius's new school formally received the name "Bauhaus", Walter Hartstang joined Bauhaus Dessau in 1928, remaining until the institute's closure in 1932; and during which time, and one presumes amongst other activities, he contributed to the canon of Bauhaus designs for the Leipzig based lighting manufacturer Kandem. Post-Dessau Walter Hartstang's biography is lost, save that in 1944 he was declared dead, one presumes missing in action.
Frankfurt – Walter Peterhans: The Frank and Walters – Colours
Had Fritz Wichert's plan worked, Bauhaus would have moved in 1925 from Weimar to Frankfurt. It didn't. Largely because Ernst May was appointed head of the Neues Frankfurt project and not Walter Gropius. And while Frankfurt developed in the course of the 1920s and 1930s its own understanding of International Modernism, it did also contribute to Bauhaus; most notably through the photographer Walter Peterhans. Following a variety of technical, artistic and academic studies Walter Peterhans established himself as a freelance industrial and portrait photographer in Berlin before in 1929 Hannes Meyer brought him to Bauhaus Dessau to head the newly established photography workshop. Following the closure of Bauhaus Peterhans taught at a private photography school before fleeing to America in 1938 where Mies van der Rohe appointed him Professor for Visual Training, Analysis and Art History at the Illinois Institute of Technology, IIT, Chicago. And where Walter Peterhans taught until 1960, in addition to tenures as guest professor at both the HfG Ulm and the HfBK Hamburg. smow Song Contest rules strictly forbid any Frank(furt) and Walters jokes.
Advertising Break
More inspiration?
External content is linked here. If you want to see the content once now, click here.
Hamburg – Hedwig Arnheim: John Williams – Hedwig's Theme
According to the curators of the exhibition Bauhaus in Hamburg at the Freie Akademie der Künste, post-War the city's HfBK boasted the highest number of Bauhäusler on its teaching staff of all art schools in Germany, including the likes of Gerhard Marcks, Otto Lindig or Gustav Hassenpflug. But there are also native Hamburg Bauhäusler, including Hedwig Arnheim. Born on January 7th 1894 Hedwig Arnheim married the artist Ewald Dülberg in 1915, the pair had a daughter in 1918, separated in 1921 and in the same year Hedwig Arnheim joined Bauhaus Weimar. Where, and despite the, relative, emancipation afforded by Bauhaus, we can't imagine life as a divorced single mother was easy, can't, for example, imagine the Kindergarten facilities at Bauhaus Weimar were particularly well established. In 1923 Hedwig Arnheim married fellow Bauhäusler Naum Slutzky and left Weimar moving to first Berlin and subsequently returning to Hamburg. In 1936 Hedwig Arnheim fled to Nice where in 1943 she was arrested and deported to Auschwitz, where she was murdered.
Kempten – Helene Nonné: Georges Brassens – Les Sabots d'Hélène
Kempten and Bauhaus don't have the closest of associations, even Bauhaus and Allgäu caused the selection committee a few headaches; however, for a few post-War years Helene Nonné lived in Wangen im Allgäu. Originally from Magdeburg Helene Nonné joined the weaving workshop at Bauhaus Weimar in 1924 moving with Bauhaus to Dessau in 1925 and where in 1930 she received her Diploma. During the war years Helene Nonné and her husband, and fellow Bauhäusler, Joost Schmidt, lived and worked in Berlin. Following Joost Schmidt's untimely death in 1948 Helene Nonné worked briefly in München, before moving to Wangen. In 1953 Helene Nonné joined the staff at the newly established unofficial official Bauhaus successor HfG Ulm where she taught the Grundkurs until 1956.
Leipzig – Hildegard Rantzsch: Hildegard Knef – Für mich, soll's rote Rosen regnen
According to the exhibition Bauhaus_Sachsen at the Grassi Museum für Angewandte Kunst there were 17 Bauhäusler either from or closely associated with Leipzig, from which Hildegard Rantzsch was drawn to represent the city. Active between 1925 and 1930 in the weaving workshop, print workshop and art ateliers Hildegard Rantzsch moved to Zürich in 1931 and where in 1933/34 she briefly worked in Gunta Stölzl's weaving workshop. Returning to Leipzig in 1936 Hildegard Rantzsch was deployed to the Western Front in France in 1943, and where history loses sight of her. And while there could only be one Hildegard to represent her, it didn't have to be with rote Rosen, but somehow the lines "I should submit, should be content. I can not submit, can not be content. I still want to win. Want it all or nothing" too perfectly encapsulates the spirit which drew many to Bauhaus…… And which, arguably, we should all still possess today.
Munich – Gerhard Weber: Gerhard Wendland – Arrivederci Roma
It's fair to say that for all it internationalism Bauhaus, in terms of its "Germanic" students, was very Prussian; students and staff from Bayern, Baden or Württemberg being noticeable by their absence: the selection committee failing to find a singe Bauhäusler from Munich, which can't be right. However there are those with a close connection to the Bavarian capital, including Gerhard Weber who from 1955 to 1974 served as architecture Professor at the TU München. Born in Mylau, Sachsen in 1909, Weber joined Bauhaus Dessau in 1931, studying under Mies van der Rohe until the school's closure in 1933. During the War Weber worked in the Berlin office of Herbert Rimpl, an office that undertook numerous war related projects for the Nazis. Post-war Weber worked briefly for Frankfurt City Authority before establishing his own office in which context he realised projects such as the Staatsoper Hamburg, Nationaltheater Mannheim or the Deutschlandfunk Tower in Cologne.
Schwarzwald – Max Bill: Max Richter – Iconography
Although deeper research would no doubt have revealed a Schwarzwald Bauhäusler, Switzerland's Max Bill is through his work with Junghans a more than elegant representative. Whereas the Schwarzwald clock industry may have been largely founded on the production of cheap mass market objects, and cuckoo clocks, some manufacturers went different ways, including Schramberg based Junghans, whose reduced, rational clocks featured in the Frankfurter Register of recommend products for the inter-War Modernist Neues Frankfurt project. And who in the 1950s cooperated with the nearby HfG Ulm, starting with Max Bill's 1956 kitchen clock, a work developed with a young Ernst Moeckl, and the first of many collaborations between Bill and Junghans. In context of the popular reception of Bauhaus, Ulm, and Max Bill's watch designs, Iconography seems more than appropriate.
Stuttgart – Benita Otte: Benita Meshulam – Serenata andaluza
Born in Stuttgart on May 23rd 1892 Benita Otte studied in Düsseldorf, Frankfurt and Berlin before in 1915 taking up a teaching position at the Städtischen Höheren Mädchenschule in Uerdingen, Rhein. A position she left in 1920 to enrol at Bauhaus Weimar, and where she quickly became one of the leading figures in the weaving workshop. Choosing to move to Burg Giebichenstein Halle in 1925 rather than follow Bauhaus to Dessau, Benita Otte headed the Burg weaving workshop until the Nazi's siezure of power saw her and her husband, the photographer, Heinrich Koch relieved of their duties. Following Heinrich's 1934 death Benita Otte moved to Bielefeld where, and until her retirement, she headed the weaving workshop at the Bodelschwinghschen Anstalten Bethel.
The 2019 smow Song Contest Playlist, and all smow playlists, can be found at the smow Spotify page
More inspiration?
External content is linked here. If you want to see the content once now, click here.