smow Song Contest 2020
In a year in which the familiar glow of many a beloved cultural event is missing, one beacon continues to shine.
As a virtual, and in many regards virtual, event the smow Song Contest is one that can be staged regardless of prevailing physical social distancing regulations and physical travel restrictions.
And while virtual closeness and virtual travel can never, and must never be allowed to, replace the physical, the 2020 smow Song Contest does allow us all an opportunity to cross great distances, to come together, to stay safe, to stay responsible, but for all to stay dancing…..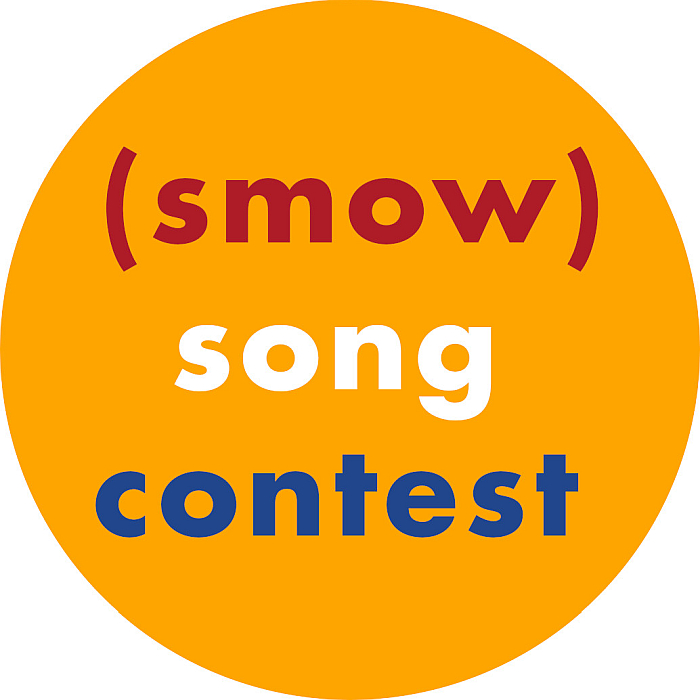 Whereas in previous years the winner of the smow Song Contest has often been unknown within the smow family, we think particularly of smow Tel Aviv or smow Lisboa's surprise victories, victories leading to concerns that the voting may have based more on geo-political power considerations than the merits of the particular song/artists, the 2019 winner, Rotterdam, is well known to all: Rotterdam being the home of smow Blog. Not the physical home of smow Blog, smow Blog being as it as an ethereal, incorporeal, entity, but the spiritual home. And not Rotterdam, Netherlands, but Rotterdam, Beautiful South: "Anywhere, anywhere alone".
Rotterdam, Netherlands, is however a city which allows for some pleasingly differentiated considerations on the 2019 smow Song Contest's "Bauhaus" theme, being as it is not only the city in which between 1918 and 1933 J. J. P. Oud served as municipal architect, and where and in which context he developed and advanced his understandings of contemporary construction, urban planning and habitation, and thereby contributed greatly to wider developments and advances in understandings of such. Nor is Rotterdam only the city where in 1919 the freshly graduated Margarete Lihotzky spent six months looking after post-War evacuated Viennese children; and also working in a local architect's office, attending lectures by H. P. Berlage, studying Dutch garden city planning, and becoming somewhat obsessed with the order and structure of Dutch kitchens. Nor is it only the city of Brinkman & Van der Vlugt' s Van Nelle factory, a late 1920s monument to new understandings of the relationships between buildings and those who work/live in them, and a glass walled construction which stands comfortably and naturally alongside Gropius's Bauhaus Dessau. Nor is it only the city where in the late 1940s the freshly graduated Fritz Haller spent a year working with the architects Willem van Tijen and Huig Maaskant, who at that time were involved with the post-War rebuilding of Rotterdam, an undertaking which caused Haller to reflect on the inadequateness of conventional construction methods, and the urgent need to develop new ones. Nor is it only the city of the Lijnbaan, opened in 1953 and one of the world's first planned pedestrian inner-city shopping boulevards, and that at a time of ever increasing car ownership and fundamental questions about how best to form the future relationship between car and urban space, between pedestrian and driver. Looking over today's clogged and smogged downtowns, Lijnbaan, as with Paul Schneider-Esleben's Lichtplatz Car Park in Düsseldorf, helps one understand an alternative future. Nor is Rotterdam only the city of Piet Blom's Kubushaus, MVRDV's Markthalle, OMA's De Rotterdam…..
…..it is all these and many, many, more reflections on the Dutch contribution to inter-War architecture and design, and on the continuing Dutch contribution to evolutions of and discourses on both architecture/design and of our understandings of the relationships between architecture/design and wider society.
Rotterdam is also the most populous town in Zuid-Holland, one of the 12 provinces which comprise the Netherlands.
Twelve being an important number in the smow year 2020: the opening in March 2020 of smow Freiburg meaning that smow is now represented by physical stores in 12 German cities.
And thus making 12 the perfect theme for the 2020 smow Song Contest. But in which context?
Having considered the near ubiquitous importance and relevance of the number 12 across time, space, culture, and religion, including very long, very detailed, reflections on the dodecahedron, the smow Song Contest Organising Committee initially considered aligning each of the twelve smow cities with a Dutch province: logical as the plan was, the practicalities would have have made it a purely Dutch affair and thereby not compliant with the events international outlook and understanding. Alternatively, 12 twelve-tone compositions was considered; but rejected because, while very appealing to the Organising Committee, it would stand somewhat contrary to the competition's ideals of openness and universality. As the discussions were appearing to be approaching an inevitable dead-end, the, until then somewhat quiet, Bill Haley, put down his coffee cup, stood up, adjusted his kiss curl, "One, two, three o'clock, four o'clock rock", he began, continuing, "Five, six, seven o'clock, eight o'clock rock. Nine, ten, eleven o'clock, twelve o'clock rock. We're gonna rock around the clock tonight!"
And thus we will.
In chronological order of their opening, each of the twelve smow locations is represented by a song whose title features their respective place in that order as the full hour. As ever, the songs could be in any one of the three official smow Song Contest languages, German, French, English, the only stipulation being that the number stand in direct context of "o'clock", "Uhr" or "heures". In addition, the 2020 smow Song Contest features two guest appearances: smow Blog as, spiritual, hosts and smowonline, an institution whose untiring vitality, innovation, flexibility, good humour and crack, in-house, IT team, has kept them safely and reliably Rocking around the clock since 2008……..
Leipzig: One O'Clock Jump – Count Basie Orchestra
Much as smow Leipzig was the first hit in the (hi)story of smow, so One O'Clock Jump was the Count Basie Orchestra's first chart hit. And the start of an equally stellar success story. Conceived during Basie's Barons of Rhythm's mid-1930s residency at the Reno Club in Kansas City, One O'Clock Jump was first recorded in 1937, and developed, in many regards, to the Count Basie Orchestra's theme tune: serving for some fifty years as the traditional final number of any and all Count Basie Orchestra concerts.
Chemnitz: 2 O'Clock – Beatsteaks
To be found on the Berlin melodic, sometimes less so, hardcorers second studio album Launched, 2 O'Clock is one of their more melodic, anthemic, moments. An outpouring of angst and frustration, yet an outpouring which, unwittingly?, subconsciously?, also contains the reason for the narrator's woes, and thus a clue as to how to begin resolving the situation: "And when it matters then I'm blind, Nothing is alright, I only see what I wanna see". Which yes is that fundamental error we all make, so often. For all, when it matters…..But never see it……
Stuttgart: Three O'Clock Blues – Lowell Fulson
Not only is Three O'Clock Blues better known in the B.B. King cover version than in Lowell Fulson's late 1940s original, but is also better known with B.B. King's lyrics: King's lyrics, however, as far as we can understand, not only sanitising Fulson's narrative of its full horror, but removing all blame for the unhappy turn of events from the narrator. A narrator who, as far as we can understand, Lowell places very much at the centre of the drama. Why the re-writing? We know no, we only know in its original it is a plaintive appeal to not only to be careful in our choice of those to whom we entrust our hearts, but equally careful in our treatment of those we choose.
Cologne: Quatre heures – ELLA
In the early Middle Ages Cologne was briefly ruled by Chlodwig I, the Franken monarch who established the Empire that became contemporary France. And in 1794 Cologne became French …. the French quickly realised their mistake, but it took until 1815 before Prussia could be persuaded to take it back. And thus there is a certain irony in the Rheinmetropol being represented by a French song…..and also something very fitting about Cologne being represented by a song taken from an EP titled, Huit clos, a subtle play on the very similar sound of "Huit" and "Huis", and what could have better inspired Sartre to pen Huis clos than a visit to Cologne carnival……?
Kempten: 5 O'Clock in the morning – The Village People
Much as smow Kempten marked the beginning of a new chapter in the smow (hi)story so, the Village People's 1981 album Renaissance in the (hi)story of the Village People: out, the disco beats of the late 1970s, in, a new funk/soul vibe. And with 5 O'Clock in the morning a new humility. Whereas a lot of the self-confidence of disco-era Village People is/was in many regards a defiant, political, celebratory, self-confidence rather than a selfish, egoistic, arrogant self-confidence, it was very self-confident: the narrator in 5 O'Clock in the morning is far, far removed from confidence of any sort. Which is why he finds himself walking the streets at 5 O'Clock in the morning: followed as he goes not only by his thoughts, regrets and repentance, but by a joyously claustrophobic string arrangement as addictive as any of the bands disco beats.
Frankfurt: 6 o'clock – Emilie Zoé
"Its funny" opines Swiss singer/songwriter Emilie Zoé's protagonist, "how it's comforting to grope along in the dark", a position which reminds us all very much of Chris Stevens' realisation that in life, "it's not the vision, it's not the vision at all, it's the groping, it's the groping, it's the yearning, it's the moving forward" and his linking of that to Kierkegaard's position that, as Chris paraphrases it, "the self is only that which it is in the process of becoming." Thoughts echoed in/at 6 o'clock with the observation that, "its the end I think, although its the very start." Which, in many regards, is what life is, a chain of coalesced stop/starts, not that we normally recognise them as such, at least not initially, and which brings us to that other Kierkegaardian reflection that while life must be lived forward, it can only be understood backwards. Which is most unfair!
Düsseldorf: 7 O'Clock – Quireboys
We always like to think the time check in the title of the opening track from the British glam, poodle, pub rock 'n' rollers debut album is a reference to Elton Johns pronouncement in Saturday Night's Alright (for Fighting), that "It's seven o'clock and I want to rock, Want to get a belly full of beer". Although, while John's 7 O'clock is almost certainly of the pm, one gets the feeling the Quireboys 7 O'clock is of the am, and that the rocking and drinking part of the narrator's evening may giving way to other pursuits…….
Advertising Break
More inspiration?
External content is linked here. If you want to see the content once now, click here.
Berlin: Acht O'Clock Rock – Duke Ellington
There was a great deal of discussion as to if "Acht O'Clock" conformed to the rules. And even more discussion as to what it might mean. However, as there is and was no written rule that "number" and "time description" must in the same language, merely in context of one another, it was permitted. Even if no-one is really sure what it means; although replacing the word "Acht" with the numeral "8" does offer a new perspective. Or maybe it is simply a reflection of the considerations on the Global Village and ever increasing fusion of cultures, races and traditions which inspired Ellington's ever charming and ever wondrous 1971 album The Afro-Eurasian Eclipse from which Acht O'Clock Rock is taken: considerations formulated through the language of Jazz. Which in its contemporary self can be considered a global village populated by a fusion of races, cultures and traditions.
Munich: Nine O'Clock – Robert Morse
Composed by Bob Merrill for the 1959 Broadway musical Take Me Along, the nine O'clock of the song title refers to the time Richard Miller has been told to be on the beach to meet his long-lost love Muriel Macomber. And he can hardly wait. And that despite the fact their assignation will be, at least on this occasion, brief: by 10 O'clock it will be over. Night-time rainbows and all. In addition, meeting on the beach at 9 pm means the pair will miss the 9 pm Gute-Nacht-Gruß from the Glockenspiel on Munich Rathaus, and its rendition of the Nachtwächterruf from Richard Wagner's Meistersinger von Nürnberg and Johannes Brahms' Wiegenlied……Although that doesn't seem to in any way dampen Richard's enthusiasm for, finally, having Muriel in his arms again. He can hardly wait.
Hamburg: 10 O'Clock Postman – Secret Service
German listeners will, we hope, recognise the tune; this is the original of Wolfgang Petry's original. The words however are different, and thus sadly devoid of Perty's ever though-provoking, "Kann sein, dass ich altmodisch bin. Doch glaub mir, ich weiß genau wovon ich sprech' " – "You may think I'm old fashioned. But believe me, I know exactly what I'm talking about". Does however feature the delightful and tragic, "Finding it so hard to eat. The toast and the eggs they just don't taste the same." We tend to presume it's a boiled egg with soldiers that is failing to release its usual gustatory joy, but it could be poached or scrambled on toast, or possibly a fried egg banjo. The tastelessness of all variations being just as delightful and tragic a metaphor for a broken heart…..
Schwarzwald: 11 O'Clock Tick Tock – U2
Released as a single in 1980, and that as the band's first for Island Records, 11 O'Clock Tick Tock has that expansive, flowing, weaving staccato that so defined early years U2, and which, in its expanse, indicated they could only play stadiums; a song like 11 O'Clock Tick Tock simply cannot be confined.
"We thought that we had the answers. It was the questions we had wrong", the narrator laments, a situation everyone should take note off: answers aren't that important, questions are. Unfortunately as a species we've become specialised in, focussed on, obsessed by answers……..and the easier and the quicker the better. When we should be taking our time to properly formulate questions….
Freiburg: 12 O'clock, Eh Sonny – Butch Robins
On the cover notes to the ever wonderfully, and thought-provokingly, titled album Fragments Of My Imagicnation from which it is taken, Butch Robins describes 12 O'clock, Eh Sonny as "an experiment in rhythm"; a statement which leads naturally to thoughts of rhythm not just in a musical context but also in a spatial context, and to those experiments in spatial rhythm that have helped advanced the (hi)story of architecture and interior design. Spatial rhythm experiments which, and as with Robins' musical rhythm experiments can only be aided and abetted, by "a blistering Fender mandolin solo by Sam [Bush]"
smow Blog: Sleep the clock around – Belle & Sebastian
Although sleeping the clock around is a very nice metaphor for laziness, slovenliness, unsociability, for that type of ingrate to whom one might justifiably say ""Look at yourself, you're not much use to anyone"", it is also indicative of having arrived, after a long, tortuous journey, in a place of serene security. Be that a physical journey, or a more personal one; that having once needed Valium pills and other artificial aids to take away an unpleasant, acrid, taste of life and see you through the day, you've undertaken an inner journey, reflected on your life, reflected on the fact that in all probability "you're a bit of a waste", have responded, made changes, and have now arrived at a place where you are content with yourself, can look yourself in the mirror and in good conscious, with an eased mind and settled spirit, Sleep the clock around. And in this case a journey accompanied by a composition that rises with you, and by the end the sun is positively shinning from your speakers/headphones/new life…..
smowonline: Rock around the clock – Billy Hailey & His Comets
"Thank you very much ladies and gentlemen, that brings to a close just about this part of the show and we want to thank all of you for being so very nice. Before we go though I'd like to sing one song for you that I hope you've heard some place before…….."
The 2020 smow Song Contest Playlist, and all Radio smow playlists, can be found at the smow Spotify page
More inspiration?
External content is linked here. If you want to see the content once now, click here.