5 New Architecture & Design Exhibitions for January 2019
The reason most of us fail to keep most of our New Year resolutions is, mostly, because we either resolve to give up things we enjoy or to do things we don't.
Which is foolhardy in the extreme.
If you wanted to do more sport, you would.
If you wanted to eat less crisps, you would.
But don't. And don't. So don't.
The wiser choice is to resolve to do more of that which you enjoy, and thereby not only setting yourself an achievable goal but one which through the genuine fulfilment it brings benefits you spiritually, intellectually, emotionally and physically; therefore, let us all, collectively, promise to visit more architecture and design exhibitions in 2019 than we did in 2018.
Agreed?
Our five starters for January 2019 can be found in Frankfurt, Malmö, New York, Berlin and Stuttgart……………..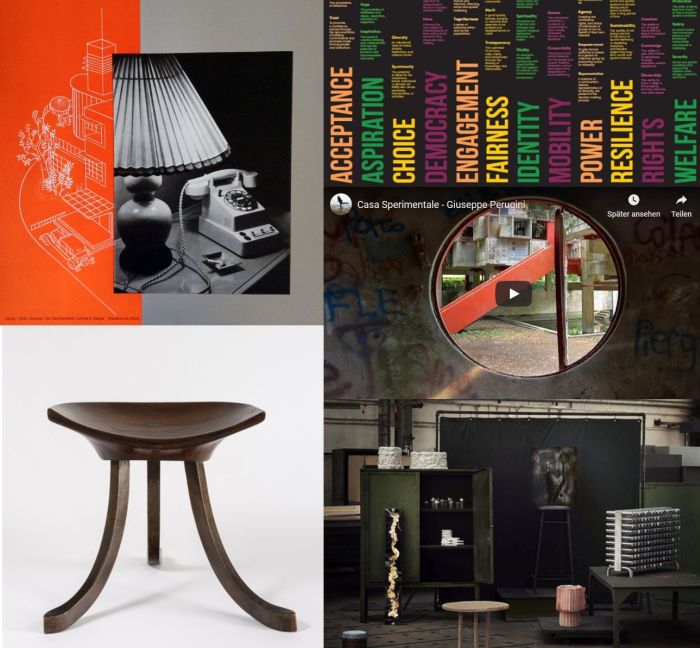 "Moderne am Main 1919–1933" at the Museum Angewandte Kunst, Frankfurt, Germany
When, in the course of 1924, it became clear that the Bauhaus school would have to leave Weimar several cities vied to offer it a new home, including Frankfurt; the city's Kunsthochschule's then Director Fritz Wichert making advances to Walter Gropius to encourage him to bring his school to the Main.
On the one hand a logical extension of what was already happening both in the Frankfurt Kunsthochschule but also in nearby institutions such as the Fachschule für die Edelmetallindustrie Hanau; and on the other a component of the then Frankfurt Mayor Ludwig Landmann's ambition to make Frankfurt "an example of what the modern city could offer to the twentieth century, providing fully for the growth of an urban culture which would lead "men of art and science" forward in their search for the spirit of the New Age."* An ambition which, as history records, had to be approached without the Bauhaus school, and which became most popularly embodied by the Neues Frankfurt project: one of the largest and broadest modernist functionalist urban planning programmes ever undertaken.
Against the background of the centenary of Bauhaus Weimar, three museums in Frankfurt are marking the 94th anniversary of the 1925 inauguration of the Neues Frankfurt project with a series of exhibitions exploring the role of Frankfurt and environs in the development of inter-war architecture, design, art, fashion, music, graphics, et al. The start being made by the city's Museum Angewandte Kunst.
Promising a presentation of some 600 objects from across the various creative and technical genres, in addition to discussions on the individuals, institutions and companies who drove the various projects, from our reading of the advance information we don't imagine Moderne am Main 1919–1933 will offer any new insights, but on account of its proposed scale, breadth and the local knowledge inherent in the museum's staff and collection, should provide for a detailed and comprehensive overview, should allow dots to be joined to create a coherent composition, and thereby should allow for a deeper understanding of the evolutions of the period and how the theory applied in Frankfurt became part of a wider reality.
And for reflections on what Bauhaus may/could have been today, had Wichert convinced Gropius to choose Frankfurt over Dessau……..
Moderne am Main 1919–1933 opens at the Museum Angewandte Kunst, Schaumainkai 17, 60594 Frankfurt on Saturday January 19th and runs until Sunday April 14th
* Nicholas Bullock, Modern Design and Municipal Patronage: Frankfurt 1924-1930, Oxford Art Journal, Vol 2, Art and Society, April 1979
"What Matter_s" at Form/Design Center, Malmö, Sweden
One of the most important motors in the development of not just architecture and design, but in essence, society, civilisation, is the development of new materials, and for all meaningful applications of those materials. Once such developments progressed slowly, the Stone Age slowly ceding to the Bronze Age which in turn slowly ceded to the Iron Age; more recently however the speed of development of new materials has quickened, achieving a tempo with which the search for meaningful applications has been unable to keep pace, the new materials becoming the holier grail, a means in themselves. Which is why our Plastic Age is so harmful.
And why it is increasingly important to re-establish the equilibrium between materials and applications.
Based on such, or similar, considerations, in 2018 ten design studios from southern Sweden were each paired with a local materials researcher to consider applications for contemporary experimental materials and/or (materials) processes; the results of their cooperations were first presented at Dutch Design Week Eindhoven 2018 and in January are, in effect, coming home to Malmö.
Featuring cooperations as varied as designer Petter Thörne and Dr Paulien Strandberg's considerations on hemp hurds; Jenny Nordberg and Professor Magnus Tägil's explorations with a 3D In Vitro bone printer which mimics the process of bone healing; or the project Artificial Intelligent Architecture and Interior Design by Helsingborg based collective Superlab and Lund University's Dr Axel Nordin which employs artificial intelligence to feed an algorithm for developing domestic and office interior design, What Matter_s promises not only to provide for a comprehensive overview of the directions in which materials research is going, but also an explanation of the intensity of the process required to understand the potential uses of new materials. Over and above the very necessary extra bag to put fruit in until you get it home.
What Matter_s opens at Form/Design Center, Lilla torg 9, 211 34 Malmö on Friday January 18th and runs until Sunday March 10th
"Design and the Just City in NYC" at the Center for Architecture, New York, New York, USA
What is the first thing architects and urban planners consider when designing our urban spaces?
Movement? Light? Communication? Beauty?
The Harvard Graduate School of Design's Just City Lab asked what if the first things considered were "equality, inclusion or equity"? Would that make for more just cities?
In context of such considerations the New York Center for Architecture will present an exhibition featuring five case studies which stand as representative for both the Lab's positions and approach, developed as they are with the aid of the Lab's so-called Just City Index – a collection of 50 core values grouped around a dozen themes and including considerations such as respect, transparency, safety or spontaneity. Human, social, emotional considerations which have priority over more traditional, technical, theoretical, calculated, architectural considerations.
Although developed for specific scenarios in New York City, the hope is, and as ever with such theoretical architectural exhibitions, that the lessons learned from the research can be abstracted and applied elsewhere….. and, and if the Lab's base theory is correct, help create future societies with a healthier core than many a contemporary one.
Design and the Just City in NYC opens at the Center for Architecture, 536 LaGuardia Place, New York, NY 10012 on Thursday January 10th and runs until Saturday March 30th
"From Arts and Crafts to the Bauhaus. Art and Design – A New Unity!" at the Bröhan Museum, Berlin, Germany
As oft noted in these pages 2019 will be a year of Bauhaus exhibitions, and, as equally oft noted, we fear a year of cementing popular Bauhaus myths and legends. Consequently there is something very pleasing about the Bröhan Museum Berlin's decision to go back to the period immediately before Bauhaus, to explore the contemporary design and architecture that existed at the turn of the 19th/20th centuries, and to develop the (hi)story from such precursors. Allowing as it should for a more probable explanation of what Bauhaus is and was.
Promising an exhibition of some 300 objects, including some 30 specially purchased in preparation for the exhibition, From Arts and Crafts to the Bauhaus aims to discuss how evolving understandings of art, craft and architecture in nations such as Scotland, Austria, England, Holland and Germany, informed and enabled first Bauhaus Weimar and subsequently Bauhaus Dessau. That the school didn't arise spontaneously one April morning, but was but a singular moment on a long, ongoing, international, process.
And thereby while not sounding like being an exhibition about Bauhaus per se, will/should, arguably, be more about Bauhaus than a lot of what follows elsewhere in the course of 2019.
From Arts and Crafts to the Bauhaus. Art and Design – A New Unity! opens at the Bröhan Museum, Schlossstraße 1a, 14059 Berlin on Thursday January 24th and runs until Sunday May 5th
"Casa Sperimentale. The Tree House in the Pine Forest" at the architekturgalerie am weißenhof, Stuttgart, Germany
Built in the late 1960s/early 1970s by the Argentinian born, Rome based architect Giuseppe Perugini, together with his wife and son, Casa Sperimentale [Experimental House] or Casa Albero [Tree House] as family Perugini knew it is both: a veritable Casa Sperimentale Albero, or perhaps better put, a Casa di cemento errante in una pineta.
As much about considerations on not only construction but the organisation of domestic space, Casa di cemento errante in una pineta Casa Sperimentale not only questions and challenges but does that which the very best brutalist architecture does, disrupts yet sits in harmony with its surroundings, contradictory and unified. And visually fascinates. Regardless of your opinion of it.
Always more about the development of ideas than of a place to live, since Giuseppe Perugini's death in 1995 Casa Sperimentale has become increasingly derelict and stands today more as Rovina than Casa. In 2016 London based architects Patrick Weber and Sabine Storp began researching, recording and documenting Casa Sperimentale, research which became a project with Weber's students at the Bartlett School of Architecture and which forms the basis of the Stuttgart exhibition. And an exhibition which thus promises not only to provide for a fulsome introduction to the Casa Sperimentale itself, but also to help us understand what can be learned from the research and experimentation contained therein and in doing so allow for a proper evaluation of the project and its legacy.
Casa Sperimentale. The Tree House in the Pine Forest opens at the architekturgalerie am weißenhof, Am Weißenhof 30, 70191 Stuttgart on Thursday January 17th and runs until Sunday March 3rd