Designers' Open 2010: Perludi
At Designers' Open 2009 (smow) first discovered Austrian producer Perludi, who were making their first appearance in Leipzig.
Since when their wonderful MAXintheBOX has been part of the (smow) kid's collection.
And obviously Designers' Open 2009 was generally a good one for Perludi, because they came back to Leipzig for Designers' Open 2010.
On the (smow)blog desk we use a mini MAXintheBOX as a visiting card holder. In real-size MAXintheBOX can be more or less whatever your child wants it to be.
Created some 10 years ago when Perludi designer Thomas Maitz was searching for furniture for his own children, and was confronted by the dearth of child friendly furniture on the market – MAXintheBOX is formed from 2 elements that slide into one another to form an unobtrusive cube.
Separated, each element of MAXintheBOX can be used as a chair, table or storage element.
In addition to MAXintheBOX Perludi were alshowing their new childrens desk "CASPAR" at Designers' Open 2010.
Height adjustable between 45 and 72 cms CASPAR is conceived as a desk that grows with your child – or indeed as one that can be quickly adjusted depending on which child is currently needing the desk.
The height adjustment is achieved through rubber rings that can moved up or down the leg. The rings sit in pre-cut groves and  provide stable and secure support.
In addition the height of each leg can be set individually – allowing the table to be set at an angle if required.
And because there are no screws or other fixings, the legs can be simply removed and stored within in the table top for simple transport and/or storage.
We've seen a few "Grows with your child" desk designs in the last couple of years – CASPAR by Perludi is however without question the least complicated and most user friendly we have seen.
And a wonderful extension to the Perludi range.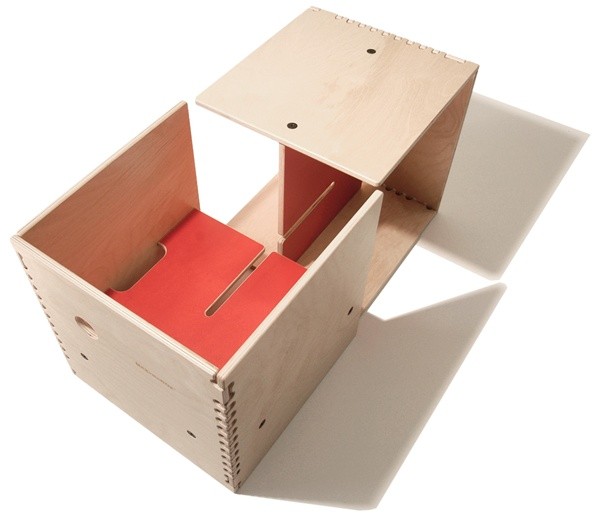 MAXintheBOX by Perludi. Click to view the product video