5 New Architecture & Design Exhibitions for January 2020
Off late, and certainly in a European context, January has become a month of forgoing, eschewing and general abstention, with campaigns such as Dry January and Veganuary extolling us to utilise our guilt at our dangerous, decadent, gluttony of late December as an impetus to radically alter our behaviour, as a catalyst for reduction.
And while less is unquestionably more, and thus worth striving for, fundamental change is invariably more sustainably and meaningfully achieved through better understandings rather than by sudden, extreme, knee-jerk, changes; that more information can lead to less harmful choices. More information and better understandings such as those an architecture or design exhibition can provide.
We can't promise the following five will necessarily change your (unhealthy) relationship to alcohol or food, they should however allow for new perspectives on the world around us, new perspectives which should allow for new reflections on your relationship to that world, and, potentially, a healthier, happier you. And a healthier, happier world. Potentially.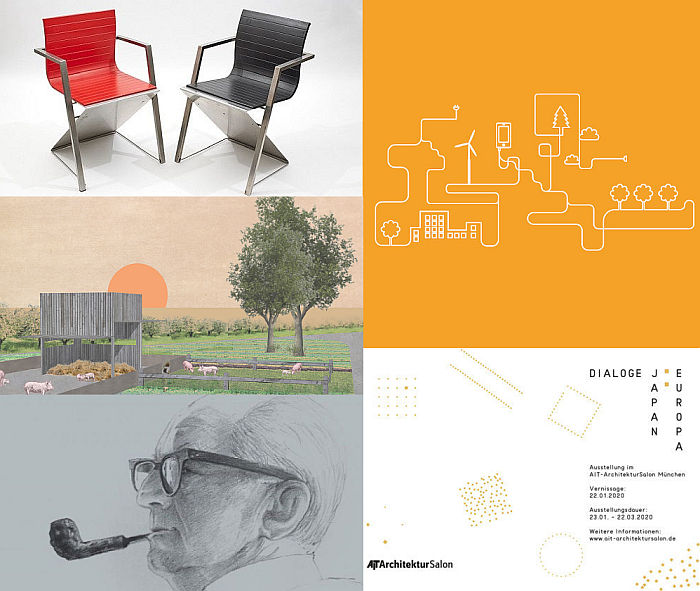 Established in Cologne in 1985 by Gerd Arens, Wolfgang Laubersheimer, Reinhard Müller, Ralph Sommer and Meyer Voggenreiter, the collective Pentagon were one of the key protagonists of Neues Deutsches Design, NDD, that (relatively) short lived but influential moment when a new generation of young West German artists, architects and designers challenged the prevailing gute Form of post-War West Germany, a design understanding closely associated with the HfG Ulm, and thus by extrapolation Bauhaus and the inter-War functionalists. And who in doing so cultivated and propagated a Postmodernist design understanding in West Germany, a Postmodernist design understanding which may have offended traditionalist sensibilities, but was very much in step and discourse with the evolving social and culture understandings of the 1980s and which achieved such a sharp definition in 1989. At which point, with, if you will, it's work done, NDD slipped slowly from the stage.
The first monographic museal exhibition devoted to the collective a central feature of Design Gruppe Pentagon promises to be the collective's Café Casino installation created in context of 1987's documenta 8 in Kassel and which will be partially recreated in the Museum Angewandte Kunst, and thereby not only present examples of Pentagon's work but, one hopes, provide for a nice synopsis of the group's approaches and understandings. Approaches and understandings which will be further explored through further examples of the collective's 2D and 3D designs and also a short film which aims to explore not only Pentagon but the wider context of design in 1980s West Germany, and which in doing so promises to allow for a better understanding of not only Pentagon but the collective's relevance, then and now.
Design Gruppe Pentagon opens at the Museum für Angewandte Kunst Köln, An der Rechtschule, 50667 Cologne on Monday January 13th and runs until Sunday April 26th
"Miracles in Concrete. Structural Engineer August Komendant" at the Estonian Museum of Architecture, Tallinn, Estonia
Much as architects are often considered demi-gods, not least amongst architects, as oft noted in these dispatches without structural and civil engineers they would rarely be able to turn their sketches into reality. Yet only very rarely are the engineers afforded their place in the spotlight: one such rare occasion promises to be Miracles in Concrete. Structural Engineer August Komendant.
Born in the village of Mäo in central Estonia in 1906, August Komendant studied civil engineering in Dresden between 1929 and 1934 before returning to Estonia and where he realised his first projects in that material that was to become his forte and passion: prestressed concrete. A forte and passion that fully developed following his post-War emigration to America and through projects in cooperation with architects such as, and amongst others, Moshe Safdie, Eero Saarinen or, and perhaps most famously and importantly, Louis I. Kahn whom Komendant helped realise works such as, and amongst many others, the Richards Medical Research Laboratories in Philadelphia, the National Assembly Building in Dhaka or the Salk Institute for Biological Studies, San Diego.
Promising a presentation of models and sketches of works by August Komendant and the many and varied architects with whom he cooperated Miracles in Concrete should not only allow for a concise introduction to one of the most important structural engineers of the 20th century, but by extrapolation of the importance of structural engineers to the 20th century
Miracles in Concrete. Structural Engineer August Komendant opens at the Estonian Museum of Architecture, Rotermanni Soolaladu, Ahtri 2, Tallinn 10151 on Friday January 10th and runs until Sunday April 26th
"Dialoge Japan : Europa" at AIT-ArchitekturSalon, Munich, Germany
There can be little denying the historical importance of the cultural dialogue between Japan and Europe in context of developments in architecture and design: for all developments in Europe following the ending, in the mid-19th century, of the Japan's 220 years of self-imposed Sakoku isolation, and the associated influx of Japonism that so influenced what would become Art Nouveau, and, in many regards, also International Modernism.
And today?
With the exhibition Dialoge Japan : Europa the AIT-ArchitekturSalon Munich promise a presentation of reflections on and positions to Japanese architecture and building culture as expressed by/through 11 European architectural practices, and in doing so promises to explore not only the contemporary influence of Japan on European architecture but also question if that influence is contemporary or if it is still rooted in historic, romantic, understandings of Japanese architecture and building culture.
Dialoge Japan : Europa opens at the AIT-ArchitekturSalon, Hotterstraße 12, 80331 Munich on Thursday January 23rd and runs until Sunday March 22nd.
"Shareful in Sege Park" at Form/Design Center, Malmö, Sweden
An all to conveniently overlooked aspect of considerations on making our existing urban spaces more sustainable, responsive and responsible is that they were rarely designed to be such, were invariably designed with much less altruistic, much more materialistic, motives and thus transforming them is difficult. If not impossible. Not least because it involves transforming the collective human ego that gave rise to them.
Understanding that, and that the direction society is travelling must by necessity change, as must the collective human ego, allows us to approach new understandings of urban spaces, of urban spaces which have the potential to become, and remain, sustainable, responsive and responsible environments.
The tricky question is what does that mean and how does one achieve it?
One project exploring such questions is the so-called Sege Park in Malmö, the transformation of a former hospital site in the north-east of the city into a new quarter with some 1000 homes and associated services and facilities. Whereby a guiding principle in the project is sustainability, be that in terms of developing circular and shared economies to reduce waste, establishing social structures that support the community and develop a sense of stake-holding or responsible mobility solutions.
And all themes that will be presented and discussed in Shareful in Sege Park and which through doing so should provide for critical reflections on not only Sege Park but contemporary urban planning in its global contexts.
Shareful in Sege Park opens at Form/Design Center, Lilla Torg 9, 203 14 Malmö on Saturday January 18th and runs until Sunday February 23rd
"Architecture for Pigs. Barn. Slaughterhouse. Shop" at Aedes Architekturforum, Berlin, Germany
Much as we need to reconsider urban planning if we are to develop the sort of societies we wish to live in, so to do we need to reconsider agriculture, and that not just in terms of the animals, plants, soil, water et al, but also in terms of infrastructure and systems.
In 2016 the German quango Kuratorium für Technik und Bauwesen in der Landwirtschaft, KTBL, initiated a competition amongst architecture students in Stuttgart, Braunschweig, Munich and Darmstadt for new ideas for the husbandry of cows, chickens and pigs; as the exhibition title neatly implies, Aedes Architekturforum Berlin are concentrating on the students' considerations and proposals in context of pigs, specifically designs for a farm for 500 pigs, including considerations on the subsequent slaughter and sale.
Very specific considerations we grant you, but also involving very fundamental considerations on contemporary animal husbandry and food production/distribution, the future directions such should, could, must? take and how not only architects and designers can, should, must? assist and abet in facilitating such a future, but that we all have a role and responsibility in defining and guiding those future directions, that our place on the contemporary food chain isn't just that of end consumer, but is inter-twinned along its full length… And that, collectively, we are what we eat.
Architecture for Pigs. Barn. Slaughterhouse. Shop opens at Aedes Architekturforum, Christinenstr. 18-19, 10119 Berlin on Saturday January 18th and runs until Thursday March 5th