Designpreis der Bundesrepublik Deutschland 2012: DMY Berlin Replace German Design Council As Organiser
A couple of years ago we were sat, late one Friday evening, in the kitchen in the Moormann Berge in Aschau, when Nils Holger Moormann came in.
Beaming.
He'd just returned from collecting a "German Design Prize" in Gold for Berge and enthused how, in comparison to other design prizes, winning the Designpreis der Bundesrepublik Deutschland was like winning Olympic gold.
He may not have compared it to the Olympics, our memories may be fuzzy on that point. But it was certainly high praise.
And he was definitely beaming.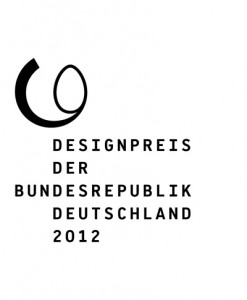 Established in 1969 the Designpreis der Bundesrepublik Deutschland is Germany's official national Design Prize and until now was administered and run by the German Design Council on behalf of the German Economics Ministry.
From 2012 it will be administered and run by DMY Berlin. Apparently a controversial decision.
At the launch press conference Secretary of State Hans-Joachim Otto from the Economics Ministry repeatedly stated that the decision to entrust DMY with the competition was definitely not a snub to the German Design Council.
And did so with a frequency and unmistakable "read my lips" clarity that indicated that someone's nose had been put mightily out of joint.
Just how insulted the German Design Council feel can be perhaps be best seen in their decision to start their own competition, the German Design Award.
Or as we used to understand such decisions "If we can't be striker, we're taking our ball home and are going to play by ourselves"
There is, as far as we can see, absolutely no justification on the part of the German Design Council for starting their own competition; not least because it clouds the waters and hinders a clear and precise global presentation of the current quality in German design.
Which theoretically is something the German Design Council should be interested in.
And not only the German Design Council seem put out by the decision.
One colleague at the press conference appeared very, very cross that the German Design Council were no longer running it; as far as we could make out because he was afraid it would now become too commercial. Would somehow lose the purity it has enjoyed until now.
Without wanting to openly challenge our colleagues competence on German design matters – something we suspect would end with us vanishing into the woods whimpering with our tales between our legs – he should probably have a look at the entry rules of the competition as organised by the German Design Council. And ask why the German Design Council felt obliged to start their own contest? Sour grapes and hurt pride aside.
And also look a little more critically at how the Designpreis der Bundesrepublik Deutschland has performed of late under the German Design Council's stewardship.
Something the Economics Ministry clearly have done.
While attempting to realign the GDCs proboscis, Secretary of State Otto also let it be known that the Ministry were the opinion that holding the prize ceremony during Ambiente had failed to provide the necessary resonance.
Yup
No disrespect to Frankfurt Messe. But Ambiente isn't a design fair. It's a home accessories and gift fair. The closest it gets to graphic design is probably wallpaper.
But the German Design Council are based in Frankfurt and often seem unable to think beyond the banks of the Main. For example, the "Foundation Board"  for the new German Design Museum planned, admittedly, for Berlin is composed entirely of individuals from Frankfurt.
Presumably because the German Design Council aren't aware of any competent individuals based in Berlin.
Had they been aware of a design festival based in Berlin, say Germany's largest, we suspect they could have organised a co-operation with them earlier and held their awards ceremony and exhibition at least parallel to if not directly integrated into the DMY festival. A decision that would have a created a much larger media echo than that generated amongst the plates, towel racks and manicure products of Ambiente.
Watch this space for our report from inaugural "German Design Award" ceremony.
And then check google to see who else reports……
We suspect the German Design Council's devotion to all things Hessen may have been part of the reason for the decision to award the contract to DMY. If so they only have themselves to blame.
For our part we welcome the decision to give the competition to DMY Berlin.
At the press conference we heard the phrase "generation change" and that fits very well.
A lot of people are very scared of generation changes; but they are important if an organisation, event or relationship is to develop and master future challenges.
Speaking as we do to an awful lot of German designers, young and old, established and less so one often hears a criticism that the existing German design institutions focus too much on the "gute Form", still operate in a world where Dieter Rams defines what German design is and for all that they spend to much time telling designers what they should be doing rather than helping them promote what they are actually doing.
Largely because the organisation is dominated by a generation who came through the ranks when that was the case. Which is fine. But today it isn't the case. Which is also fine.
With DMY running the Designpreis der Bundesrepublik Deutschland we expect that the competition will not only be a more contemporary affair; but will also be more democratic and open.
For all through the flat rate Euro 350,00 entry fee. A fee that in comparison to the thousands of euros winning design prizes usually costs should see a lot more smaller companies and design studios applying.
(Note to all who don't know. Winning a design competition is very expensive. There is one, for example, where the winners are obliged to pay a Euro 2,800 "Winners fee" in addition to compulsory costs for catalogue entries. And of course the initial entrance fee. Which is obviously a barrier for anyone on a tight budget)
It is of course possible that DMY Berlin make a complete pigs breakfast of the competition and the whole thing is a disaster. That is always the risk when changing partner.
We'll know by mid-May when details are announced of how many applications have been submitted, from whom and from which disciplines.
However looking at the concept as developed by DMY and comparing it to both what has gone before and all other design prizes in Germany we see a real chance to reinvigorate the Designpreis der Bundesrepublik Deutschland and so help German design and German designers better promote themselves in the global market.
As we say, if the German Design Council leave the ball where it is and accept their position on the wing….