5 New Architecture & Design Exhibitions for March 2018
Arguably because Passover/Easter is early this year, every, but every, museum is opening a major exhibition in the course of March 2018, in preparation for the unofficial start of the tourist season in April.
A situation which leaves us with the daunting possibility of creating 5 such Top 5 lists. And still having some exhibitions left over.
Faced with a similar situation back in November 2017 we referred to the abundance of options which lay before us as being akin to "gardens mottled with the vibrant leaves of autumn", here it is much more the case of lawns bestrewn with the tantalising hues of Easter Eggs. And while some will unquestionably be those disappointingly hollow ones, the majority look like being solid lumps of architecture and design endorphin loaded goodness into which to sink your teeth, and thereby celebrate the end of winter's paucity and the coming spring.
In that sense, our top 5 new architecture and design EGGsibitions for March 2018 …. Bon appétit!!!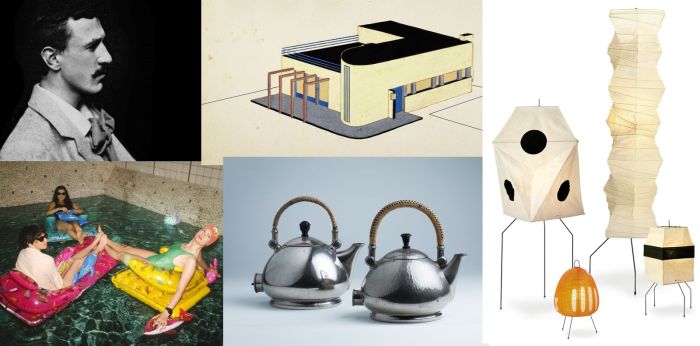 "#alleskönner. Peter Behrens zum 150. Geburtstag" at Museum für Angewandte Kunst Cologne, Germany
2018 marks the 150th anniversaries of two of the leading protagonists in the development of 20th century architecture and design, and by extrapolation contemporary understandings of architecture and design.
The one … we'll come to in a bit.
The other, is Peter Behrens.
Born in Hamburg, Behrens studied art in Munich and after initially attracting a wider public through his contributions to the Mathildenhöhe artists colony in Darmstadt, firmly established his reputation in terms of architecture and applied arts during his tenure as Director of the Kunstgewerbeschule Düsseldorf. A reputation he eloquently confirmed at AEG Berlin, for whom he not only designed factories but the fixtures, fittings, in addition to creating the corporate identity, vast swathes of the company's portfolio, designing showrooms, and planning housing estates for the workers. In addition to underground railway stations.
And that was just the start of his career.
A career start which is also the focus of #alleskönner. Promising some 230 objects across eight thematic sections, the MAKK aim to explore Behrens' and his work as he moved from the Jugendstil of the late 19th century towards the New Objectivity of the early 20th, and therefore, hopefully, provide insights into what moved not only Peter Behrens, but his contemporaries. And thus why architecture and design developed as they did in the first decades of the 20th century.
#alleskönner. Peter Behrens zum 150. Geburtstag opens at Museum für Angewandte Kunst Köln, An der Rechtschule, 50667 Cologne on Saturday March 17th and runs until Sunday July 1st
"Akari: Sculpture by Other Means" at the Noguchi Museum, Queens, New York, USA
The Akari light sculptures by Isamu Noguchi are arguably amongst the most challenging of design objects to explain, largely because there is so much Isamu Noguchi in them.
Although unquestionably design objects, created in a design process, the sculptor Noguchi couldn't quite remove himself from the work and so within the apparently straightforward paper lanterns one finds not only numerous biographical references and reflections, but also indications of Noguchi's understanding of art, sculpture and design. Or perhaps better put Noguchi's evolving understanding of art, sculpture and design at that time.
There is therefore something very satisfying about the fact the Noguchi Museum have chosen largely to ignore the Akari themselves and instead present a series of installations which promise to allow for a more fundamental interaction with the objects than simply as lamps. Specifically with Sculpture by Other Means they are presenting three installations: a "cloud" of 40 pendant Akari; three Akari "rooms within rooms" formed from the Akari PL1, PL2 and 200D respectively and which visitors can enter; and a final installation devoted to Akari's modularity, arguably a part of the Akari concept which has become somewhat lost with the projects increasing commercialisation. And therefore an exhibition concept which has the potential to bring the visitor closer to what Akari meant to Noguchi. And therefore closer to Isamu Noguchi himself.
Akari: Sculpture by Other Means opened at the Noguchi Museum, 9-01 33rd Road, Long Island City, NY 11106 on Wednesday February 28th and runs until Sunday January 27th 2019.
As we'll never tire of repeating, Bauhaus wasn't the half dozen architects and designers you can name, nor a building in Dessau and/or Weimar, it was an idea carried to greater and lesser degrees be untold individuals, and that long before Walter Gropius arrived in Weimar.
With their major exhibition for 2018, and so the last major exhibition before it gets all centennial in 2019, Stiftung Bauhaus Dessau promise to explore the career and legacy of one of those relative unknowns without whom Bauhaus would never have been.
A graduate of the Kunst und Gewerbeschule Mainz Carl Fieger joined the office of Peter Behrens in 1911, serving alongside the likes of Mies van der Rohe and Walter Gropius, before joining the latter's office in 1921, the same year as he joined the teaching staff at Bauhaus Weimar, later moving with the institution to Dessau. In context of his roles with both Behrens and Gropius, Carl Fieger was involved with the development of some of the most important works of the first third of the 20th century, including the Fagus-Werk in Alfeld, the Kornhaus restaurant in Weimar and the Bauhaus Dessau building
Post-war Carl Fieger remained in the new East Germany where amongst other functions he worked for the East German Bauakademie, and developed one of the earliest East German Plattenbau, high rise blocks. A state of affairs which put him at the heart of the so-called Functionalism Debate of the early 1950s as the fledgling DDR struggled to establish an identity.
Promising a mix of sketches, models, photographs and furniture objects Carl Fieger. From Bauhaus to Bauakademie promises to be not only an interesting exploration of an interesting protagonist in the course of an interesting period of architecture and design history, but for all an important contribution to the Bauhaus story.
Carl Fieger. From Bauhaus to Bauakademie opens at Stiftung Bauhaus Dessau, Gropiusallee 38, 06846 Dessau-Roßlau on Thursday March 22nd and runs until Wednesday October 31st
The second Grand Doyen of 20th century architecture and design celebrating their 150th anniversary in 2018 is Charles Rennie Mackintosh: a man arguably most popularly known in context of the UK Arts and Crafts movement, but who was a leading creative of his generation and one whose influence was felt far outwith the borders of the British Isles.
And certainly far outwith his native Glasgow, a city Mackintosh helped raise to a synonym for progressive architecture and design at the end of the 19th/start of the 20th century.
Promising a presentation of some 250 objects through which the curators aim to tell not only Mackintosh's story but also those of his predecessors, contemporaries and successors, Making the Glasgow Style aims to explore not only how the "The Glasgow Style" was made, but the important role it played in developing understandings of architecture and design throughout Europe.
Charles Rennie Mackintosh. Making the Glasgow Style opens at the Kelvingrove Art Gallery and Museum Argyle Street, Glasgow, G3 8AG on Friday March 30th and runs until Tuesday August 14th
Party!!
We like to think that in the wake of a few successful years, and fresh off the back of An Eames Celebration, the good folks at the Vitra Design Museum decided the time was ripe for a bit of a rave.
And so contrived an exhibition exploring five decades of nightclub design as a pretence.
Starting from the 1960s and locations such as Space Electronic in Florence or Club Piper Turin which stood under the influence of the Italian Radicals, Night Fever promises to follow the evolution of music and nightclub design over locations as varied as, and amongst many, many others, the disco fuelled hedonism of Studio 54 New York, the post-punk and new wave debauchery in Les Bains Douches, Paris, with its interior by Philippe Starck, the acid house tripping of the Haçienda Manchester, and onto the techno of 1990s post-Wall Berlin as expressed through venues such as Tresor. Bringing things up to date Night Fever ends with an exploration of contemporary club design as expressed by, and amongst other projects, OMA Architects collaboration with Ministry of Sound London.
Among the many facets of the exhibition which draw our attention is that the exhibition design is by one Konstantin Grcic. While not wanting to appear disrespectful, we've just never imagined Konstantin Grcic dancing. But now we are, and that pretty obsessively, we're assuming its going to be a Jarvis Cocker type thing, but you never know…..
Night Fever. Designing Club Culture. 1960 – Today opens at the Vitra Design Museum, Charles-Eames-Str. 2, 79576 Weil am Rhein on Saturday March 17th and runs until Sunday September 9th
….as if we need an excuse, but it did seem deliciously appropriate….