5 New Architecture & Design Exhibitions for July 2020
July is traditionally a slow month for new architecture and design exhibition openings. July 2020 less so. Not because of any fundamental changes in understandings amongst architecture and design museums of when is a good time to open an exhibition; but because owing to Corona many shows scheduled to open in the spring had to be postponed, not least until the museums were allowed to open.
And throughout July 2020 ever more museums are planned and planning to open; meaning ever more architecture and design exhibitions are planned and planning to open throughout July 2020.
And thus, while our physical travel options may still be limited, our (potential) cerebral and cultural travel spheres continues to expand, and that is never a bad thing.
If you do feel comfortable about visiting a museum, and are physically allowed to do so, as we will never tire of saying in these trying of times, please familiarise yourself in advance with the current ticketing, entry, safety, hygiene, cloakroom, etc rules and systems.
And during your visit please stay safe, stay responsible, and above all, stay curious….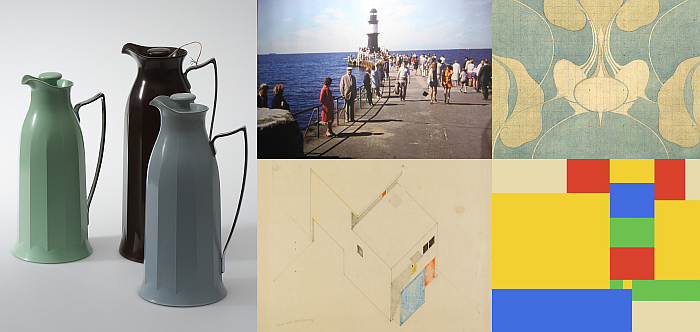 "Light on! Artificial lighting and the city" at the Kulturhistorisches Museum, Rostock, Germany
Back in the day life was largely controlled by the sun: one rose with the sun and began to work, and ceased to work and retired for the night with the setting sun. While fires are OK for warmth, and do allow for limited social interaction, they usefully illuminate little beyond their immediate vicinity. And are dangerous. But then, if slowly at first, we learned to control fire, to control light, and as technology advanced so did our lighting, and our society, until with the widespread provision of electric lighting not only did our homes become much more homely, but our towns and cities were transformed; life, industry, commerce, culture, society, was no longer limited to the hours of daylight but became something that could be freely enjoyed 24/7.
With very obvious, fundamental, implications for not only our cities but our societies, our cultures, our ways of life.
With Light on! the Kulturhistorisches Museum Rostock promise an exploration of the influence of developments in lighting on developments in society, cultural and life, as exemplified by and through Rostock. A very specific local example, yet one which, we would presume, can and could be applied more generally, and which should certainly help underscore just how different contemporary life would be without something we barely give a thought to. Which is an important consideration these days.
Light on! Artificial lighting and the city opens at Kulturhistorisches Museum Rostock, Klosterhof 7, 18055 Rostock on Thursday July 23rd and runs until Sunday October 25th
"Art Nouveau Decoration" at the Musée Horta, Brussels, Belgium
Amongst the myriad components that comprise Art Nouveau one of the most instantly recognised, arguably most popularly understood, is the rich use of decoration and ornamentation. Invariably, but not exclusively, reduced, figurative natural motifs. In particular flowers and vegetation.
With the exhibition Art Nouveau Decoration the Musée Horta aim to explore the process of creating such motifs, from first sketches to final product, and as exemplified through and by 80 fabric and wallpaper designs realised by both a roster of leading international protagonists including, and amongst others, Charles Rennie Mackintosh, William Morris, Josef Hoffmann and, naturally, Victor Horta, but also anonymous designs, one imagines largely in-house designs, and thus potentially highlighting a little told female contribution to the development of Art Nouveau. And also a presentation which should help elucidate the complications and problems that arose in the late 19th/early 20th centuries as artists and architects attempted to realise motifs that were not just decorative and contemporary, but which could be industrially produced.
But for all an exhibition that through its exploration of the development of the decorative should help guide the focus away from the visual and towards that which is inherent within the visual, and thereby help improve one's appreciation of the visual. And thereby allow for a differentiated understanding of Art Nouveau.
In addition Art Nouveau Decoration also marks the official opening of the room where Victor Horta's draughtsmen once worked to museum visitors; an exhibition space conceived so as to help visitors better understand the development of Horta's design projects, as it were, from the draughts to the casts. Or in the case of Horta's wallpapers and textiles, from draughts to prints. And in doing so should help allow for an understanding that Victor Horta wasn't just Victor Horta, but a team. And by extrapolation that no internationally active architect or designer is just themselves, but that all are a component of a team.
Art Nouveau Decoration opens at the Musée Horta, Rue Américaine, 27, 1060 Brussels on Thursday July 2nd and runs until Sunday September 27th
"Bakelite. The Georg Kargl Collection" at the MAK – Museum für angewandte Kunst, Vienna, Austria
First patented in 1907 by the Belgian chemist Leo Hendrik Baekeland, Bakelite is/was not only one of the first synthetic plastics, but a material which, arguably, did more to transform product design and the form language of our products than any other since humans started smelting copper and tin to bronze.
Not just freely mouldable into any shape, Bakelite was relatively cheap, heat resistant, acid resistant, and, arguably most importantly given the age in which arose, doesn't conduct electricity. Making it thereby suitable not only for all manner of new, and existing, industrial objects in the brave new electrified world, but all manner of new, and existing, consumer products in our brave new consumer society
Featuring a presentation of some 300 Bakelite objects realised between ca. 1930 and 1970s, the MAK promise an exploration of not only the material, but its role in the (hi)story of product design, and through doing so should allow for a reinforcement of understandings of the importance of new materials and new processing technology to the development of design. And further considerations on the question as to whether the problem is plastics, or us.
Bakelite. The Georg Kargl Collection opens at MAK – Museum für angewandte Kunst, Stubenring 5, 1010 Vienna on Wednesday July 15th and runs until Monday October 26th.
"Atelier Nelly and Theo van Doesburg" at Het Nieuwe Instituut, Rotterdam, Netherlands
Despite his death in 1931 aged just 47 the Dutch artist Theo van Doesburg is/was one of the most influential figures in the development of creativity in the early decades of the 20th century. And by extrapolation, the development of creativity since then. Yet an artist who is all too often reduced down to coloured quadratics. With the exhibition Atelier Nelly and Theo van Doesburg Het Nieuwe Instituut aim to show that he not only is/was more than that, but, possibly, a lot more than just Theo. That Theo van Doesburg should?, must?, be considered Nelly and Theo van Doesburg.
Focussing on the home/studio the pair developed in Meudon on the south western edge of Paris, a work created by Theo but whose completion he didn't live to experience, Atelier Nelly and Theo van Doesburg not only promises to offer some new perspectives on both the van Doesburg canon as of the van Doesburg biography, but also marks, if we've understood things correctly, the beginning of a longer, and increasingly detailed, study of the lives and careers of Nelly and Theo running parallel to an intensive restoration of the many works in the van Doesburg archive.  And thus a good opportunity to develop a better, more realistic, understanding of one, two?, of the most influential figures in the development of creativity in the early decades of the 20th century.
Atelier Nelly and Theo Van Doesburg opens at Het Nieuwe Instituut, Museumpark 25, 3015CB Rotterdam on Saturday July 11th and runs until further notice…..but, as we understand, at least until July 2021.
When Common Knowledge was originally staged between November 2019 and February 2020, in context of the 26th Biennial of Design in Ljubljana, the most urgent "information crises", those questions/challenges about the reliability/validity/truthfulness of information, were arguably, certainly in Europe, those in context of debates on climate and migration. Yet as the Biennial was running an, arguably, more urgent context was slowly taking hold: Corona.
Curated for the Ljubljana biennale by Kunstgewerbemuseum Dresden director Thomas Geisler together with the curator and journalist Aline Lara Rezende, Common Knowledge as staged in Ljubljana presented a wide range of existing and specially commissioned projects which, individually and collectively, explored the contemporary, and ever more pressing, problem, of trust in information/knowledge/facts, the question of what comprises our "common knowledge" and who decides/decided that that is our "common knowledge"; the truth was once out there, cameras never used to lie, but today? And for all projects which reflected on how design can not only help society approach more stable, reliable information systems, a more probable "common knowledge", but also how design contributes to the crisis.
The presentation in Dresden will by necessity of (lack of) space, be a compact, abridged, version of the Ljubljana presentation, but promises to be no less intense, and certainly no less relevant, in its discussion on the questions of information supply in an age of permanent "information" supplies. And an age of ever more crises…..
Common Knowledge – Design in the age of the information crisis opens at the Kunstgewerbemuseum, Schloss Pillnitz, August-Böckstiegel-Straße 2, 01326 Dresden on Saturday July 4th and runs until Sunday November 1st.