5 New Architecture & Design Exhibitions for May 2023
In the northern Hemisphere May is a month of ritual; rituals primarily associated with the awakening of nature, the approaching of summer with the associated hope of a successful and bountiful harvest. And rituals which include, amongst many others, maypoles in various contexts, bonfires for various reasons and a myriad dances, including the traditional English children's dance/game Nuts in May, with its repetition of the line "Here we come gathering nuts in May"… which obviously raises the pertinent question, which nuts can, could, should one gather in England in May? Or indeed anywhere in northern Europe in May? Are they not all a bit underdeveloped in May? Is gathering nuts in late summer, early autumn not a more worthwhile experience? As squirrels do.
So, children and adults alike, don't waste your time looking for edible nuts in May and invest your time instead in visiting an architecture and/or design exhibition and thereby gathering fresh perspectives and insights in May.
Our five recommendations for new shows opening in May 2023 can be found in Hamburg, Rotterdam, Helsinki, Friedrichshafen and, once again, Rotterdam…….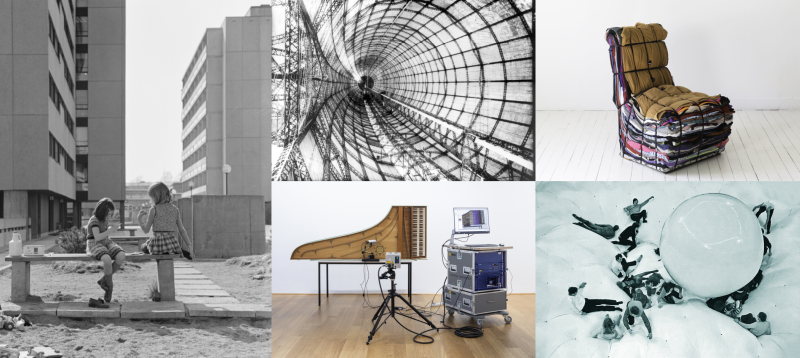 That Artificial Intelligence, AI, isn't a future possibility but a contemporary reality is slowly becoming ever clearer, as is the understanding of the urgency therein for us all to better appreciate what that means, what that could mean, what we want that to mean, not just for us all individually, but for us all collectively. With Can You Hear it? the Museum für Kunst und Gewerbe, MKG, Hamburg, aim to allow one to approach such questions in context of music, and thus via a medium that while, apparently, only superficially related to AI, as Can You Hear It? should help elucidate, is one that can allow access to a great many, very relevant, perspectives on AI.
Curated by Olaf Kirsch, head of the MKG's Music Instrument collection and Professor Rolf Bader from the University of Hamburg's Institute for Systematic Musicology, an institute whose research forms the basis of Can You Hear It?, the exhibition will explore basic themes such as, for example, how AI learns, analyses and composes music, as well looking at applications of AI in context of music, such as, for example, helping composers optimise the emotional impact of film music or to analyse, if one so will, the health of a piano, and will also seek to expose some of the darker consequences of AI, including racial profiling through music or the consequences for music, for the future development of music, through algorithms choosing our music for us. And will also present alternatives to AI, and thus a reminder, a very apposite reminder, that AI is but one tool of many we have at our disposal, and the need to weigh up alternatives respective of the context.
And employing as it does not just music but a wide variety of music as the conduit for its discussions and elucidations promises to do such in a playful, approachable, manner that should help make a complex subject, and important considerations, appear less daunting.
Can You Hear It? Music and Artificial Intelligence is scheduled to open at the Museum für Kunst und Gewerbe, Steintorplatz, 20099 Hamburg on Friday May 26th and run until Tuesday October 31st. Further details can be found at www.mkg-hamburg.de
"Mind Expanders. Haus-Rucker-Co" at Kunsthal, Rotterdam, The Netherlands
Vienna has a long (hi)story as a centre of fairly radical, experimental, architecture be that, for example, the Baroque of the 17th and 18th century, the Art Nouveau of the late 19th century, the Siedlerbewegung of the early 20th century or the, primarily, speculative, theoretical positions and works of the late 1960s/early 1970s developed by the likes of, for example, a Hans Hollein or the collectives Coop Himmelb(l)au, Zünd Up, Missing Link. Or Haus-Rucker-Co, a collective established in 1967 by Laurids Ortner, Günter Zamp Kelp and Klaus Pinter, and who through their various installations, films and objects sought to challenge conventional understandings, and perceptions, of public space and by extrapolation the societies that inhabit, inform and employ public spaces. Sought to make that immutable, but all to often ignored, link between societies and architecture/urban planning not only tangible but to place it at the forefront of decision making processes.
Focussing on the collectives first five years, that first burst of youthful enthusiasm and rebellion, Mind Expanders takes its title from both that which Haus-Rucker-Co sought to achieve and also the many Mind Expander objects they developed, and promises a presentation of projects such as, for example, Balloon for 2, Environmental Transformers or Food City I, alongside archive material explaining the projects and also a specially commissioned film which aims to provide an impression of how Haus-Rucker-Co's various Mind Expanders altered your perception. The original items being now far too fragile to actively use.
Unlike what promises to be the highlight of the exhibition, the collective's 1970 installation Giant Billiard: essentially a 14m x 14m inflatable mattress on which the public are invited to, try to, balance, move, communicate while all the while a 3m diameter inflatable ball rolls and flys and bounces randomly around, mercilessly taking out everything in its path, unless you can react in time to avoid it. Which, yes, does sound a lot like your life. And a lot like the community in which you live.
Mind Expanders. Haus-Rucker-Co opened at Kunsthal Rotterdam, Museumpark, Westzeedijk 341, 3015 AA Rotterdam on Saturday April 29th and is scheduled to run until Sunday September 3rd. Further details can be found at www.kunsthal.nl
"Concrete Dreams – And Other Perspectives on 1970s Architecture" at the Museum of Finnish Architecture, Helsinki
In order to better approach contemporary challenges, in order to better formulate contemporary questions, it is important to have a good understanding of how we got to where we are? How were the questions on the path that led us to where we are formulated? How were the challenges on the path that led us to where we are approached?
With Concrete Dreams the Museum of Finnish Architecture, Helsinki, aim to take visitors back to a moment on that path that despite the distance from our contemporary society remains highly informative, but which we all need to better understand beyond the easy cliches and images. And flared trousers.
Promising an exploration of domestic, cultural and civic projects developed and realised in Finland from across the 1970s, Concrete Dreams aims not only to place and explore and discuss the projects, and by extrapolation 1970s architecture and urban planning in Finland, in context of the prevailing social, economic and political realities of that decade, but also in context of the materials and methodologies employed; whereby one suspects the concrete of the title will take a prominent role, as should the standardised, industrial, construction systems and thinking via which it was hoped dreams would become reality.
And which in doing such should allow not only for more probable understandings of the contemporary Finland, and more complete appreciations of the (hi)story of architecture and design in Finland, but should also, through an extension of the insights won into wider contexts, enable more probable, and more meaningful appreciations of the (hi)story of architecture in Europe. And thus for a better approach to contemporary challenges and a better formulation of contemporary questions.
Concrete Dreams – And Other Perspectives on 1970s Architecture is scheduled to open at the Museum of Finnish Architecture, Kasarmikatu 24, 00130 Helsinki on Wednesday May 17th and run until Sunday October 15th. Further details can be found at www.mfa.fi
For all that today one could assume that back in the day resources weren't problematic, that communities used that which they needed and existed in harmony with their surroundings, that impression is, arguably, related more to the lower levels of use then than to any heightened awareness of the need for a responsible relationship with materials on the part of our forbearers; there is an argument to be made that, for example, in their use of wood Hanseatic boat builders or Bronze Age smiths were every bit as reckless and thoughtless as we today. Just at much lower levels and in more restricted contexts than we today with not only our industrial production and much more complicated needs in terms of raw materials, but also with our much more expansive financial and capital systems that depend on industrial production for their survival. And thereby depend on the industrial harvesting of raw materials. A dependency that also drives the endless search for ever new sources with the associated consequences for our planet and environment.
With Into the deep the Zeppelin Museum aim to explore the myriad issues surrounding and contained within questions of raw material harvesting and supply, past, present and future, taking as their impetus and initial focus that raw material that was so essential to the development of flight, and for all essential to the development of the Zeppelin: no, not cow intestines, although that is well worth considering, but aluminium, and thus a material which brings with it not only a lot of problematic issues, but also a lot of advantages. And from there moving on to wider contexts, including considerations on deep sea mining and deep space mining, and thus regions where no Zeppelin could venture. Nor, arguably, should any raw material harvester. But where they are increasingly seeking to.
Promising a multi-media presentation that combines items from the museum's collection with art installations and projects by Armin Linke, Bethany Rigby, Bureau d'études, Ignacio Acosta, and Kristina Õllek Into the deep should, for all through the context of the Zeppelin in which it is being staged, allow for not only for more nuanced considerations on the links between resources the development of human society, but also enable a more informed questioning of how we want to proceed, how we should, must, design, construct and produce our objects of daily use, how we match the need for human society to develop with the finiteness of our resources and the realities of extracting them. And, and pleasingly given the subject matter, will do so in a presentation that, in context of the German governments cultural funding programme Zero Fund, seeks to be as climate neutral and sustainable as possible, thus underscoring that the mediation of the myriad issues surrounding and contained within questions of raw material harvesting and supply, also involves a lot of issues surrounding and contained within questions of raw material harvesting and supply.
Into the deep. Mines of the Future is scheduled to open at the Zeppelin Museum, Seestraße 22, 88045 Friedrichshafen on Friday May 26th and run until Sunday November 5th. Further details can be found at www.zeppelin-museum.de
"Droog30. Design or Non-design?" at the Nieuwe Instituut, Rotterdam, The Netherlands
For all that design in the early 1990s was busily seeking calm following the impudence and uproar of the 1980s, and the social and political implosions of 1989, design in the early 1990s was also, thankfully, Droog. A collective brought together by Gijs Bakker and Renny Ramakers and including the likes of, for example, Piet Hein Eek, Marcel Wanders, Hella Jongerius or Tejo Remy amongst its number, the latter of whom's Rag Chair and Chest of Drawers stand so representative of early Droog. And a project which not only helped launch the careers of a new generation of Dutch designers, but just as an importantly allowed the Netherlands to regain it visibility in the design landscape after it had become somewhat lost in the post-War decades.
Curated by Maria Cristina Didero together with Richard Hutten, another alumni of '93, Droog30 was originally presented, when only very briefly, in context of the Milan Design Week 2023 and promises a presentation of works from the first 30 years of Droog in context of a social media conversation in which numerous protagonists discuss Droog and Droog products in a variety of contexts.
And which in doing so should not only allow for a timely reminder of why Droog were so important, and remain such an important and informative platform, but also allow a questioning of if Droog could have achieved the success they did, become the influence they are, if social media had been around in the early 1990s? Or if the speed and nature of social media discussions would have seen them become lost in the flood of images, definitives, venom, hyperbole, tribalism, simplification, etc, etc, etc and thereby denied the chance to develop? And by extrapolation the question of how social media affects design, where is social media leading design? Does social media encourage design or non-design?
Droog30. Design or Non-design? is scheduled to open at the Nieuwe Instituut, Museumpark 25, 3015 CB Rotterdam on Tuesday May 2nd and run until Sunday August 27th. Further details can be found at https://nieuweinstituut.nl