3daysofdesign Copenhagen 2019: #embassytour
In centuries past traditions were something that were established slowly, often becoming such long after those who had began them, who had understood their origins, meaning and function in contemporary society, had shuffled off this mortal coil; in our contemporary world traditions arrive over night, no-one having the patience to wait, no-one wanting to miss out on anything.
In which sense, celebrating in 2019 its second edition, our traditional 3daysofdesign Copenhagen #embassytour.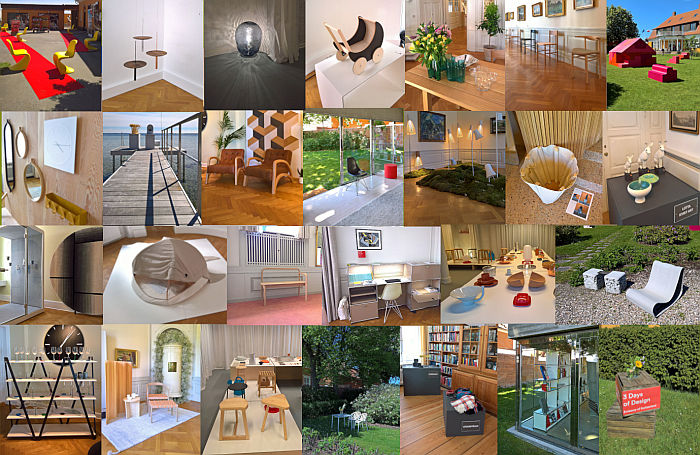 As previously noted, much as Embassy exhibitions are unashamed commercial events where the chances of getting cornered by a sales rep, or national marketing council delegate, are notably higher than at any trade fair; as a format the Embassy exhibition does, as a rule, not only allow for access to brands and designers that one may not necessarily meet at a trade fair, or perhaps better put may not have had the opportunity to fully interact with, but also allows the chance to experience familiar works in new settings and contexts.
And thus makes them a risk well worth taking. And a risk one can take during 3daysofdesign Copenhagen more often than at most design events; Embassy exhibitions are a staple of the design week, but rarely so fulsome as in that selection offered in Copenhagen. Indeed such was the fulsomeness of the selection at 3daysofdesign Copenhagen 2019 that constraints of time meant we sadly didn't manage to visit all, apologies to those we missed, 'twas logistics not interest that defined our timetable, but in terms of those we didn't miss…..
The Embassy of Switzerland
In addition to allowing the chance to meet new works and re-introduce yourself to the familiar, visiting such exhibitions can take you to parts of a city that you may not normally vist, allowing you to better understand a city through design, rather than understanding the design created in a city. Such as with our 3daysofdeisgn 2019 Embassy Tour which began amongst the villas, greenery and calm of Hellerup, once home of the Tuborg Brewery, a district where PH lamps greet one at front doors, whose residents have a curious, and slightly alarming, predilection for shiny ink blue roofs and where you can still, occasionally, meet men in bath robes cycling down to the Øresund for a quick morning dip: the sort of community, where if appearances are to be believed, all is still right in the world. And specifically to the Swiss Embassy.
Staged under the title "Ambassadors of Creative Innovation" the Swiss Embassy 3daysofdesign 2019 showcase presented works from established Swiss brands such as Vitra, USM Haller, Création Baumann, Caran d'Ache or Laufen, who presented their new SAVE urine directing toilet concept realised in conjunction with Vienna based studio EOOS and Eawag, the aquatic research institute at the ETH Zürich; younger brands such as Viu eyewear or Zürich based Qwstion with their bags crafted from Bananatex, a textile made from, well, banana plants, not yet Zürcher Bananas, but if we're not all careful it may only be a matter of time, and no-one wants that; and students from the Architecture and Wood & Civil Engineering departments at the Berner Fachhochschule, who, in inter-disciplinary teams of two, considered under the title "Furniture for a Pop-up Embassy", representative, temporary, variable, momentary furniture. And from which we were particularly taken by Standboard by architecture student Lukas Imfeld and wood engineer Samuel Züger and which can serve as coat hook/vertical storage or as a bench/horizontal storage and Rikø by Patrick Rickli and Gabriel Köferli which functions as a bag and a seat, essentially a rethinking of the bucket in terms of material and primary function, and no less the charming for it. And an object though, we imagine, conceived for home/street, also has its place, we'd argue, in the garden, for transporting garden waste and then sitting on to reflect on your productivity. And garden.
The Embassy garden itself was dominated by the so-called Puzzle House by Basel based HHF Architects and Copenhagen's own BIG Bjarke Ingels Group, a proposal for an interactive object/project in which variously formed seating/perching/leaning/laying elements can be combined, for storage, into a house form; and which are so contrived to require cooperation between individuals to change it from the complete structure to individual seating, thus attempting to evolve and generate a collective, group feeling. And while conceptually and formally very much liking what they achieved, for us the blocks were a little too spongy to be effective and desirable as seating. But otherwise, and, for us, in another material, most interesting.
And not the only Swiss/Danish cooperation on show: visitors being greeted at and sent on their way from the Embassy by arguably that best case example of Swiss/Danish cooperation: Verner Panton's plastic cantilever chair for Vitra. Yes, if with (more than) a little German assistance, but we're all Europe.
The Embassy of Estonia
Small as Estonia may be it's contribution to the history of furniture design is not to be ignored; not only was it, for example, from Estonia that Alvar Aalto learned about moulding plywood, but in recent years Estonia has been at the forefront of digitisation, Skype was originally coded and written by Estonians, while Tallinn is an important digital start-up centre, and Estonian society and administration one of the most digitalised; and thus Estonia and Estonians play an important role in the fusing of our physical and virtual daily realities, with all the inevitable consequences for the goods and services we thereby need and don't.
Featuring a presentation of works by 8 Estonian companies our highlight of the Estonian presentation was the Oslo armchair from Tallinn based RaSun, a somewhat ungainly, but thoroughly inviting character, and although a work which thanks to the exaggerated and pronounced curve of seat is formally suggestive of a long unproductive slouch, also allows for more upright, productive, seating and that with a good deal of comfort and satisfaction. While the Pebble poufs by Annike Laigo were for us interesting less for what they formally are inspired by as for the functionality of that which they are inspired by: uneven they allow for gentle movement and rocking while sitting and thus for a more active, ergonomic seating experience than one many normally experience with such a pouf. Be that at home, in the home office or the office office.
In addition the variance between the sound proof booths of Silen Space and and the porcelain and glass of, respectively, Raili Keiv and Birgit Pählapuu perfectly underscoring the variety and disparity that an Embassy exhibition, pleasingly, allows.
The Embassy of Sweden
The fact that Sweden has an embassy in Copenhagen always seems a bit, well unnecessary to us, given that you can almost see Sweden from Copenhagen: but in international relationships the legally foreign, if culturally related, is invariably separated by just a matter of metres. Which does make you think about which should be the most important definer of a region, and indeed the contemporary validity of borders…..
A situation, absurdity?, underscored by the presentation in the Swedish Embassy by Stockholm born, Copenhagen based designer Mia Lagerman who under the title Axplock presented a selection of her works including, and amongst many, many other pieces, the 2018 Wall Clock for Fritz Hansen, the Krok coat hanger/hall storage unit for van Esch, the Svenbertil chair for Ikea and the new Comma mirrors for Swedese.
In addition, and amongst other presentations, the Swedish Embassy, or more accurately put the Ambassador's residence, hosted a presentation of Artic Design, a presentation which posed the question "Can a region have a specific expression?" And while it arguably didn't completely answer it's question, with its presentation of, largely, craft based manufacturers and workshops from the north of Sweden, did pleasingly move towards an understanding of how a complete answer might be phrased.
The Embassy of Slovenia
Staged under the title Narva, Nature, the Slovenian design presentation at 3daysofdesign Copenhagen 2019 presented works by 8 brands which in their own way spoke of either our relationship to/responsibility for the natural world or are based in inspired by such. A recurring theme in context of the 2019 3daysofdesign Embassy showcases; everyone seems very close to nature, very sustainably, very responsible, these days.
Among our highlights were the hanging Circulum Wave shelves by Ljubljana based Pikka design, not new but ever delightful in the way they hang like bird tables is space, albeit waiting not for sparrows, starlings and squirrels, but for your keys, wallets, phones, toffees, whatever; and the the Toy Pram with blackboard wood side panels from Ohhnoo which aside from its engaging, cartoon-esque swoosh form, effortlessly and satisfyingly allows for a dual functionality pram/blackboard, and, one would hope, an increased interest of young imaginations in the object.
The Embassy of Finland
Nordic, but not Scandinavian, Finnish design and Finnish designers have left their mark on international design, yet as the 3daysofdesign presentation in the Finnish Ambassador's residence neatly underscored, the contemporary Finnish furniture and accessories industries are just as reliant on non-Finnish as Finnish creatives. Including, and amongst others, Swedish duo Mats Broberg & Johan Ridderstråle whose Bon Daybed for Adea does little spectacular with more than a good deal of grace and decorum; the Ruuta vases by Ronan & Erwan Bouroullec for Iittala which, in many regards, add an untroubled extra layer of interaction and personality alongside the original Iittala works of Alvar and Aino Aalto, if you will do with colour what Tapio Wirkkala achieved with structure; or the Akademia chair by Finnish/Californian duo Wesley Walters & Salla Luhtasela for Nikari, a most satisfying, and comfortable work, and one we feel we must have missed at least twice this year, and are very glad we have now made its acquaintance.
And a work, which like a lot of the Nikari portfolio, underscores the close proximity of the Nordic and Asiatic lands and cultures, as did/does the animal illustrations on show by Teemu Järvi, works which could be caligraphy. And which one on investigation discovers are created using reeds as brushes.
The Embassy of Portugal
Staged under the title "Portugal Normal", the Portuguese Embassy's 2019 3daysofdesign presentation explored design not from the basis of an object as being specifically functional or aesthetic, but of an object being thoroughly normal; and which through providing well conceived, considered and understood normality, achieves a pleasing and accessible functionality and aesthetic.
And did so through exploring developments and evolutions in, lets say archetypes, over time: objects from the 19th century sitting alongside works from throughout the 20th and 21st centuries and right up until 2019. And thereby a presentation format which automatically and organically led one into conversation with objects from across the decades. Or put another way, we enjoyed brief discourses with, and amongst many others, cutlery from 1895 by Gradirripas, a 1975 kettle by Mardouro, a 1989 avian drinking fountain, a 2005 litter bin, a 2011 cork bowl by Nendo or a 2017 sidetable/stool, specifically the Oyster by Berlin based studio Gecker Michels for Lisbon based manufacturer Util.
All thoroughly normal, and all the more charming for the fact.