5 Online Architecture & Design Exhibitions for April 2020
The museums may be closed, travel restricted and leaving your home, when possible, unadvised….. but that's no reason to restrict your cultural uptake, far less neglect the development of your architecture and design understandings.
Or put another way, if you can't get to the museum….. let the museum come to you.
Five online architecture and design exhibitions and museum collections to explore from your sofa, bed, garden, balcony, wherever…..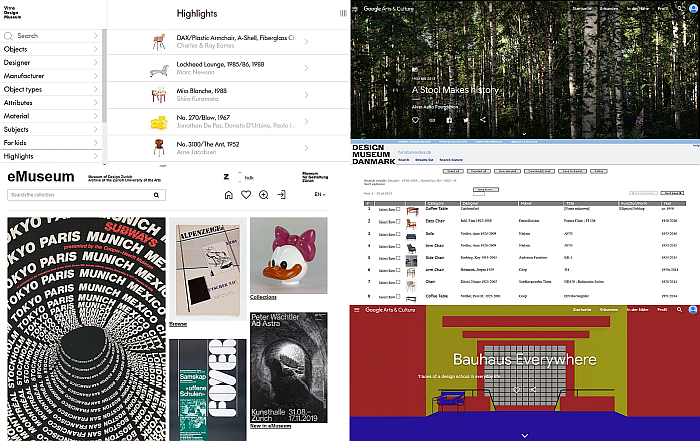 Vitra Design Museum – Collection Online
In many regards a digital version of the Vitra Design Museum's Schaudepot, the online collection presents a mix of popularly known and popularly lesser-known furniture designs from the past century – technically past two centuries on account of works by Karl Friedrich Schinkel and Michael Thonet – alongside selected designer biographies and selected manufacturer biographies.
Quite aside from the variety of works on show, for all the number of popularly lesser-known works, and the clear, comprehensible, layout and operation which aids and abets the comparing, contrasting and reflecting on the exhibits – the aforementioned Schinkel and Thonet being two well worth comparing, contrasting and reflecting on – a particularly pleasing feature of the Vitra Design Museum's online collection is the number of texts contained within and for all the number of references quoted: literature sources are liberally named, and thus easing further research. Which isn't something you all too often find in context of furniture, but which is important if the study of furniture is to be understood as the study of the cultural good it is: if we are to get away from lazy terms such as "iconic", "timeless" or "classic" and the objectification of design we need to get away from the object itself and start understanding a furniture object as an expression of a moment, a position, an understanding. And that involves a little light reading.
A bilingual German/English presentation which you can either search yourself or via the museum's curated themes including, for example, "Attributes", "Material" or "Subjects" such as 3D printing or Recycling, the Vitra Design Museum online collection is just as pleasing a space to lose yourself in as the physical Schaudepot, is just as pleasing a space to reflect on furniture and furniture design as the physical Schaudepot, but for all is pleasing space in which to begin your little light reading on furniture. As a prelude to, hopefully, some much heavier reading.
⇶ Vitra Design Museum – Collection Online
Museum für Gestaltung Zürich – eMuseum
The principle joy of the Museum für Gestaltung Zürich's eMuseum is its scale: some 100,000 of the museum's 500,000 items are online. And that in a form that makes exploring them as easy as it enjoyable.
Presenting objects from the museum's four collection foci – Design, Graphics, Decorative Arts, Poster – by far the most satisfying way to enter the eMuseum is through one of the curated subject areas, be that, for example, "Biographies", "Collections" or "Exhibitions", the latter being collections of objects associated with past exhibitions: and having entered to allow yourself to be taken where your interest, eye and the fulsome cross-linking takes you, and it could take you a long, long way such is the scale of the online collection and fulsomeness of the cross-linking….. whereby a particularly pleasing feature is the regular linking from the eMuseum to the online Swiss Materials Archive, allowing as it does the opportunity to deepen one's materials knowledge while simultaneously improving one's design understanding. Albeit only in German, whereas the eMuseum itself is bilingual German/English, the Materials Archive is only German.
Beyond the the classic museum collection the Museum für Gestaltung's eMuseum also features a selection of Diploma projects by students from the Zürcher Hochschule der Künste, and thus projects which although perhaps never commercially realised, contain design understandings and represent design positions which are not only part of design's helix but potential sources of further development, and thus are an all too rare but very relevant component of any design museum's collection. Whereby it is a shame that the featured Diploma project texts, or indeed the various exhibition pamphlets, aren't available to read online, that would be a genuine enrichment of the virtual space.
As it is with its wide variety of objects, genres and levels of engagement the eMuseum is not only a near endless design (hi)story resource, but for all through its unashamed, and thoroughly correct, Swiss bias, an easy introduction to the (hi)story of design in and from Switzerland.
⇶ Museum für Gestaltung Zürich – eMuseum
Design Museum Danmark – furnitureindex
It was in the exhibition rooms of Copenhagen's Applied Arts museum that the likes of Hans J. Wegner, Børge Mogensen or Ole Wanscher learnt the craft of furniture, and with the Design Museum Danmark's furnitureindex online collection you can do pretty much the same.
Whereby, the first thing to note is that the furnitureindex isn't a particularly user-friendly interface, it's a bit chunky and clunky, takes a bit of getting used to. In fairness to the Design Museum Danmark one gets the impression that it was developed more for specialist research than public consultation. And in double fairness to the Design Museum Danmark, while chunky and clunky it is very intuitive, the search is very easy, allowing one to search by, for example, designer, wood type, metal type or decade, specifically from "1900-1909" to "2010-2019", is satisfyingly cross-linked and thus once you get the hang of it, which you will, and for all one you stop getting cross and angry at the endless pop-ups, furnitureindex does allow one to explore in real depth Danish furniture design.
For it is exclusively furniture design by Danish designers. No Aalto. No Eames. No Bouroullec. And while Thonet are included, only in context of Verner Panton, and a 1930s tie-up with Fritz Hansen.
And thus a presentation which in its breadth and scale helps you to understand just how little you understand about Danish furniture design. How small a percentage of Danish furniture design (hi)story those few objects you are familiar with represent. And thus their utter inability to in anyway define furniture design from Denmark. And the necessity of improving your understanding of furniture design from Denmark.
As an added benefit, furnitureindex also allows one to understand just how many pianos Poul Henningsen designed. And what the Design Museum Danmark understand by "joke" as a functionality…..
⇶ Design Museum Danmark – furnitureindex
Alvar Aalto Foundation – A Stool Makes History
Hosted by Goggle Arts and Culture A Stool Makes History is the online version of the Alvar Aalto Foundation's 2013 exhibition of the same name, and despite the unequivocal title, isn't just about Aalto's Stool 60 rather it uses the story of Stool 60 as a conduit via which to explore the work of Alvar and Aino Aalto.
And in being such not only helps one approach a better understanding of just how much research, revolution and design is contained within the inconspicuous looking Stool 60, but also allows for the briefest of insights into the person of Otto Korhonen, director of the manufacturer Huonekalutehdas Korhonen and whose technical knowledge was so important in the development of the Aaltos' bent wood furniture; of the Aaltos' Paimio Sanatorium, a defining project in the development of Aino and Alvar Aalto, and a not irrelevant project in our current times; of how and why Artek came to be; but for all as reminder that back in the day it was Aino and Alvar Aalto, Alvar's predominance in the partnership being a largely post-war phenomenon. And a rewriting of history that, as we opined from Female Traces at the Museum of Furniture Studies Stockholm, needs to be rerewritten.
Presented, essentially, as a blog post with short text segments and copious photographs, A Stool Makes History provides for a readily accessible and easy introduction to its various themes. Hosted as it is by Google you can, if we've understood correctly, which is never certain, but we believe you can have it translated into your local language. But is certainly available in English.
⇶ Alvar Aalto Foundation – A Stool Makes History
Stiftung Bauhaus Dessau et al – Bauhaus Everywhere. Traces of a design school in everyday life
Much as the Bauhaus Weimar centenary year was a celebration of the institution, it was in many regards also about encouraging us all to begin to develop more rational and probable understandings of the institution. Bauhaus Everywhere is in many regards a tool to help guide you in developing that understanding.
Curated by Stiftung Bauhaus Dessau in conjunction with the Museum of Fine Arts Boston, Guggenheim New York, Getty Research Institute Los Angeles, IIT Institute of Design Chicago, Museum of Design Excellence Mumbai and the Fagus-Werk Alfeld, Bauhaus Everywhere is a fulsome, if at times slightly to overly populistic, slightly to overly glossy, presentation of the Bauhaus (hi)story; a presentation composed of, and amongst other media, virtual tours through the Dessau buildings, videos, including numerous interviews, but for all a collection of online exhibitions exploring numerous aspects of Bauhaus, its influence, its legacy and its location on the helix of art, architecture and design.
Attempting, one gets the feeling, to cover the Bauhauses in their absoluteness, Bauhaus Everywhere features such a multitude of subjects that, by necessity, a degree of superficiality is required, even the internet isn't endless, and a spatial restriction which, we'd argue, leads to the, at times, slightly overly enthusiastic, "Wasn't Bauhaus Brilliant!!", treatment; however, what it occasionally lacks in depth it more than makes up for in breadth and thus not only allows for an easy, and not uncritical, introduction to Bauhaus but serves as an excellent location from which to begin that deeper study, the development of that more rational and probable understanding of the institution.
⇶ Stiftung Bauhaus Dessau et al – Bauhaus Everywhere. Traces of a design school in everyday life