5 Online Architecture & Design Exhibitions for May 2020
While we'd all much rather physically visit architecture and design museums, our current enforced virtual patronage does allow us all an excellent opportunity to begin to understand architecture and design museums as more than just an exhibition space with shop and café, and to begin to learn to interact with them, and for all their collections, in new, proactive, manners. To understand architecture and design museums as tools as much as institutions.
And while a virtual visit can never replace a physical one, it can help us extenuate and expand our understandings and thereby allow us to take even more from that physical visit. And those physical visits will return.
Until then, volume two of our online recommendations takes you from your sofa to Berlin, Hamburg, Bloomfield Hills, Mumbai, München, and hopefully and awful lot further…..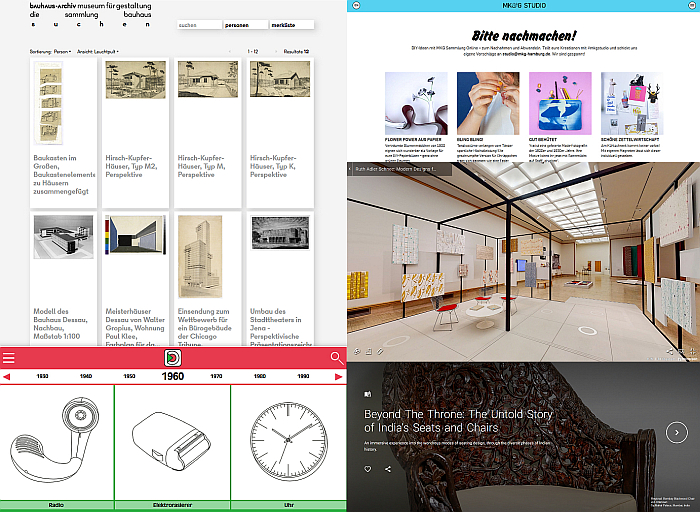 Bauhaus Archiv Berlin – Open Archive
In our first tranche of online exhibition recommendations we opined that one should, must, understand 2019's Bauhaus Weimar's centenary as a moment to begin developing more probable understandings of the institution. And whereas the Stiftung Bauhaus Dessau et al's project Bauhaus Everywhere offers a not uncritical, but very glossy, enthusiastic, introduction and overview of the many facets and components of the Bauhaus (hi)story, the Bauhaus Archive Berlin's Open Archive offers a more unfiltered exploration of the same.
Although pitched as being a Walter Gropius archive, it isn't exclusively, if correspondence, photographs and newspaper clippings by, of and from Gropius build the central pillar of the Open Archive; materials which help one approach a better understanding of how Bauhaus was received in its time and also offer an insight into Gropius's relationships with not only his Bauhaus colleagues but also the likes of an Alvar Aalto, Franco Albini or Charles & Ray Eames. Admittedly the briefest of brief insights, but enough to underscore the wide circle in which Gropius moved, and to provide inspiration to search further, once conditions allow.
Beyond Gropius the Bauhaus Archiv Berlin's Open Archive offers the opportunity to approach a better understanding of the oeuvre of many a Bauhäusler, presenting as it does numerous works, including numerous rarely seen works, by the likes of, and amongst many others, Marianne Brandt, Christian Dell, or Marcel Breuer, including the latter's baby cot for the 1927 Weissenhofsidelung exhibition in Stuttgart, a curiously satisfying yet equally terrifying object.
While the objects are alingual, much of the printed material is, logically, in German, but not all, for all in Gropius's correspondence following his emigration to America one finds numerous letters in english; including, bizarrely, with his business partner, and fellow German, Konrad Wachsmann. Wachsmann addressing Gropius as Pius. As in "Pope"? We do hope so….
And while on the subject of language, if we did have one complaint it would be that the interface and object descriptions are only in German whereas Bauhuas's appeal is global, and if we did have two complaints it would be both the search function and the cross-linking are overly specific, only searching/linking within a specific subject area rather than more generally. However, such are small, and easily overcome, problems, and the simple layout and easy usability mean that you can quickly find that path you wish to follow. A path that, should, help lead you towards that more probable Bauhaus understanding.
⇶ Bauhaus Archiv Berlin – Open Archive
Museum für Kunst und Gewerbe Hamburg – MK&G Studio
As we oft note an exhibition's accompanying fringe programme is just as important as the actual exhibition itself; with their MK&G Studio the Museum für Kunst und Gewerbe Hamburg, in many respects, provide an accompanying fringe programme for their online collection in that they use it as the basis for a number of Do-It-Yourself craft projects – for young and old alike.
Whether making paper flowers, a fridge magnet, a chopping board, or any of the ten projects currently in the MK&G Studio, the first step is always a visit to the museum's online collection to look for a suitable motif; and thereby allowing one to view and peruse the online collection with a purpose beyond pure curiosity and which thus enables, forces, you to not only view it from a different perspective, with different eyes than would otherwise be the case, but also to visit areas you might never voluntarily approach. And thereby, possibly, discovering something which may not be relevant or appropriate for the project at hand, but which awakens a new interest and sets you off in a whole new research direction.
Having found your motif the second, third and subsequent steps often involve some special material that one may not immediately have to hand, but which you should be able to procure and/or find a ready substitute you do have to hand; and if not leave them for the future and concentrate on those projects you do have materials for. Learning should, after all, be for life, not just a few weeks in spring 2020.
Presented in English and German the projects are very nicely, simply, comprehensibly, explained in words and pictures and should not only provide for a little distraction for old and young alike, but also, possibly, hopefully, inspire to more self-production and thereby motivate you to consider more closely your consumption habits. Which is no bad thing.
⇶ Museum für Kunst und Gewerbe Hamburg – MK&G Studio
Cranbrook Museum of Art – Virtual Tour of Ruth Adler Schnee: Modern Designs for Living
Ruth Adler Schnee: Modern Designs for Living featured in our December 2019 exhibition recommendations, and now all those who either didn't or couldn't visit it in Cranbrook, have the chance to do so from the comfort of your own sofa/bed/lounger. Whereby it's inclusion here isn't by way of justifying its inclusion then, but because (a) Ruth Adler Schnee is someone you should know more about, and (b) Modern Designs for Living is not only an exhibition but a springboard.
As with all virtual museum/exhibition tours navigating Modern Designs for Living takes a little getting used to; however, the very natural flow of the exhibition, and its limited scale, greatly aids and abets in facilitating the process: it ain't no multi-room presentation where one can get lost, rather a bijou showcase, making it, arguably, an example of the sort of exhibition that is best suited to such as virtual presentation. Similarly, the subject matter aids and abets the viewing experience: whereby exhibitions with objects, be that furniture, ceramics, sculptures, etc, tend to fail on the necessity of exploring the object from all sides, and in 3D, the textiles of Ruth Adler Schnee can be studied and enjoyed in 2D, as can the photos and plans of numerous interior design projects and furnishing projects undertaken by Ruth Adler Schnee. Particularly satisfying is the scrolling function which, in conjunction with full screen mode allows you to read the wall texts, and some, though not all of the object descriptions. And one isn't limited to vieweing it on a monitor, one can also view it with a VR headset, we obviously haven't, far too analogue for such, however for the rest of society, the option is available,
While the virtual exhibition itself is informative and entertaining and provides not only for an accessible introduction to the life and work of Ruth Adler Schnee but also for a few wider thoughts on mid-20th century American design beyond the established narrative, what we do miss is the opportunity to explore selected Adler Schnee textiles in more detail in the Cranbrook online collection; while Ruth Adler Schnee is featured in the online collection, only very, very, briefly.
But then the online collection is itself brief, only some 125 of the museums 6,000 objects, and what it lacks in Ruth Adler Schnee it more than makes up for as a pleasingly disparate presentation of 20th and 21st century art, craft and design, largely by artists, craftsfolks and designers associated with Cranbrook, and including an opportunity to become acquainted with some "before they were famous" works by old Cranbrookians, old Cranberries?, such as Harry Bertoia, Charles Eames or Florence Knoll. And also with several works, well known and less so, by Saarinen, as in the whole clan: Eliel, Loja, Eva-Lisa and Eero.
⇶ Cranbrook Museum of Art – Virtual Tour of Ruth Adler Schnee: Modern Designs for Living
Museum of Design Excellence Mumbai – Beyond The Throne: The Untold Story of India's Seats and Chairs
It is universally understood, but never openly articulated, that when discussing the (hi)story of design, certainly of furniture design, one does so from an exclusive Euro-American perspective: that which happened in Europe and North America being decisive and important. That which happened in South America, Africa, Asia, Australasia or Antarctica….. didn't happen. A crime we are guilty of and a guilt we are very aware of. Though which we never publicly admit to.
With their virtual tour through the (hi)story of seats and sitting in India the, as far as we can ascertain, not yet physically existent, Museum of Design Excellence Mumbai not only provide an easily accessible introduction to one of those popularly ignored strands of furniture (hi)story, but also remove all justification for ignoring non-Euro-American perspectives. The case they make being as it is far too convincing.
Starting from allusions to raised sitting in ca. 2000 year old Buddhist sculptures as the beginnings of a sitting tradition in the region, the presentation moves forward discussing as it goes, and amongst other subjects, the astronomer Varahamihira's take on furniture, thrones, swings, the charpai a, according to the curators, more basic, utilitarian, democratic, form of the divan, and also the relevance of India's various political periods on the developments of its furniture, for all the influence of Dutch, Portuguese and British colonial rule. And arguably also Modernist colonisation: India being one of the main theatres of a post-War expansion of Modernist ideas from Europe and North America, something perhaps best represented by projects such as the National Institute of Design in Ahmedabad or Le Corbusier's Chandigarh project.
Fulsomely illustrated Beyond The Throne allows for an easily accessible and comprehensible journey through 2000 years of furniture design in India, and thus is an excellent location to begin a deeper exploration of the subjects contained therein. And also of wider considerations on the (hi)story of furniture design outwith our Euro-American bubble. Because we all know that wider (hi)story exists…….
⇶ Museum of Design Excellence Mumbai – Beyond The Throne: The Untold Story of India's Seats and Chairs
Neue Sammlung – The Design Museum München – Sound of Design
Not an exhibition as such, but both as entertaining and informative as any exhibition should be, the Neue Sammlung's App Sound of Design is just that, a collection of sounds emitted by a collection of design objects, for example, and amongst others, Frank A. Brownell's Kodak Brownie Nr. 2 camera, Hans Gugelot & Gerd Alfred Müller's Sixtant SM 31 electric raiser for Braun or Peter Behrens' 1912 GB 0 table top fan for AEG, the latter sounding so reminiscent of a light aircraft one fears it may actually take off……
And a vibrating clatter which underscores that important, and oft overlooked, fact that lies at the heart of the project: objects don't just define spaces visually, but aurally. The sounds objects make contributes to our environments, and as technology and design evolves and develops, so do the soundscapes in which we live and work: the typewriter, for example, was once a familiar click in offices, a click that was silenced when the typewriter was replaced by computers. Similarly the familiar drone of the car engine will vanish from our cities if/when electric vehicles become omnipresent. What does that mean for our perception of urban spaces? While in the other direction, before ca 1900 the ring of a telephone was unknown, and now is not only ubqiuitous but has transformed from a universal standard to a component of our individual self-expression. The sounds of design are every bit as important and relevant as the visuals of design.
Clearly the idea is that when standing in front of the relevant object in the museum you can listen to selected noises, for example while standing in front of Max Bill and Ernst Moeckl's Exacta kitchen clock for Junghans you can hear not only how it ticked, yes clocks once ticked, but also the sound of setting the alarm and then that alarm ringing; which is an important extension of the museum experience, for and as Hella Jongerius & Louise Schouwenberg discussed in the Neue Sammlung's exhibition Beyond the New, objects in a museum are denied their functionality, and objects are functional. So what are you experiencing when observing them in a museum? Through making them audible one can help return at least an understanding of them as functional objects.
And while perusing the app outwith the museum, from the comfort of your own sofa, may appear a little abstract, which it is; on the one hand the objects featured are all from very familiar genres – cars, radios, fans , etc.. – and also, generally, very popular items that we all either know what they look like or can quickly find an image online, and on the other hand, aside from the sounds of individual objects one can follow developments in various genres through the decades and thus approach an understanding of how developing technology continually changes the soundscape in which we live and work as much as it changes the appearance of those environments. And on the all important third hand, its fun. A lot of very silly fun. The only slight annoyance is that the Neue Sammlung don't appear to have an online collection, thus denying the very tempting opportunity to use the featured objects as a starting point for further exploration…..
⇶ Neue Sammlung – The Design Museum München – Sound of Design