3% advance payment discount:

751,75 €

(Save

23,25 €

)
Versions which are in stock and immediately available (click here)
These items are in stock and are deliverable immediately:
In the Vitra LCM & LCM Leather chairs Charles and Ray Eames combined the characteristic moulded plywood seat and backrest of their Plywood Group chairs with a filigree tubular steel base. Thus in comparison with the other models of the Plywood Group the LCM enjoys an exceptional ease of character and an elegant contrast between the shiny metal and the curved wood. The LCM Leather lounge chair features a thin padding of leather upholstery - a noble detail which also provides for additional comfort.
Product type
Lounge chair
Dimensions


Dimensions in mm
Colours
Seat and back



Seat cover




Material
Seat and backrest: Moulded ash plywood
Covers: leather
Frame: tubular steel, chrome plated
Variants
Optionally available with a thin seat cushion with leather cover
Optionally available with felt pads for hard floors or glides for carpets
Care
For general cleaning, wiping with a damp cloth and a mild detergent is recommended.
The leather should not be exposed to direct sunlight and heat and it is further recommended that all leather upholstery should be treated once or twice a year with an appropriate leather care product.


Certificates & Sustainability
Vitra conform to
ISO 9001: 2008 (Quality management systems)
ISO 14001: 2004 (Environmental management systems)
Warranty
24 months
Product family
Eames Plywood Group
Datasheet
Click for more information (ca. 0,5 MB).

---
In the 1940s Charles and Ray Eames concerned themselves with developing a method for the three-dimensional deformation of plywood into ergonomic forms. Countless experiments eventually led the pair to the development of the chairs of the Plywood Group, in which the Eames' combined the successfully realised ergonomically shaped plywood seats and backrests with a range of bases and covers. In the case of the LCM and LCM Leather the seat and backrest are connected via a filigree steel tube frame, while the LCM Leather additionally features a thin padding of leather upholstery - a noble detail that provides additional comfort. Unlike the other models in the Plywood Group - a collection which forms a central feature of the Vitra portfolio and as objects remain as contemporary as ever - the LCM is characterised by its extreme lightness and the unique contrast of the shiny metal and moulded wood.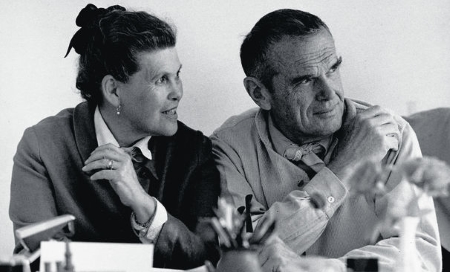 You may also like these articles