Details
The rattan stool E14, was conceived to be light, comfortable, easy to move and for use anywhere at home - inside or outside.

Rattan Stool
Rattan nature
H42 x W40
More about 'E 14' in our blog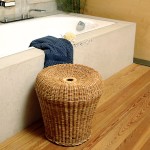 ... Barbecue Goose... lovely stuff Rattan Stool E 14 by Egon Eiermann from Lampert For that colonial, South Sea Island feel you can't beat Rattan furniture. And nothing says W. Somerset Maugham more than Egon Eiermann's 1950s designs. At 42 cm high and with...
'E 14'-posts
You may also like these articles: