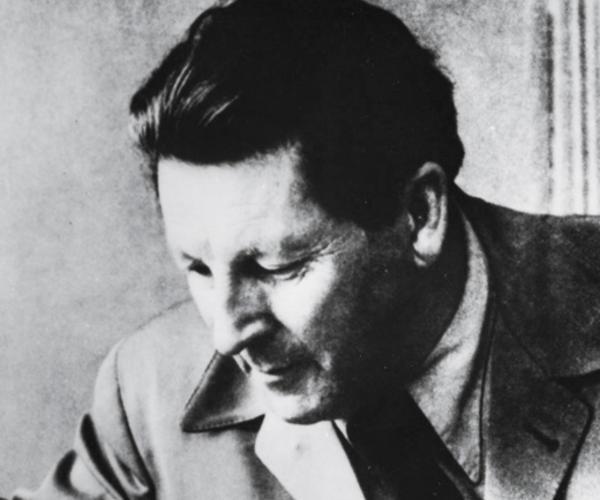 Gerrit Rietveld (born 24. June 1888 Utrecht/Holland ; died 25. June 1964 in Utrecht/Holland) never studied architecture in the traditional, university sense; nonetheless he was to become one of the most important and influential figures in early 20th century European architecture and design. The son of a Utrecht carpenter, Rietveld initialy worked and trained in his father´s business before aged 15 he took up a position as a draftsman in a Utrecht goldsmiths. In 1913 he then returned to his roots, opening his own cabinet makers business. In addition to "learning by doing" Gerrit Rietveld attended evening classes to expand and deepen his skills. From age 16 he attended drawing classes at the Kunstindustrieel Onderwijs der Vereeniging of the Museum van Kunstnijverheid in Utrecht before in 1906 beginning lessons in technical draftsmanship with the Dutch architect P.J.C. Klaarhamer. This contact with Klaarhamer not only brought the young Gerrit into contact with modern architectural ideas and theory but also with many practitioners in the bustling and rapidly developing Dutch art scene of the time; most importantly with those who would go on to form the influential and critically acclaimed group "De Stijl". A central component of the "De Stijl" manifesto was the use of only primary colours, together with black and white combined with a reduced, minimalistic geometric form. One of the best known examples of the "De Stijl" philosophy is Gerrit Rietveld's Red and Blue Chair, a work conceived and developed in the inter-war years. In addition to designing furniture Rietveld increasingly turned his attention to buildings.
In addition to redesigning numerous shop fronts and social housing schemes in Utrecht Rietveld's most important contribution to European architecture is unquestionably the so-called Rietveld-Schröder-House , built in 1924.
In 2005 the house was declared a UNESCO World Heritage site, with UNESCO declaring: "(...) with its radical approach to design and the use of space, the Rietveld Schröderhuis occupies a seminal position in the development of architecture in the modern age." In the late 1920s Gerrit Rietveld moved away from "De Stijl" and towards the modernist "Nieuwe Bouwen" movement. In 1928 Gerrit Rietveld -along with prominent luminaries such as Le Corbusier, Mart Stam or Rudolf Steiger - helped establish the Congrès International d'Architecture Moderne (CIAM), a platform for modernist archictects. Rietveld's most important work from this period is undoubtedly his Zig Zag Chair from 1932-34, which was not only a revolutionary design at the time but was to pave the way for future classics including Verner Panton "Panton Chair" for Vitra. As with so many great European designers and artists of the inter-war years, the Second World War was to prove disastrous for Rietveld's career and it was to be the late-1950s before he was able to undertake projects on a scale to match his talent. Gerrit Rietveld's last project was the Van Gogh Museum in Amsterdam, a project albeit finished nine years after his death.