3% advance payment discount:

4.339,78 €

(Save

134,22 €

)
Eero Saarinen developed a whole series of one-legged dining, couch and coffee tables for Knoll International: a table collection which also includes the Knoll Saarinen dining table oval. As with the other Saarinen tables the elegant dining table features a distinctive pedestal and boasts an organic, curved form.
Product type
Dining table
Dimensions
Small table:
Height: 73 cm (laminate/veneer)
Table top (oval): 198 x 121 cm
Pedestal (oval): 79,5 x 59 cm

Large table:
Height: 73 cm (laminate/veneer)
Table top (oval): 244 x 137 cm
Pedestal (oval): 79,5 x 59 cm
Colours
Pedestal



Table top



Other versions of the tabletop are available on request
Material
Table top: smooth laminate or Arabescato marble (white with grey tones)
Pedestal: heavy moulded cast aluminium with Rilsan
Care
The surface can be wiped with a slightly damp, soft cloth, for teak veneer a dry cloth should be used. If necessary, use lukewarm water with a small amount of a mild detergent.
Certificates
GREENGUARD Indoor Air Quality Certified
Sustainability
ISO 14001
Warranty
24 months
Product family
Saarinen Pedestal Collection

---
Eero Saarinen created the Tulip table - the first one-legged table in the history of furniture design - in the 1950s with the intention of doing something against what he considered the "ugly and troubled world" that existed in the forest of chair and table legs to be found with American dining tables. Instead of the usual four legs, he used for he Oval Tulip dining table and other tables in the Pedestal Collection, a single pillar, which should ensure formal peace and a clean design. The result is the elegant Saarinen tulip tables, a collection which through their organic, curved shape set clear and harmonious accents in any conceivable environment. In addition to the Knoll Saarinen dining table oval, which is available in two sizes and with an oval tabletop in different materials, the Pedestal Collection features numerous dining, coffee and side tables and the matching Knoll Tulip Chairs.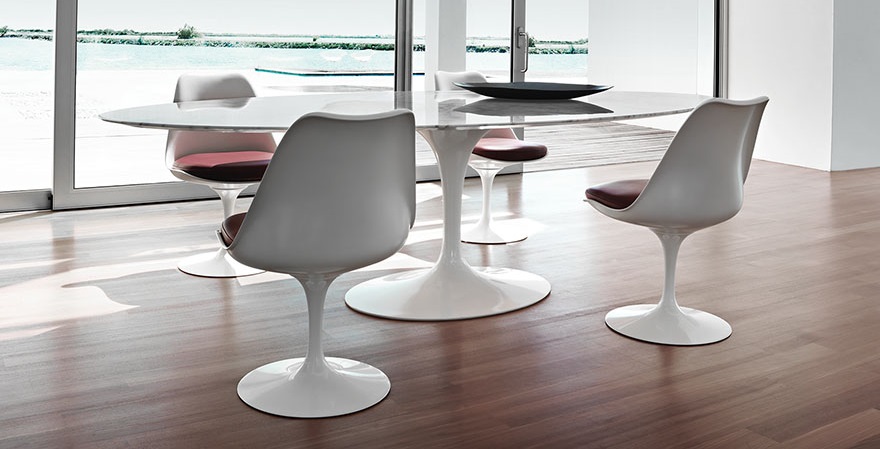 You may also like these articles