The Pedestal Collection
Eero Saarinen counts among the most famous architects and designers of the 20th century, and amongst his most popular works are without question his Pedestal Collection. Saarinen was irritated by the "ugly and restless world" between table and chair legs, began to experiment in search of a solution and finally, after a five-year development phase, presented his one-legged furniture: the first of its kind. In collaboration with the American Furniture manufacturer Knoll International Saarinen released between 1955 - 1957 the Tulip Chairs and a number of dining, coffee and side tables, a collection which all have one thing in common: a single leg, while through their slender silhouette remind one of the shape of a flowering tulip. The flowing, filigree form of the furniture was groundbreaking for a range of designs that were to follow Saarinen's creation and continues to make it one of the most significant classics of the 20th century, and more than worthy of its place in the permanent collection of the MoMA New York. After more than half a century, the timeless Pedestal Collection remains as contemporary as it ever was.
Saarinen Tables
The Saarinen coffee table is available in round and oval versions and can be supplied with various bases and table tops in white or marble finishes. Also, the Saarinen side table is available in various forms and designs, including a marble top Arabescato. The Saarinen dining and conference table is also adaptive to your individual needs: in the round variant, you can choose between five different table top diameters, and also the oval table tops are available in two sizes, and thus optimal for both private or in the work area. Other versions are available on request.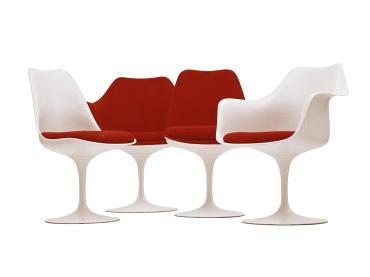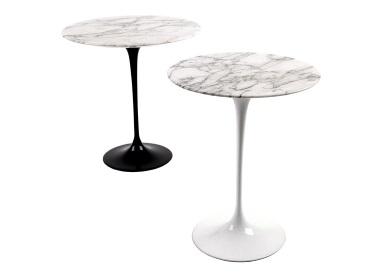 Saarinen Tulip Chairs
The Saarinen Tulip Chairs radiate peace and harmony through the abandonment of the traditional four chair legs, and through their simplicity blend effortlessly into any space. The multi-purpose chair is available in a number of variants and can be used flexibly in any living and working area. Available in a range of versions, it is, depending on your requirements, available with seat cushion or upholstered shell and in different colours. In addition, the Tulip Chair is available as an armchair in numerous versions and can also be purchased in black or white and with upholstery in different colours of 90% worsted wool. To mark the high-quality, tulip-shaped originals, the underside of the chairs and tables of the Pedestal Collection are engraved with the logo of Knoll International and Eero Saarinen's signature.