String
String System Wall Panel
by Kajsa & Nisse Strinning, 1949
— from 64,00 €
3 % advance payment discount*:

62,08 €

(Save

1,92 €

)
The String shelving system, designed in 1949 by the Swedish architect and designer Nisse Strinning and his wife Kajsa Strinning, is framed by its delicate wire wall panels. These filigree ladder like structures gives the design classics its unmistakable appearance - without being intrusive. The coloured wire frame can be fitted with shelves and other elements as required to create your own individual shelving system.
Product type
Side wall panel for the String shelving system
Dimensions
Height: 50 or 75 cm
Depth: 20 or 30 cm
Material
Painted steel
Variants
Wall panels available in 4 sizes, individually or in a 2-pack
The floor panel is available separately
Colours



Function & properties
The String shelving system can be configured individually. Shelves and components can be added to the side panels as required.
With the String Configurator you can plan your own system.
Assembly
Please click on the picture for viewing or downloading the assembly instructions (ca. 1,9 MB).



Delivery includes
1 wall panel (single) or 2 wall panels (set of 2)
Matching shelves or cabinet with sliding doors available separately
Care
A soft, damp cloth is recommended for cleaning your String units
Awards & museum
1949: 1st place in the bookshelf competition run by the Swedish publisher "Bonniers folkbibliotek"
1979: Inclusion in the design collection of the Swedish National Museum
Sustainability
The dimensions of the String system have remained unchanged since 1949, as such each unit, regardless of age can be easily modified and extended as required.
Warranty
24 months
Product family
All String products

1949 - 2019: 70 years of the String system
The famous String shelving system was created in 1949 in context of a competition organised by a Swedish book publisher. For the new reading passion of the Swedes, a shelving system was sought, which should be inexpensive, uncomplicated and easy to mount. The architect and designer Nils "Nisse" Strinning and the designer Kajsa Strinning had long mused on just such a system, long musings which led them to first prize. Today, the classic of Scandinavian furniture design is a popular global success, and on the occasion of its 70th anniversary the company expanded its product portfolio, including the release of the String Pocket in new colour versions and the String shelving system in an outdoor version.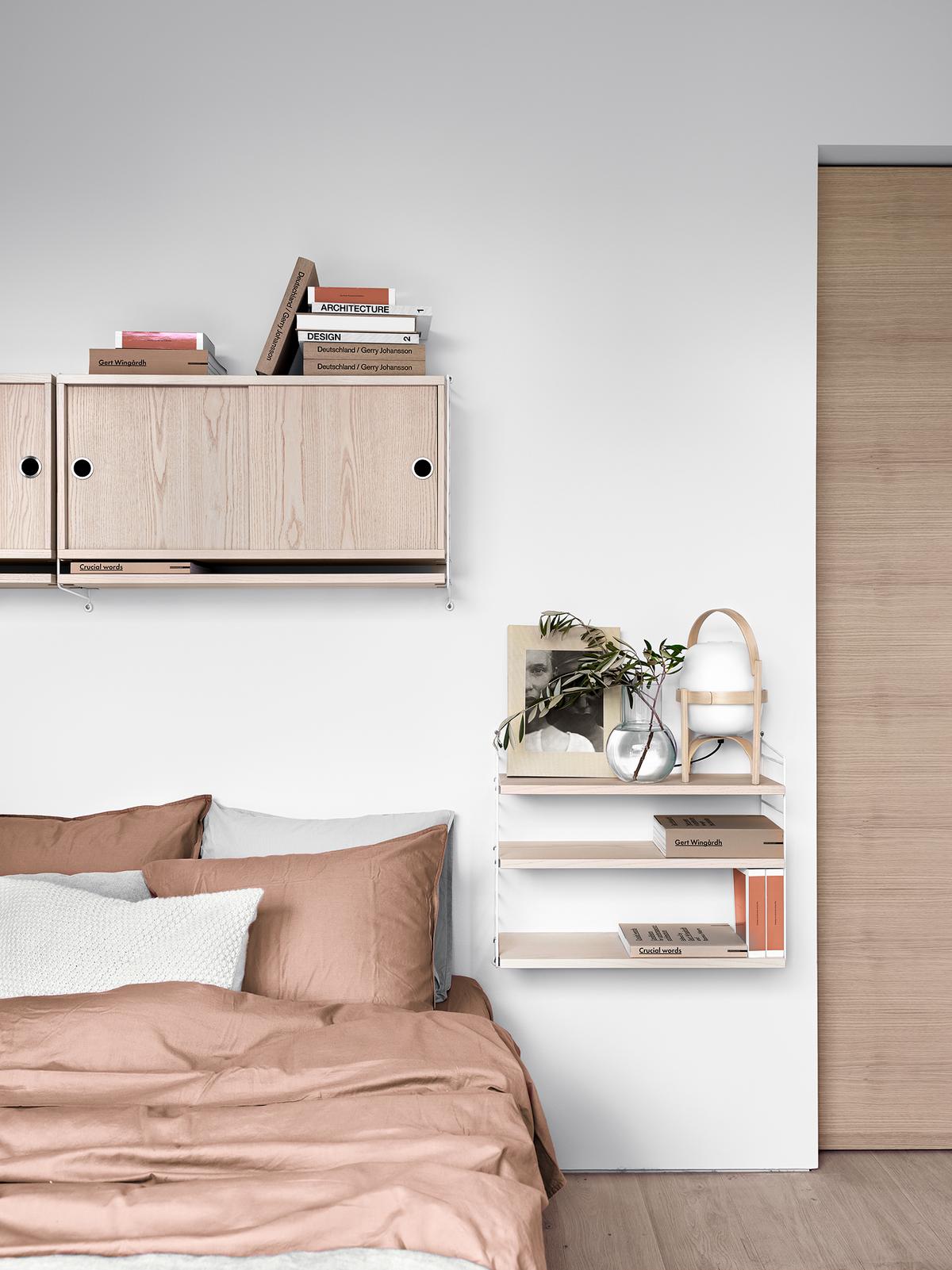 Configurator
The basis of every String configuration is the side walls. Choose floor or wall ladders in different sizes and colour variants and complement the matching shelves. Many other elements, such as the wall cabinet with sliding doors or accessories such as hooks or a clothes rail, complete your individual String unit, be that for small or large living rooms, offices or hallways. Simply use the String Configurator and then send us the selected configuration as a PDF by email to service@smow.com.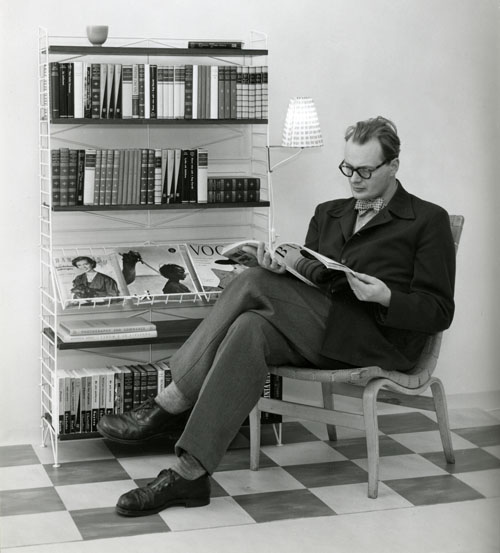 The Design
The String shelving system is as simple as it is ingenious: a thought through, integrated system the near infinite possible variations of the individual elements allow for near endless configuration, while the filigree side walls mean that even larger shelf configurations seem light and unobtrusive. The petite shelf is extremely stable and through the ability to combine shelves of different depths and colours universal. String shelves can be redesigned and reconfigured over and over again and, thanks to their high-quality materials, and even passed on from generation to generation. With their design, Kajsa and Nisse Strinning created an aesthetically pleasing and commercially successful shelving system whose assembly requires no special tools. Whether modern or vintage: thanks to its versatility, the String shelving system blends in perfectly with various living styles and provides a homely ambience in every room not least through the myriad colour combination and different texture possibilities. And should change be desired, the shelving can be expanded as desired and equipped with drawers, hooks or metal shelves. All components of the String system are manufactured in Sweden.

You may also like these articles