String
String System Cabinet with swing door
by Kajsa & Nisse Strinning, 1949
— from 371,00 €
3 % advance payment discount*:

433,59 €

(Save

13,41 €

)
The String System module with swing door by Kajsa and Nisse Strinning can be effortlessly and individually integrated into any String shelving system. It provides a characteristic accent and can be used as storage space for all those things that need to be close at hand, but shouldn't be visible to everyone.
Product type
Cabinet with swing door for the String shelving system
Dimensions
Weight
11,25 kg
Colours
Paint



Veneer




Material
Cabinet body: MDF, lacquered or chipboard, veneered
Handle: stainless steel
Function & Properties
Loadable up to 25 kg (evenly distributed)
Suitable for all String wall/floor systems with a depth of 30 cm

The String shelving system can be individually configured. Combine side panels with appropriate shelves and other accessories as you wish and require

Use the String Configurator to develop your personal String unit.
Delivery includes
1 cabinet consisting of a compartment and a swing door
Delivery includes hooks for hanging in the String side panels

Side panel as wall panels or floor panels and shelves available separately
Care
Wipe the surface with a damp cloth and mild detergent, then rub dry with a cloth. Do not use abrasive agents such as scouring milk or steel wool.
Awards & Museum
1949: 1st place in the bookshelf competition run by the Swedish publisher "Bonniers folkbibliotek"
1979: Inclusion in the design collection of the Swedish National Museum
Certificates & Sustainability
The dimensions of the String system have remained unchanged since 1949, as such each unit, regardless of age can be easily modified and extended as required.
Warranty
24 months
Product family
All String products



Datasheet
Clik for more information (ca. 0,3 MB).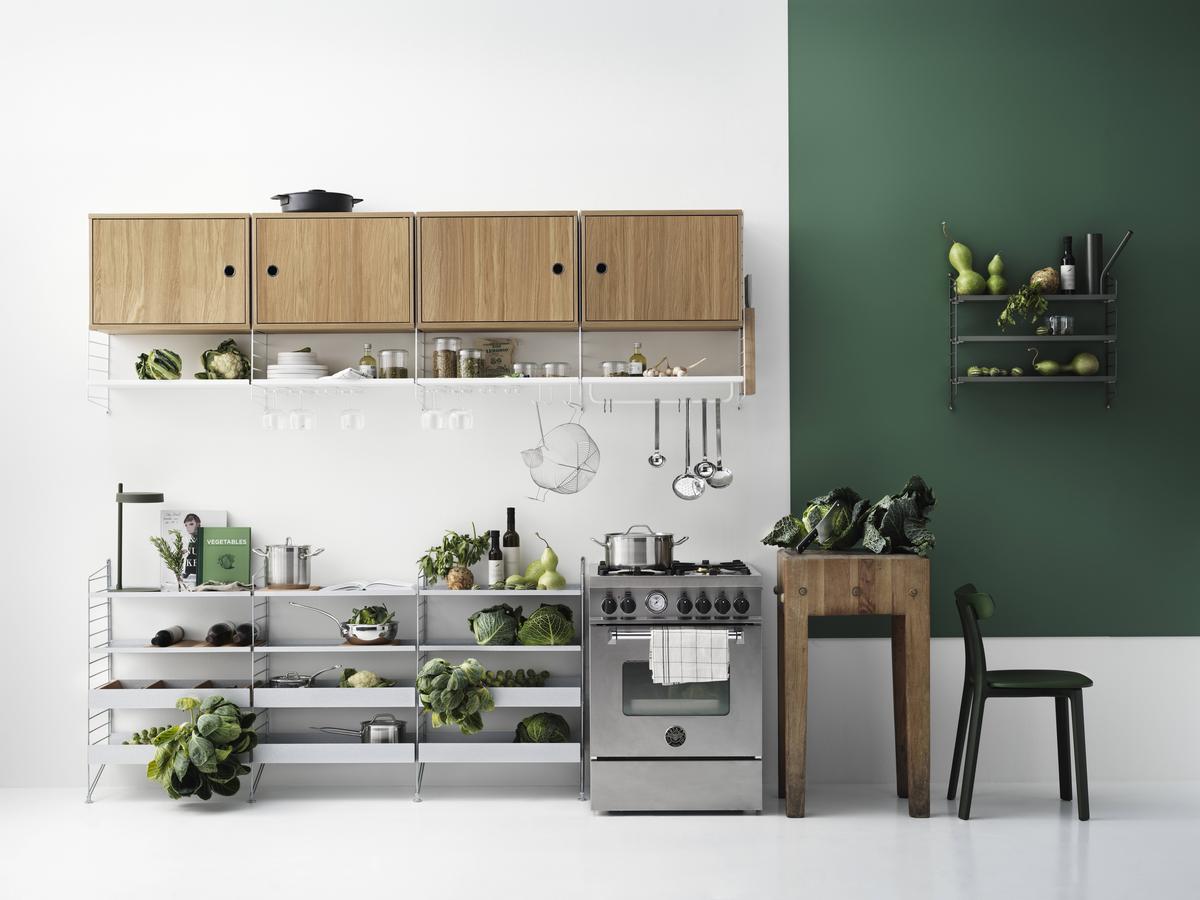 In 1949, at the age of 32, architect Nisse Strinning designed the String shelving, together with his wife and designer Kajsa Strinning in context of a competition organised by the Swedish book publisher Bonniers, to create a bookcase which is affordable, easy to transport, and easy to assemble and build. The Strinnings won with their String System; in the same year, they founded their eponymous company, to produce their bookshelf "String", which subsequently became a global success. The original string shelf consists of filigree wire ladders, which serve as side walls, which can be mounted directly on the wall and can be combined in different colours with different shelves. In 1953, the furniture company released the first free-standing version of the popular bookshelf, if a version that Nisse Strinning initially did not like. The shelf system began its triumphal march through the world, not only moving into private homes and dwellings, but also into public facilities, including the UN headquarters in New York City. Awarded numerous international design awards, the manufacturer String has extended the flexible wall shelf solution, especially in recent years, with a whole system of accessories and office furniture. This is how multifunctional hooks, the String Pocket or even the cabinet element with swing door came into being. There are almost no limits to creativity and possible uses here, and so it serves as a practical storage option for hats and scarves, kitchen utensils or the accommodation of office materials.
The String shelf system is as simple as it is ingenious. Every element of the string system is so designed so as to allow an almost infinite range of variations. The filigree side panels allow even large shelf configurations to still appear light and unobtrusive; the petite rack is nevertheless stable and offers, for example, books and CDs secure grip. Shelves of different depths and colours can be combined to suit both your individual needs and the the demands of the available space; and because the system in based on elements whose dimensions have remained unchanged since 1949 existing String systems can be redesigned and extended as and when required. Having used the String configurator to design your unit please send your configuration, as a PDF, by email to service@smow.com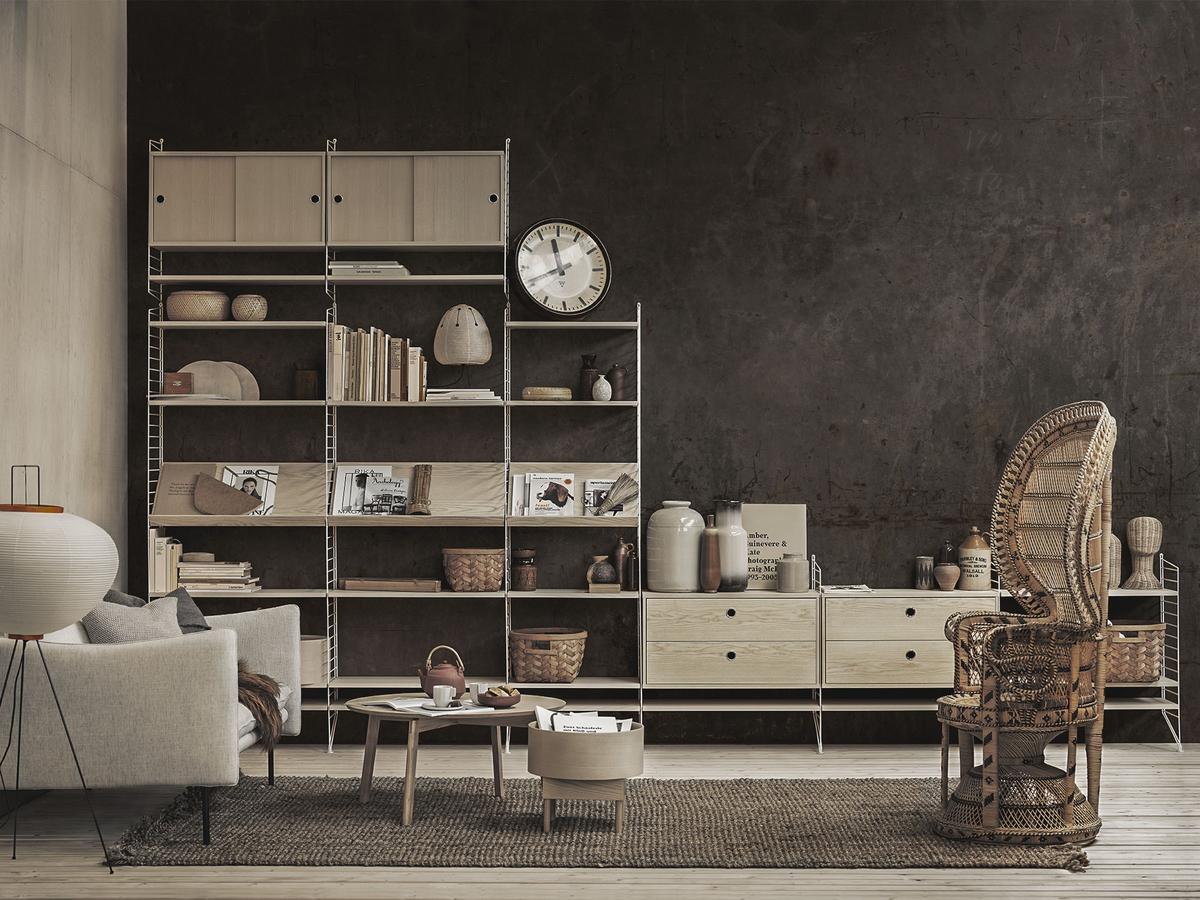 You may also like these articles