3 % advance payment discount*:

311,37 €

(Save

9,63 €

)
The Pin Coat Base provides for the stability and flexibility of the Pin Coat family by Oliver Bahr for Nils Holger Moorman. The square base is made of cast cement and is designed as a grid, into which the rods are set. The result is a sculptural yet highly functional object such as the Pin Coat clothes rack or Pin Coat Pin Light floor lamp.
Product type
Base/accessory for Pin Coat family
Dimensions
Height: 6 cm
Width: 29/39 cm
Depth: 29/39 cm
Material
Cast cement
Variants
Available in two sizes
Pin Coat Rods & Pin Coat Pin LED available separately
Delivery includes
1 base
Care
To clean a damp cloth and a mild, neutral detergent is recommended.
Awards & museum
international furniture designfair assahikawa, 2002
The International Design Yearbook 2004
Deutscher Designer Club 'Gute Gestaltung' Auszeichnung in Bronze 2005
Good Design Award 2004, The Chicago Athenæum
iF product design award 2005
Nomination for the Designpreis der Bundesrepublik Deutschland 2006
Certificates & Sustainability
Through the consequent use of natural materials and a strong focus on modular systems Moormann products are created with the environment and sustainability in mind. In addition all Moormann products are designed so that they can both be simply recycled and transported in the smallest volume possible. Production of Moormann furniture is completed by regional workshops within a 40 km radius of the company headquarters in Aschau im Chiemgau.
Warranty
24 months
Product family
All Pin Coat Products
Datasheet
Please click on picture for detailed information (ca. 1,6 MB).

The Pin Coat Base by designer Oliver Bahr forms the basis for the Pin Coat family from Nils Holger Moormann. The square cast cement base not only provides for warm industrial charm, but as a grid can hold numerous Pin Coat Rods which are simply placed into the recesses and give the product a sculptural quality reminiscent of the popular game Mikado. The Pin Coat Pin LED light sticks also bring light into the darkness and set special highlights. The Moormann base is available in two sizes and the rods in natural ash. Nils Holger Moormann founded the eponymous company in 1982. Based in the Bavarian village of Aschau, the furniture manufacturer has its own creative department and also works with external designers in developing its portfolio of high quality, contemporary products. A central feature of the Moormann philosophy is sustainability, thus only natural materials are used in the production which takes place to 90% through suppliers who are located within 30 km from the Moormann headquarters.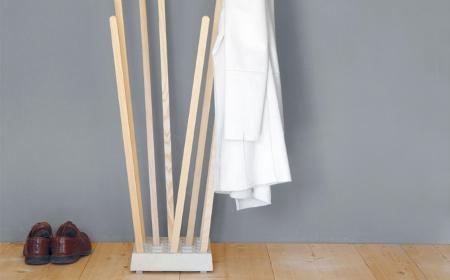 You may also like these articles