Three small friends, robustly built, stable, individual in character and lovable in appearance, that's Jasper Morrison's Cork Family.
Stool/side table
Turned natural cork.
Available in 3 models
More about 'Cork family' in our blog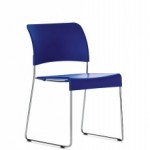 ... Be it his Morrison bench's, his Cork family stools or his SIM chair, all for Vitra, Jasper Morrison's work is characterized by a simple, minimalistic charm. And the best part of the exhibition is that visitors are allowed, encouraged even, to sit on all...
'Cork family'-posts
You may also like these articles: