String
String System Shelves (Set of 3)
by Kajsa & Nisse Strinning, 1949
— from 110,00 €
3 % advance payment discount*:

106,70 €

(Save

3,30 €

)
With the String shelves you can create an individual shelving system for books, DVDs, dishes and indeed anything you need to store or display. The flexibly configurable and expandable system by Kajsa and Nisse Strinning has evolved in recent decades into a true design classic, its delicate side walls give the shelf its distinctive look, while matching, or contrasting shelves, add an individual accents.
Product type
Shelves for String shelf system
Dimensions
L 58 x D 20 cm
L 58 x D 30 cm
L 78 x D 20 cm
L 78 x D 30 cm
Thickness (shelves): 1,9 cm
Material
MDF, painted or chipboard, veneered
Variants
The shelves are available in 2 lengths and 2 different depths. and in either a painted or veneered finish
Colours
Lacquered



Veneer




Function & properties
The String shelving system can be configured individually. Shelves and components can be added to the side panels as required.
With the String Configurator you can plan your own system.
Delivery includes
3 shelves incl. shelf supports
Side walls as wall panel or floor panel and cabinet with sliding doors sold separately
Care
A soft, damp cloth is recommended for cleaning your String units
Awards & museum
1949: 1st place in the bookshelf competition run by the Swedish publisher "Bonniers folkbibliotek"
1979: Inclusion in the design collection of the Swedish National Museum
Sustainability
The dimensions of the String system have remained unchanged since 1949, as such each unit, regardless of age can be easily modified and extended as required.
Warranty
24 months
Product family
All String products

The Design
In 1949 a Swedish book publisher launched a competition: for a new generation of Swedish bookworms a new Swedish book shelf was sought! It should be inexpensive, easy to send and easy to assemble. The architect and designer Nils "Nisse" Strinning and the designer Kajsa Strinning had for a long time been considering how to realise just such a shelf. The competition was the excuse to start working in a more concentrated fashion. Their subsequent design won the first place and is today considered a genuine classic of Scandinavian furniture design.
The String shelf system is as simple as it is ingenious. Every element of the string system is so designed so as to allow an almost infinite range of variations. The filigree side panels allow even large shelf configurations to still appear light and unobtrusive; the petite rack is nevertheless stable and offers, for example, books and CDs secure grip. Shelves of different depths and colours can be combined to suit both your individual needs and the the demands of the available space; and because the system in based on elements whose dimensions have remained unchanged since 1949 existing String systems can be redesigned and extended as and when required.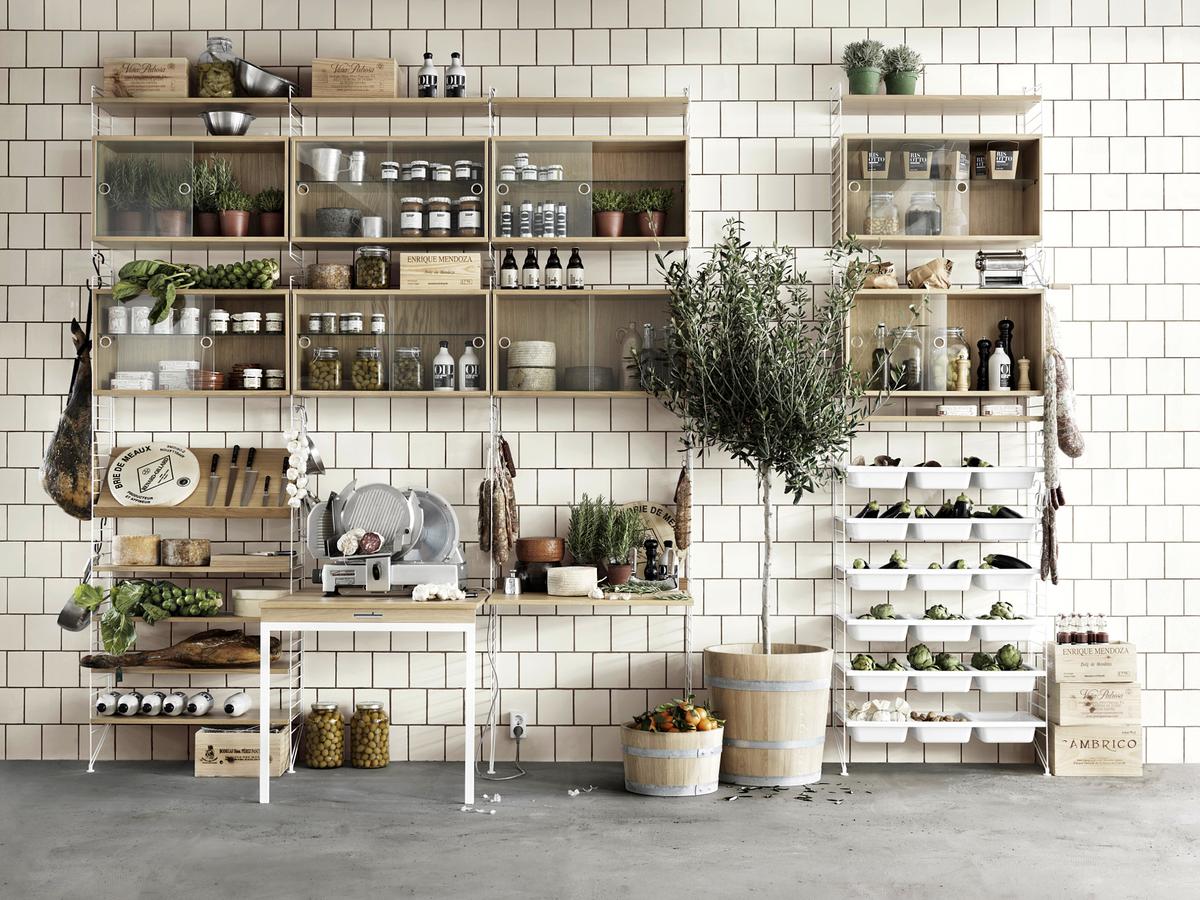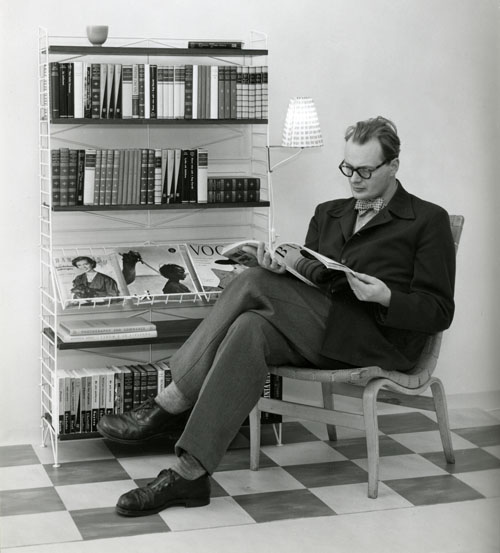 Configurator
The basis of any String configuration is the side panels. Choose wall and/or floor ladders in your preferred sizes and colours and add shelves or other elements such as the cabinet with sliding doors, to create your own individual piece of furniture for the required space. As a universal shelving system string is suitable for walls large or small and for any given space, be that, living room, nursery or study. Having used the String configurator to design your unit please send your configuration, as a PDF, by email to service@smow.com