3 % advance payment discount*:

3.131,16 €

(Save

96,84 €

)
With the USM angled shelf the adaptable USM modular shelving system becomes even more responsive to your individual requirements. The USM highboards and filing cabinets with angled shelves perfectly meet the requirements of high-quality display cases while providing a functional combination of closed compartments and movable shelves: the characteristic versatility of USM Haller units. The advantage of the modular system is in addition further demonstrated by the visual harmony of all elements.
Product type
Highboard
Dimensions
Overall
(1) Height: 109 cm
(2) Length: 153 cm
(3) Depth: 38 cm
Ball centre to ball centre
(1) Height: 105+4 cm
(2) Length: 150 cm
(3) Depth: 35 cm

Weight
82 kg
Material
Panels: Metal, powder coated
Structure: Steel, chrome plated
Ball: Brass, chrome plated
Variants
With 4 hinged doors and 2 angled shelves (liftable)
Colours



Colour chart
Request a USM Haller Colour Fan
Functions & Properties
Highboard can be extended in all directions
Inflammable class 1
Care
Chrome plated, powder coated and glass elements should be cleaned with a damp, light cloth and subsequently dried.
Stubborn stains can be cleaned with glass cleaner or water mixed with ethanol in a ratio of 10:1
Awards & Museums
Permanent collection MoMA, New York
Certificates
Inflammable class 1 (DIN 4102)
GREENGUARD - Indoor Air Quality
LEED "Green Directive""
Warranty
24 months
Product datasheet
Please click on picture for detailed information (ca. 1,6 MB).

Product presentation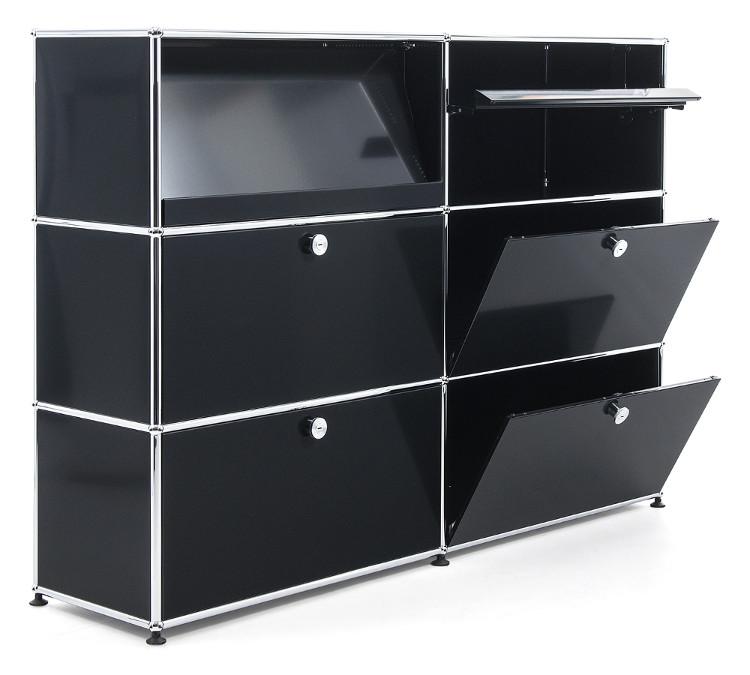 Originally developed by Fritz Haller for the offices of the Swiss company USM, USM Haller sideboards has since become world famous. Haller was initially the architect in charge of planning new facilities from USM in Münsingen, but was also asked to suggest a suitable solution for the interior. Company boss Paul Schärer's wanted a system that offered optimal flexibility and which paid no heed to design hierarchies within the company. In 1963 Haller developed his modular furniture system solely as a solution to serve the needs of the company. However with the contract to supply units for Rothschild Bank in Paris 1969 USM Haller finally went over from the one-off production in the series production.
Haller's system is based on three simple basic elements of steel, which can be variably constructed depending on needs. The core of the system are the connectors: chrome plated brass balls containing six threaded holes. Via the connection balls, the steel tubes can be connected in all directions. The powder coated metal panels are then inserted into the resulting basic structure. The minimalist design is principally defined by the orthogonality of the system that consists of lines and surfaces. And which always lead to a cubic shape. The intelligent and simple construction principle allows the USM modular furniture system its flexibility: USM Haller sideboards can be customized to suit different circumstances, and can be converted at a later date should those circumstances change. To this end the USM Haller high board M can be extended in all directions.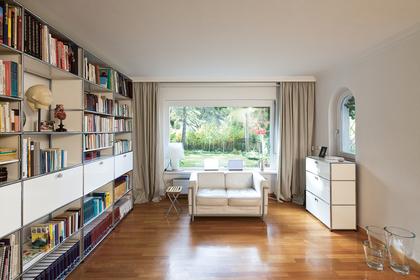 Designer
Fritz Haller, designer of the USM Haller modular furniture system, grew up in the creative world of his architect father, and with seventeen began his training as a draughtsman. His own concepts and theories on architecture were largely determined by his year spent working in the Rotterdam office of the functionalist architects Willem van Tijen and Berend Bakema. Returning to Switzerland Haller sought to interpret what he had learned in Holland into his own buildings, and in doing so developed his now unique form language. His USM Haller system reflects these influences and approach. After Paul Schärer had commissioned Haller with the design and construction of new operating facilities for the USM base in Münsingen, Switzerland, Haller designed the furniture system that, although only intended for USM, would revolutionise the world of office furniture. In 1977 Fritz Haller succeeded Egon Eiermann as professor at the University of Karlsruhe and also taught in Stuttgart and Dortmund. His greatest popular achievement is still USM Haller. The system has received numerous awards in the United States and Europe often and has become one of the true classics of modern design history. Fritz Haller died in October 2012 in Switzerland.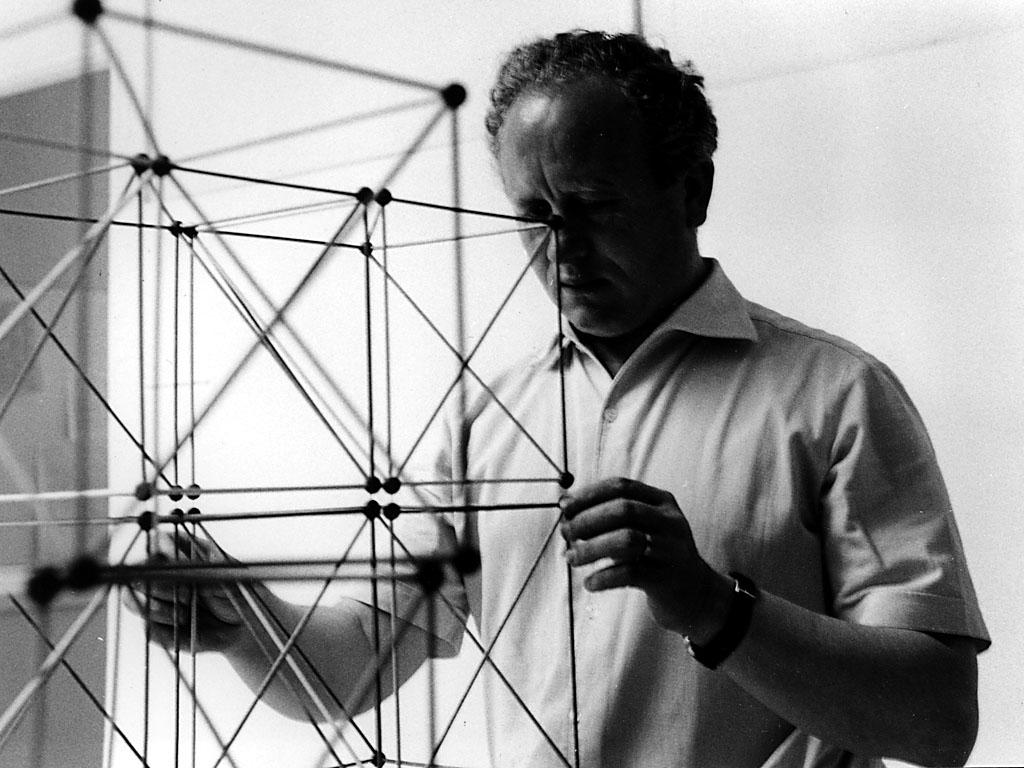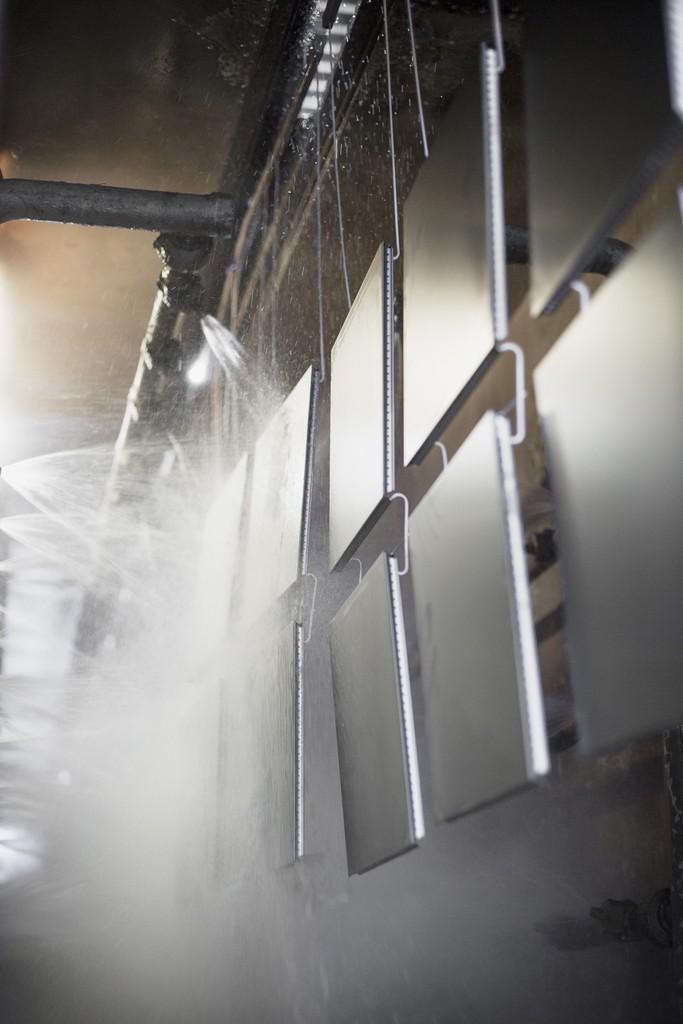 Production
The story of all USM Haller units begins at the company's main base in the Swiss village of Münsingen. There the steel tubes for the basic structure, the chrome-plated connectors and the metal and glass panels are produced. The metal panels being powder coated in one of the 14 standard USM colours. For the German market the raw components are transported to USM factory in Bühl, Baden-Württemberg fro assembly. Produced using high quality, durable materials USM Haller units are particularly long lasting, an attribute than combined with the system's endless variability and flexibility means that System USM Haller is a very sustainable piece of furniture. In addition the recent opening of new production lines at Münsingen have helped USM reduce the energy, emissions and raw materials. associated with the production of their modular furniture system.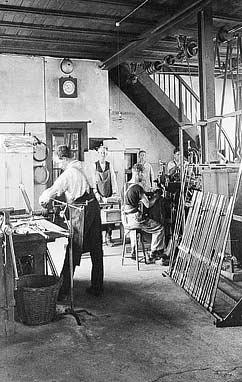 Historical Context
As with Haller's architecture, his USM units have their origins in functionalism. The term gained popularity as a design principle after the First World War, helped by the protagonists and activities of the Bauhaus movement, and developed further after the Second World War to become the epitome of modern construction. According to the famous dictum "form follows function", it was assumed that beauty in architecture and design was made clear in the functionality of the object. Fritz Haller's furniture system more than does justice to this belief, largely on account the fact that as a modular system its form changes to match its required function. In its severe reduction and use of clear, basic geometric structures USM Haller can also be considered to have adopted the intrinsics of minimalism, which in the sixties focussedd on schematic clarity, logic and presentation of art in the exhibition space.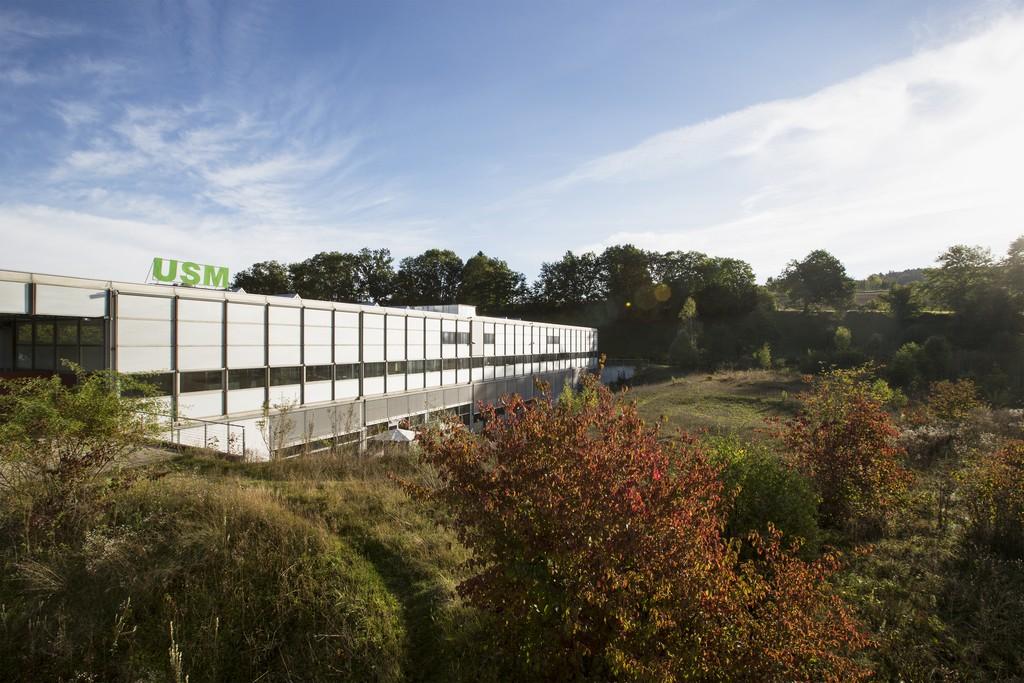 Manufacturer
The manufacturer of the USM Haller furniture system has a long corporate history, which goes back to a ironmongery and locksmith business founded in 1885 and in Münsingen near Bern, Switzerland. Established by Ulrich Schärer USM started producing window fittings and was largely known for such until in the early 1960s Ulrich Schärer's grandson Paul Schärer commissioned local architect Fritz Haller the design two buildings: a commission that was to, ultimately, change the lives of both architect and client. Originally designed by Fritz Haller as a purely complimentary furniture system for his buildings, in 1969 the French bank Rothschild ordered units for their Paris HQ. The response was such that USM started with the serial production of System USM Haller. And forgot all about windows. In subsequent years USM developed the USM Haller table family to extend the furnishing options of their system.
Our USM Haller Sideboards, Highboards and Filing Cabinets
Depth:




always 37cm

M




Length: 77cm

L




Length: 152cm

Sideboards




Height: 74cm

Highboards




Height: 109cm

Filing Cabinets




Height: 179cm
Everything is possible with USM. Somethings more popular however than others. Consequently (smow) maintain a standard stock of the most common USM Haller highboard, sideboard and filing cabinet combinations. A standard stock that are, usually, available at short notice. Naturally, we can however deliver individual USM Haller units created by you to meet your own personal requirements and needs.
USM Independent - Contact our USM Service Team via: +49 (0)341 2222 88 11
Individual advice and configuration of your desired USM configuration
Everything is possible with the USM modular furniture system.
Talk to our experienced team of USM Haller consultants, to help you realise your individual USM Haller unit.
System USM Haller is available in countless sizes and colours.
Alterations and variations of all models offered in our online shop are always possible.
USM Haller: Components and dimensions
The various elements of the USM Haller modular furniture system are available in numerous sizes and dimensions. The core elements and their possible sizes are depicted in our reference table below:
Select the item that interests you from the right-hand column.
On the left-hand side you can see which dimensions are possible.
For the specific measurements, move the mouse pointer over the table.
Available in 250, 350, 500 and 750 mm depths