3 % advance payment discount*:

1.012,68 €

(Save

31,32 €

)
The AJ floor lamp is one of those objects which became a sought-after classic following their inclusion in Arne Jacobsen's SAS Royal hotel in Copenhagen. For its 50th birthday in 2010 manufacturer Louis Poulsenpaid tribute to the slim, elegant AJ Floor Lamp - an object which is effortlessly simple yet extravagant - with the addition of new colours chosen to complement the original versions. The white painted interior of the steel shade results in a pleasantly diffuse distribution of targeted, non-glare light. With the AJ Special Edition 2020 in the colours Pale rose, Original grey and Ultra blue, exceptional designer Arne Jacobsen is honoured once again on the occasion of the 60th anniversary of the hotel opening.
Product type
Floor lamp
Dimensions


Dimensions in mm
Cable length: 2,6 m
Weight
ca. 3,5 kg
Colours



Material
Shade and support leg: steel, painted
Lamp foot: die cast zinc, painted
Power cable: plastic cable

Please note that the version white, Warm Sand, Soft Yellow and Electric Orange are supplied with a white power cable, all other colour versions with a black cable.
Function & properties
Tilting head
Glare-free light
Direct and diffused light
On/Off switch integrated into foot
E27 bulb socket, max. 20 Watt
Delivery includes
A light bulb is not included
Care
The surface can be wiped clean with a soft cloth. If necessary, use lukewarm water with a small amount of dish washing detergent.
Certificates
IP Code IP20
Protection class II
Warranty
24 months
Product family
AJ Collection
Product datasheet
Please click on picture for detailed information (ca. 0,8 MB).


Product presentation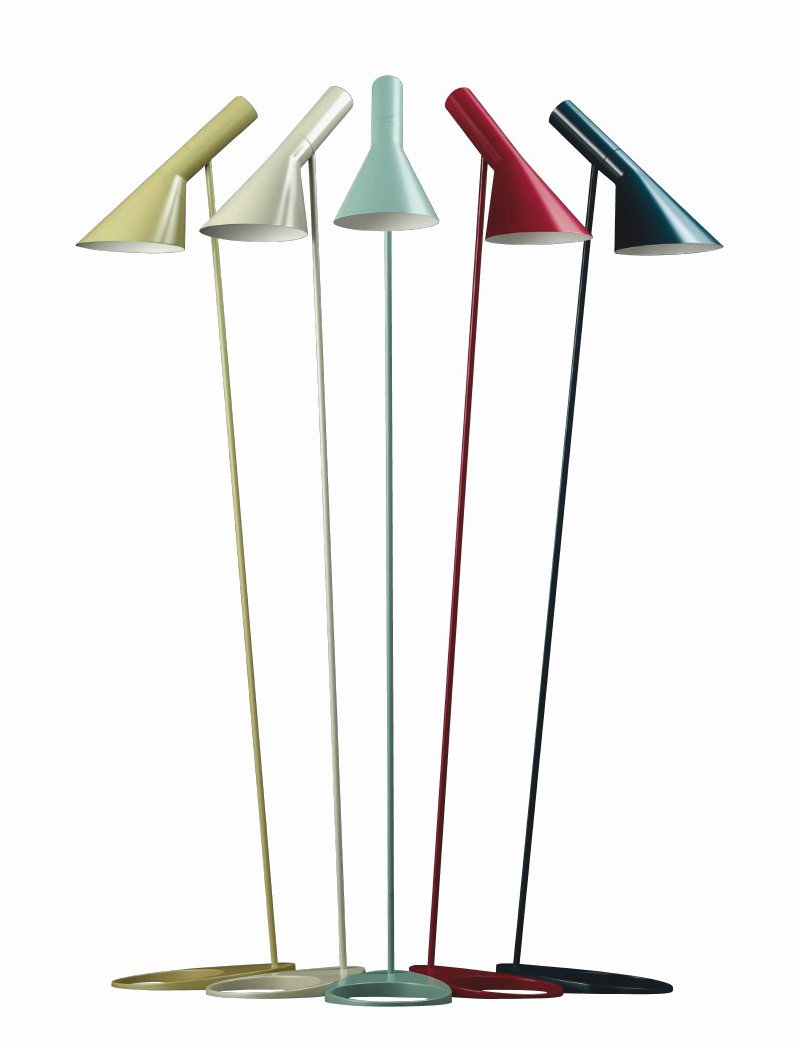 The lighting design Arne Jacobsen, and in particular the AJ floor lamp have experience a real revival since the turn of the millennium. In 2010 Jacobsen's Floor Lamp celebrated its fiftieth anniversary and was re-launched for the occasion by Danish manufacturer Louis Poulsen in 5 colours. In addition to the legendary furniture designs for the interior of his SAS Royal Hotel in Copenhagen, including, amongst others, the Swan and Egg armchairs manufactured by Fritz Hansen, Arne Jacobsen also designed the lightning and features such as doorknobs and cutlery. The design of the slender AJ lamp is characterized by its elongated, cylindrical silhouette and the asymmetric, tilting, shade; features which give the lamp a weightlessness, a feature underscored by the elegant opening in the lamp foot which reflects the shade and gives the whole construction a filigree and transparent touch. As the Arne Jacobsen Floor lamp emits a directionable, glare-free light it is the ideal reading light.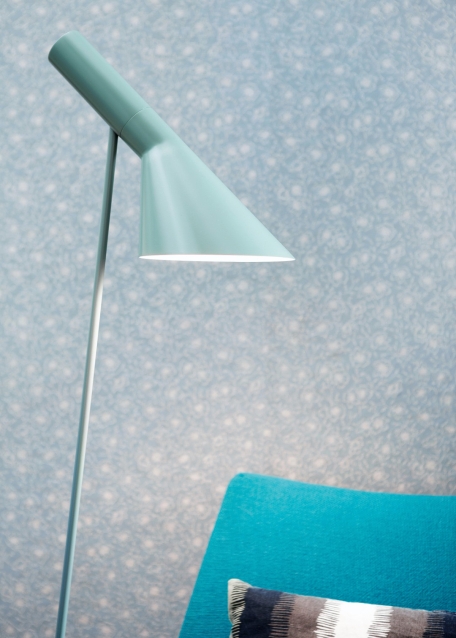 Designer
Born in Copenhagen in 1902 Arne Jacobsen came, like many of his designer colleagues, to design via architecture. Trained as a bricklayer Jacobsen graduated in 1927 from the Royal Danish Academy of Fine Arts. In the years before the Second World War Jacobsen established his reputation with projects such as the Bellavista (1932-1935) estate, before on account of his Jewish descent he was forced to flee to Sweden. Following his return, Jacobsen became active as a designer and furnished major projects such as his SAS Hotel Copenhagen with his own furniture design, including the AJ Floor Lamp, an object produced now as then by Louis Poulsen. Until his death in 1971, Jacobsen realized numerous important architecture and interior design projects in Denmark, Germany and the UK. In addition, Jacobsen taught architecture at his alma mater in Copenhagen.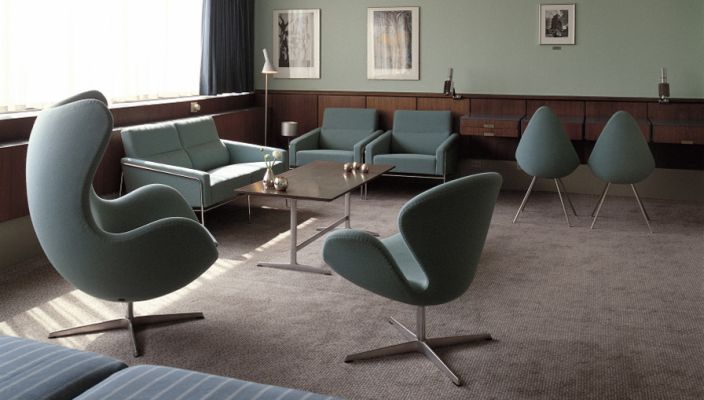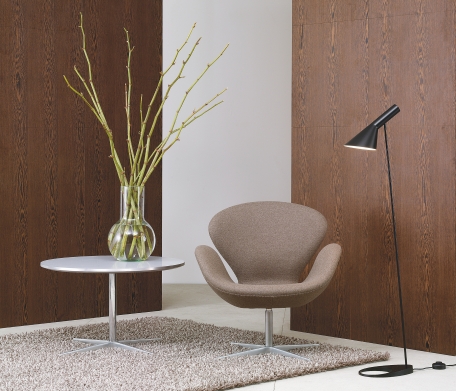 Production
Danish lamp manufacturer Louis Poulsen produce the AJ floor lamp in company's own factories and in close collaboration with suppliers. The lampshade and stands are made of steel, while the lamp foot is crafted via a zinc die-cast method. For a pleasant, diffuse, luminescence, the inside of the lampshade is painted white. Strict controls at every stage of production and the use of very high-quality materials ensure the high quality and longevity of Arne Jacobsen AJ floor lamp. In addition to the production and distribution of Arne Jacobsen lamps, Louis Poulsen also produce the PH lamps by Jacobsen's colleague, Poul Henningsen, works which have been in the company's portfolio since the 1920s. Louis Poulsen can thus draw on decades of experience in the production of lamps, many of which have gone on to become established design classics. Today Louis Poulsen utilises this knowledge and experience for the development of innovative architectural lighting concepts.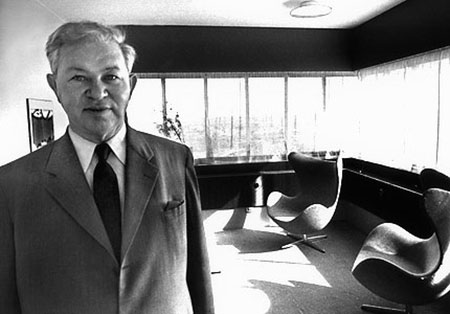 Historical Context
An early influence on Arne Jacobsen's architectural understanding was the works of Mies van der Rohe and Le Corbusier; their designs appeared to him "clear, reasonable and easy to understand" and so thus was his own creative work in a world of rationality, reduction and functionality tradition. Over the years Arne Jacobsen developed its own distinctive style, which, and as exemplified by the Louis Poulsen AJ lamps often manifested itself in an openly organic form language. Arne Jacobsen's design work often stood in formal contrast to his architecture, was was often grounded in the cubic traditions of in the International style. In projects such as the SAS Hotel Copenhagen Jacobsen brought the organic and the cubist together in an architectural Gesamtkunstwerk. The SAS Hotel is seen as a lost work of art because, although the architecture has been preserved, the interior was unfortunately replaced to a large extent during the eighties. Although the building was regularly criticised following its completion in the late sixties a lot of criticism, the furnishings Jacobsen created, including the the Arne Jacobsen AJ lamps and Swan and Egg armchairs instantly found favour with the public and are now rightly considered timeless design icons.
Manufacturer
The manufacturer Louis Poulsen has produced Arne Jacobsen's floor lamp and the corresponding Louis Poulsen AJ table lamp for over fifty years. Established in 1874 by Ludvig R. Poulsen the company initially had no connection to lighting, but rather was a wine import business, until in 1892 they diversified into electronic accessories. Following Ludvigs death in 1906 his nephew Louis assumed control of the company. Responsible for the move into lighting was Sophus Kaastrup Olsens, who took over the Louis Poulsen in 1917 and who secured the first contract with Poul Henningsen, contracts which subsequently paved the way for cooperations with designers such as Verner Panton and Arne Jacobsen. Today Louis Poulsen is one of the most reputable lamp manufacturers in the world and one who in addition to distributing established classics such as the AJ Floor is moreover heavily involved in the development of complex architectural lighting concepts.
You may also like these articles