3 % advance payment discount*:

786,67 €

(Save

24,33 €

)
The Vitra ID Mesh was developed by Antonio Citterio as part of the ID Chair family, an office chair collection that Vitra has produced since 2010. In addition to offering a variety of configuration options - colour, base, armrests and the mechanical nature of the chair can all be individually selected - the comfortable ID Mesh Office Chair is distinguished by its 3D mesh-covered frame structure, a configuration which ensures optimal ventilation and comfort.
Product type
Office swivel chair
Dimensions


Dimensions in mm
Weight
ca. 17 kg
Material
Backrest frame and lumbar support: polyamide
Backrest cover: 3D spacer fabric Diamond mesh (100% polyester)
Seat cushion: polyurethane foam
Seat cover: Plano (100% polyester) or Silk Mesh (67% polyester, 33% polyamide)
Armrest support: polished aluminium
Armrests sleeve: Polyamide with soft polyurethane padding
Frame: plastic, basic dark or polished aluminium
Variants
Optional available with forward tilt and seat depth adjustment
Optional available with 2D or 3D armrests
Available with hard castors for carpets or soft castors for hard floors
Colours
Plano



Diamond Mesh



Silk Mesh



Frame & optional armrests





Function & properties
Seat height adjustment
height adjustable lumbar support
Backrest lockable in an upright position
3D mesh-covered frame construction provides for ventilation and a pleasant cushioning effect
Flow Motion version: The backrest counterforce is manually adjustable
Maximum load: 150 kg
ID Chair Concept
Care
Dust and lint can be simply vacuumed. To treat stains use a damp cloth and a mild, neutral detergent. Professional cleaning should be undertaken in the assembled state and with the use of upholstery foam or using a mobile washing-extraction device.
Certificates
GS mark for certified safety
"Ergonomics Approved"
Blue Angel certificate for low-emission upholstered furniture
Greenguard: Indoor Air Qualitiy Certified
Sustainability
Vitra conform to:
ISO 9001: 2008 (Quality management systems)
ISO 14001: 2004 (Environmental management systems)

The Vitra ID Chair is:
97% recyclable
contains up to 51% recycled material
Warranty
24 months
Product family
All ID Chairs


Product datasheet
Please click on picture for detailed information (ca. 2,2 MB).

Design
The Vitra ID Mesh is part of a collection of office chairs developed by the Italian designer Antonio Citterio for the Swiss furniture manufacturer Vitra. With the Vitra ID Chairs Citterio set out to create a family of chairs that can respond to a range of different requirements and working conditions, within a unified system. Thus within the Vitra ID office chair collection - which includes in addition to the ID Mesh works such as, for example, the Vitra ID Trim and the Vitra ID Soft - one has a range of differing mechanisms, bases, covers, backrest and armrests, which can be combined to meet individual requirements. This design principle allows not only for variations in terms of aesthetics, materials and applications, but also leaves some room for manoeuvre in terms of price. The Vitra ID Mesh differs from the other Vitra ID office chairs in terms of its 3D mesh-covered frame construction, a construction which provides ventilation and a pleasant cushioning effect. Armrests, bases and mechanics and colour can be individually, as with all Vitra ID chairs.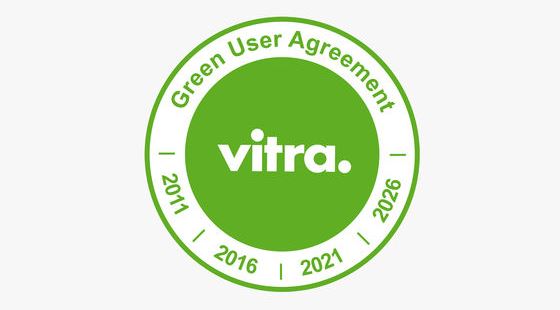 Designer
Born in 1950 in the Italian municipality of Meda Antonio Citterio has been active in various fields since completing his architecture studies. He founded his own studio in 1972 and has worked mainly in furniture design - since 1999 in the studio "Antonio Citterio and Partners", which he founded with Patricia Viel - but also in the fields of architecture, industrial and graphic design. Antonio Citterio's works have received many awards and are to be found in the collections of the most important museums. Whereas Citterio initially focussed on collaborations with Italian manufacturers today he realises projects with a wide portfolio of international clients including, for example, Vitra, Flos, Kartell or Hansgrohe. With Vitra Citterio has collaborated since 1988 - the cooperation beginning with a number of office furniture projects for the Swiss manufacturer. In 2010 Citterio and Vitra launched the IC Chair Concept with the Vitra ID Mesh, the Vitra ID Trim and the Vitra ID Soft. In 2012 further models were added including the Vitra ID Air.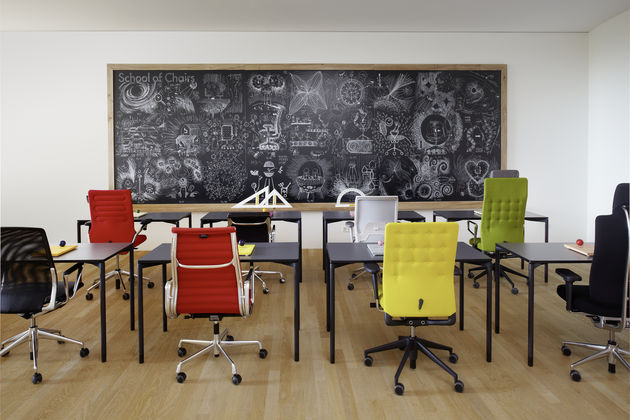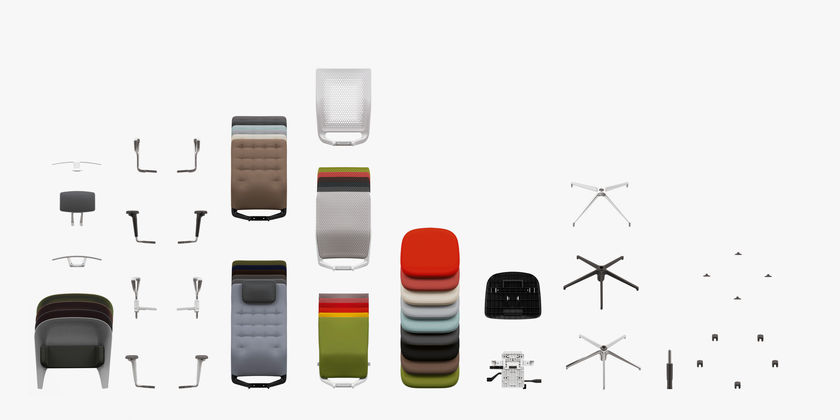 Production
The Vitra ID Mesh is produced by the Swiss furniture manufacturer Vitra in its production facilities in Weil am Rhein, Germany. Both the backrest frame of the ID Mesh and the removable lumbar polyamide are produced from polyamide. The Vitra ID Chair has a five foot base available polished aluminium or plastic in the colour basic dark. Environmental and social responsibility are key to Vitra's corporate philosophy; and in all stages of the production the manufacturer attaches great importance to both. In the case of ID Vitra office chairs that means not only that that Vitra use up to 58 percent of recycled material in the production of the chairs, but that they can subsequently be 98 percent recycled when fully separated. However Vitra's pursuit of sustainable furniture production is not limited to reductions in terms of consumption of energy, raw materials and other resources but also through the use of high quality materials and the end products exceptionally longevity mean that a Vitra chair such as the ID Chair should last a lifetime. And long product cycles are always better than recycling.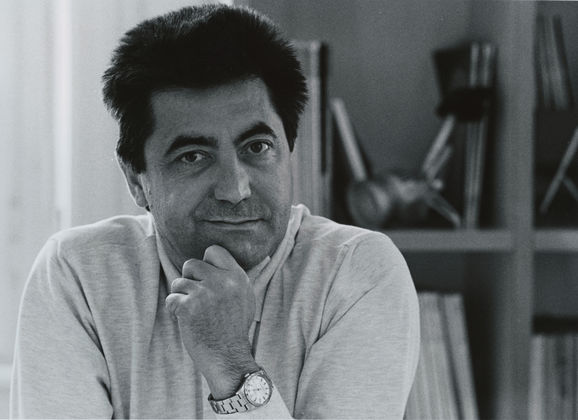 Manufacturer
Since the beginning the company's history chair design has had a special significance for the furniture manufacturer Vitra. It was, for example, chairs of Ray and Charles Eames, which led the company founders Willi and Erika Fehlbaum in 1953 to seek production licenses for the Eames' designs from the American manufacturer Hermann Miller - the initial and most important step on the way to the contemporary Vitra. Over the years Vitra has diversified and today is active across furniture genres, whereby the development of innovative furnishing solutions for the office sector is a particular focus. With Vitra ID Chair Antonio Citterio has made in this sense an important contribution. In addition to the ID Chair Concept Citterio has also created further office chairs for the Swiss furniture manufacturer including the AC 4, and has also contributed to the Vitra Home Collection with works such as the lounge chair Repos from 2011.