Vitra
AM Chair
by Alberto Meda, 2016
— from 568,00 €
3% advance payment discount*:

682,88 €

(Save

21,12 €

)
The AM Chair by Alberto Meda complements the Vitra office chair portfolio. Equipped with adjustable 2D armrests, synchronous mechanics and height-adjustable backrest, the Vitra office chair is a by-word for technical sophistication, comfort and versatility and provides a versatile seating option.
Product type
Office swivel chair
Dimensions


Dimensions in cm
Colours
Backrest LightNet



Seat Plano




Material
Backrest frame: polyamide, deep black
Backrest: mesh fabric LightNet
Seat frame: polyamide
Seat upholstery: polyurethane foam
Seat cover: Plano (100% Polyester)
Armrests: polyamide with polyurethane cover, deep black
Base: five-star base, polyamide, deep black or aluminium powder coated, deep black
Variants
Optional available with height-adjustable 2D armrests
Available with hard rollers for carpet floors or soft castors for hard floors
Function & properties
Synchronous mechanics with automatic weight adjustment
Manual fine adjustment of the backrest counterforce
Can be locked in the upright position
Seat height and seat depth adjustment
Armrests adjustable in height and depth
Maximum load: 110 kg
The design
Care
To clean the plastic surfaces a soft, damp cloth and a mild neutral detergent are recommended.

Dust and lint can simply be vacuumed. For the treatment of stains, use a damp cloth and a mild neutral detergent.
Professional cleaning should be done in the assembled state and using upholstery foam or by means of a wet vacuum device.
Certificates & Sustainability
Seal of ergonomic approval
Office Swivel Chair conforming to EN 1335

Vitra comply with:
ISO 9001: 2008 (Quality management systems)
ISO 14001: 2004 (Environmental management systems)
Warranty
24 months
Product datasheet
Please click on picture for detailed information (ca. 0,3 MB).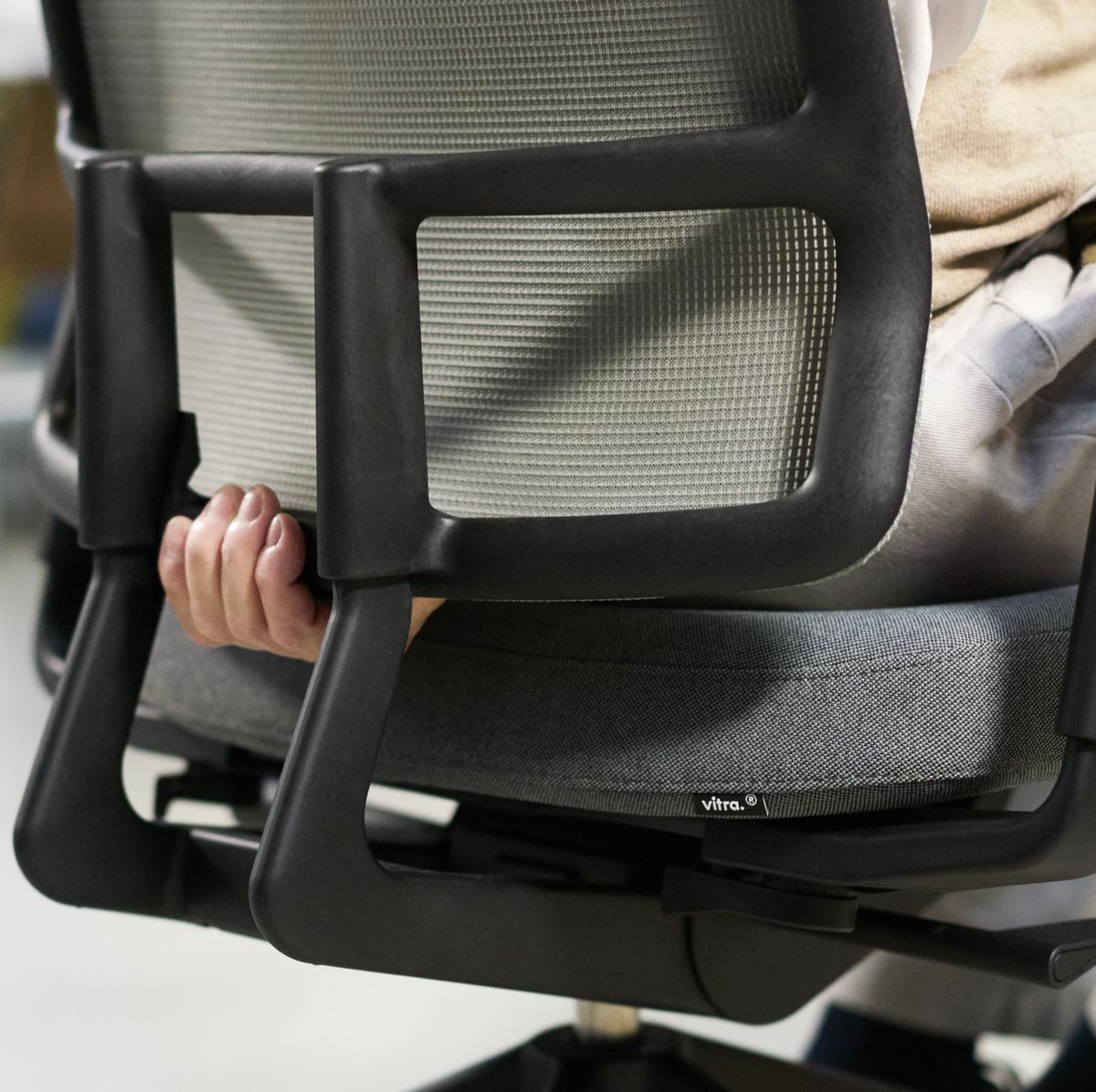 The designer Alberto Meda was born in Tremezzina in Italy in 1945 and studied mechanical engineering at the prestigious Polytechnic in Milan. Between 1971 and 1979, Alberto Meda worked for Kartell, before establishing himself as a freelance industrial designer and project consultant; in which context he has worked with and for a large number of high-profile companies - including Alessi, Luceplan, Alfa Romeo, and Vitra, to name only a small part of its portfolio. Meda also taught at the Domus Academy in Milan from 1983-1987, from 1995 on to his old alma mater, the Milan Polytechnic, and from 2003 to the IUAV University in Venice. In addition, he has held countless lectures and guest lectures all over the world - from Stockholm via Chicago to São Paulo. Since 1994, he has also been cooperting with the manufacturer Vitra, for whom he has also created a series of other ergonomic chairs, such as the Vitra Physix, for the Vitra Office Collection and the AM Chair.
The AM Chair by Alberto Meda is a textbook example of how maximum flexibility on the one hand and unique stability on the other hand can go effortlessly hand in hand. The Vitra office chair demonstrates outstanding engineering and design quality and combines ergonomic functionality with state-of-the-art technology. Ideal for offices, in particular and thanks to its uncomplicated, intuitive settings, for areas with a high turnover of visitors such as meeting rooms or hot desks: the AM Chair optimally adapts to the body thanks to dynamic armrests as well as height-adjustable back, thus offering every user the highest comfort. The synchronous mechanism of the chair reacts to the weight of the respective user, which makes individual comfort possible without presetting - an individual fine adjustment allowing the full comfort of the chair to be experienced. Its height-adjustable backrest brings stability and functionality to the chair while at the same time ensuring a particularly ergonomic seating position - something supported and enhanced by the AM Chair's comfortably padded seat.