Kristalia
Nori dining table
by Bartoli Design, 2008
— from 2.680,00 €
3% advance payment discount*:

3.573,48 €

(Save

110,52 €

)
The Nori table from Kristalia combines technical innovation with a reduced design: despite its minimal height the ultra-thin Alucompact table top allows the possibility of extending the table without the object losing any of its ultra-modern reduced look. While tanks to itsstain and scratch resistant table top the KristaliaNori table is perfect for the hazards of family life.
Product type
Dining Table
Dimensions


Dimensions
(1) Height: 75 cm
(2) Width: 90 / 100 cm
(3) Length: 139-214 / 166-260 / 166-278 / 209-303 cm

Material
Table top: Alucompact (multilayer aluminium/laminate composite) or Laminate 'Pure white' (laminate composite with white core)
Structure and legs: aluminium, anodized or lacquered white.
Variants
Available in different lengths and widths
Colours
Table top



Table legs


Function & Properties
Can be extended
Product presentation
Care
The surface can be wiped with a soft cloth. If necessary, use lukewarm water with a small amount of dishwashing liquid.
Warranty
24 months
Product datasheet
Please click on picture for detailed information (ca. 0,7 MB).

?
Should the answers to your questions not be found here, our service team can be contacted Mon-Fri, 8 am to 6 pm via
+49 341 2222 88 22
.
How reliable is the Kristalia quality control?
Each table which leaves the Kristalia plant is fully inspected before shipment. Then dismantled, checked again carefully, packaged and dispatched.
What does Alucompact look like?
The surface of the Alucompact table top shimmers slightly metallic. The table top is composed of layers of laminate and aluminium.
Are there any further variations available?
Kristalia offer the thin table top in five materials: laminate Alucompact® (which on account of the internal aluminium layers is particularly resistant), laminate Pure-White (with plate and profiles all in white), Fenix-NTM® Black (with a particularly matt, fingerprint resistance pattern ,and silky soft surface), honeycomb (aluminium honeycomb structure with natural oak veneer, wenge or grey) and glass with a glossy or matt lacquered underside.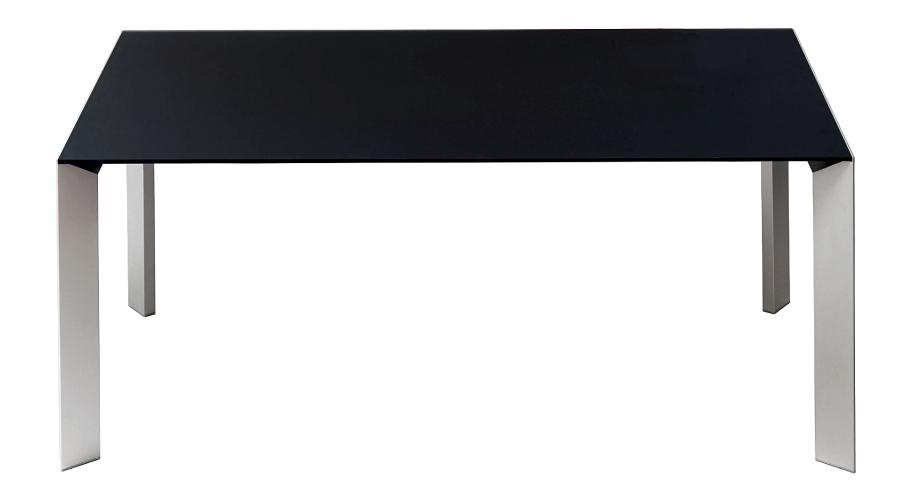 The Design
Faithful to the traditions of Italian design Kristalia, and their table Nori, combine technical innovation with minimalist, strict style. Based on an original cardboard prototype since 2008 Kristalia have produced the Nori table from Bartoli Design with a wafer-thin alucompact table top and aluminium legs. The reduced structure from the Nori dining table is underscored by an sharp profile combined with a thin table top; a table top which is very light but also very strong and durable thanks to a special laminate. And which provides enough space for an extension system which can be easily and quietly activated. In addition the Nori table top is protected against stains and scratches and is available in different colours and in combination with either white painted or anodized aluminium legs.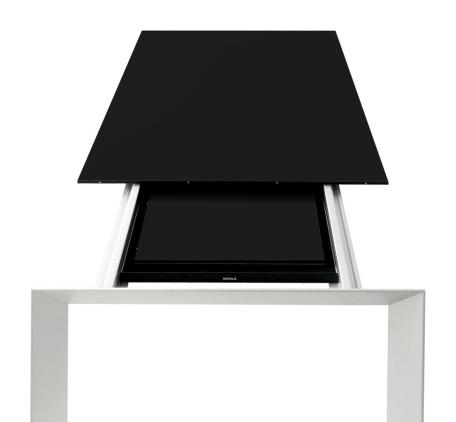 Designer
Carlo Bartoli began his active career as an architect and designer in the 1960s, and since 2007 has traded under the name Bartoli Design in collaboration with his daughter Anna, and his son Paolo. For Kristalia Bartoli Design have created, in addition to the Nori dining table, numerous objects including the 2002 Sushi dining table and the 2010 Joko chair. Carlo Bartoli work has been displayed and premièred at exhibitions around the world and two of his chair designs were accepted into the permanent collection of the MoMA in New York and in the collection of the Centre Pompadour in Paris. The designs created as Bartoli Design have seen the trio awarded numerous prizes. In addition to his work with Bartoli Design Paolo Bartoli also teaches at the Faculty of Design at the Milan Polytechnic.